Hey friends!
Can I just tell you how happy this weather has been making me (I know I've already said this 1,000 times, but it's true!)?
Goodness it's been amazing.
And it's been so fun to see Posie and Bella enjoying themselves outside… such a difference from last year.
Even though we've had to lay low because of croup, just being able to still get out for walks and playing on the deck has lifted all of our spirits.
Plus, all of the lightweight fabrics and light colored clothing has me feeling ??‍♀️
Speaking of! I was recently contacted by VETTA, asking if I would be willing to help them spread the news that they've restocked the full collection of their Relaxed Capsule, and I said "heck yes!"
I've always been a fan of VETTA, but the vibe just never really fit with my lifestyle… until this recent launch of their Relaxed Capsule.
The full collection can be viewed here, but it's comprised of five versatile pieces that are meant to mixed and matched to create a variety of outfits.
I had the tapered pant, and the boxy blouse on my "to save up for" list, and VETTA was kind enough to send them to me so I could share them with you in time for their restock, which happens today! May 17th.
I'm not going to do a full review of each piece, but I'm sharing four ways to style the two pieces and some brief thoughts on each piece: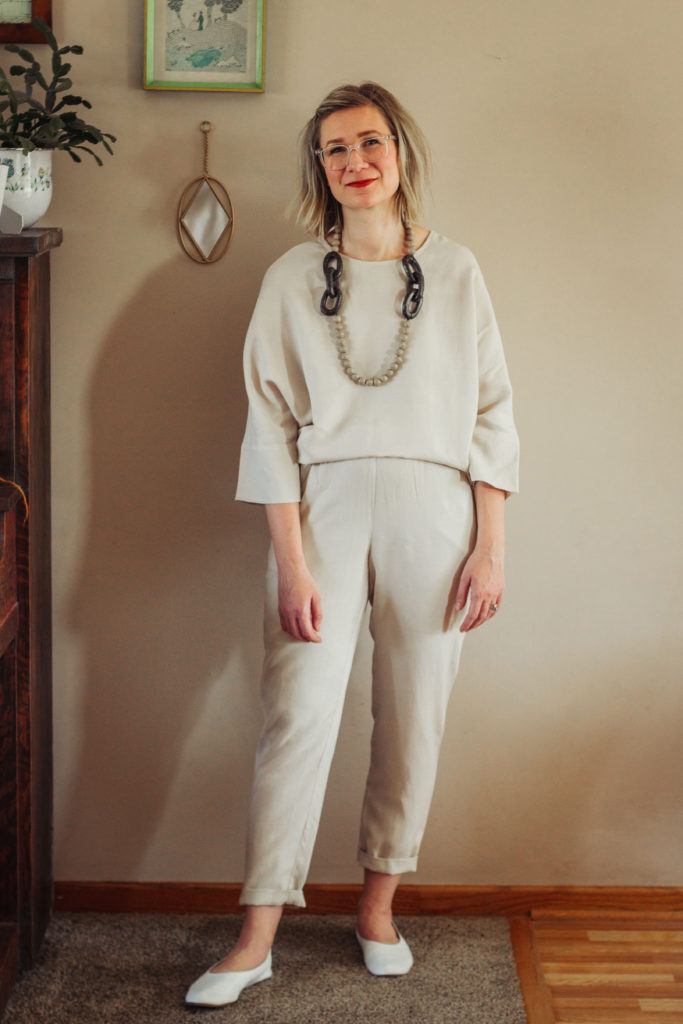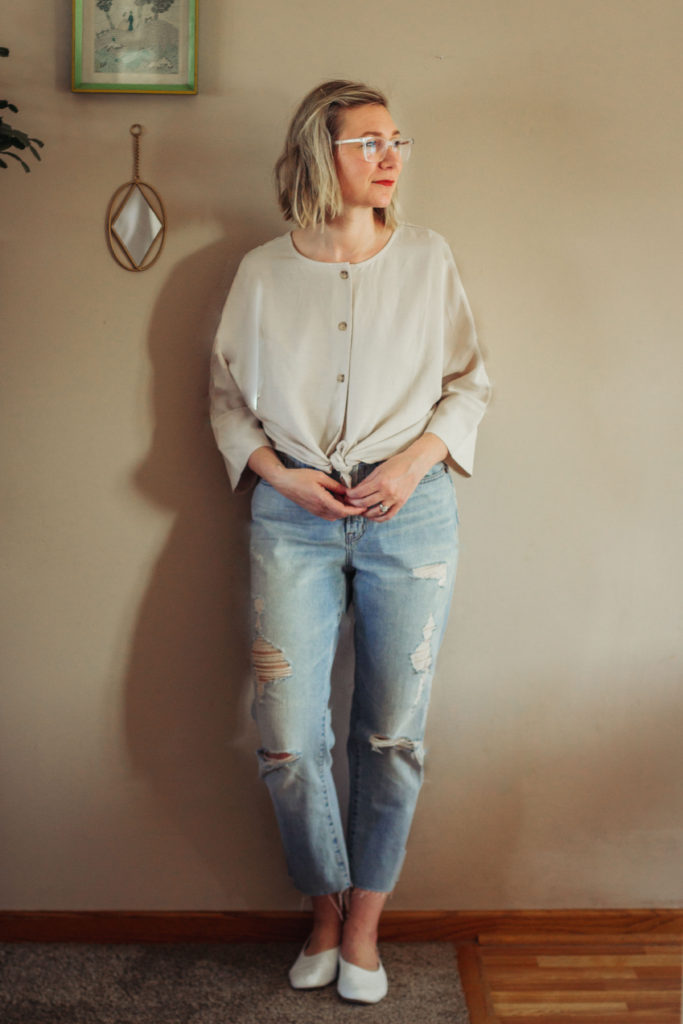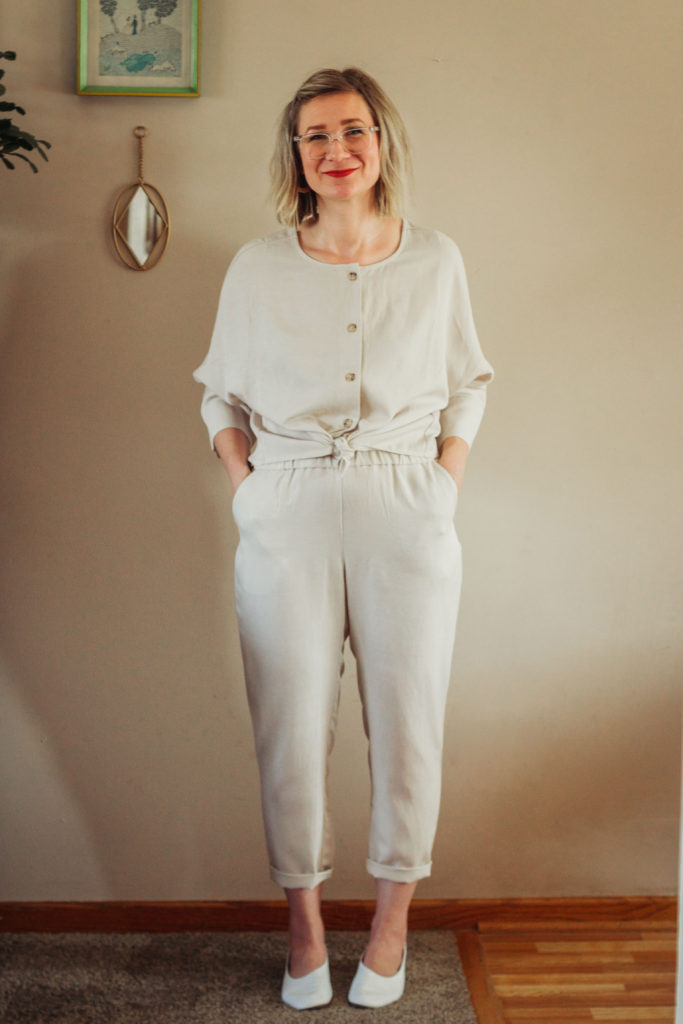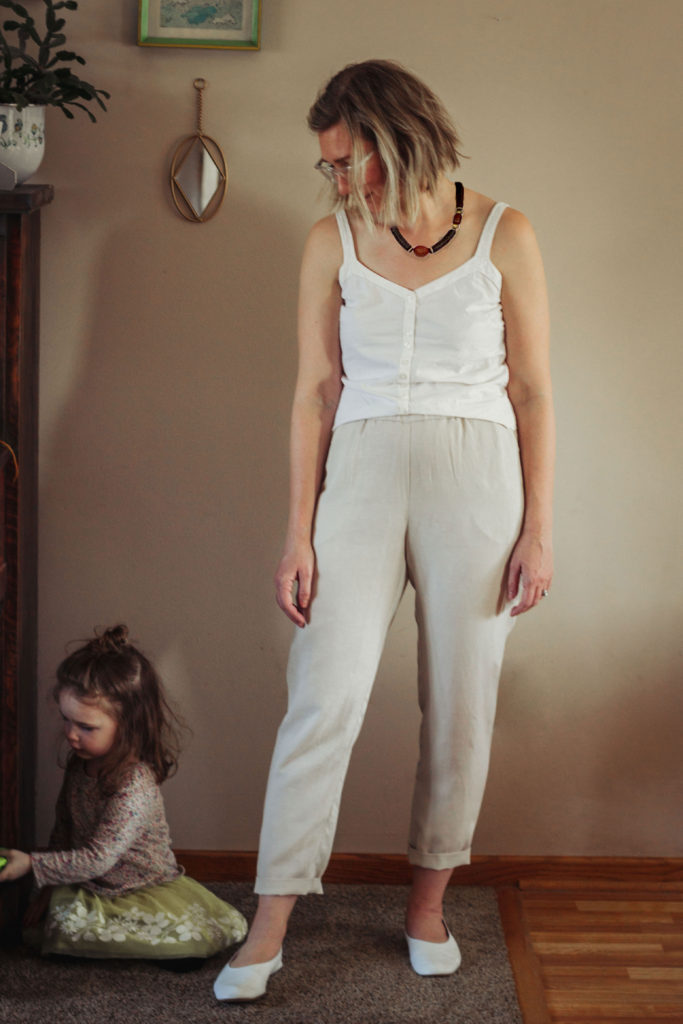 Boxy Blouse: the fabric on this is like butter it's so soft… I was actually surprised by just HOW soft it is. It fits pretty oversized, so I would suggest sizing down if you want a more fitted look. It can be worn with the buttons in front or back to give it maximum versatility (which is what VETTA is all about). For reference, I'm 5'5″, weigh 130 lbs and got a size S. I couldn't decide between the white or the sand color, but I ultimately went with sand so that I could wear it with the pants to give it the illusion of a jumpsuit (see photos. ?).
Tapered Pants: these pants are exactly what I was looking for! I have a pair of VERY casual jogger pants that I wear a lot for super quick errands or just lounging, and I had it in the back of my mind that I'd like a similar style, but in a much nicer fabric so I could have the comfort of the jogger, but still look put together… these are those pants. They are made out of the same fabric as the boxy blouse, and they fit with just the right amount of room in them. You can move easily, but they aren't super slouchy. HUGE PLUS: with a pair of nude underwear you are golden. The fabric is thick enough that you can't see through. And again, for reference: I'm a 28″ waist and 33″ hip and I got a size S.
Overall pros:
The fabric is so comfortable and soft. Both pieces are versatile, and neutral enough that they can go with my entire wardrobe.
Overall cons:
The fabric does wrinkle easily. This doesn't bother me, but I know it will for some people.
So there you have it! Don't forget, all pieces are restocked today!
Have you had their eye on any of their pieces? I know I'm going to get a lot of wear of both pieces over the next few warm weathered months.
We'll see you tomorrow for my next installment of "what I actually wore", and let me tell you it's jam packed with photos ha! I got a little camera happy on our outings this week.
Until next time,