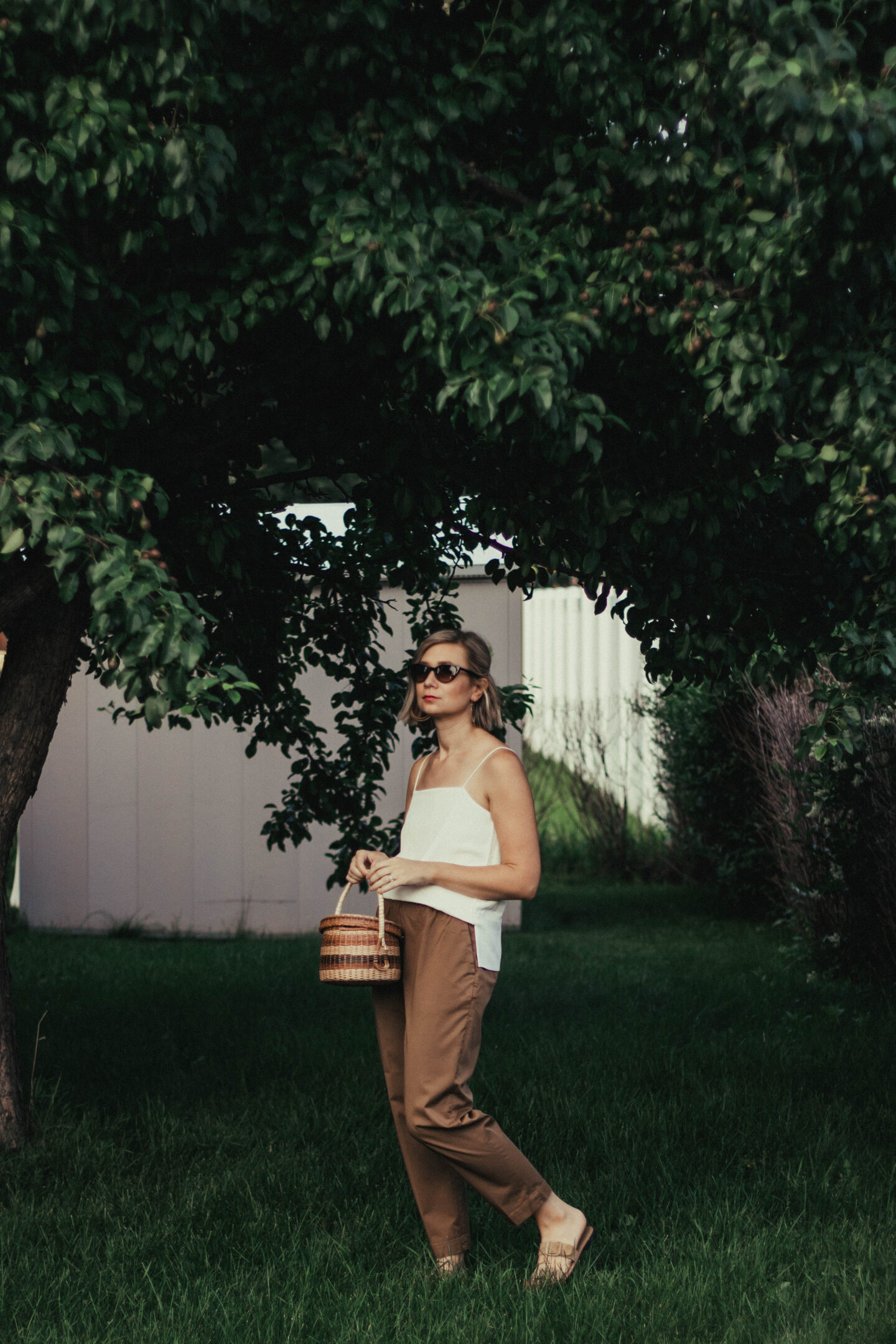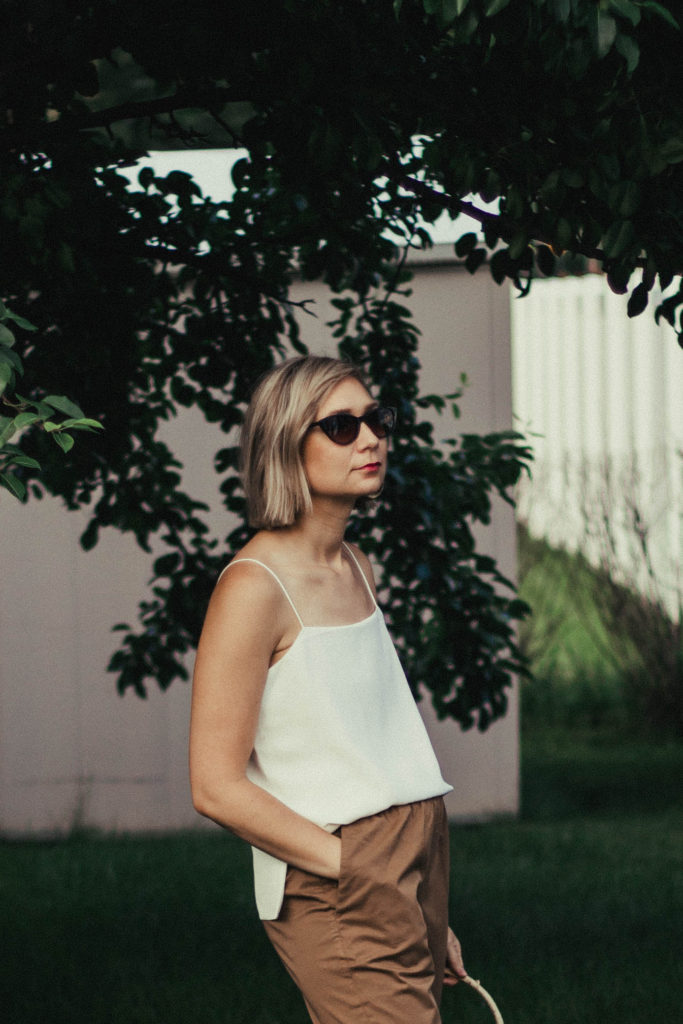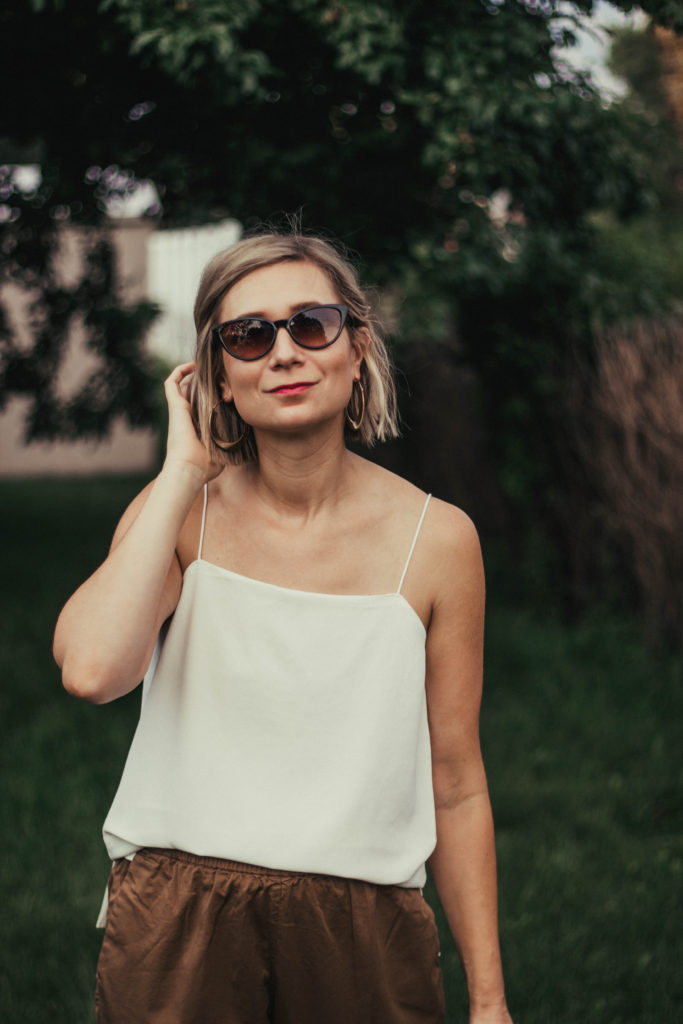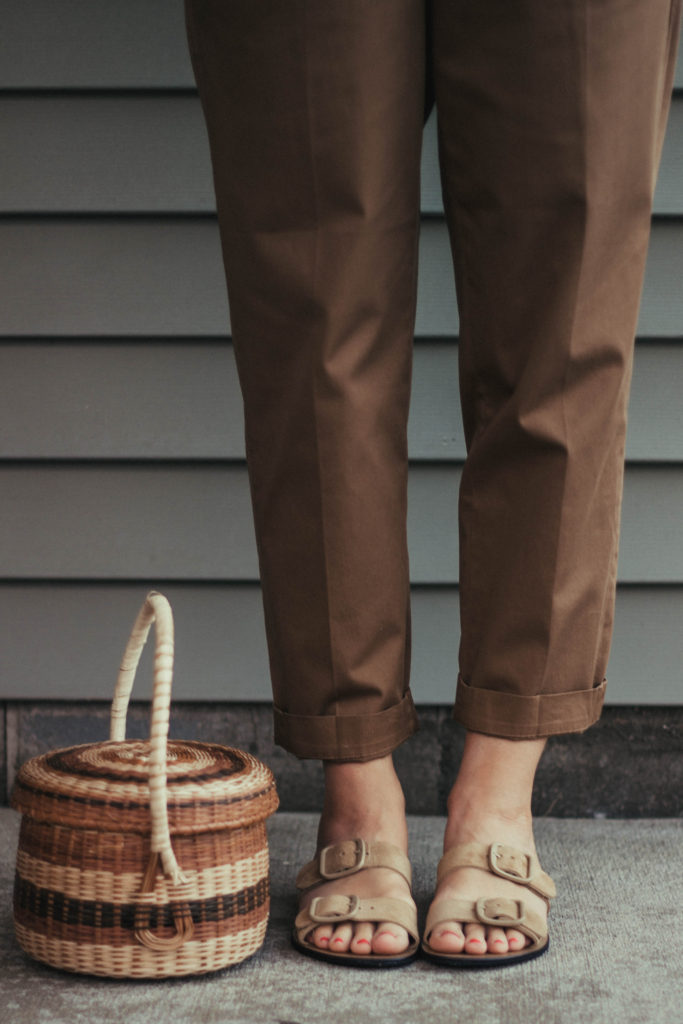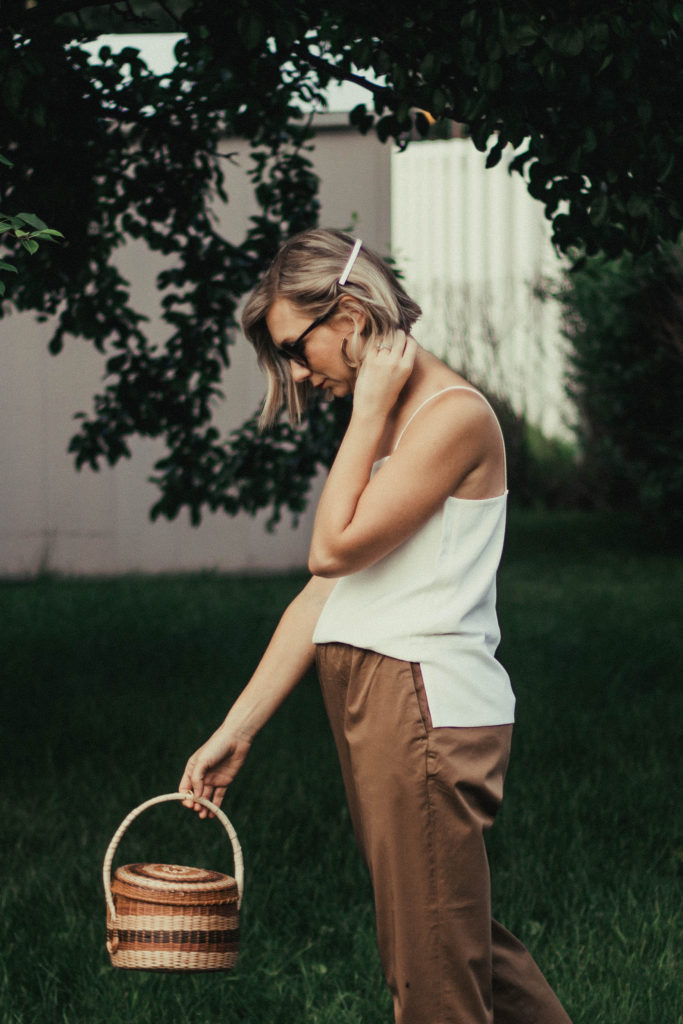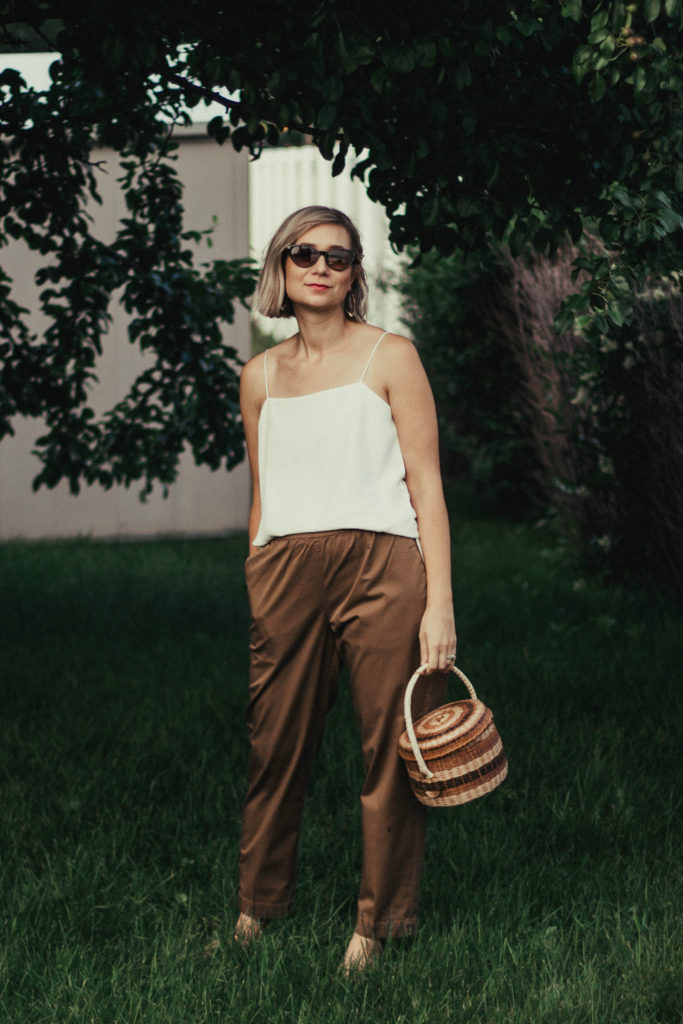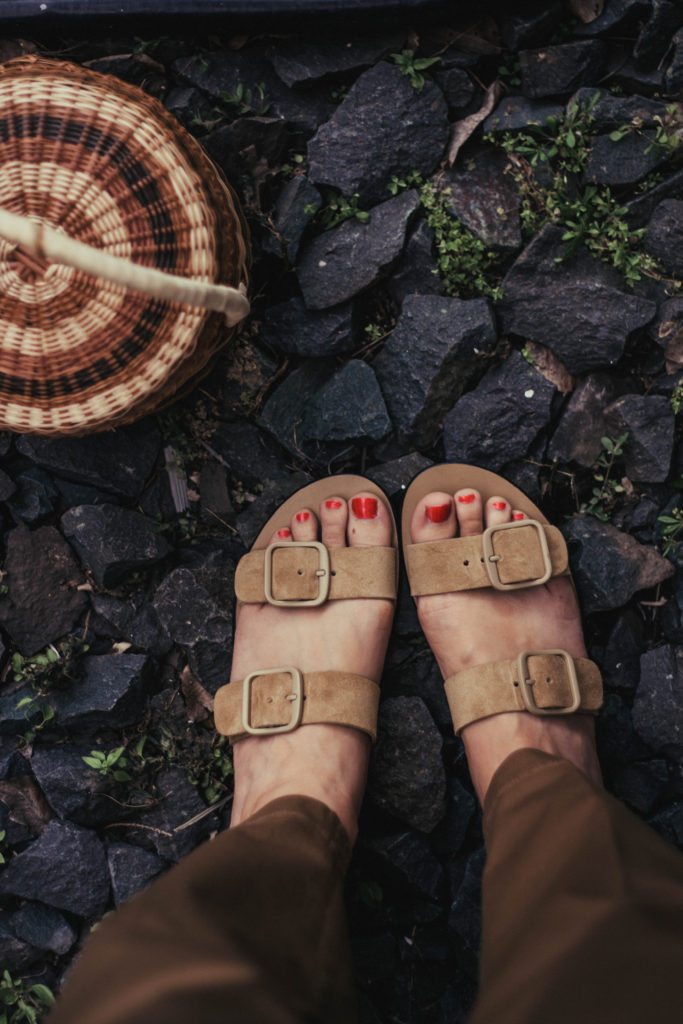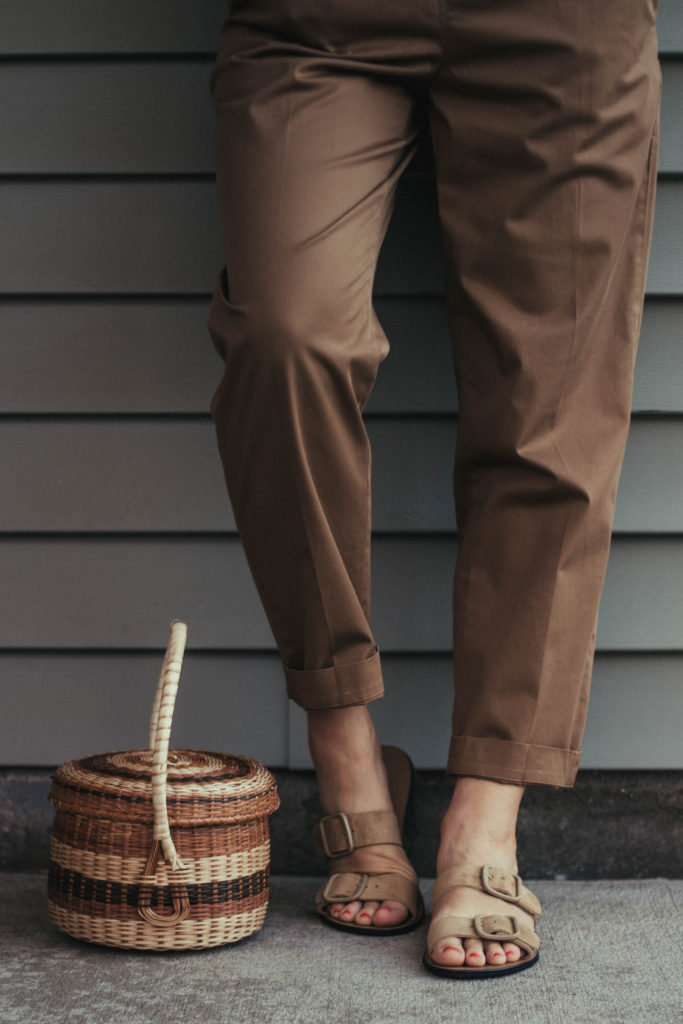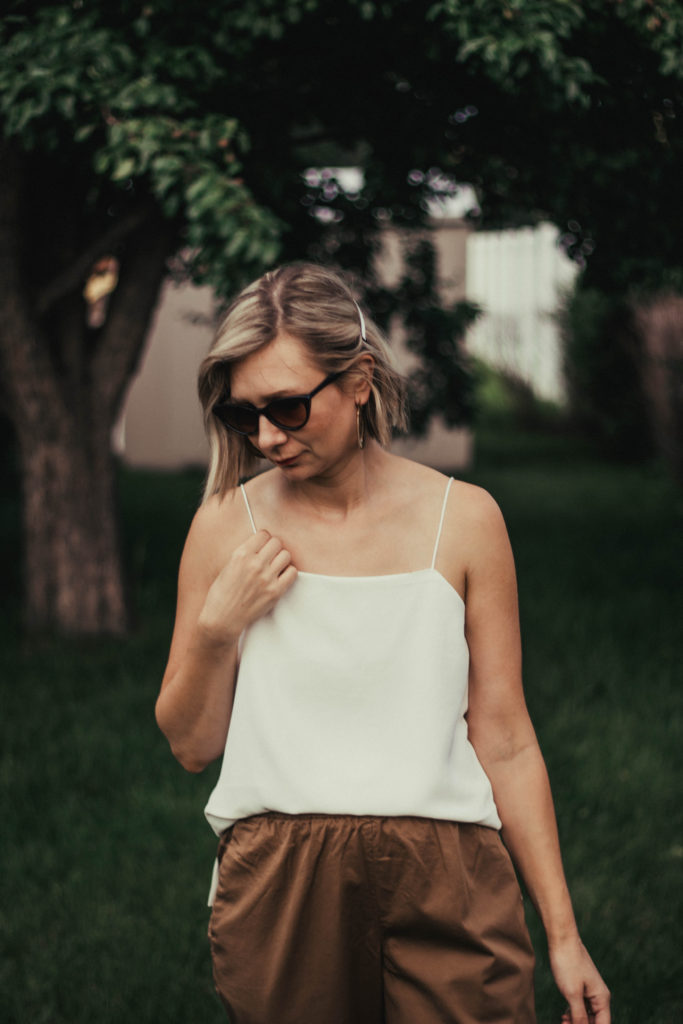 Japanese GoWeave Cami c/o | Easy Chino c/o | Modern Buckle Sandal c/o
Happy Friday friends!
I'm super looking forward to this weekend… we have plans to attend a strawberry festival, and it sounds oh so fun!
The girls have been so fun lately now that they're more toddler than baby. They've started saying a few words (Rosie's first word was "bubbles", and Ella's was "hi!") and they chatter constantly when we're out and about.
They've totally started doing that whole twin language thing you hear about, and I wish I knew what they were saying. Plus, Kit is so much more interested in playing with them now that they're older and there have been a lot of wrestling matches lately… and a lot of arguing. ?
All that to say, it's a lot more fun to go on outings now!
But let's get to today's content shall we?
I have a fun head to toe Everlane review for you today!
Does anyone else feel like they've been doing a really good job with new launches lately? Admittedly, I wasn't super excited about a lot of their launches over the fall and winter (except their denim!), but there have been so many good things lately (I'll be doing a review of the cheeky straight jean soon).
So I'm happy to spread the goodness to you, and share three of their new launches today!
The three pieces that they sent to me to review for you guys are the Japanese Go Weave Cami, the Easy Chino, and the Modern Buckle Sandal.
So let's get to it shall we!
For reference: I'm 5'5″, 127 lbs, 34″ bust, 27″ waist, 31.5″ hips, true size 9 in shoes.
Japanese Go Weave Cami in White, Size 4. $68.
|| Fit
I have a short torso, and this hits me about mid hip. I think the length on it would work for a variety of heights. Also, the straps are a perfect length so you feel secure and held in. I was able to wear a strapless bandeau underneath, but the fabric is thick enough that if you want to go without a bras, you definitely could.
I think the square neckline is really flattering… it's one of my favorite features on the blouse, and there's a split hem on the side so you have flexibility in how you tuck it in.
It does run slightly big so if you are in between sizes I would suggest going down a size. I got it in a small, but I think an extra small would have worked even better.
|| Quality
The quality on the cami is actually quite a bit nicer than I thought it would be. This is my first time trying any of the Japanese GoWeave line, so I'm not sure if it's typical of the other pieces, BUT it's a really nice, thick material that drapes super well. I hate when you tuck in a blouse and it bunches awkwardly or just… doesn't work, but this tucks in SO nicely (which is due to the weight and quality of the material). The material is pretty opaque, and it's lined so you really can go without a bras if you want to. I honestly am really impressed with the quality!
The Easy Chino in Ochre, Size 4. $55.
|| Fit
These chinos have a really nice draped fit to them that I love. They have an elasticated waist, and they hit right at your ankle. They DO run big because of the elastic waist. I originally got a size 6, but exchanged them for a size 4. However, if you're wanting to wear them lower on your waist, I would suggest sticking with your normal size. They do cuff really well so if you're short they'll still work for you without tailoring. The pockets are nice and roomy so the amount of rocks you can hold for your three year old is substantial. Yay!
|| Quality
The material on these is not as high quality as the cami (the price reflects that), but it's still really nice. They're fairly lightweight so they're the perfect weight for summer. The hems cuff really well (like I said above)… I hate when you cuff a pair of pants and they don't stay cuffed. These do! The only downside to these pants is that they do wrinkle fairly easily, so you may want to consider that if you hate ironing.
The Modern Buckle Sandal in Sand Suede, Size 9. $98
|| Fit
They fit true to size (I'm a true 9), and the thing that makes them fit absolutely perfect is the buckles. You can adjust both straps so if you have a wider, or more narrow foot you can make them work for you.
|| Quality
The suede on these is really, really nice… definitely treat it right away! They have a nice rubber sole so they don't slide around when you're walking. If you're prone to sweaty feet (like I am ?), I would suggest putting a tiny bit of moleskin on the foot bed to keep your foot from slipping. The color is so nice too, it does a great job of being that in between color when you don't want to wear brown, and you don't want to wear black. I absolutely love these sandals! If you're going to get one thing out of the three, I would suggest these.
So there you have it! I hope this was helpful. If you have questions I didn't address, feel free to leave a question in the comments!
And if you don't care about the clothes, maybe just tell me what you're up to this weekend! I'd love to hear. ?
*Thanks to Everlane for providing these pieces so that I could review them for you.*
Until next time,
Karin
Other Everlane Reviews I've done: