Hello!
I'm going to be real honest with you right now. I'm totally multi-tasking while writing this…
I'm also eating ice cream (dairy free of course), and watching the new Emma movie and I'm totally swooning my way through it.
Mr. Knightly is so dreamy (although he's no Jeremy Northam… if you know, you know).
So suffice it to say I'm a bit distracted. But I also can't apologize because… Jane AUSTEN.
Today I wanted to share with you a roundup of my favorite summer dresses. Summer dresses are one of the very best parts about summer dressing if you ask me.
They are pretty, comfortable, easy, and most important: they keep you cool.
On really hot days, I just can't deal with a waistband and summer dresses circumvent that obstacle nicely.
In recent years I've really been able to build up my summer dress collection so I thought it would be fun to share my absolute favorites today + give you ideas on how to style them.
So yeah! Let's see the dresses: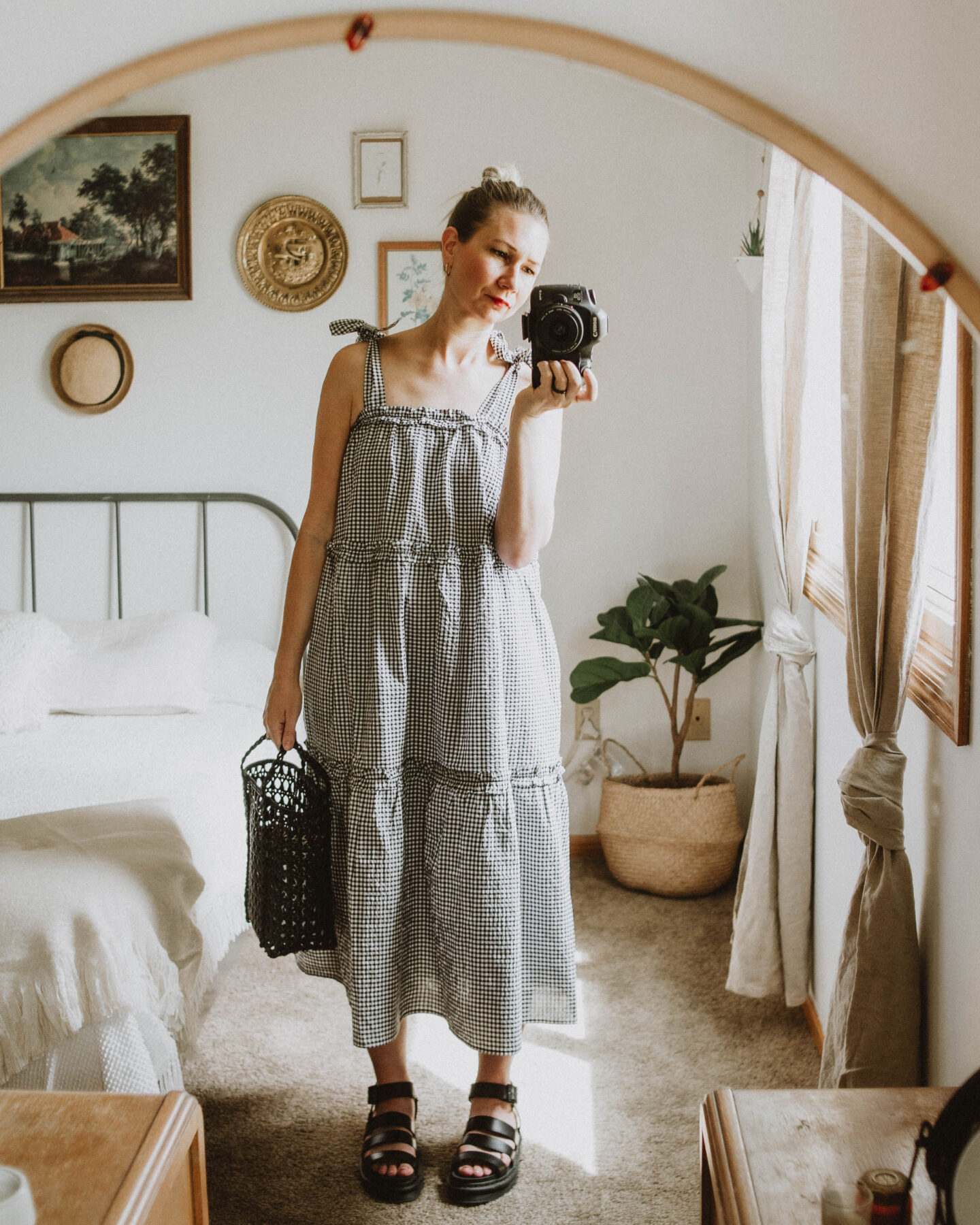 Outfit Details (Affiliate Links):
I have been on the hunt for the perfect gingham dress for forever. I thought I had found it in the Sezane Marielle dress last summer, but now that I'm no longer breastfeeding or pregnant I find that the wrap just doesn't provide enough coverage in the chest area for my liking. BUT I randomly stumbled on this dress at Target, and it is exactly what I wanted. The tiers, the ruffly seams, the size of the gingham checks, the length… seriously it's perfect. It's made of a seersucker like material so it has a bit of texture, and it is impervious to wrinkles (super win!). Best of all, the wide shape barely touches your body so you stay nice and cool in it. I'm so happy with it!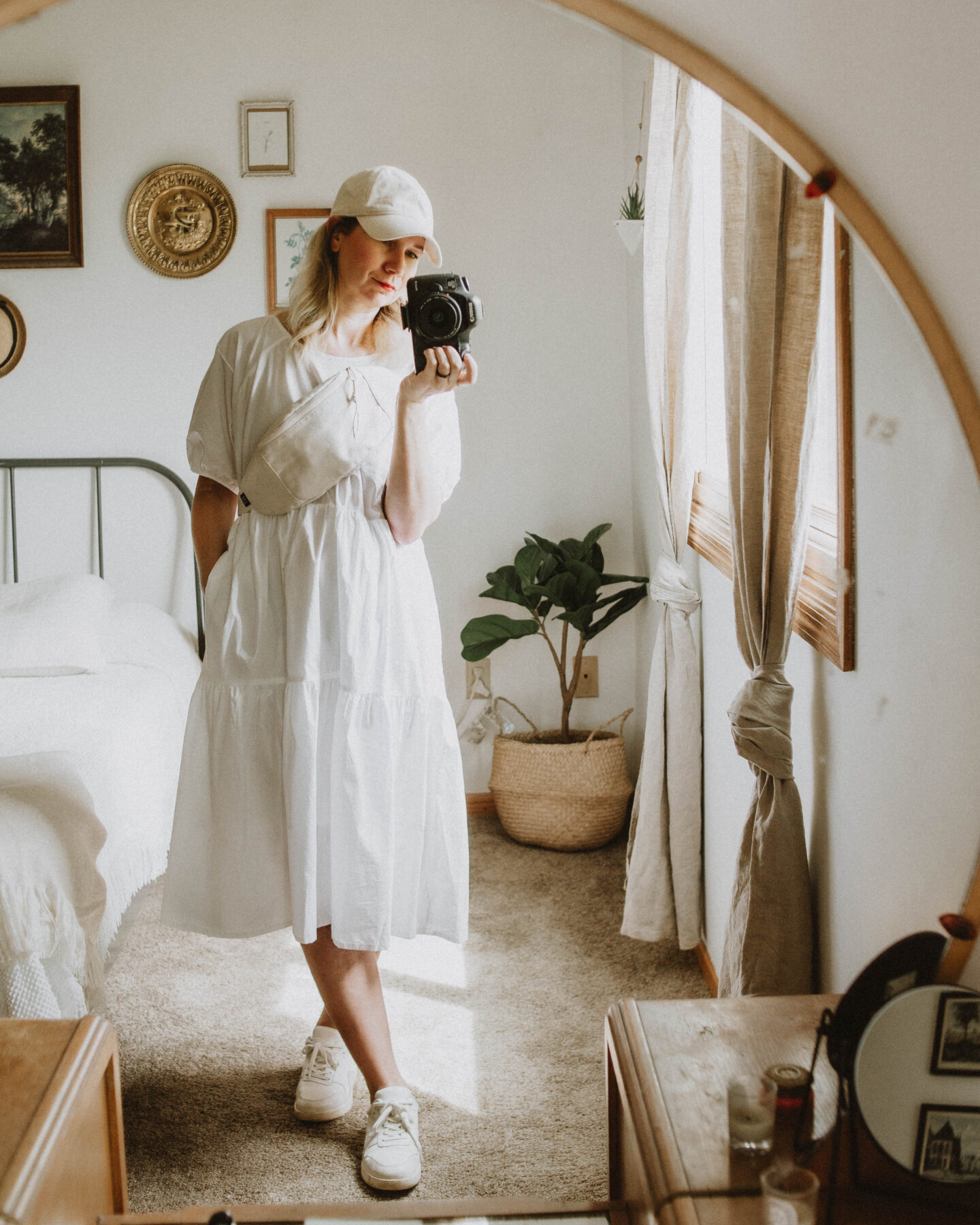 Outfit Details (Affiliate Links):
Dress (review here) and shoes (review here) were gifted
I already did a review of this dress here so I won't mention too much here, but I will say that the more I wear this dress, the more I absolutely fall in love with it. It's just so versatile and comfy… you really can't go wrong. I really love styling it this way with some more casual accessories. It's the perfect balance of super feminine and functional pieces.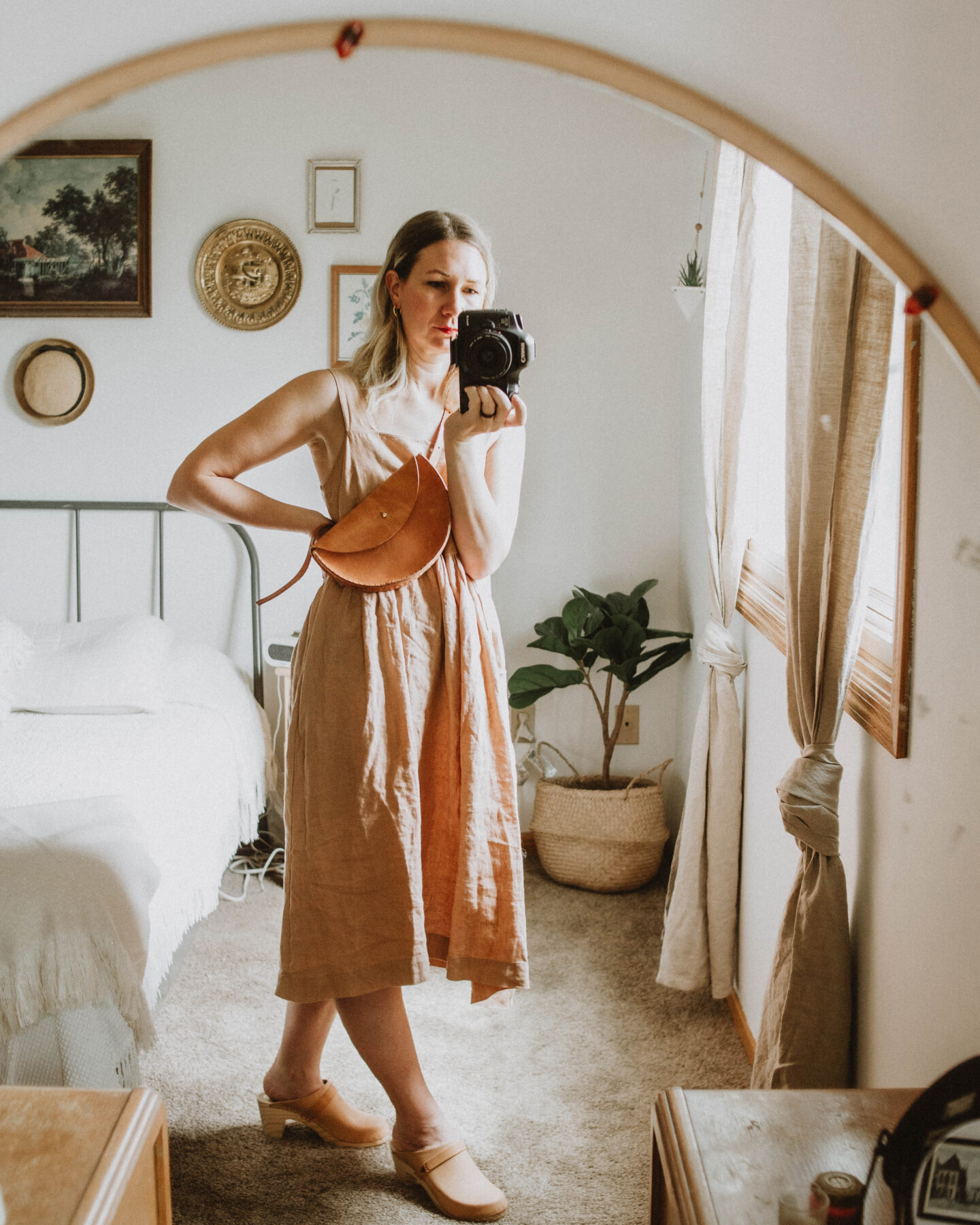 Outfit Details (Affiliate Links):
Clogs were a gift
I've had this dress for awhile now, and every time I wear it I love it more and more. It's just the perfect soft and floaty linen dress. Like the gingham dress above, it barely touches your body so it almost feels like you're wearing nothing (yes please). This dress fits very oversized so I would size down 1-2 sizes if you plan on picking it up. It comes in a ton of different colors (there's a sky blue color that looks stunning), but the color I have on here is dusty peach.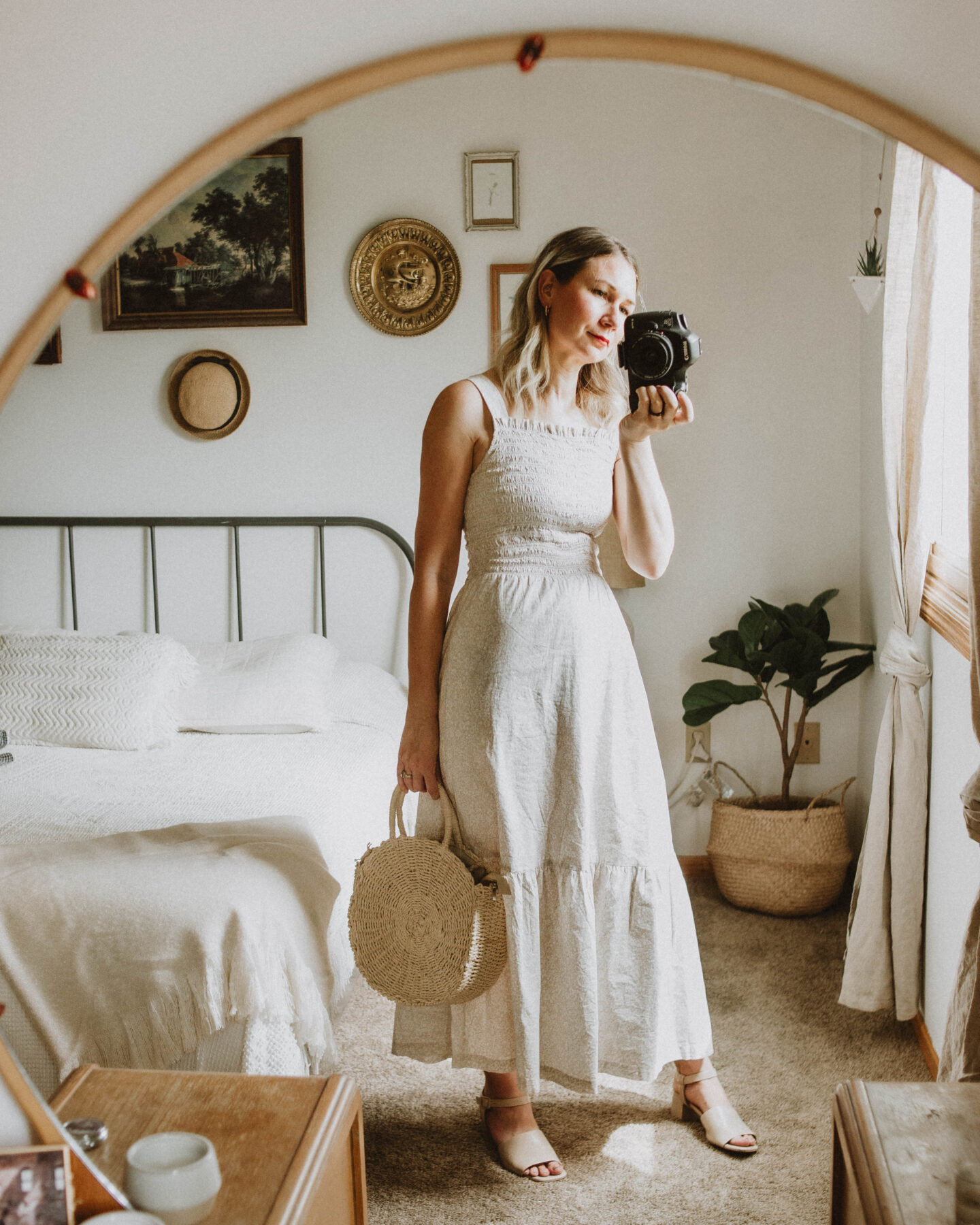 Outfit Details (Affiliate Links):
Shoes were a gift (review here). Dress review here
I also have a review of this dress here, so again I won't say much here except that if you are planning on getting this dress I would definitely do it sooner than later as it's selling out super fast!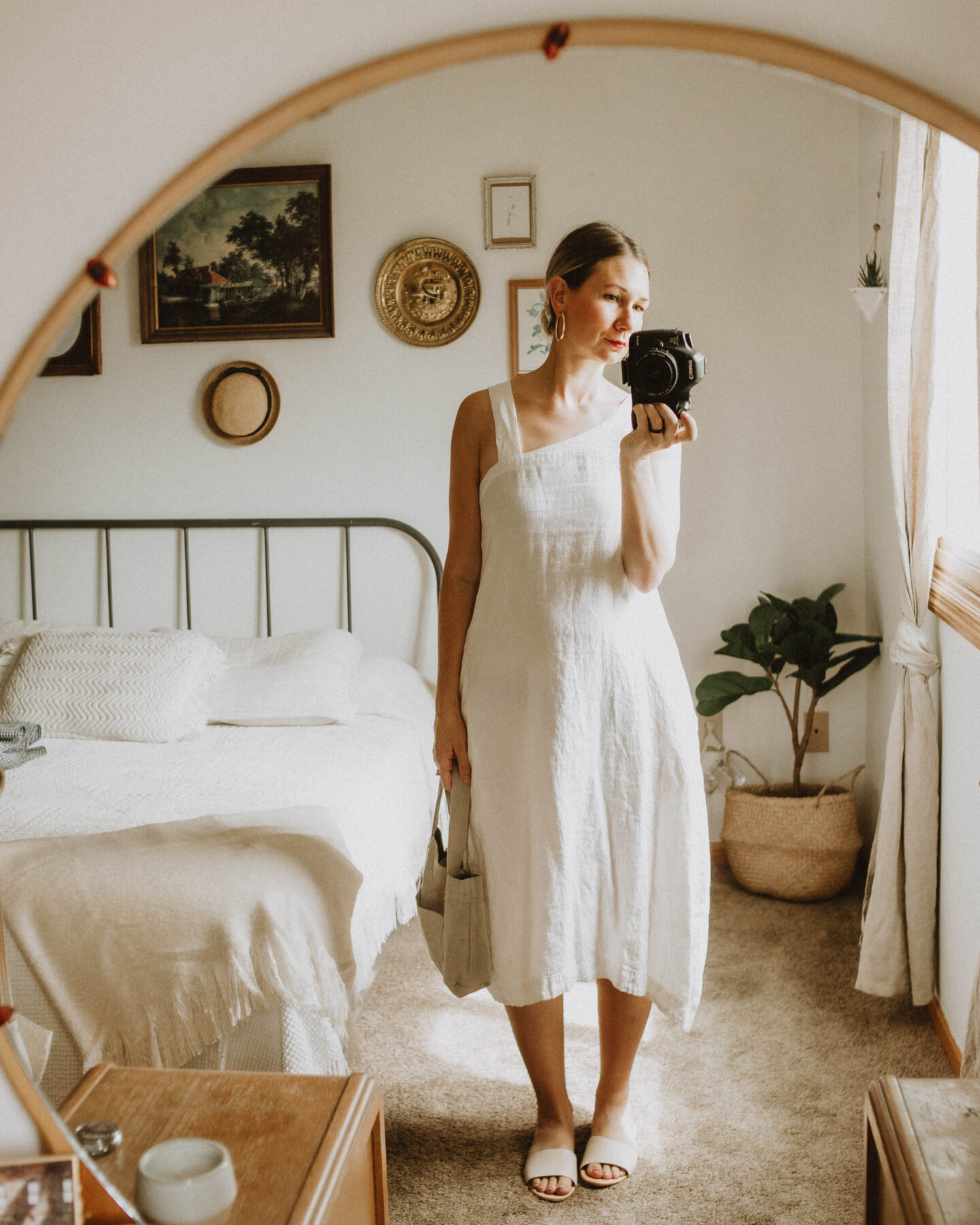 Outfit Details (Affiliate Links):
Bag is gifted (review here)
This dress has been a long time favorite of mine. It's just so… cool… and structural… and interesting. I love wearing my hair slicked back with this dress to help keep the focus on the details of the dress. There are so many details here that I love: the faux one shoulder strap, the contrasting straps, the curved hemline, the bell shape. Those details combined make a really unique and beautiful art form of a dress. Whenever I wear this I just feel so good in it. It's also made of really lightweight linen, but yet it's opaque enough that nude underwear are not visible underneath. This dress is definitely a bit more fitted at the top so if you have broad shoulders or a larger bust you may need to consider sizing up.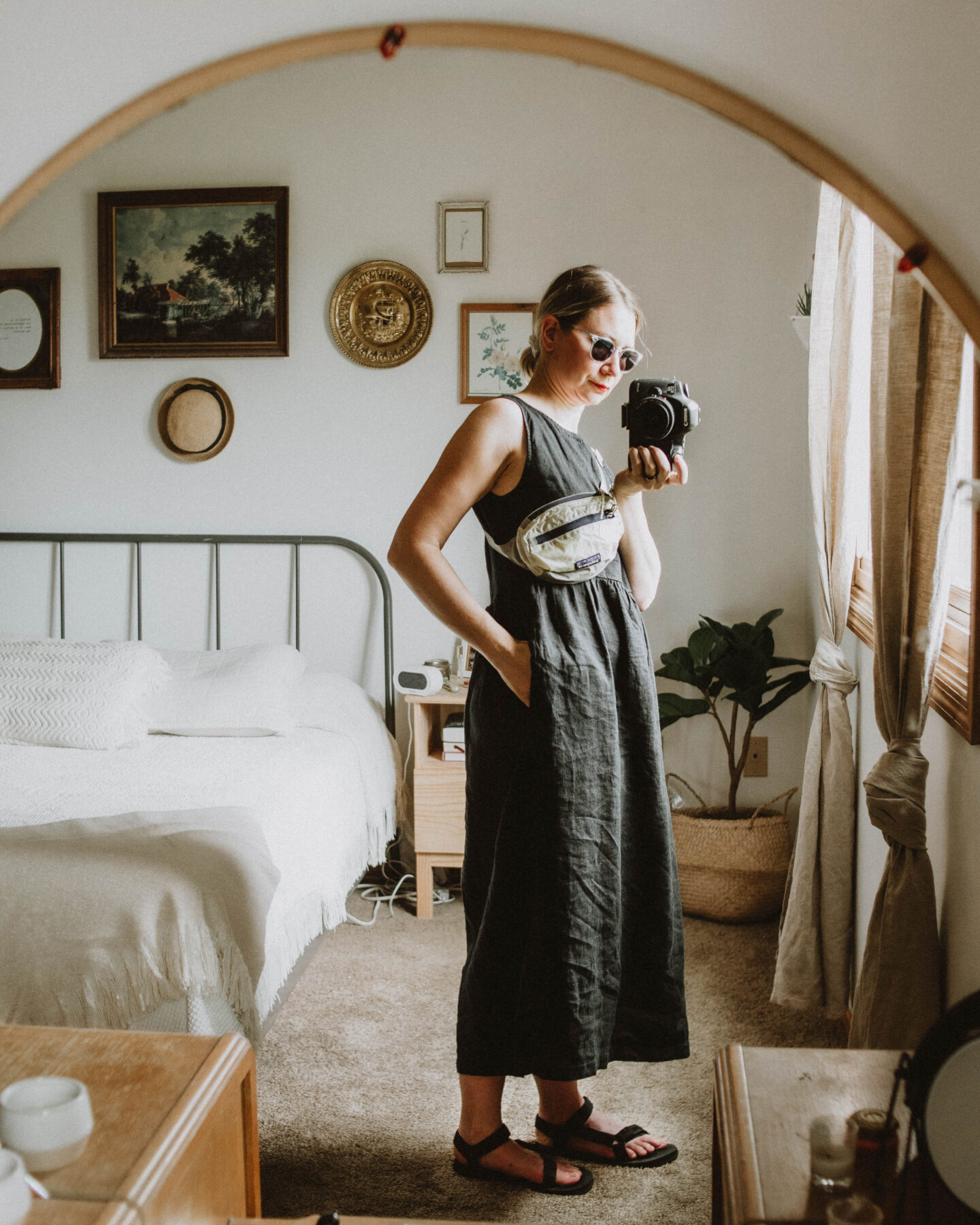 Outfit Details (Affiliate Links):
This dress has been a new favorite of mine this spring and summer. It's honestly a really simple dress, but it's the simplicity that makes it so stunning. There's just something about a simple, black linen dress. With that aside, I do really love the placement of the torso hem, the slight boat neck, and the almost maxi length. The linen on this dress is also superb. It's so soft, and it just keeps getting better with washing. I did size up to a medium to get this more relaxed fit so keep that in mind when selecting your size.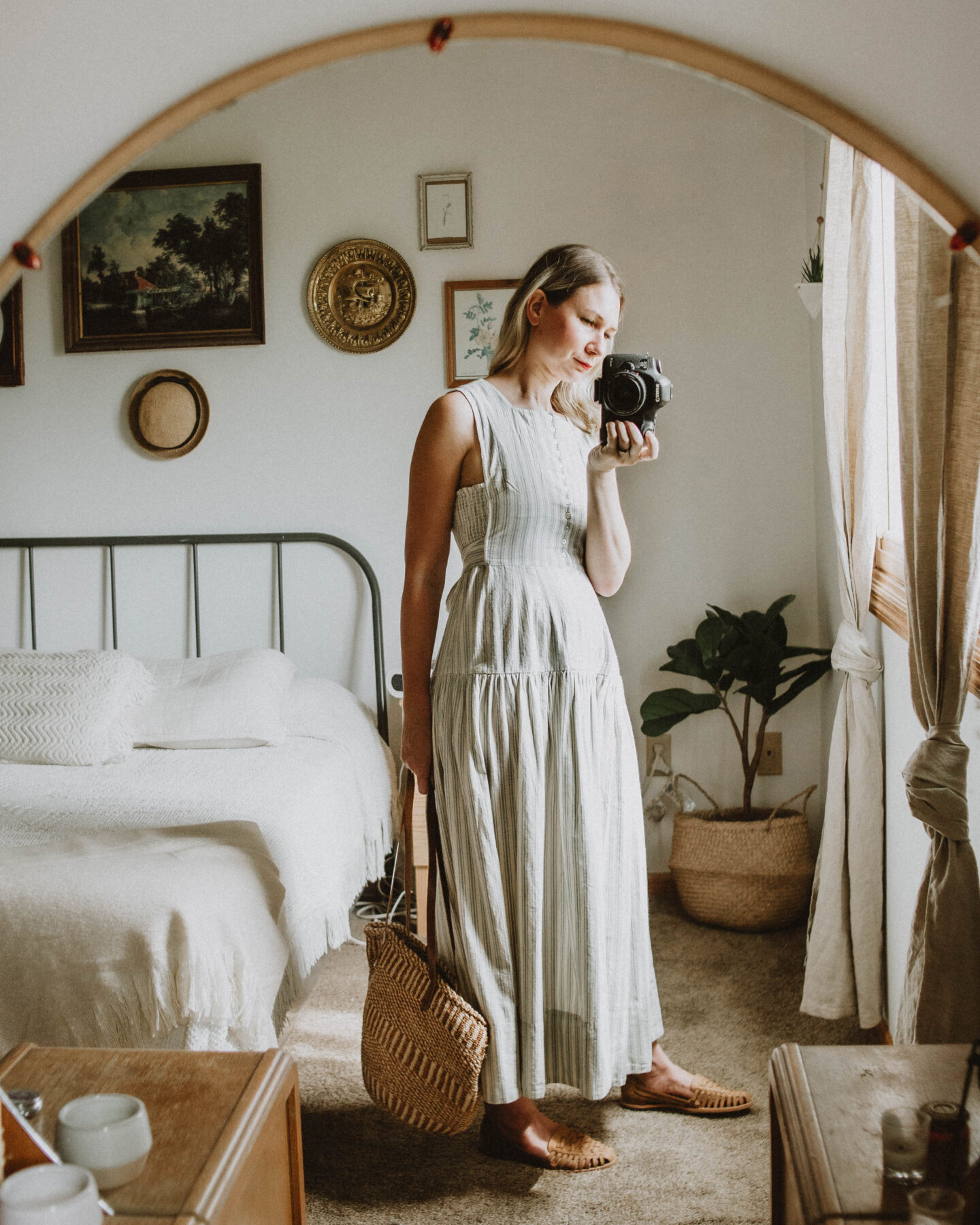 Outfit Details (Affiliate Links):
Gah! This dress! I love it so much. It's such a pretty, feminine piece but it's the kind of dress you'll have in your closet forever (and then probably pass down to your kids). The smocked detail at the sides is so pretty, and the seed buttons going all the way up the front paired with the slight tiered skirt, and pale blue stripes make this dress look vintage in the best way. I've found that Doen does an excellent job at paying attention to the details, and this dress is no different. It's made of a really nice thick cotton, so it lays really well, and drapes so nicely down the skirt. I got my normal size small, and it fits perfectly.
Well there you have it! Those are my favorite summer dresses. I hope these styling ideas gave you lots of inspiration. Do you reach for dresses when it gets hot out or do you prefer shorts?
Until next time,