OH hey there!
I promised more reviews would be coming…
and if there's one thing you should know about me is that I DELIVER (that's actually kind of not true, and I'm working on it… this is me working on it okay??).
BUT I did promise you, and here I am doing one so yay!
I thought I would start with a review of the Eli and Barry tank 1 and pant 2 for two reasons:
I have had my Tank 1 in foam linen for three summers now, and it has been a staple in my warm weather wardrobe since, and
looking at my analytics, my Eli & Barry links in my shop page are some of my most clicked through links so I know you guys are interested in them.
Plus, I adore Lily. And she happens to be the pregnant right now. And I'd love to send her some additional traffic if at all possible. 🙂
So I'm going to keep this introduction pretty short. If you want to read more about Eli & Barry you can click the link here.
My measurements:
5'4.5″
135ish lbs.
27″ waist
32″ hips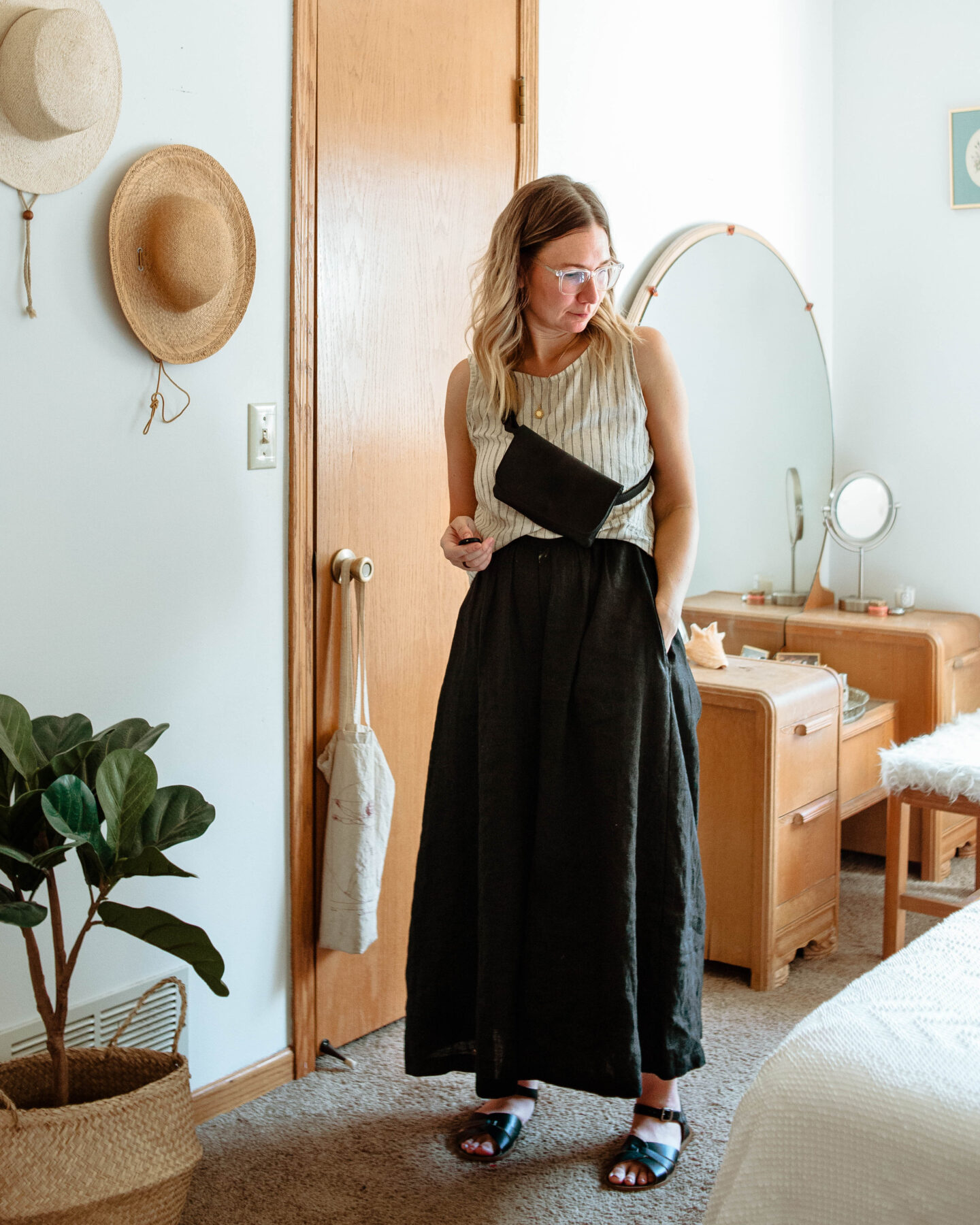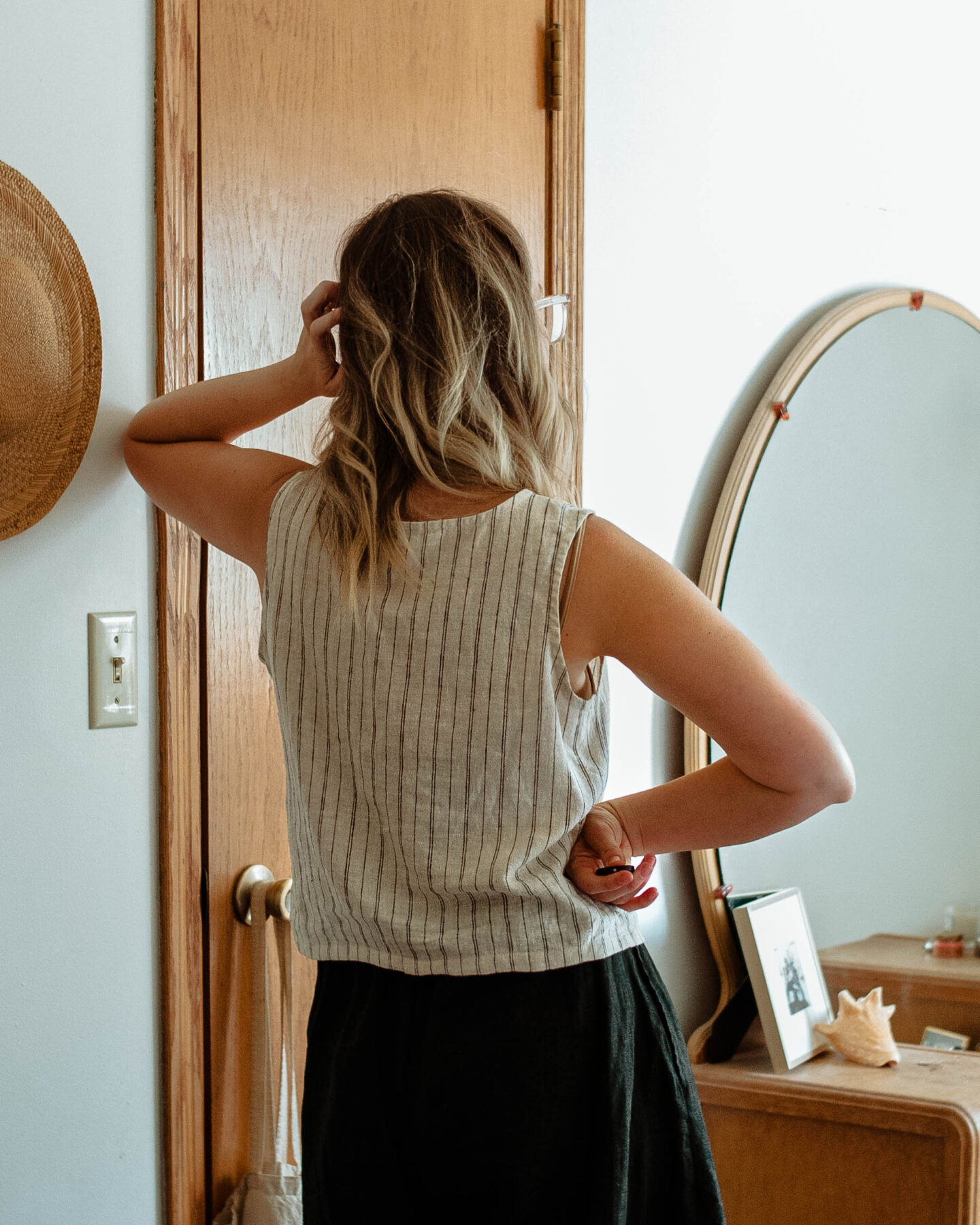 Outfit Details (Some Affiliate Links):
Tank and belt bag were gifted
Tank 1 Review:
I have the Tank 1 in Tea Stripe Hemp Organic Cotton (gifted. pictured above), and in foam linen pictured below, both in OS 2.
My typical size in tops is a 4/S, and I have a 34″ (size A) bust. I sized up to the OS 2/36″ bust to have a little extra room.
It also comes in hemp organic navy stripe, and sizes OS 0 (34″ bust) – OS 15 (52″ bust)
Retails for $120
First let's talk about the material. I have no idea where Lily sources her material, but it is some of the softest, light as air material I have ever put on my body. The linen is soft, feels broken in, and has such a beautiful lightweight drape to it. The cotton is light, thin, and so incredibly soft. The material alone makes the investment worth it.
The style of these tanks is honestly very basic. They are, to be perfectly honest, a basic shell. The scoop line, stitching, and construction are quite simple… but, in my humble opinion, that's what makes these tanks so beautiful. They don't need any bells and whistles because it's their simplicity that makes them so wearable. They go with every other thing I have in my closet, and I never have to worry about them competing with the rest of my outfit. In other words: they are subtle, but powerful.
With that said, I do want to point out that while minimal and basic they are cut really well. The scoop neck line is cut at the perfect spot to highlight your collar bones, and the arm holes are generous, while not being so open that you have to wear a specific bras (is there anything worse than an arm hole that's either too small or too big? Major pet peeve of mine!).
They hit me right at the top of my hips.
To sum it up: while a subtle design may make these tanks seem basic, the material is what makes them extra special.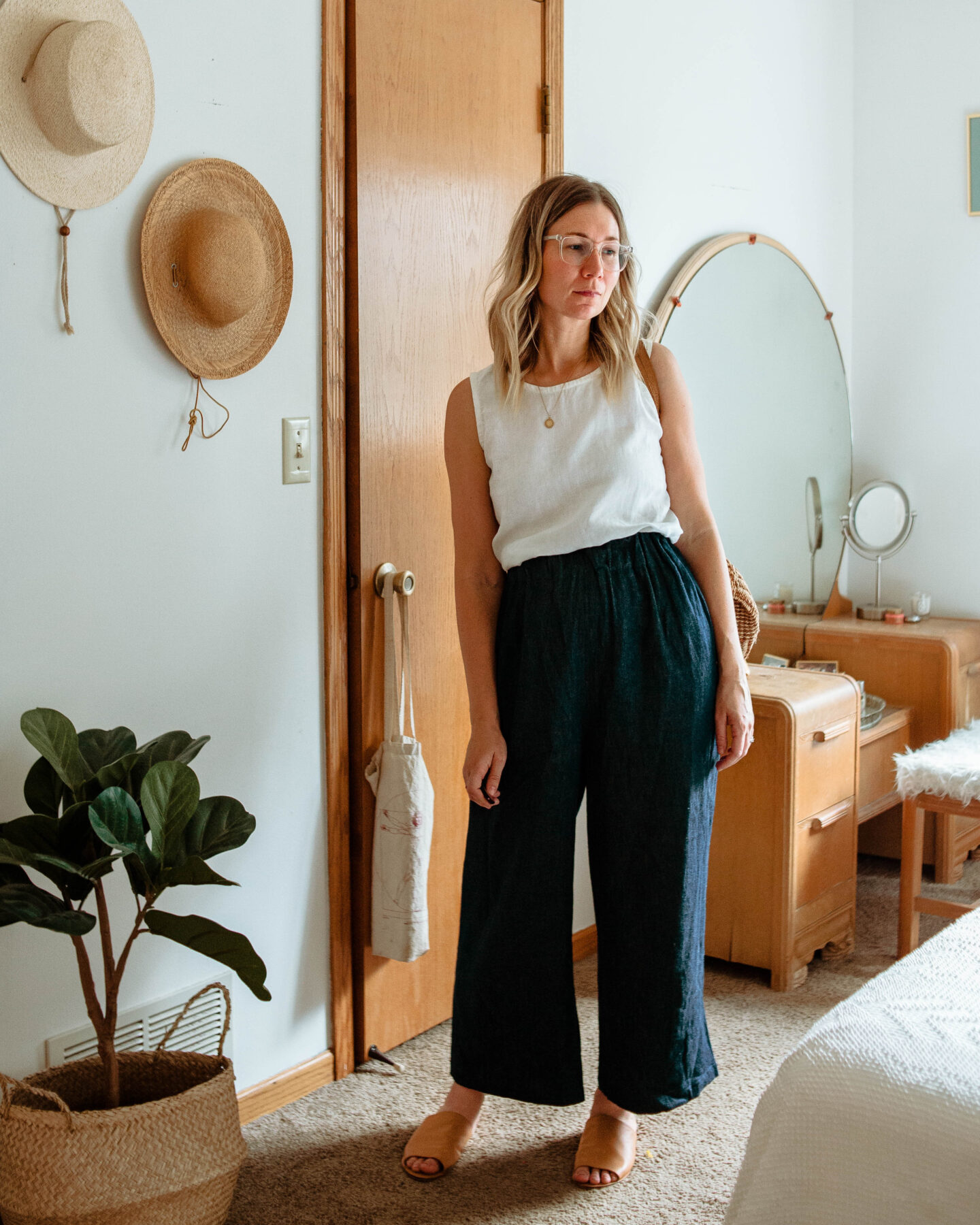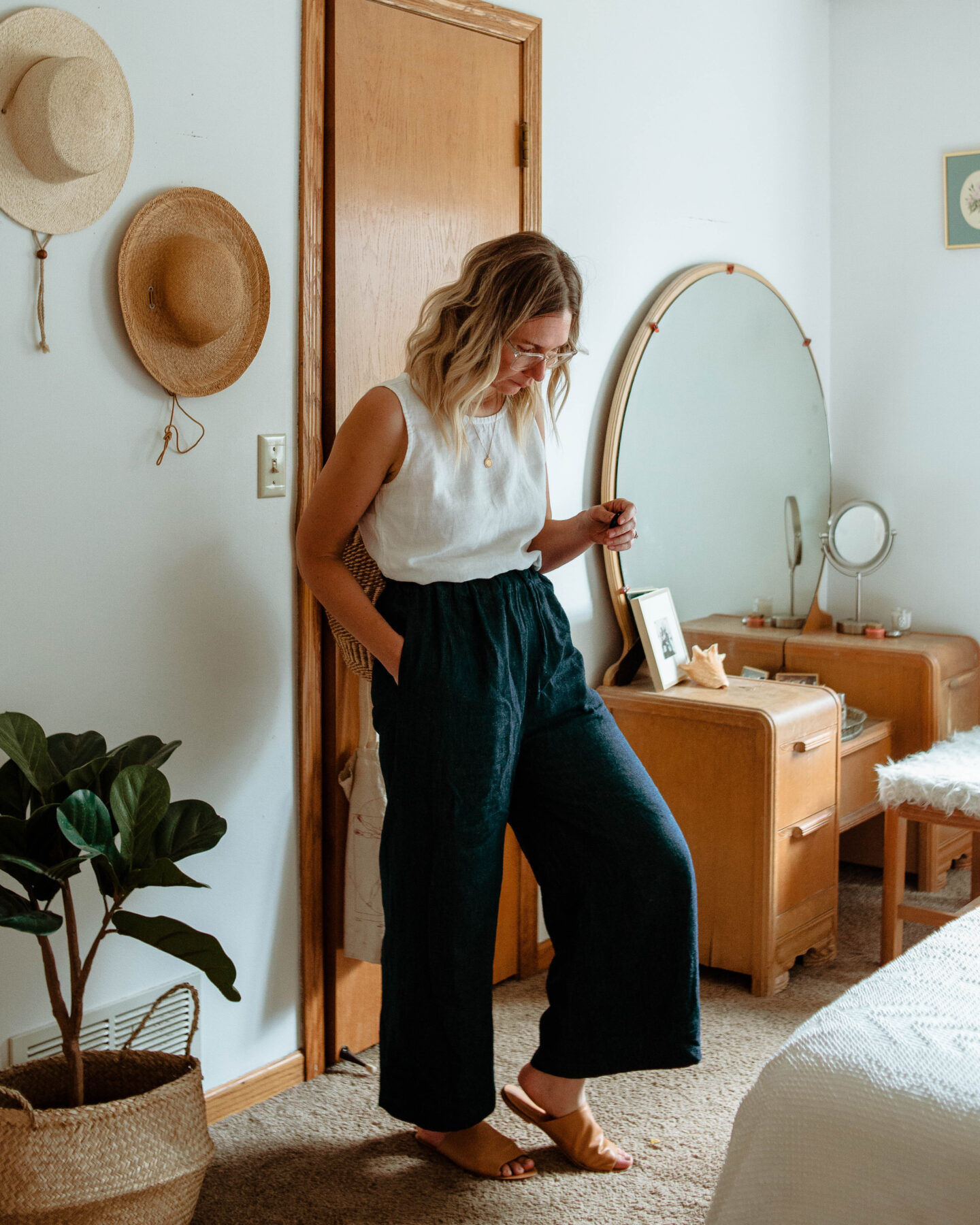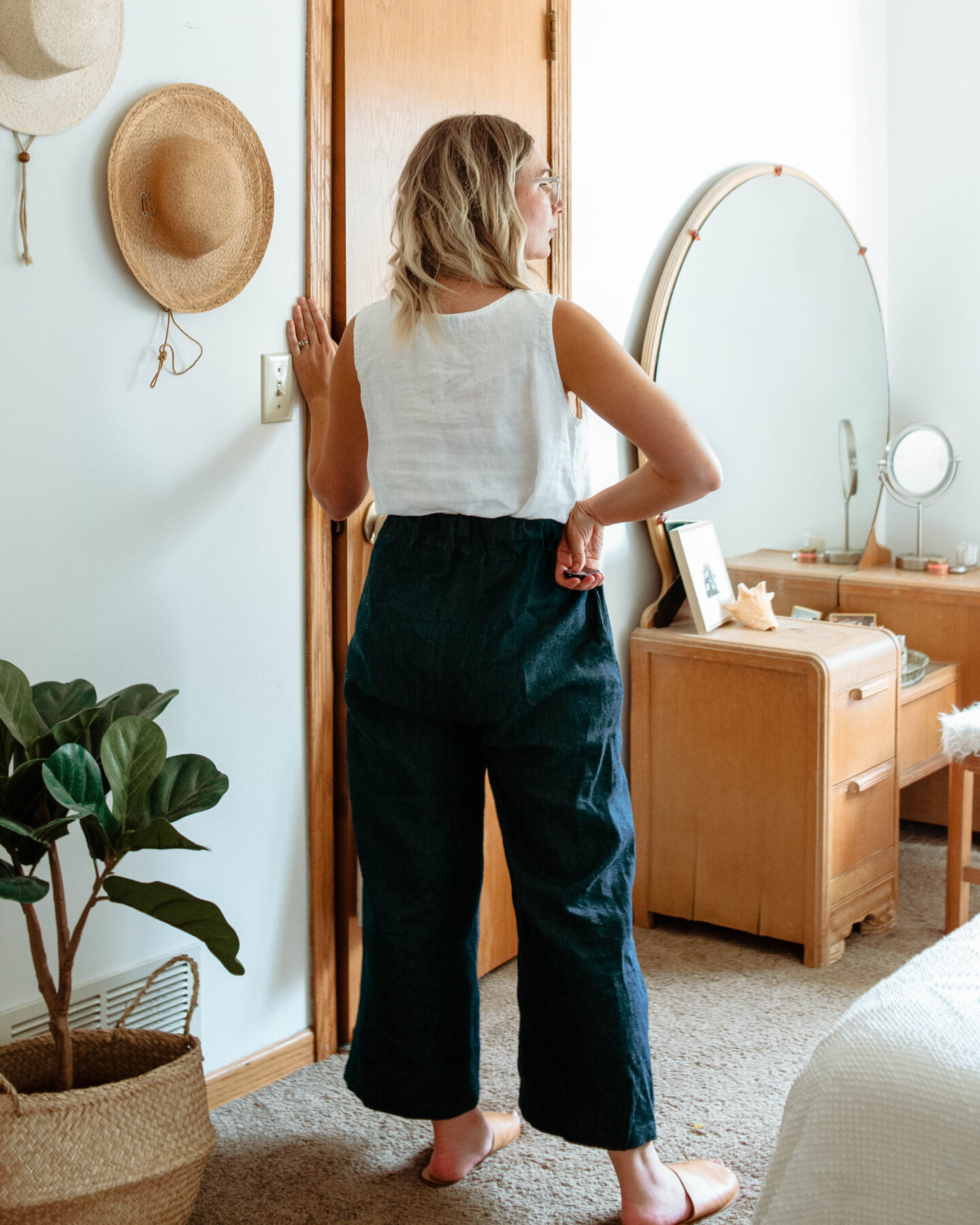 Outfit Details (Some Affiliate Links):
Sandals were gifted (see review here)
Pant 2 Review:
I have pant 2 in hemp organic denim, deepest blue, in size OS 2
My typical size in pants in a size 4-6/27. I sized "down" to the 26.5″ waist because of the elasticated waistband. I knew there'd be a little give, and I was right.
They also come in hemp organic cotton navy stripe, bleige silk noil (currently on sale!), and sizes OS 0 (waist 24 1/2″) – OS 15 (waist 42 1/2″)
Retails for $220
We're going to talk about this material again okay? So these are denim. As in, these look like jeans. BUT they feel like pajamas. I'm telling you, she sources the best fabric because this denim is so thin and lightweight, but yet it also feels and looks like a pair of jeans.
These are a true wide leg pant in that they are wide from top to bottom, but they do get wider as they go down. The beauty of the design is that you can wear them year round because there is plenty of room underneath for a pair of leggings. They are cropped, but not too cropped. They hit me right in the middle of my ankle, and the seam is a nice mid-sized seam so they don't look… homemade (does that make sense? Like did your mom ever hem your jeans growing up, and it just made them look like your mom hemmed your jeans? No? Only me?).
They have an elasticated waistband (hallelujah!), and the waistband is very wide so it gives the pants a really unique look when your top is tucked in. The pockets are really deep, and the crotch is not dropped (which I appreciate).
This is another basic design that is made so special by the fabric and details.
Well that's it friends!
I hope you found this review of the Eli and Barry tank 1 & pant 2 helpful… I know some of these pieces can be quite an investment in your wardrobe budget so I hope my review makes it more (or less) obvious that these are worth the closet space.
Let me know if there's anything you'd like to see sooner than later in terms of reviews, and I'll do my best to prioritize it!
Until next time,