Happy Wednesday!
I recently just placed my first makeup order in, at least, a year. I didn't really intend to do a makeup shopping fast, but I was on a mission to use up what I currently owned and it took me about a year to do so.
Gosh it feels so good to get through your products, use them to your last drop, and then replace them knowing you got your money's worth. Doesn't it??
So since I have a new lease on my makeup life, I thought it would be fun to walk you through my easy, glam everyday makeup look…
it's a bit more than my 5 minute routine, but it's still easy to pull off when you don't have a ton of time to get ready in the morning… and the best part? It's minimal products, which means that if you are just starting out with your makeup bag, these products make the perfect conscious starter makeup kit.
Okay. Let me share what's in my makeup bag, and then keep scrolling because… duh, duh, duh! I just uploaded an IGTV featuring this makeup look, and I have it linked below (and there was much cheering and rejoicing… there BETTER BE CHEERING AND REJOICING. He he).
Here's the makeup: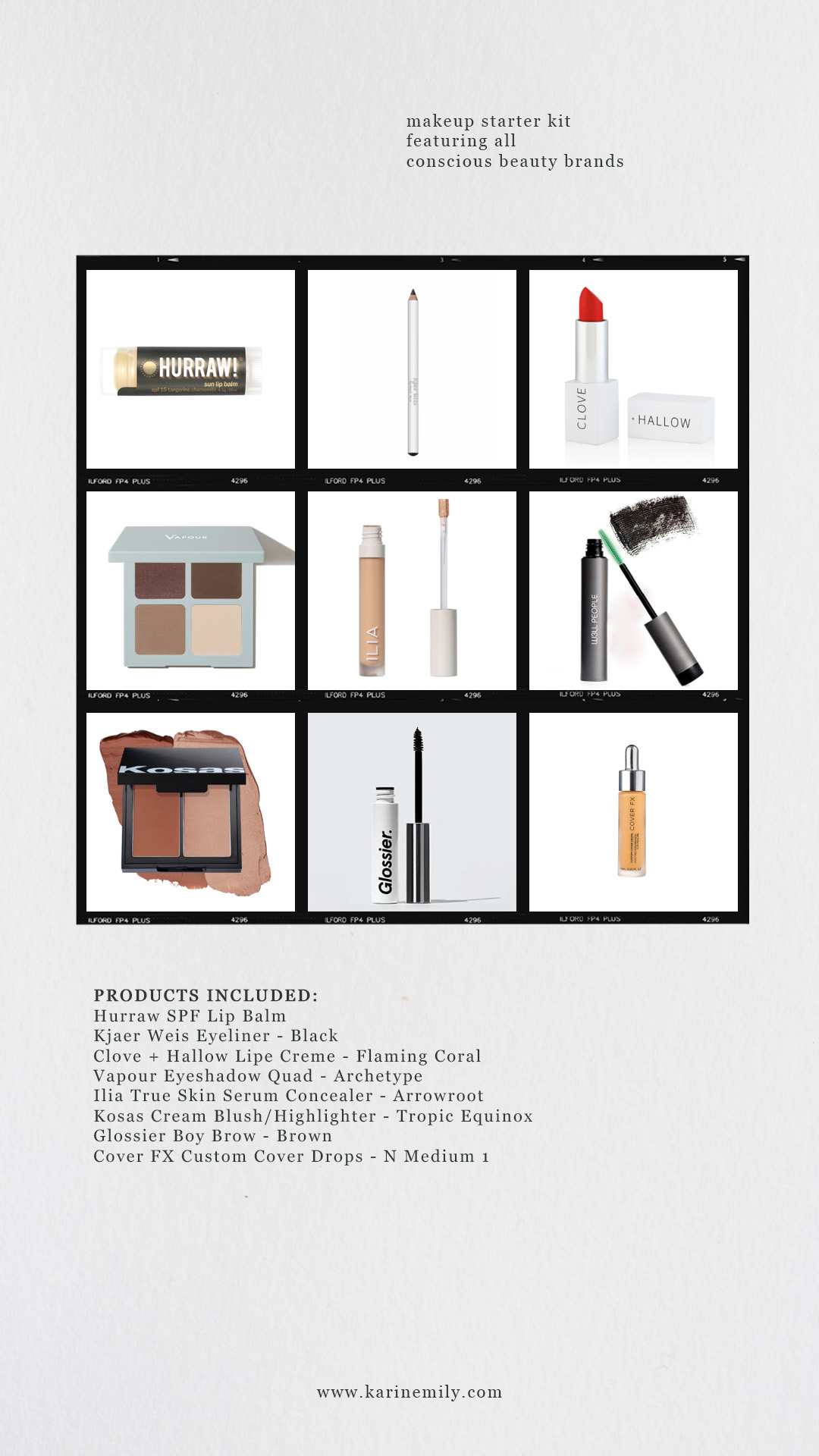 Makeup Details (Affiliate Links):
no products
Each of these products are easy to use, can be used with minimal brushes (you'd probably only really need a fluffy eyeshadow brush, and an eyebrow brush, which are pretty easy to find), and are from conscious beauty brands.
Here's the tutorial so you can see them in action:
I hope you found this helpful! I know it can be overwhelming to begin down the path of conscious beauty so I hope some of these products will lessen that overwhelm. And of course, I'd be remiss if I didn't mention that any makeup routine starts with skincare, so check out my skincare routine here.
Until next time,