Happy Wednesday everyone!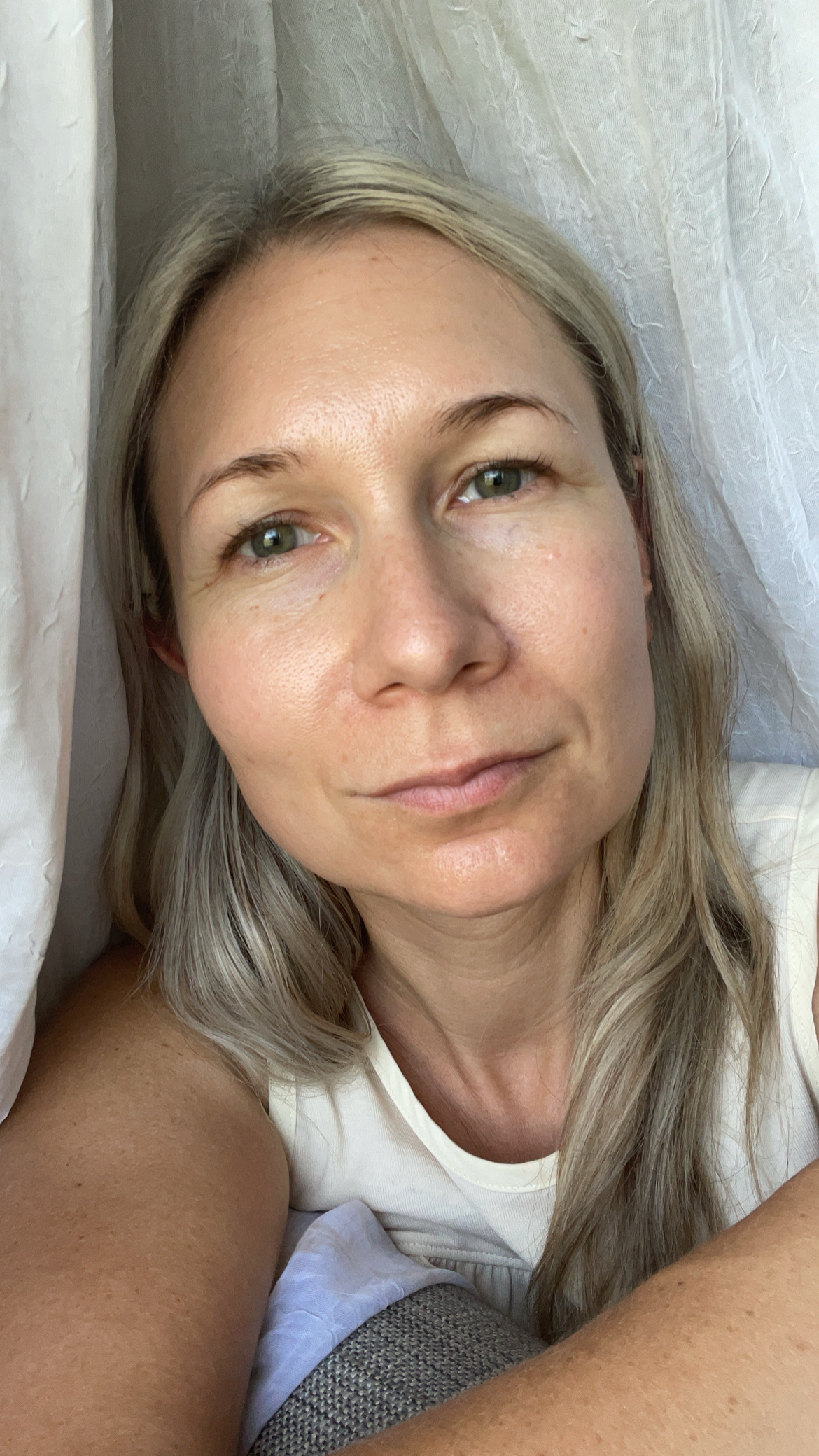 *this post contains affiliate links*
It's been a little while since I shared my skincare routine, and there have been quite a few changes.
Last time we chatted I shared my love for Haldi Skincare, and I still do absolutely love Haldi. What's so great about Haldi is that they create a routine for you. It literally takes the guess work out of what you should be using because you are assigned a skincare expert who creates a routine for you, adds all of their product recommendations (and they work around what you're already using so they don't push you to buy new when you don't need to) to a personalized store, and then all you have to do is purchase what you want to. Periodically they will check in and make sure the routine is still working and make updated suggestions if necessary. It's the PERFECT system for anyone who is unsure of skincare or is just beginning on a skincare journey. I have greatly benefitted from my system – my skin has never looked better and I almost never break out anymore.
If you want to give Haldi a try just use my name "Karin Emily" when it asks for a referral name.
I went in depth on my Haldi routine in my last post here so I won't do that again here, but I did want to update you on the new products I'm using.
As I mentioned above, Haldi was a great resource when I was really starting out and figuring out what my skincare routine should look like, but I have grown a lot in my understanding over the years so while I'm still using a lot of the recommendations I received from Haldi, I've branched out a bit so that I could try another brand. However, if my skin ever changes in the future I will definitely be reconnecting with my Haldi skincare expert for updated advice/product recommendations
I've been curious about Elemis for awhile now, and when they asked to do a collaboration on Instagram I jumped at the chance to try their products and they are SO good. I have loved incorporating the into my routine… they work incredibly well and I feel like I'm at a spas every time I use them thanks to the smell/packaging.
Let me take you through my routine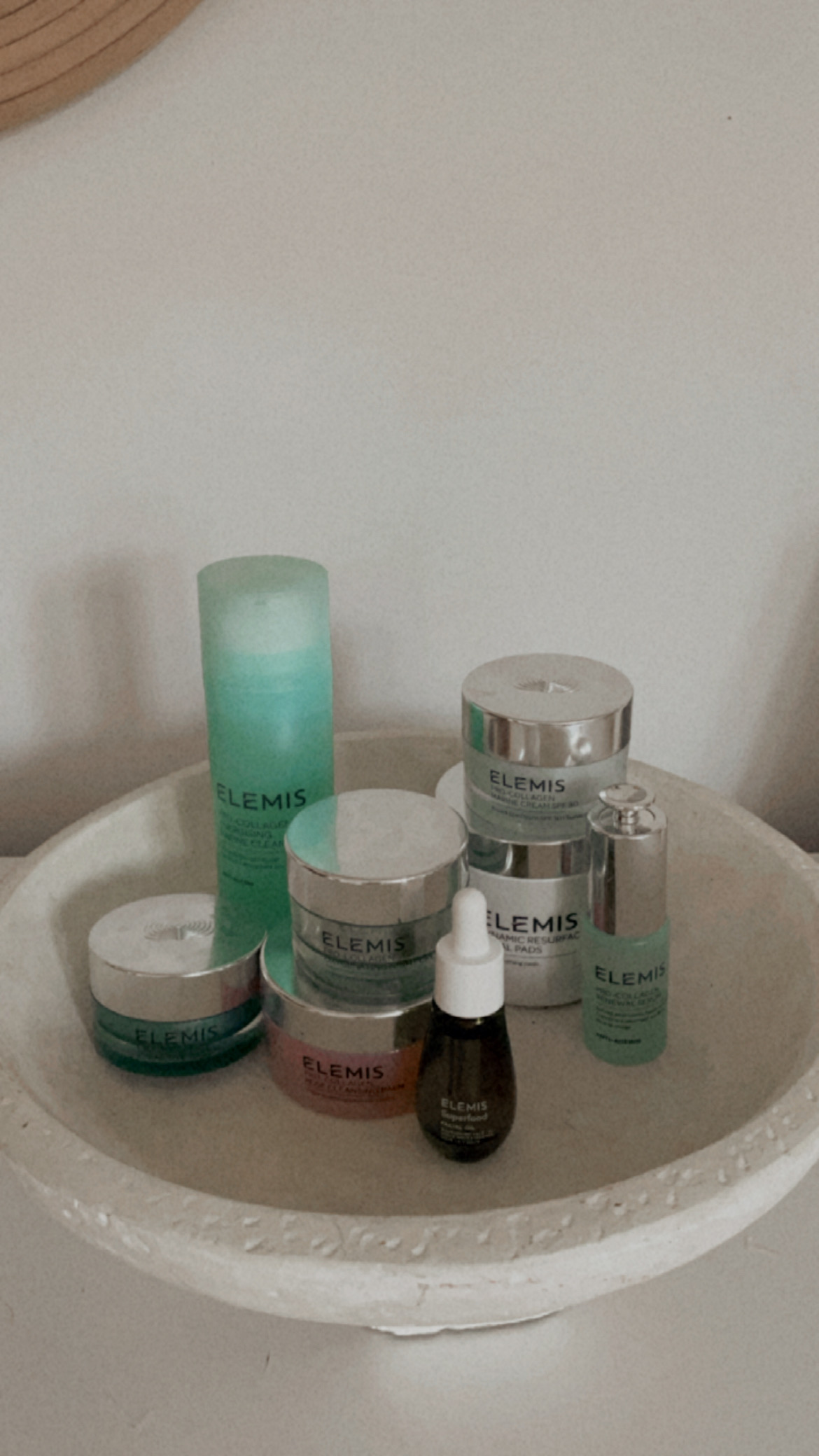 AM routine:

Step 1: cleanse with Pro-Collagen Energising Marine Cleanser – a lightweight cleanser that leaves my skin feeling soft. It's gentle and perfect for the morning.
Step 2: Pro-Collagen Renewal Serum – a great retinol alternative that's great for anti aging
Step 3: Superfood Facial Oil – a super moisturizing facial oil that layers beautifully under makeup
Step 4: Pro Collagen Marine Cream SPF 30 – very moisturizing especially when paired over the oil. I love that it has SPF!
Step 5: Pro Collagen Eye Revive Mask – so hydrating and works great under makeup!
PM Routine:

My PM routine differs in only a few ways:
I double cleanse with the marine cleanser and the pro collagen rose cleansing balm – it smells amazing and it gets everything off (even stubborn mascara!)
I add a toning step in the form of these Dynamic Resurfacing Facial Pads – these are a great exfoliator and leave my skin feeling so soft.
I switch out the day cream for the pro collagen oxygenating night cream for an even bigger surge of moisture.
Like I said, I've really been loving this lineup and if you want to try anything I do have a discount code for you guys! Use code KARIN20 to get 20% off your order (it's good until 9/30/21!).
Well that's all I've got for you guys! If you want to see these products in action, make sure to check out my Elemis story highlight on Instagram!
Until next time,
Karin