Happy Black Friday friends! Black Friday always seems a bit hectic doesn't it? This year I'm assuming things won't be quite AS hectic as crowds will hopefully be kept to a minimum, but there's still something about this day that feels a bit… frenetic. SO. With that in mind, I thought I would have a little chat about a topic that lends itself to stress relief: my skincare routine. Ha!
But for real, my skincare routine (both AM and PM) are sacred traditions to me that provide two stress free moments in my day. Yes, they are short moments, but they are two expected moments of self care every day that I have come to rely on.
For me, skincare is the ultimate self care moment. It's a chance to slow down, focus on ONE thing, and do something nice for yourself that actually has very real benefits.
As a mom of four, moments like that are hard to come by (and I don't always get to do my skincare in peace and quiet), but BECAUSE I am a mom of four my skincare routine has become an easy way to do self care even if it's all I am able to do that day.
I think sometimes when we talk about self care or doing self care rituals we think we can't participate because they are time consuming, selfish, or unattainable, but that's just not the case my friends.
Small moments of taking care of yourself (and sometimes big moments when they present themselves) are wonderful ways to relieve stress. And because I often only get those small moments, I really try to make them count.
I usually do my AM skincare before the kids get up, and my PM skincare after they go to bed. I close the door (sorry David!), turn on some music (or just enjoy the quiet), and I take as much time as I can. I focus on what I'm doing, I take deep breaths, give myself a facial massage, sometimes I'll pray… whatever feels right in that moment. So while I'm doing something good for my skin, I'm also doing something good for my soul.
And your skincare routine does not need to be as involved as mine, although I am definitely a proponent of a maximalist skincare routine. The point is that you are building a reliable routine into your day that you know will be a chance for you to unwind (or gear up for) from your day.
So… what's in my skincare routine?
I did a post about six months ago listing out my skincare routine and you can find that here. I had just started using the skincare service Haldi, and you can read my review of the service in that post, BUT
just a refresher: Haldi is a skincare service where you work with a skincare expert to build your own personalized routine. No more guess work, no more trying to figure out which products you should use… they do all of the work for you, and you can buy everything through their website. It truly is a genius service and I have continued to use it and love it.
One thing I really like about the service is that they continue to check in and make updated recommendations so your skincare routine gets tweaked and refined over time.
If you want to give Haldi a try just use my name "Karin Rambo" when it asks for a referral name.
If you want to see my original routine you can check out that post, but here is what I'm currently doing: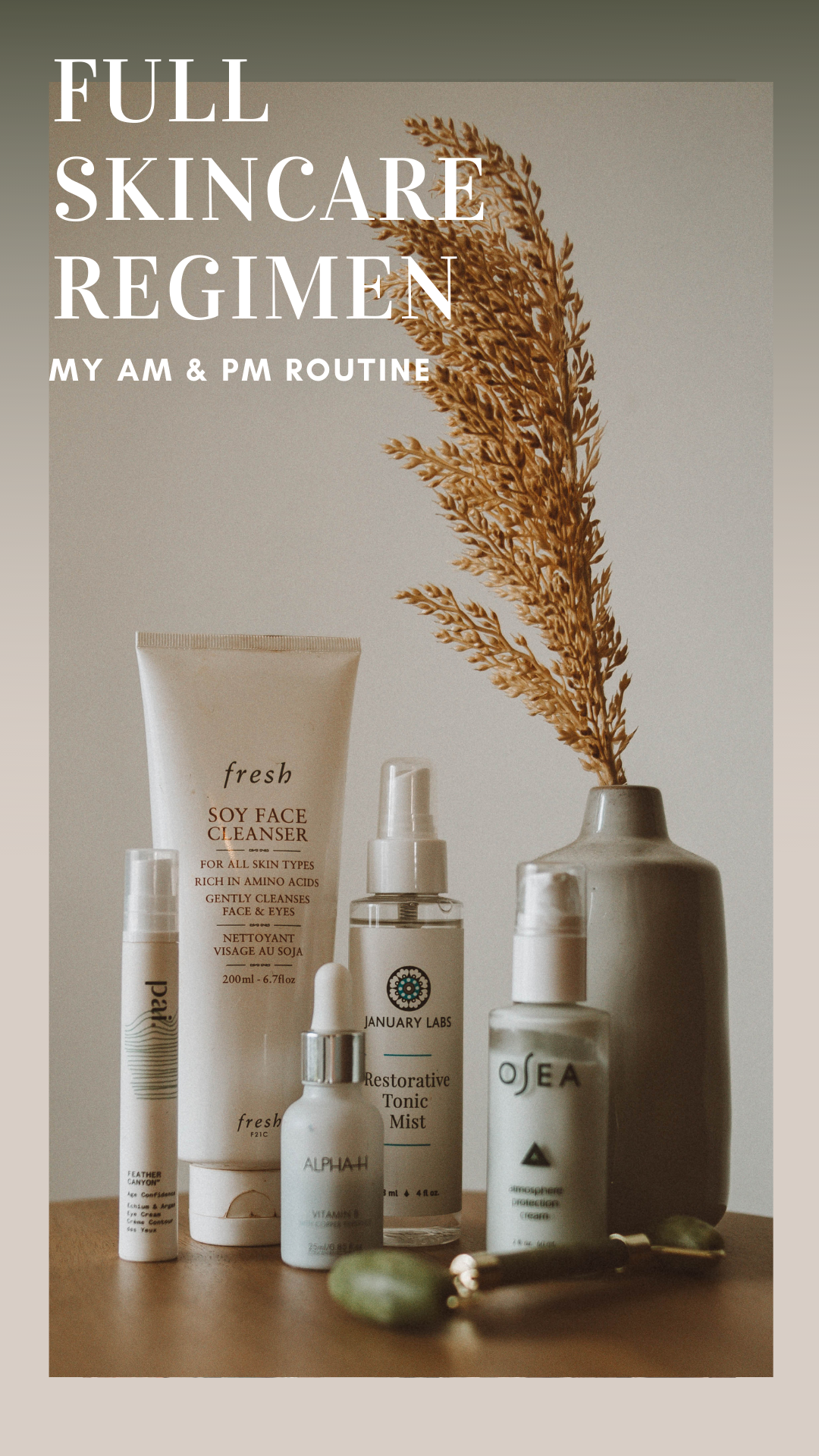 AM:
Step 1 | Indie Lee Brightening Cleanser. An all around good, gentle cleanser. I do feel like it keeps my skin looking bright and fresh. It's not stripping at all, and it smells delicious!
Step 2 | Ursa Major Brighten Up Vitamin C Serum. Vitamin C is great for fading texture, shrinking pores, and brightening up your complexion. I've been using it for a few years now and it makes a huge difference!
Step 3 | Pai Rosehip Bio Regenerate Oil. I like to add an extra oil step into my morning routine for added moisture. This is a great one because it also offers anti aging benefits. I've definitely noticed plumper skin and fewer fine lines since I started using this.
Step 4 | Osea Atmosphere Protection Cream. This is a newer product in my routine, and I do like this day cream a lot! It's not a groundbreaking product, but it does keep me moisturized without being too thick or greasy, and it doesn't break me out.
Step 5 | Clinique Moisture Surge Eye Hydro Filler Concentrate. I have a very sensitive eye area, and I can't use a lot of natural eye creams because they make my eyes/skin around my eyes burn so I've been using this Clinique eye serum and it is really good! It's definitely helping with the fine lines in that area, plus it keeps my my undereye skin really hydrated.
Step 6 | Coola Makeup Setting Spray Organic Sunscreen. I have been using this for years now, and I love it because I don't often get outside until much later in the day so SPF in my day cream is kind of pointless. I just mist this on whenever I end up getting outside, and I don't have to worry about messing up my makeup.
Step 7 | Fresh Sugar Hydrating Lip Balm. This lip balm is okay. Not bad, just not the best I've ever tried.
Shop my AM Routine

Affiliate Links
PM:
Step 1 | Fresh Soy Makeup Removing Face Wash. I have tried so many other makeup removing face washes, and this one is the best by far! As I mentioned above, my eyes are really sensitive, and this is the only cleanser I've found that doesn't irritate my eyes so I can get rid of mascara and eye makeup with just the cleanser (instead of needing a separate product afterwards) and a muslin cloth. Plus it smells like cucumbers and is really hydrating!
Step 2 | January Labs Restorative Tonic Mist. My skin gets really dry in the colder weather, and this spray is a great way to get an extra boost of hydration.
Step 3 | Amore Pacific Vintage Single Extract Essence. This product is pretty expensive, and to be honest I don't know how life changing it is, BUT if you want to splurge on something a little fancy, this is a great option. It just FEELS nice after you put it on and one bottle has lasted me a little over a year (I have just a tiny bit left) so it's not a product that goes quickly.
Step 4 | Alpha H Vitamin B Serum. I really love this serum. It smells really nice, feels REALLY good to put on, and it seems to be really helping with overall texture and fine lines. The bottle does go quickly, but in my opinion it's worth the money.
Step 5 | Indie Lee Squalane Facial Oil. If I'm feeling extra dry I'll do a drop or two of this oil before my night cream. I love Squalane oil because it doesn't clog your pores, it regulates oil, and it's nice and hydrating.
Step 6 | Paula's Choice Barrier Repair Moisturizer. I haven't been using this for very long yet so I can't really speak to whether or not it's working, but I wanted to add retinol to my routine, and this moisturizer has a small amount. I'm fairly sensitive and it hasn't bothered my skin at all, and it feels very moisturizing!
Step 7 | Pai Echium & Argan Gentle Eye Cream. This is just okay. I'm almost done with it so I'm planning on picking up the Elemis Pro-Collagen Eye Revive Mask this weekend because they are offering a 40% discount for Black Friday so I'll have to update you on whether or not I like it. It looks promising!
Step 8 | Same lip balm as above
Shop my PM Routine

Affiliate Links
Maintenance & Miscellaneous:
Exfoliation –
1x/week I use the Alpha H Liquid Gold Exfoliating Treatment. After I wash my face at night I use ONLY this (no moisturizer or anything afterwards). It's a bit uncomfortable because my skin does feel very dry, but it works better if you don't follow it with anything else.
2x/week I use the Tata Harper Resurfacing Mask. I wash my hair 2x/week so on the days I wash my hair I just put this mask on while I'm showering. It does a great job of giving my skin a deep exfoliation and my skin feels baby soft after I use it. It's expensive, but I think it's worth it!
1x/week I use my PMD Microderm Pro tool for an extra, extra dose of exfoliation. I LOVE this tool. It has made a huge difference in reducing texture, and making my skin look smoother. I honestly don't think I'd want to ever be without this tool. It's so easy to use, takes only a couple of minutes but has a huge payoff.
A few times a month I use my Dermapore Ultrasonic Pore Extractor. Whenever I feel like my skin is congested I pull this bad boy out. It's pretty gross to see it doing it's job, but also satisfying ha! It does a great job at extracting all of that gunk and getting my skin back on track
As often as I can I use a jade roller to massage fluid from my face. The biggest area I've noticed a difference with this is in my jawline and under my eyes. I feel like the skin there looks a lot tighter and plumper.
Shop my Maintenance Routine

And that's it! Easy right? Ha! I DO have a very involved skincare routine, but when it comes to skincare you really do get out of it what you put into it. Plus, the longer my routine, the longer I get to hide in a quiet bathroom. 😉
Until next time,