Alright you guys. I'm excited to talk about today's topic…
skincare!
I'm super passionate about skincare because, well, it makes a huge difference!
I NEVER took care of my skin in my younger days because I honestly just didn't feel like it was worth my time or effort.
And my skin showed the neglect! Acne, large pores, overproduction of oil, texture… the list goes on.
Then about 5 years ago, something kind of clicked and I decided it was time for me to start paying attention to my skin. I did a ton of research, and I found a routine that worked really well for me. My skin cleared up (although I did go dairy free almost four years ago, and that has helped in a big way with acne), my pores have shrunk, and my skin is much more clear and balanced.
But then about six months ago, I started feeling like my skincare wasn't working so well anymore. I started noticing more dryness, more texture, more wrinkles… basically, my skin is getting older and needed a different approach.
It was a bit overwhelming because when I created my skincare routine 5 years ago, it was pretty basic (maybe not for some ha!): wash, serum, eye cream, moisturize… and nothing too intense. Just some Vitamin C for brightness, and a basic Anti-aging serum.
So when I started reading what a women approaching 40 should put on her skin, it seemed like there were a lot of opinions and ideas. PLUS I wanted to use this overhaul as an excuse to switch over entirely to clean skincare products which opened up a whole host of new options.
But there's hope in this story! A few months ago, a company named Haldi Skincare reached out and asked if I would like to try their service.
*this post is not sponsored, but Haldi did provide me with credit so I could try their service at a discounted price
I was immediately intrigued because they do all of the work for you. You fill out their online assessment (much more in depth than the typical skincare assessment online), tell them which products you are currently using, what you want in a skincare routine, what you value in skincare products, and one of their skincare specialists creates a personalized routine for you that you can purchase all in house.
They don't make their own products, but all of their curated products are clean so you know you will be getting good suggestions.
And the best part? Rather than encouraging you to just buy a whole new routine from the get go, they work around what you already own so they're really just suggesting supplements to your current routine.
It's honestly a genius service. You can get a clean, good for you routine in place knowing that the products you're purchasing are effective, and the right products for your skin type.
If you want to try it out for yourself you have to have a friend refer you, so you can use my name at the referral page (Karin Rambo). FYI: I will get credit applied to my account if you sign up using my name.
K. I'm sure you're all curious to see which products they chose for me!
What I'm going to do today is share the products they chose, and which products I already owned/non Haldi products I have picked up recently. I've only been using this routine for a couple of weeks so I thought I'd circle back in a few months and let you know how the products are working out for me. Here we go:
Disclaimer: I told them that I wanted the full shebang in my assessment. When it comes to skincare I'm not a minimalist. I will do whatever I need to do to take care of my skin, and I enjoy the process of applying skincare. So these routines are pretty involved. If that's not your thing you can tell them so in your own assessment.
Also, they send you a note card that has your routine on it so you don't have to keep logging into your account that first week to check what's next.
Handy!
---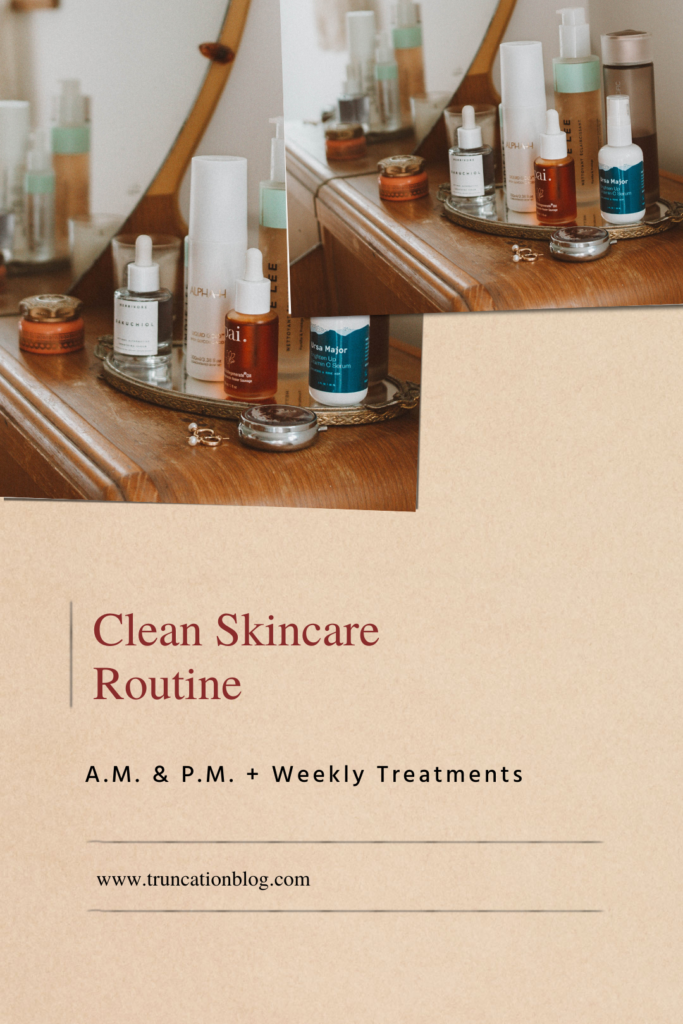 Links are Affiliate Links
---
AM Routine:
Step One: Indie Lee Brightening Cleanser (Haldi Suggestion)
Step Two: Indie Lee I-Waken Eye Serum (Already Owned)
Step Three: Ursa Major Brighten Up Vitamin C Serum (Haldi Suggestion)
Step Four: PAI Organics Rosehip BioRegenerate Oil (Already Owned)
Step Five: Osea Atmosphere Protection Cream (Already Owned)
Step Six: I added this step because my day cream doesn't have SPF in it. I like using the COOLA Makeup Setting Spray with SPF because I don't usually go outside until several hours after I put my morning skincare on. With the spray I can just spray it over whatever's on my face when I actually need it.

---
PM Routine:
Step One: Indie Lee Brightening Cleanser (Haldi Suggestion)
Step Two: Herbivore Rose Hibiscus Hydrating Mist (Already Owned)
Step Three: Amore Pacific Vintage Single Extract Essence (Gifted From AP)
Step Four: One Love Organics Vitamin E Balm (Just bought this)
Step Five: Herbivore Bakuchiol Retinol Alternative Serum (Just bought this)
Step Six: Indie Lee Squalane Face Oil (Haldi Suggestion)
Step Seven: Herbivore Pink Cloud Rosewater Moisture Cream (Already Owned)

---
Weekly Treatments:
2 times per week: Alpha H Liquid Gold Exfoliating Treatment
1 time per week: Herbivore Brighten Pineapple Enzyme + Gemstone Instant Glow Mask
Various Facial Tools that I will talk about in an upcoming post

---
So there you have it! I'm excited to really dig into this routine and see some improvements in my skin. If there's anything I've learned in skincare, it's that using products consistently makes the biggest difference! Like I said above, I'll report back in a couple of months and let you know how everything is working.
If you want to try Haldi for yourself you have to have a referral to access the service, so you can use my name (Karin Rambo) on the referral page to check it out for yourself (I will get a credit to my account if you sign up FYI).
Are you a skincare minimalist or maximalist?
Until next time,
Karin