Outfit Details

My coat is sold out in black – I linked to the same in another color and also some other black options | Jeans and Tee run TTS (wearing a small in the jeans) as do the sneakers
---
I wish I had some grand life update for you all today… or at least something to carry you through these dark winter days, but the truth is we've been hibernating a bit over here with half of our house not feeling well. We've done lots of cozy activities like reading books under a pile of blankets and movie nights with popcorn. Other than the sniffles, it's been a bit of a welcome break.
I'm also at a bit of a standstill with my closet purging frenzy. I think I'm in a really good place with it all, and it's been good to spend the month of January focusing on what I already have. I did buy a sweater, thrifted a pair of Converse and a pair of jeans, and was gifted a pair of leggings and a bodysuit but that is much less than what I was adding to my closet last fall…
we're making progress friends!
I don't want my purge to be for nothing… my goal this year is to keep everything small and be much more intentional with my purchases and I do feel like so far I've stuck with that.
(pats herself on the back after sticking to a plan for 1 out of 12 months. ?)
One thing I've noticed now that I've paired down my closet quite a bit is how much use I'm getting out of things I had kind of forgotten about. My black converse are an excellent example and these wide leg jeans are another. I bought these at the beginning of the fall, and never got much use out of them because they were super long, and I don't wear a lot of heels. So this past month I took a pair of scissors and cut them to a length much more suitable for my lifestyle.
I wore them for the first time today and felt so inspired by them that I decided to do a little styling session with them! So you get some bonus outfits out of today's post. 🙂
Wide leg jeans for winter are a fun way to freshen up your cold weather wardrobe when you're feeling board or uninspired…
if you have a pair you should give it a try!
Here's two more ways I'd wear them right now: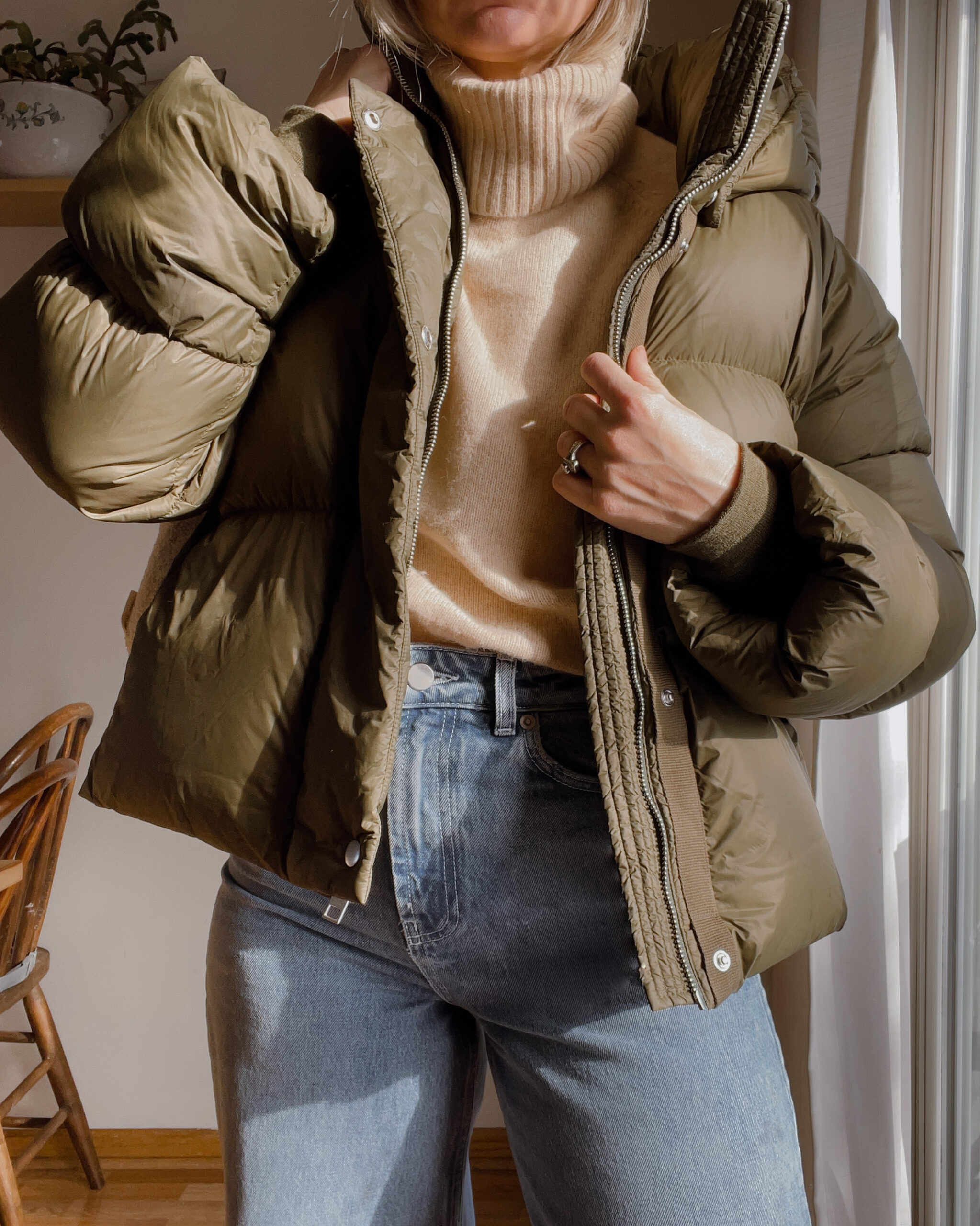 Outfit Details

Sweater was gifted – I'm wearing a medium | I'm wearing an XS in the coat
---
Outfit Details

My trench is a many years old secondhand purchase from Toteme. I did find one on eBay that I linked, and I also linked a trench with a similar vibe | my bodysuit was gifted as were my flats (I have a review of them here) | My scarf is old from Toast so I linked similar
---
And let's add up what's in my progressive winter capsule so far:
Old J. Crew Camel sweater coat
Everlane Cloud Turtleneck (color is old)
Old Everlane Ballet Flats
Old Everlane Trench Coat
Reformation Cashmere Sweater (A new addition since I shared my sweater roundup here)
Grey State Apparel henley tee
Old J. Crew Breton Stripe Half Zip Sweater
Until next time,
Karin