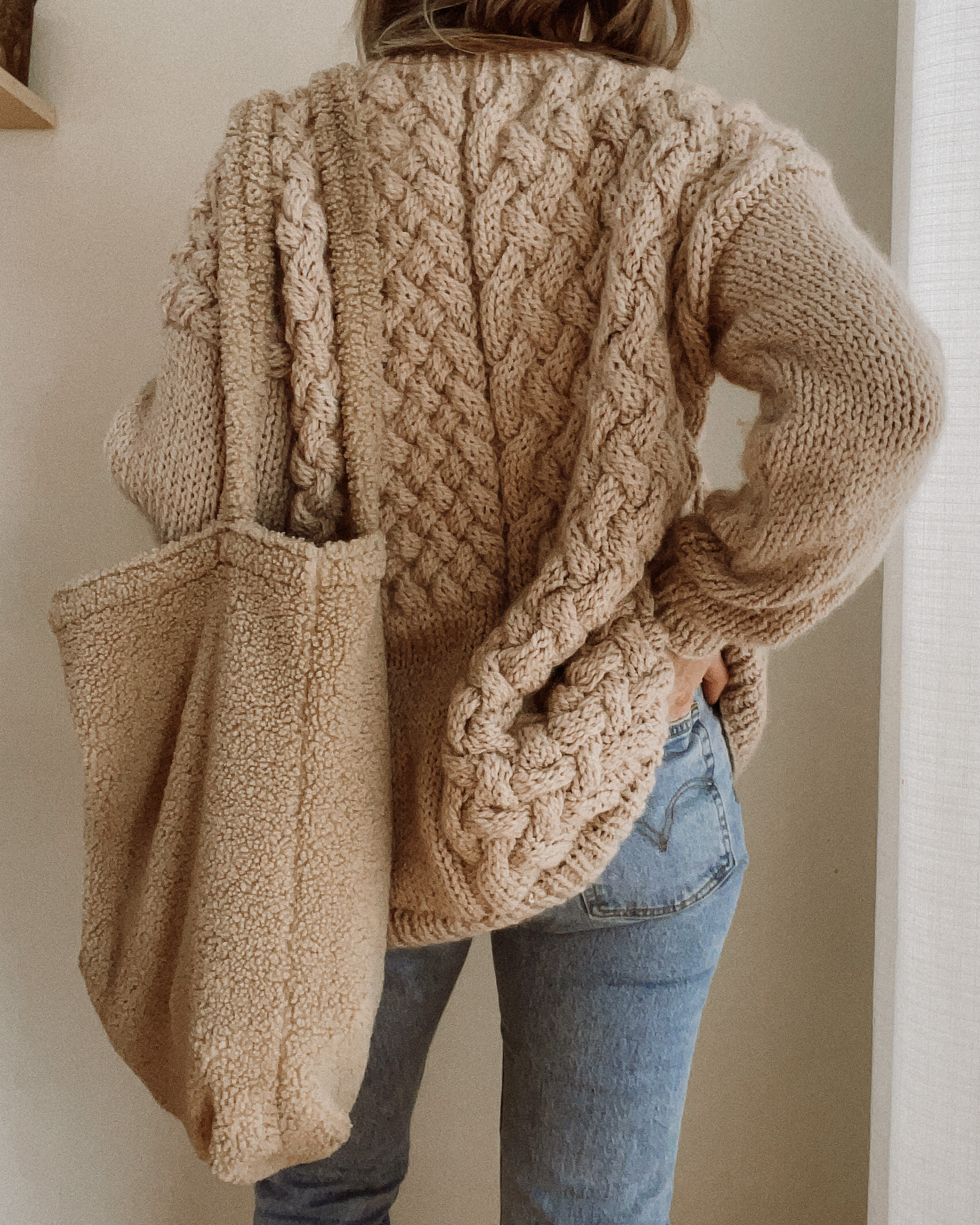 Outfit Details
Cable knit Sweater (wearing an XS/S) | Levi's (sized up to a 27) | Converse | Sherpa Bag (the BEST) | Gabe's clothes are all older hand me downs from his sisters 🙂
---
As mentioned in every post I've written for the month of January, this household is tired of the cold weather. We've had enough! We're ready to move to… anywhere warm… maybe Hawaii? Hawaii would be nice. Yesterday, instead of sitting around and crabbing about the cold weather in my head I decided to take the little one to our local Conservatory while his sister's were in school. While it didn't 100% scratch the itch of the great outdoors, it did provide a little relief and we enjoyed our time wandering amongst the plants (trying not to touch), and smelling the sweet aroma that only a room full of flowers can bring.
And the Universe even cooperated by giving us a relatively warmed up morning so I didn't even (shock and horror!) wear my coat. Now before you think too badly of me, I did don my thickest warmest sweater and as a result felt only a slight chill walking in and out of the building.
In case you hadn't figured it out by now, I do like a good sweater.
And over the years, my closet has… reflected this.
During the great purge of 2021, many sweaters were sold or donated… but even with my now very narrowed down and curated sweater collection I'm still sitting at a little more than 20 sweaters (not counting cardigans) and I can't decide if that's too much or just right.
Being that I live in a cold (frigid) climate, and being that I really only reach for sweaters from November to March I'm leaning towards that number being just right…
but that is part of the reason I wanted to do a progressive capsule wardrobe. By the time I've had a few progressive winter capsules under my belt I'll know if there is any more "fat to trim"… and yes you heard me right: a few winter capsules. I've whittled my sweater collection to a point where everything in it is something I love… so now the question is more would someone else love it more?
I find that there are times where you won't wear something for more than a year, but then all of a sudden you can't stop reaching for it. Because my closet is full of beloved pieces at the moment, I don't want to be hasty with what I pass on.
But anyway,
I've had questions about what's actually in my closet right now so I thought it would be fun to do a closet tour of my sweaters:
1st row: No. 1 (c/o) | No. 2 | No. 3 (Vintage) | No. 4 (c/o) | No. 5
2nd row: No. 1 | No. 2 (Old James Street Co.) | No. 3 (color no longer available) | No. 4 | No. 5
3rd row: No. 1 | No. 2 (c/o) | No. 3 (c/o) | No. 4 | No. 5
4th row: No. 1 (c/o) | No. 2 | No. 3 (c/o) | No. 4 (old Theory)
5th row: No. 1 | No. 2 (old from Garnet Hill c/o) | No. 3 (c/o)
So there you have it – all of the sweaters in my closet for better or for worse ha! It's time for me to sign off, but here's the progressive capsule count so far:
Old J. Crew Camel sweater coat
Agolde Riley Distressed Jeans
Veja Venturi Sneakers x2
Babaa Cardigan no23
Everlane Breton Stripe Tee
Everlane Washed Black 90's Cheeky Jeans
Black High Top Converse x3
Banana Republic Green Cropped Puffer Coat
Madewell ribbed long sleeve tee
Agolde Washed Black 90's Jeans
Girlfriend Black Puffer Coat
Everlane Cloud Turtleneck (color is old)
Alo Yoga Gravel Leggings
Knotty Ones Cable Knit Sweater
Levi's Wedgie Icon Jeans
Until next time,
Karin