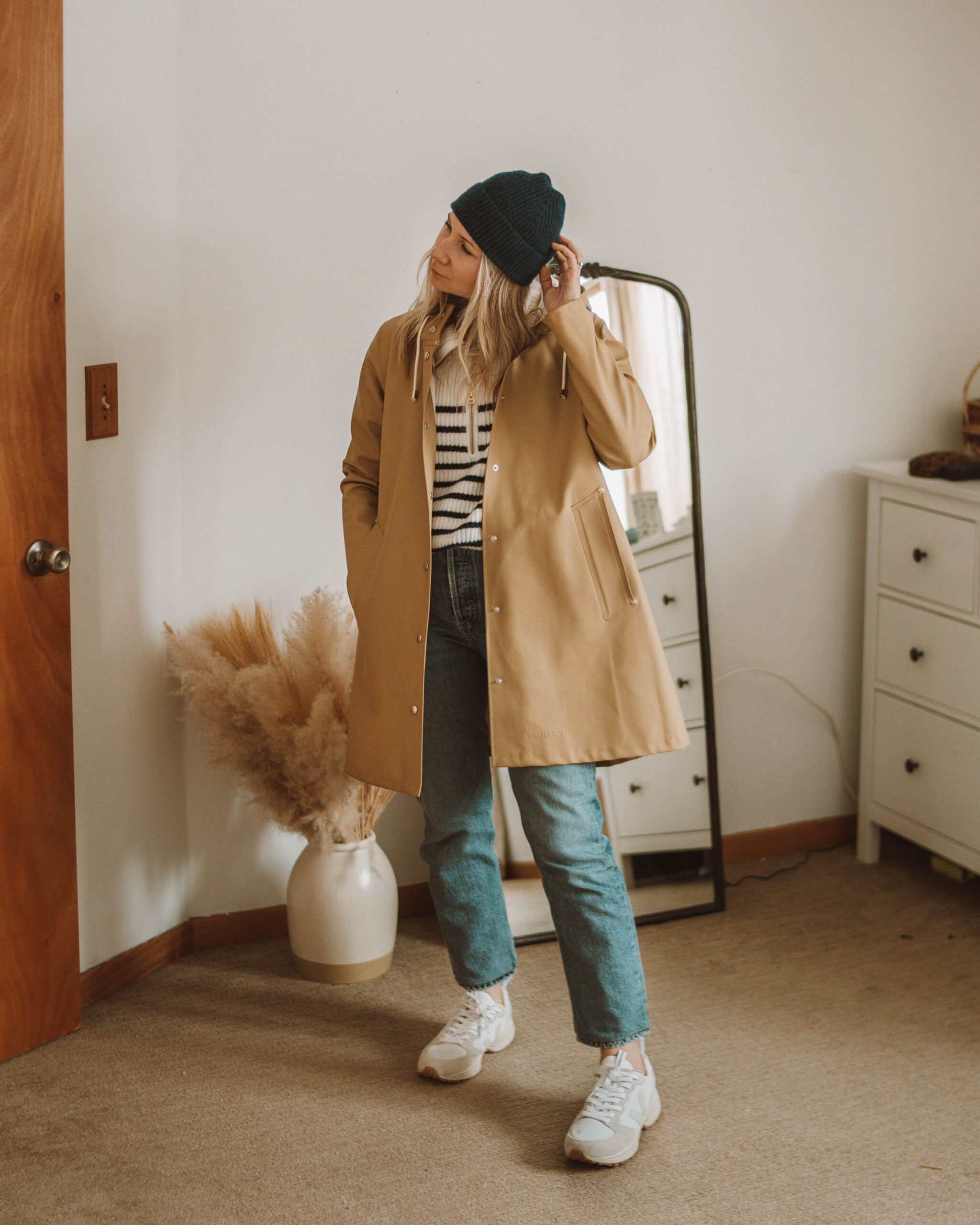 Outfit Details:

I have a review of the raincoat here | my sweater was gifted and is sold out so I linked to similar | Sneakers run small so size up
---
I found that second photo above recently while organizing the photos on my phone (uff da that's a job!) and even though its 4 years old I still really love this outfit!
So I thought it would be fun to do a little then and now comparison.
I decided to restyle this outfit, but in the way I'd wear it now…
not much has changed really! A cozy sweater instead of a thin turtleneck, a looser (and comfier) jean, and… that's about all I'd change!
This winter I've returned to an earlier aesthetic I used to be into for cold weather dressing. I've always enjoyed dressing for warm weather 1,000% more than dressing for cold weather and as a result I have tended to mimic the style of others in fall and winter (something heavily exasperated by Instagram) and as a result I've lost my style a bit these past few years.
Anyway, I'm getting it back, and the last couple of months have felt very "me." I'm happy about that…
but I'm also really looking forward to spring and summer ?
what about you? Do you have a season you struggle to dress for? Let me know in the comments!
Old J. Crew Camel sweater coat
Everlane Cloud Turtleneck (color is old)
Old Everlane Ballet Flats
Old Everlane Trench Coat
Reformation Cashmere Sweater (A new addition since I shared my sweater roundup here)
Grey State Apparel henley tee
Old J. Crew Breton Stripe Half Zip Sweater
I'm not going to count the Stutterheim rain coat because I didn't actually leave the house ?.
Until next time,
Karin