Hey there friends!
Welcome to a new week.
We had a really good weekend. I've been trying to take my own advice, and be really rigorous in creating boundaries surrounding social media and devices.
I have been struggling lately with balance which means EVERYTHING get's thrown off. Ya know?
So I haven't been exercising, my days have felt chaotic, I haven't been reading my Bible, my days have felt chaotic… you get what I'm saying.
So I've put my strict boundaries in place again (no phones after the kids go to bed, and having social media "slots" scheduled into my day so I'm not constantly looking at stuff in between).
PLUS this time I blocked almost every website on my phone INCLUDING FACEBOOK (I KNOW), so that when I do the thing where I mindlessly grab my phone because it's become an impulse, the message that pops up kind of jolts me back into the present moment and what I'm doing.
Isn't it crazy that we have to be so strict with ourselves when it comes to our phones? It really says something doesn't it?
But I just really want (actually NEED) to be someone who is present in my daily life. I want to be able to focus on the beauty that is all around me instead of walking through life with a numbing device constantly in my hands.
ANYWAY. You're probably looking at this blog post on your phone, so read the blog post quick and then try to log off for a little bit. I'll do the same.
Today I wanted to share a few new things from Everlane, plus a list of recommendations from the summer sale they currently have going on.
To be perfectly honest, this month was a bit of a flop for me with my selects. I'll only be keeping one of the items they sent me.
It's not for lack of quality, but more so a realization that they are items I love for my ideal life and not for my real life.
You know what I mean?
I'm trying to do a better job of only keeping clothing that will fit into the latter category.
So let's get to what I kept, and I what I didn't:
some of these items were gifted to me from Everlane so that I could share them with you. This is not a sponsored post, but if you like something you see and make a purchase using my links I will make a small commission. Thank you for your support!
Measurements:
Waist: 26.5″ | Hips: 32″ | Bust: 34A | Height: 5'5″ | Shoe Size: 9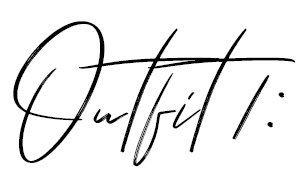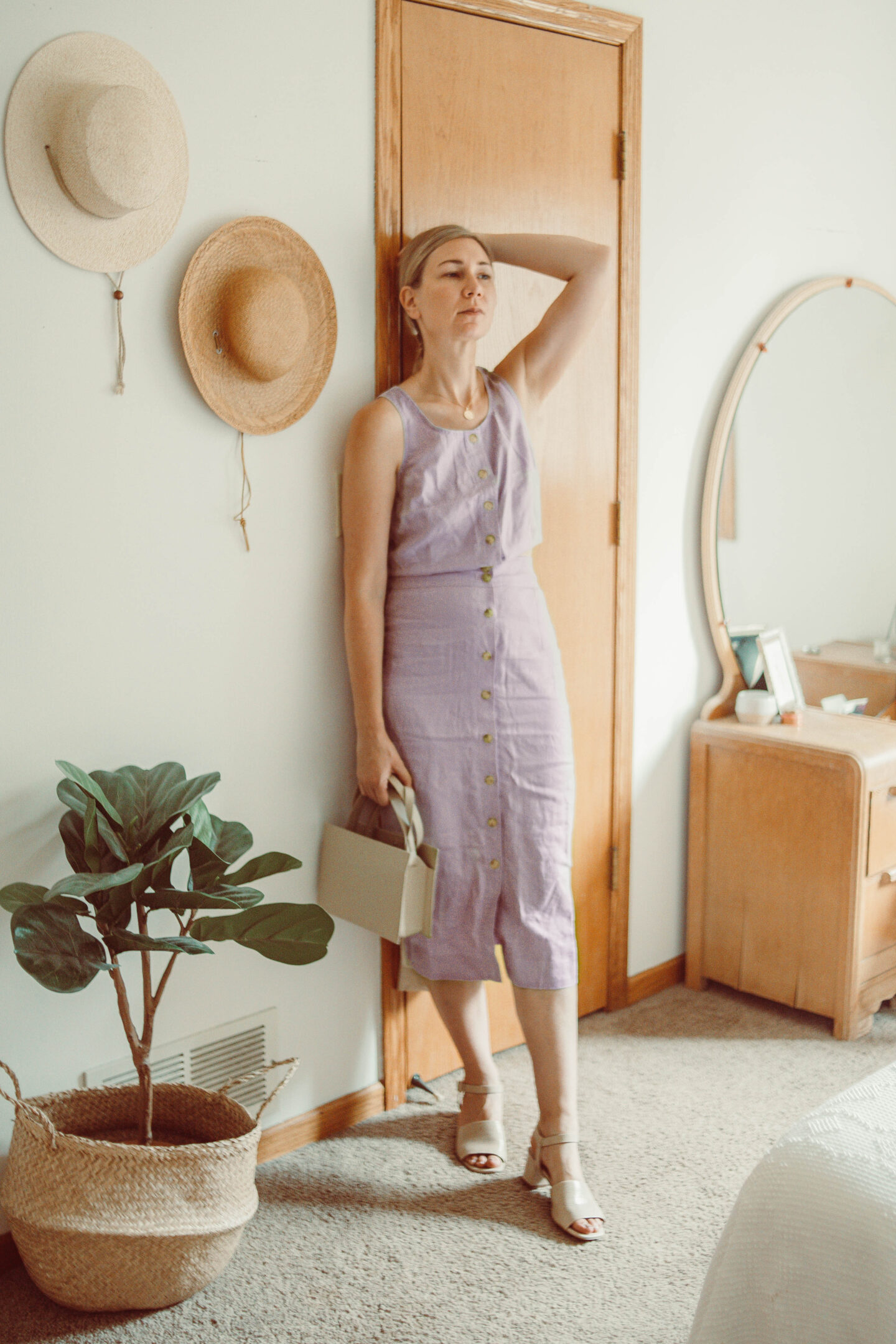 I'm not going to say much about this set because it's pretty much completely sold out (plus I already reviewed this tank in a different color here), but I will say a few things about it just in case they do a restock:
Sizing: I sized down in the tank based on the fact that the black one I already have is a bit loose, and that was the right move. I think if you had a bigger bust you'd still want to stick with your true size, but otherwise I'd suggest sizing down. The skirt I stayed true to size, but I could have sized down. I think it's kind of a toss up because it's a bit loose in my true size, but I think it would be a bit tight a size down so it just depends on your preference.
Material: The linen on this set is SO nice. Surprisingly nice actually! It's really soft and buttery feeling. The skirt is also lined to the knee which is a nice touch!
I will not be keeping this set for two reasons:
First: while I love the idea of this lavender color (it's SO pretty), it's just a bit too much of a statement for me in my everyday life. After seeing it in the rosewood color on the website, I realized I would be much more likely to wear that color in real life, but it's sadly already sold out.
Second: It's kind of a weird in between of being too fancy for everyday wear, and being too casual for fancy wear so I just don't have an occasion to wear it (again, I think the Rosewood color would have made it more casual/wearable for real life). I would have 100% loved to wear this in my 9-5 days as an alternative to casual Friday jeans, but that's just not my life right now.
If you do have occasion to wear it, and feel bold enough to rock the lavender color I would 100% recommend it if you can snag it in a restock or if you're size is still available (there are still some sizes in the skirt).
Okay I ended up saying a lot about that ha! I just can't help myself.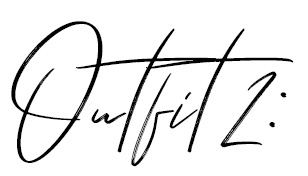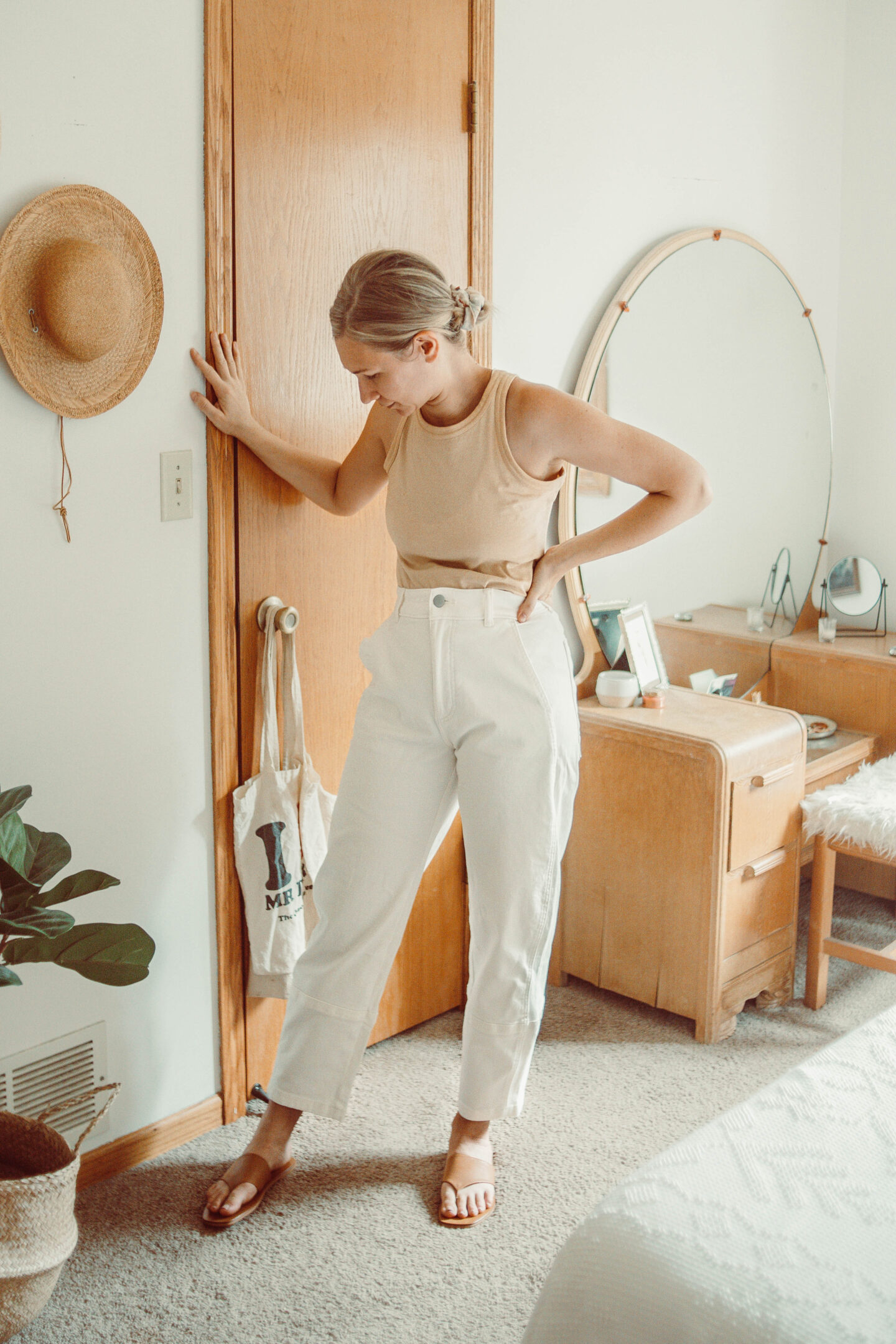 Alright let's break this outfit down:
First, the tank: I have this tank in the white and black colors and it's one of my absolute faves so I was excited to pick this up in the new organic cotton. The organic cotton is definitely a little more substantial, and a little softer so there is a definite quality difference between the two. I would size down in this tank because otherwise the armholes gape a little too much. I have it in the color cashew, and they are currently on sale for 3 for $45. This was not a gifted item, and I will be keeping it.
Second, the pants: I was really curious about their new barrel pant because it's a style I like to see on other people, and I always think they look really cool in them… but I don't think it's for me. I just don't love how they look on me so I will be returning these. However, they are made just as well their straight leg and wide leg crops that I love so much so if you like this style, I wouldn't hesitate based on quality. As with the other styles, make sure to size down because they run very big. I wear a size 2 in the straight and wide leg style (where I normally wear a 4 in other pants), but I could have even sized down one more size.
Third, the sandals: This may be my favorite sandal style that Everlane has released to date (I have a sandal comparison here). I love the thong aspect, the simplicity of the design, the beautiful leather they use for all of their sandals… they just feel like the perfect, casual sandal for summer. I also really love the small details like the wider foot band, and the square toe. This color in particular is a really pretty muted cognac. My one complaint with these sandals is that on my right foot, the toe strap of the thong is a little painful (not so on my left foot so it must be the way my right foot sits). I've had this happen with other thongs, and eventually it went away after breaking them in so I'm hopeful that will be the case with these. I'll update this review if I'm not able to break them in. I stayed true to size, and I'll be keeping these.
Well that's all I've got for reviews! Let me know if I missed anything or if you have any questions in the comments below.
Now let's get to my sale picks. Everlane is currently having a summer sale (they are dropping the choose what you pay method, and just giving everything a single discount), and there are a lot of really good items included!
I have a bunch of stuff linked for you guys that I'd recommend. Some of it is stuff I own and love, and some of it is just stuff that I like: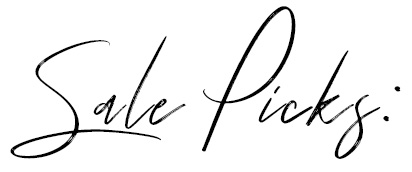 A lot of their denim is on sale so make sure to check out my
Everlane Denim Guide here
And that's it! Do you have your eye on anything in the sale?
Until next time,