Happy Wednesday friends! I've been getting a lot of questions on Instagram about whether or not I'd have a review of this collection up, and… yes!! I. am. here. for. you.
😉
I'll be honest, as soon as I saw that the Everlane Organic Track collection was going to be released, I was immediately on board. First of all, the times…
I have never lived in sweats more than I have this past year so I'm so happy to add a couple more sets to my rotation.
Second, I really enjoy the direction Everlane is going with a lot of their loungewear and these pieces are right in sync with that direction (read: a more vintage feeling cotton).
So yes.
Yes to loungewear. Yes to reviewing them for you guys. Yes to it all.
I'm going to do this review in a slightly more different way than I usually do my Everlane reviews:
I'm going to review the entire collection as a whole, and then give specific sizing detail about each piece. The reason being that all of the pieces feel very similar so it would feel redundant to keep repeating the same thoughts on each piece.
K?
Let's do it:
This is a really nice collection you guys.
What I like about it:
The material feels like it's 100% cotton. As in: it's thick, weighty, and doesn't have the silky feel that a lot of other sweatshirts/pants have due to the addition of synthetic materials. Like, they feel like the perfect old, broken in and soft college sweatshirt that you reach for on days where you just want to be cozy and nostalgic. Ha!
Does that make sense?? ?
They actually feel very similar to the Anine Bing sweatshirts that I love (but quite a lot cheaper) so the quality is there.
Nothing is restrictive, there's no awkward hems or seams, waist lines, cuffs, etc. Both of the pants have drawstrings, FYI.
So let's get into some sizing specifics. I ordered a size small in each piece, but let's break down how that translates:
Shop the Look
The small is perfect in both of these pieces. The sweatshirt is oversized, but not too oversized and the pants stay up, but aren't too tight. I really love the extra room in the sleeve on this sweatshirt, and the fact that nothing about it is fitted.
The pants are also not SO overwhelming in their wide leg shape. They're more of a slim wide leg, and I really love that. In my opinion, it makes them a bit more wearable as an actual outfit instead of solely just as loungewear.
---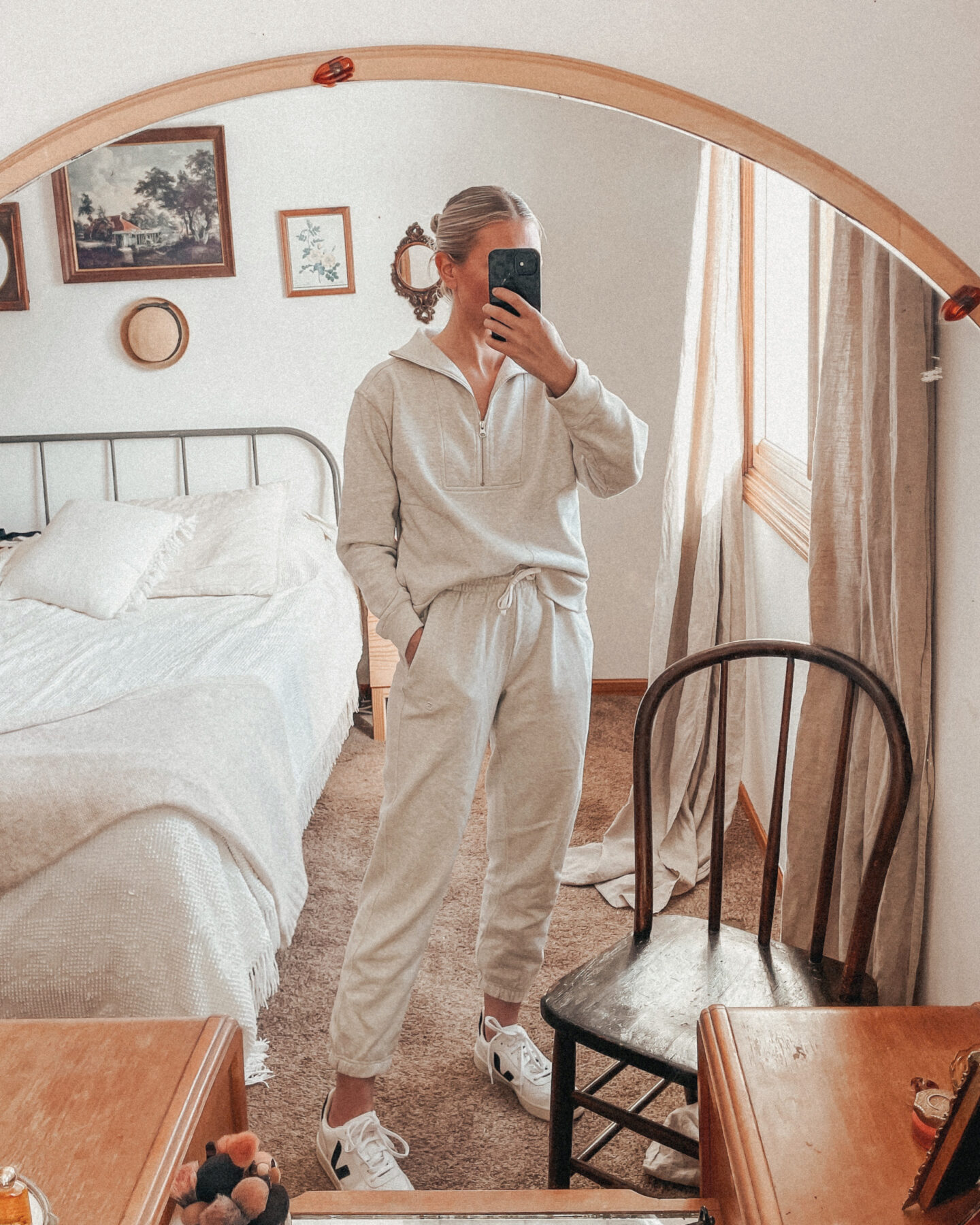 Shop the Post

These run a bit more oversized than the above pieces. I could have gotten them in an XS and they would have probably fit a bit better. The sweatshirt is definitely okay a little bigger, but the pants are a little loose. I don't mind as much because it does make them extra comfy, but just keep that in mind when choosing your own size.
One thing I love about the joggers specifically is that the leg is actually more roomy than most other joggers I have. As I mentioned at the beginning of this review, they really do have a very nostalgic, retro feel and fit and I super love it.
---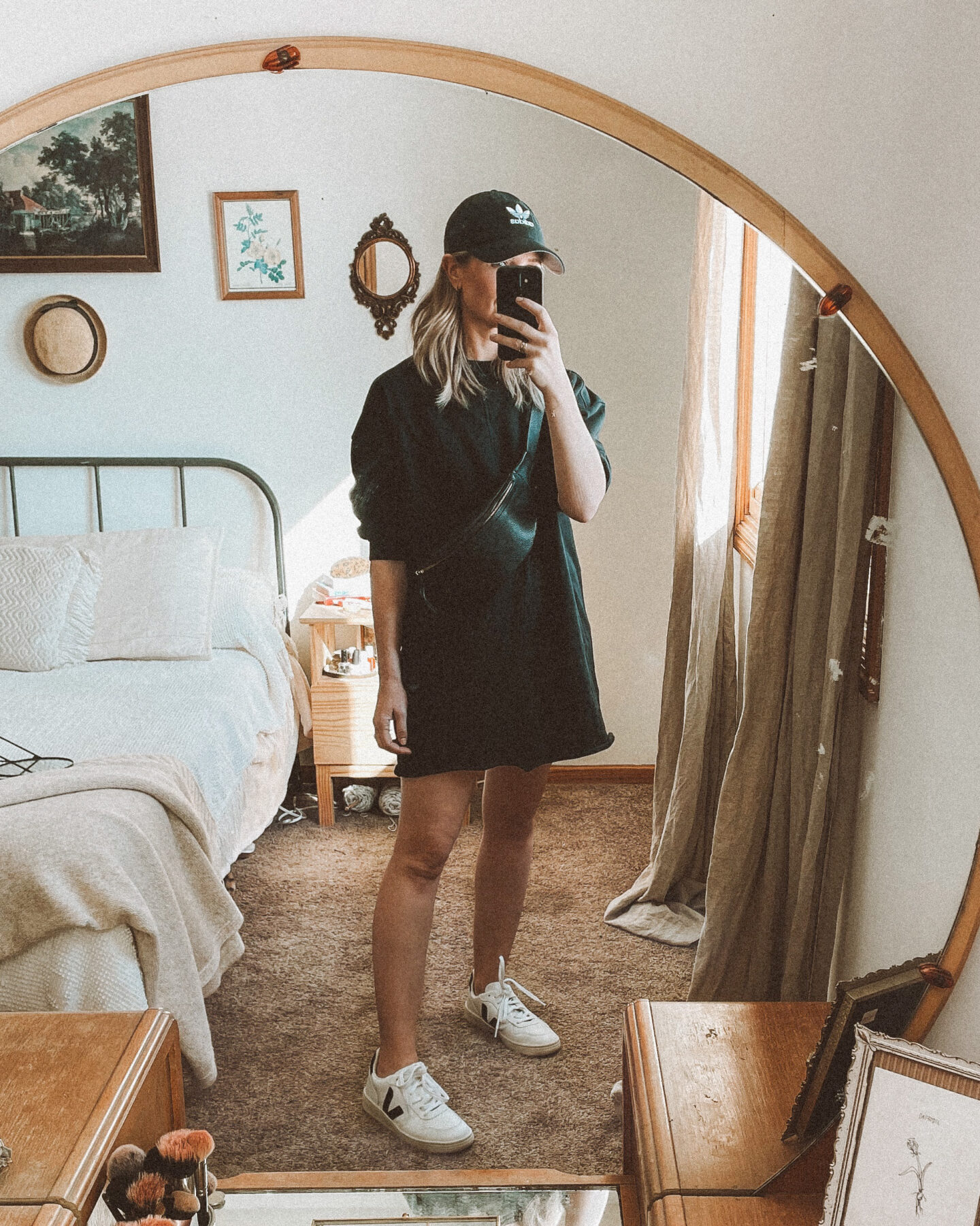 Shop the Post
This dress runs true to size, so the small was a perfect choice. I actually have a much more in depth review on this dress here, so make sure to check that post out if you are interested in more details.
---
Okay that's it! I hope you found this review of the Everlane organic track collection helpful, and answered any questions you might have had. Let me know if I missed anything by leaving a comment below!
Oh and quick side note: I will not be posting a week of outfits this Friday purely because we were hit with the stomach flu at the beginning of this week so I've literally just been living in these sets… seems a bit redundant. 🙂
Have a great week and weekend you guys!
Until next time,
Karin