Happy Thursday friends! BOY has this week gotten away from me. I had planned to get this post up for you guys on Monday… but here we are almost through the week, and I'm barely getting it up 😂. Just a bunch of mom stuff… but a LOT of mom stuff to do this week, and I've only been able to chip away at this post all week.
BUT. It's done, and ready for your viewing pleasure. I had asked you guys last weekend if you'd prefer to see a post on some new in spring clothes or a loungewear post, and it was HANDS DOWN this one. Which just goes to show you're my people.
But in a cruel twist of fate, it's been in the negative temps here all week and it is honestly just so discouraging. The kids can't even go outside and play because its THAT cold, which means we have just been cooped up inside, and… bleh.
SO I was MORE than happy to dive into a spring style post so that I could live vicariously through my own mirror selfies. And I suppose that's my hope for you as well (that you can live vicariously through my mirror selfies)… unless you're from some warm climate in which case I'm mad at you. STOP STEALING ALL THE WARM WEATHER.
😉
No, but really it would be nice if you could share.
OK. I'll stop rambling like the bitter midwesterner that I am.
Shall we get to the new in spring clothes?
(I can hear you all muttering "about time.")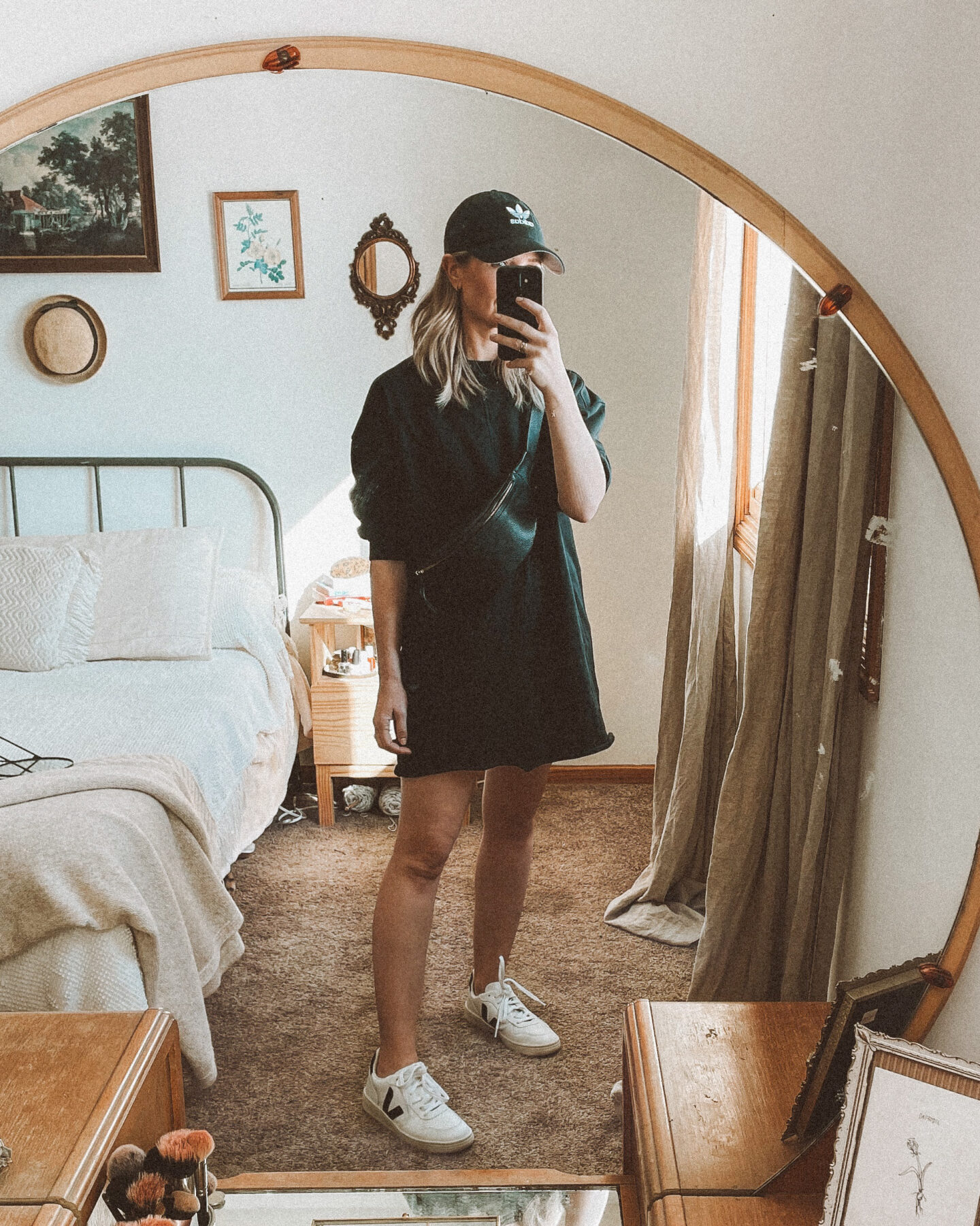 Shop the Look

---
This dress is from Everlane, and it's a really fun addition to my closet though because it's a sweatshirt dress… but just a little bit different. The sleeves are elbow length so they give the look of being pushed up, but they aren't (LOVE! So easy!), and raw curled up hem gives the best little bit of texture at the bottom. I don't usually wear things this short, but because of the weight of the material, and because the sleeves are longer I don't mind the length as much. I'm wearing a size small!
---
Shop the Look

---
This sweater is an older style from Theory that I bought secondhand. I wasn't able to find it online so I linked to some other similar options. The denim is the new way high jeans from Everlane, but in the black wash! I loved them so much I got them in another wash (you can see my original review here). The mules are such a great addition to my warmer weather wardrobe! I've really loved the look of a cap toe shoe in recent years, but these are the first that I've tried that feel casual enough for my lifestyle. They just add a touch of something extra to a very basic outfit and I love them for that. They run a tiny bit big so size down if you're in between sizes.
---
Shop the Look

---
I purchased this tee secondhand so I linked to the current version available on the Anine Bing website. Look. Anine Bing tees are expensive (why I purchased mine secondhand) so if it's not in your budget scroll down for a more affordable version of a graphic tee. If they are in your budget then I can vouch for them living up to their price tag! They are made extremely well out of a really nice, thick (that's not a bad thing!), and soft cotton. They drape so beautifully and just look… cool. I feel confident recommending them considering the price tag. They do run oversized so I'd recommend sizing down. I'm wearing an XS.
The jeans are another recent find and I love them for warmer weather. I like the look of a more distressed pair of jeans with the softer tops I typically wear for spring. But I also love them paired with a graphic tee like I did here. I took my normal size 26 in these… they were a little tight out of the box, but they've loosened up and fit perfectly now.
And finally, I paired the two pieces with these new Vince Camuto mules that I adore! I've been super into mules lately because they are so easy to slip on and off when your life consists mostly of school drop offs and mailbox checks. I especially love this style of mule because the toe is more square and they have a longer toe bed which makes them more secure when you wear them. I got them in my true size 9!
---

---
This tee is the alternative to the Anine Bing graphic tee I mentioned above. It's a lot thinner, but with a nude bras its not see through. Online it looks white, but just an FYI its a more antique ivory color. I sized up to a medium and its perfect. I wanted it extra oversized so I can wear it with bike shorts this summer, but it still tucks in really well.
This sweater coat is from Leze the Label, and it. is. stunning. It's made of a thick, almost scuba like, material and it's the perfect layering piece for Spring. It's not super warm which makes it perfect now with a thick wool sweater underneath, and later with a tee like this one. It has the most beautiful drape to it, and it has a really cool slightly oversized look that makes it a really fun piece to wear. I got it in a size XS, and it's oversized but it doesn't swallow me up. Could not recommend more! It's really affordably priced for what it is, but if it's still out of your price range, I linked a more affordable options that will give you a similar look.
---
Shop the Look

---
This sweater tank is a new purchase, and I'm really happy about it! I've been on the hunt for a good sweater tank that I can tuck into shorts in warmer weather, and layer under cardigans for cold weather and this one checks all the boxes for me! It has thicker straps so I don't have to wear a fussy bras, it's thick enough to hold its shape, and the v-neck will keep me cool in the summer/look nice under all of my oversized cardigans. This tank does run small so I'd size up 1-2 sizes! I'm wearing a small, but I could have even done a medium.
The mules are another mule purchase I've made recently, and I love the woven texture for warmer weather! These are going to look great all spring and summer with pretty white blouses, summer dresses, etc. They are also super comfy, and they run true to size.
---
Shop the Look

---
I've been on the hunt for a leopard print dress that wasn't a super obvious leopard print so I was really pleased when I found this one at Target for such an affordable price! It's made of a really silky soft fabric, but FYI it's not lined… I happen to like that because it makes the dress more wearable in the summer (I don't fuss too much with slips or such under my dresses… as long as they aren't totally sheer, I'm fine with a nude bras and underwear underneath). It is a bit sheer, but it does pass the nude underwear test. I got this in an XS and it fits great!
---
Shop the Look

---
This top is a recent purchase from Anthropologie, and I love it because it gives a nod to the ruffle trend without being so over the top… which is exactly how I like to incorporate trends into my own wardrobe. I really love the baseball tee detail on the shoulder seams, and you can't see this in this photos, but it has a really pretty longer curved hem so it'll be perfect to wear with leggings and sandals once it gets a bit warmer. I have it in a size small.
---
Shop the Look

---
Here's a better look at the graphic tee from above. As you can see, it tucks in really well, and I love how the length of the sleeves gives it a relaxed, vintage vibe.
These shorts are the black wash of my beloved Agolde Dee shorts. These are literally the perfect shorts you guys. They DO have a steeper price tag, but they are SOOOOO good. In fact, I will most likely be cycling between this pair and my blue denim pair all summer. They are just… SO comfortable and flattering. The high waist paired with the slight flare at the bottom of the leg (and the small slit at the sides) give the shorts a slight a-line appearance. They're not tight so they don't ride up on your inner thighs and they keep you nice and cool for summer. I wear a size 27 so I would say definitely go up a size if you're in between or stay true to size if you're a true size.
If you really can't swing the price tag (I get it!), try this pair of shorts. I did pick up a pair to compare the two, and while I do still prefer my Dee shorts, they are a nice dupe at a much lower price point. I got a 26, and they fit great.
---
And there you have it! Some newer in pieces that I'm excited to wear for Spring. I'll have to do a part 2 at some point, because I just ordered a few more things from the J.Crew and Madewell sales that are currently happening + I have a Doen dress that I want to share with you as well!
Who else is excited for Spring?! Any other bitter Midwesterner's out there? 🙂
Until next time,
Karin