Has anyone else felt like their week was completely disordered this past week?
David took the day off on Tuesday which made it feel like Saturday, combined with the fact that we all had summer colds (don't worry, not Covid!) over the weekend made everything feel all flopped around.
And today (writing this on Thursday) is just a weird day in general because our Governor will be announcing what schools will be doing this fall tonight, and to be honest, I'm really anxious about it, and the hours seem to be dragging by.
I feel like my brain is still trying to catch up to the fact that we're even in a pandemic to begin with, and trying to process that Kit's Kindergarten year may look very different than I imagined it would… it's a lot. I know I'm not alone in these feelings.
Today it just seems a bit harder to handle. BUT clinging to this:
Because of the Lord's great love, we are not consumed, for His compassions never fail. They are new every morning, great is His faithfulness (Lam. 3:22-23)
Most days I know this, but some days I need to be reminded.
Thanks for letting me always wander in these intros.
But I know you also are here for this week's outfits, so let's get back to the subject at hand.
I'm going to keep each outfit's notes to a minimum so I can really focus my time and energy on the last outfit, which will include a Pyne & Smith Model No. 26 review.
My analytics show me that you guys click through to that dress more than almost any other piece I have in my closet so I'm hoping this review will be helpful for you guys.
With that said, make sure to scroll all the way to the end for the review.
Let's get started shall we?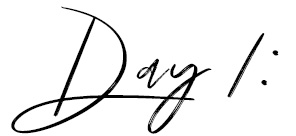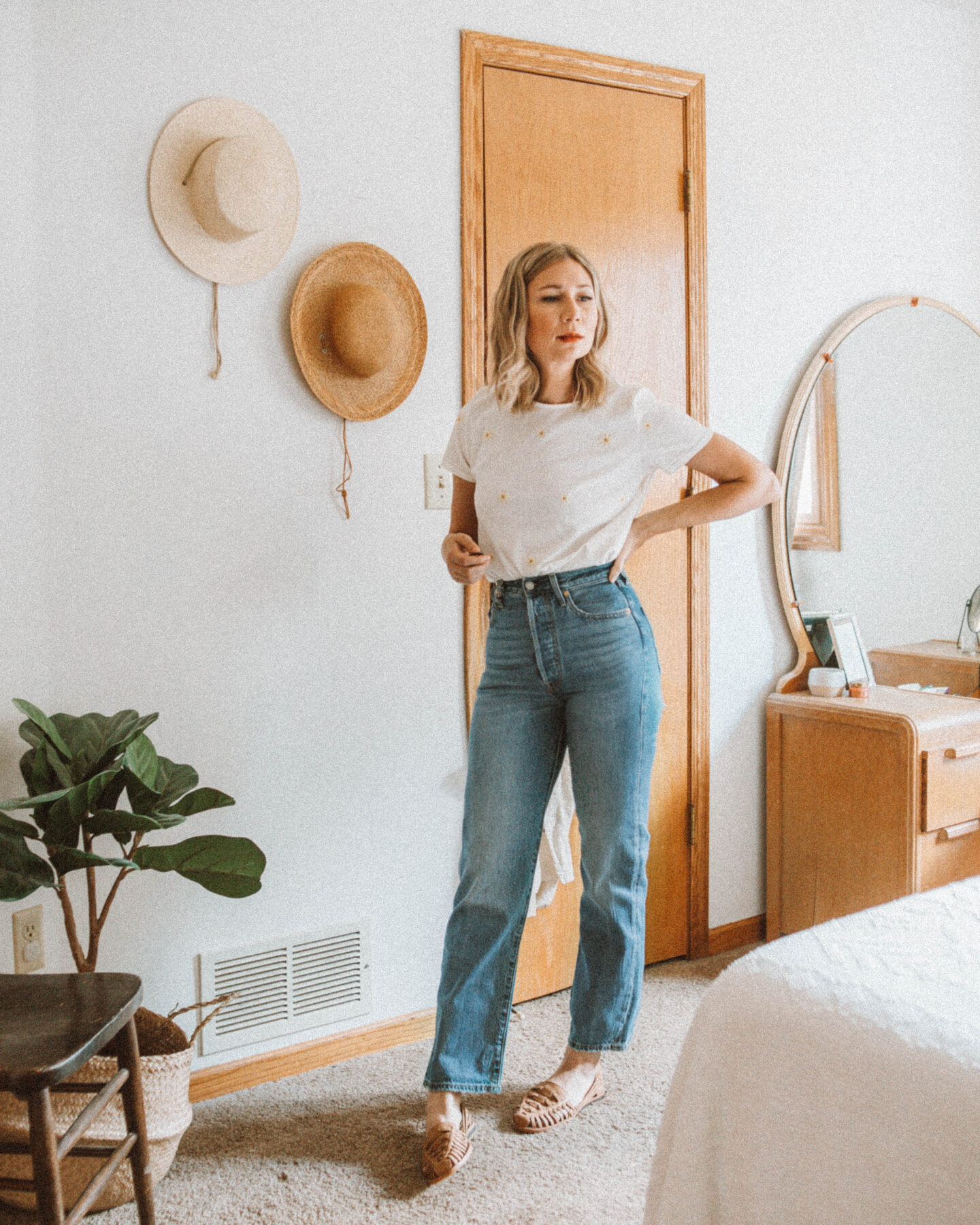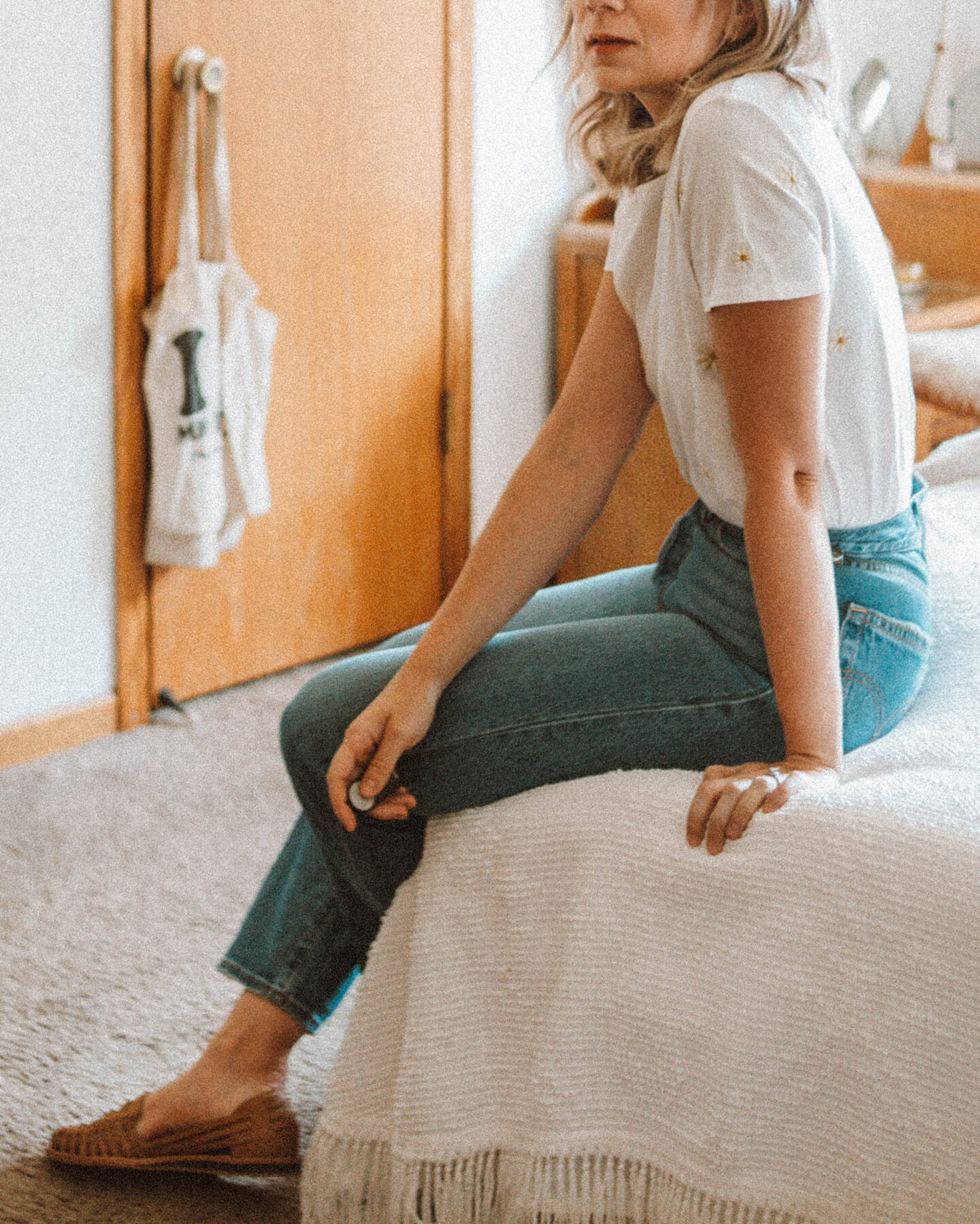 Jeans and earrings were gifted
Just a quick note about these jeans: size up one size. The sizing notes online said to stay true to size… so I did, and they fit but it is a struggle. I'm hoping that by continuing to wear them I'll stretch em out a bit, but to be perfectly honest with you guys, I was in leggings by the end of the day. Still, I love this style, and I think it's one of the closest to their vintage styles that Levi's offeres.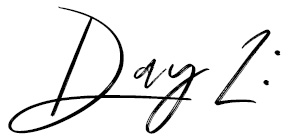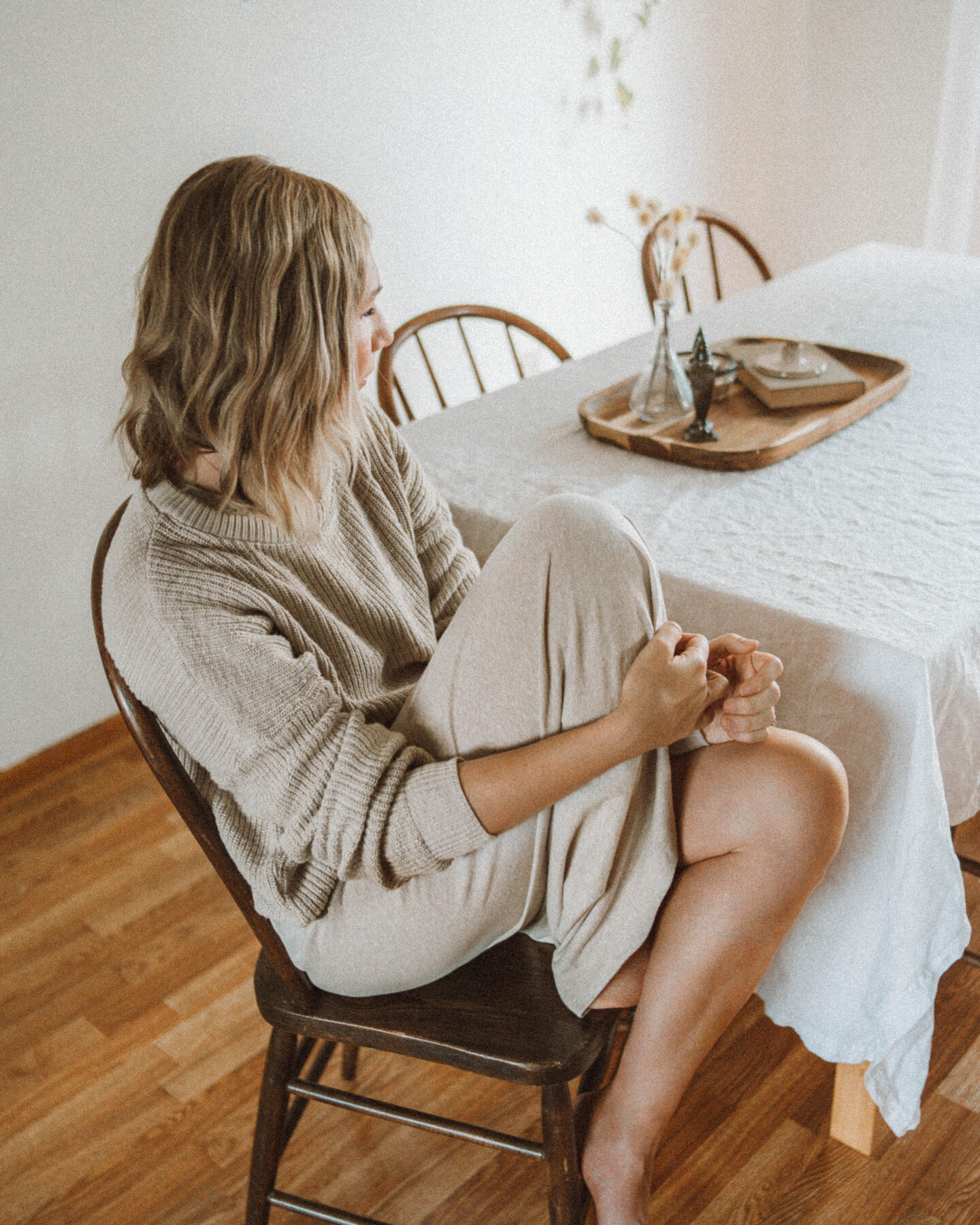 sneakers were gifted (see review here)
Note about the dress: I sized up to a small (I'm a pretty universal XS in Madewell sizes) in this dress to get this more relaxed fit. Also, if you'd like to see more ways to style this dress I have a quick 1 minute video you can view on this Instagram post: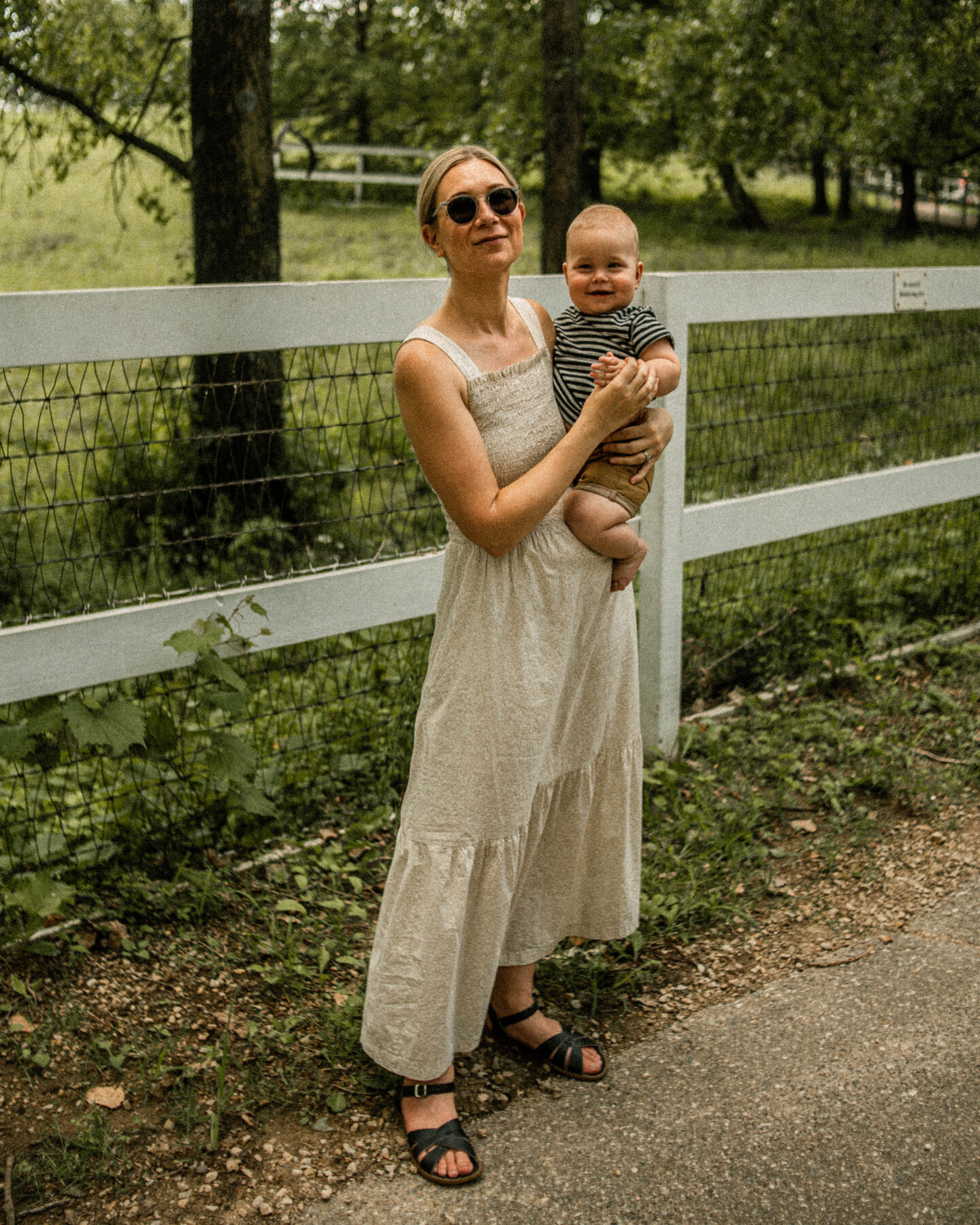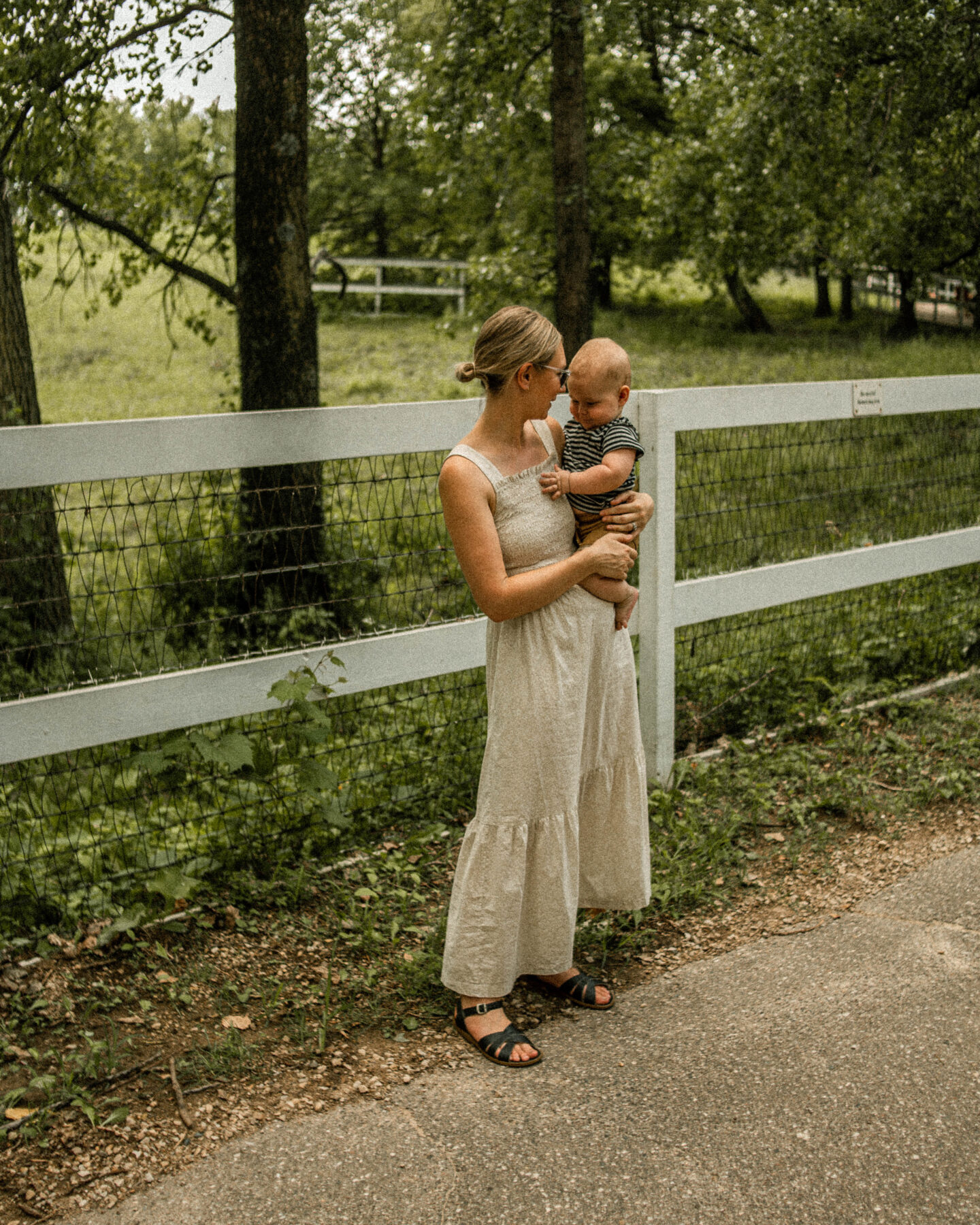 dress (review here) and earrings were gifted
I've had a few questions on whether this dress is nursing friendly or not, and my answer is this:
depends on your comfort level. The top could easily be pulled down, but you would be pretty exposed if you did. So I guess it's just really up to you.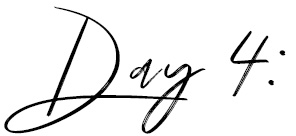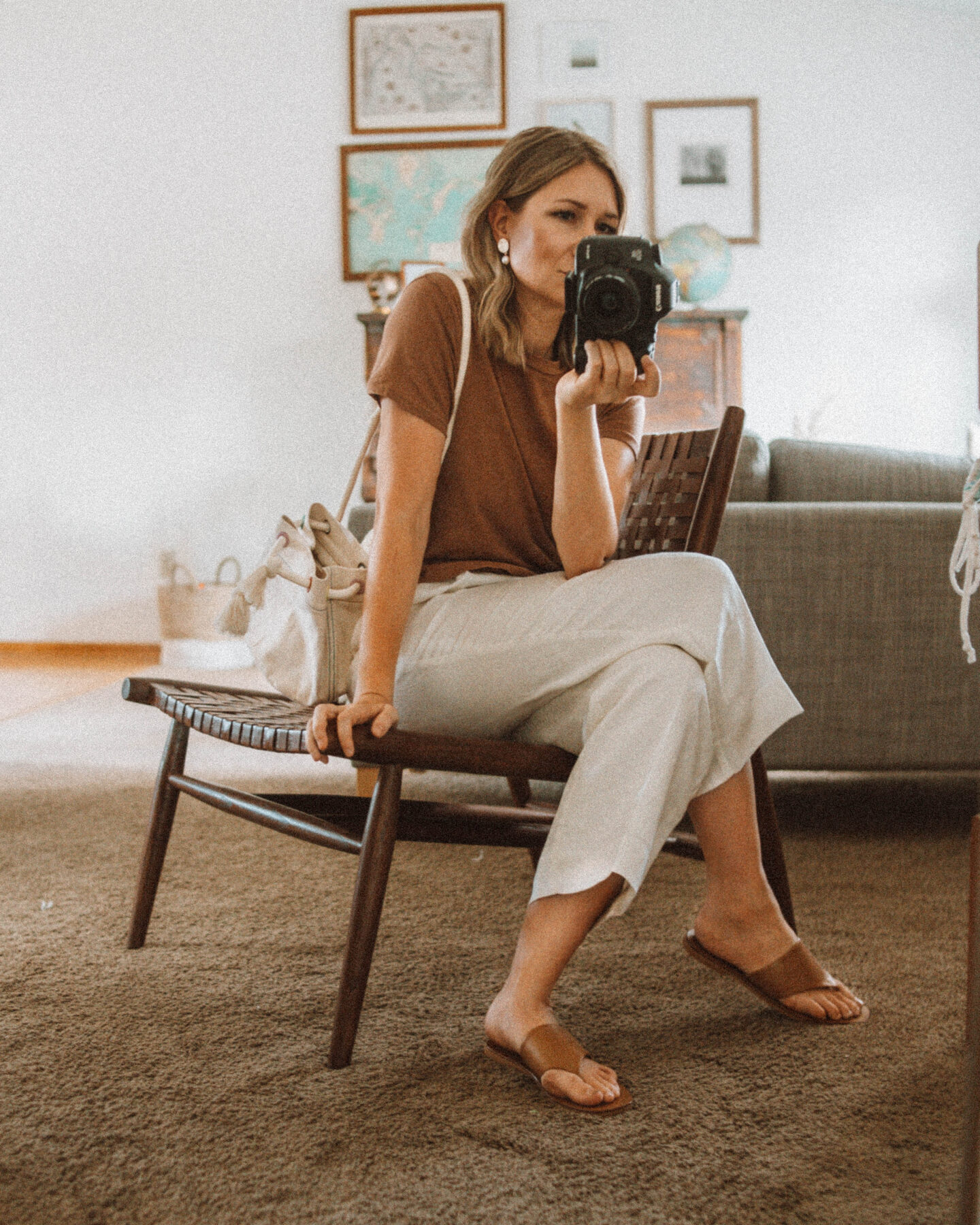 tee, earrings, and sandals (review here) were gifted. tee is no longer available so I linked similar. Pants are now 43% off with an extra 72% off.
These pants are the piece I picked up from the recent sales at J.Crew, and they are SO nice. And they are insanely marked down at the moment. They are very drapey, and soft plus they are lined so you don't have to worry about underwear showing through. I got my true size 4, and they fit perfectly. I can't wait to wear them with slouchy sweaters this fall for a casual, beachy look.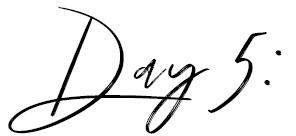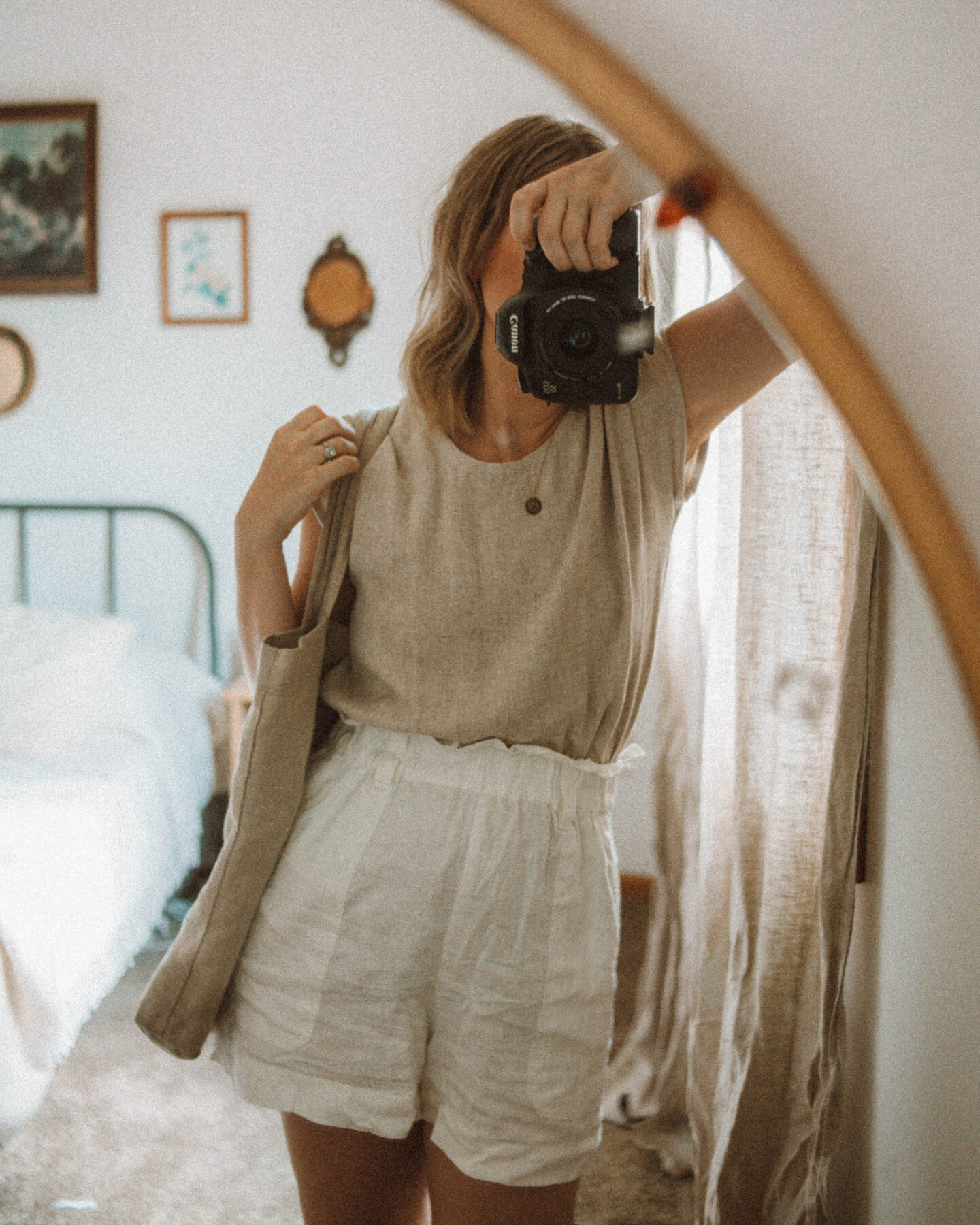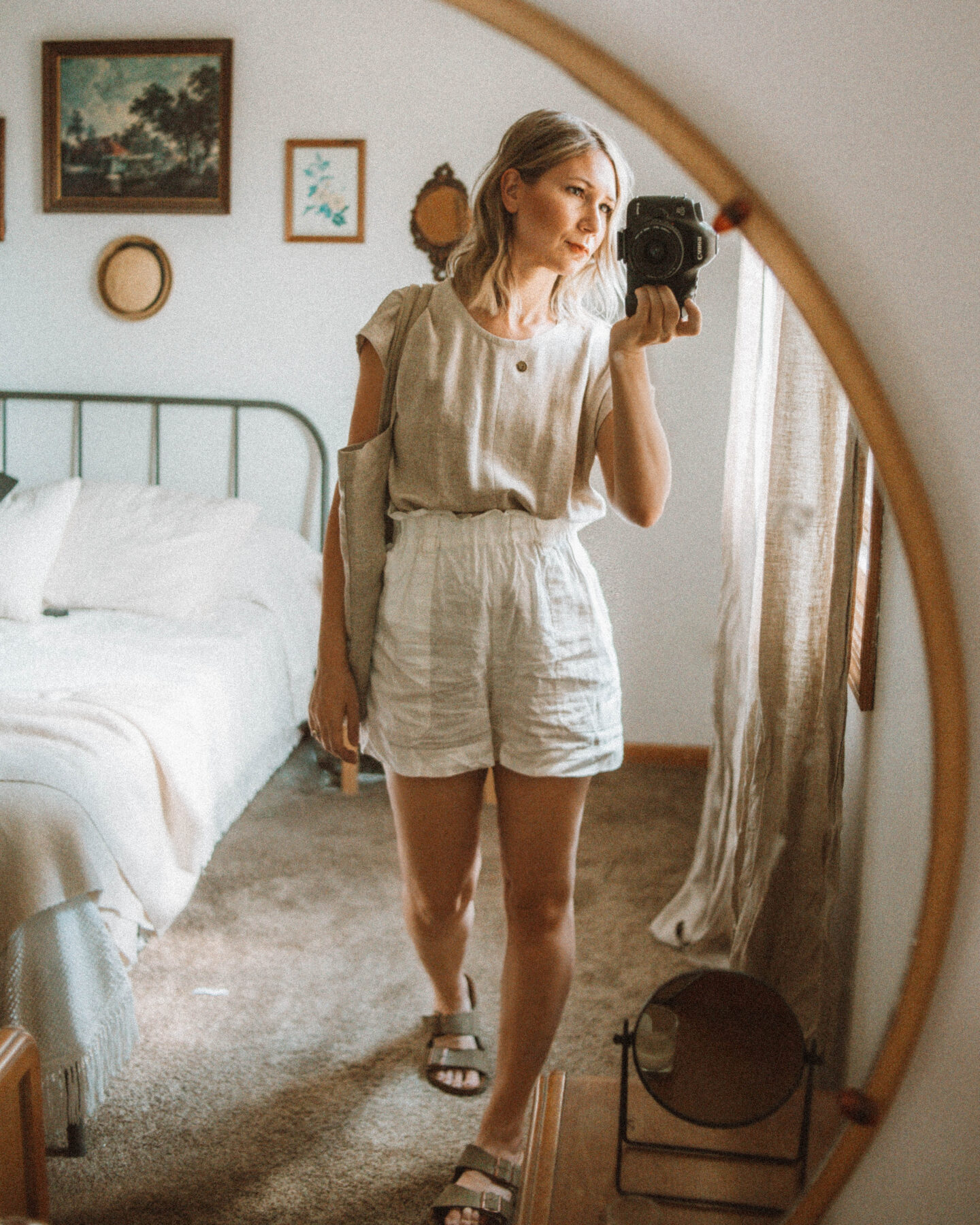 Tote was gifted (review here). I linked to a more affordable alternative to the shorts
This Only Child top is something that I loved in theory, but then when it came I just didn't ever reach for it because I've realized a tie waist is just not my thing… but then I had an "aha!" moment where I realized I could untie the tie, and wear this top tucked in, and it's been a total game changer for this top. It's such a lovely material, and it looks great now but the texture on it will really look great this fall under a cardigan.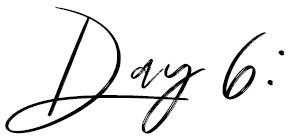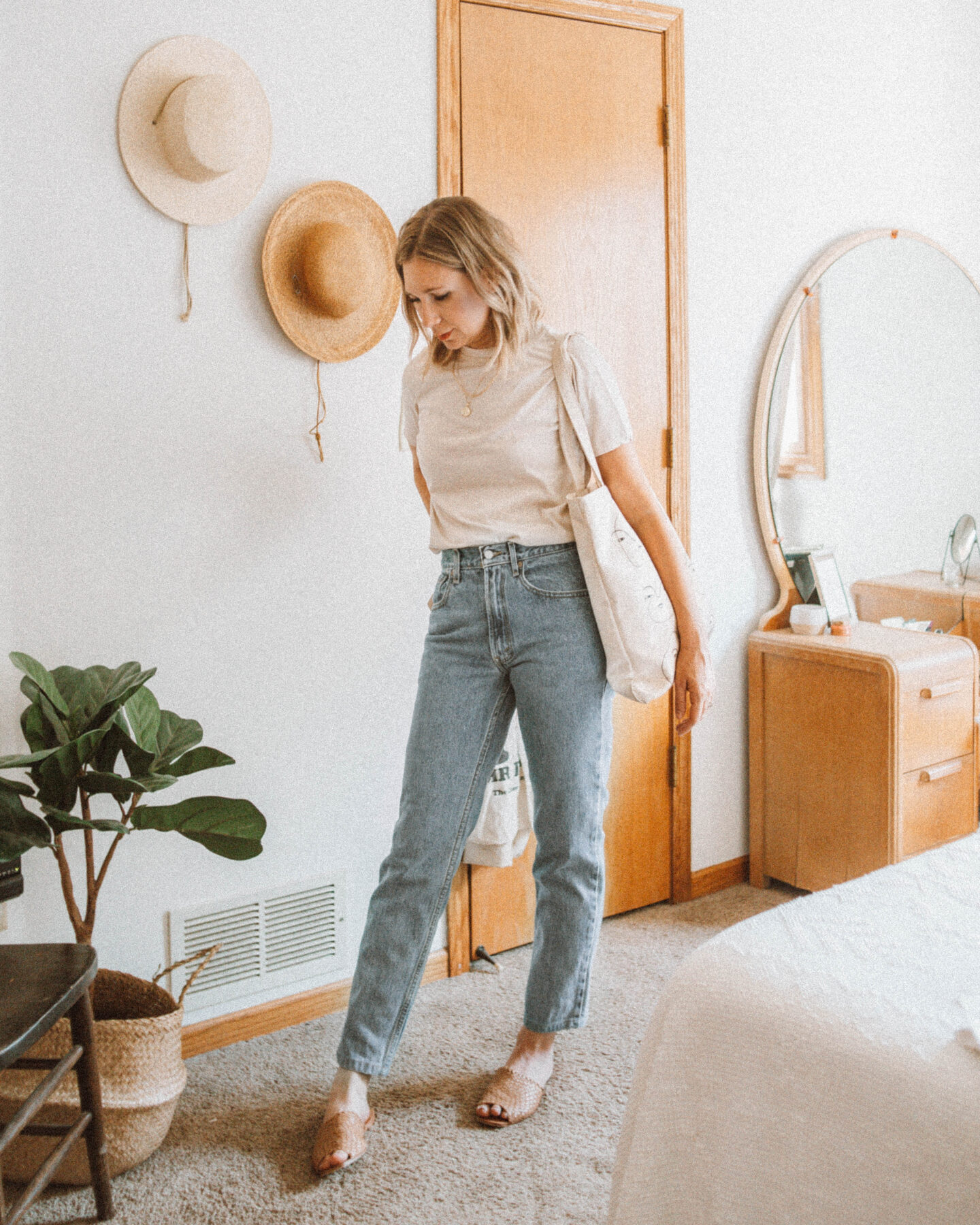 Necklaces and sandals were gifted. Tote bag is no longer available so I linked similar. Denim is vintage so I linked to similar styles
These jeans are a pair of vintage Levi 512's that I picked up at a thrift store when I was pregnant with Gabe. I obviously couldn't try them on, but I got them on the gamble that they would eventually work, and I'm so happy that the gamble paid off! I've realized that I prefer how 512's look rather than 501's, and when I found these in this perfect light blue denim I couldn't pass them up. If you want to hear more of my in depth thoughts on the two styles, I have a vintage denim guide here.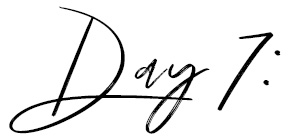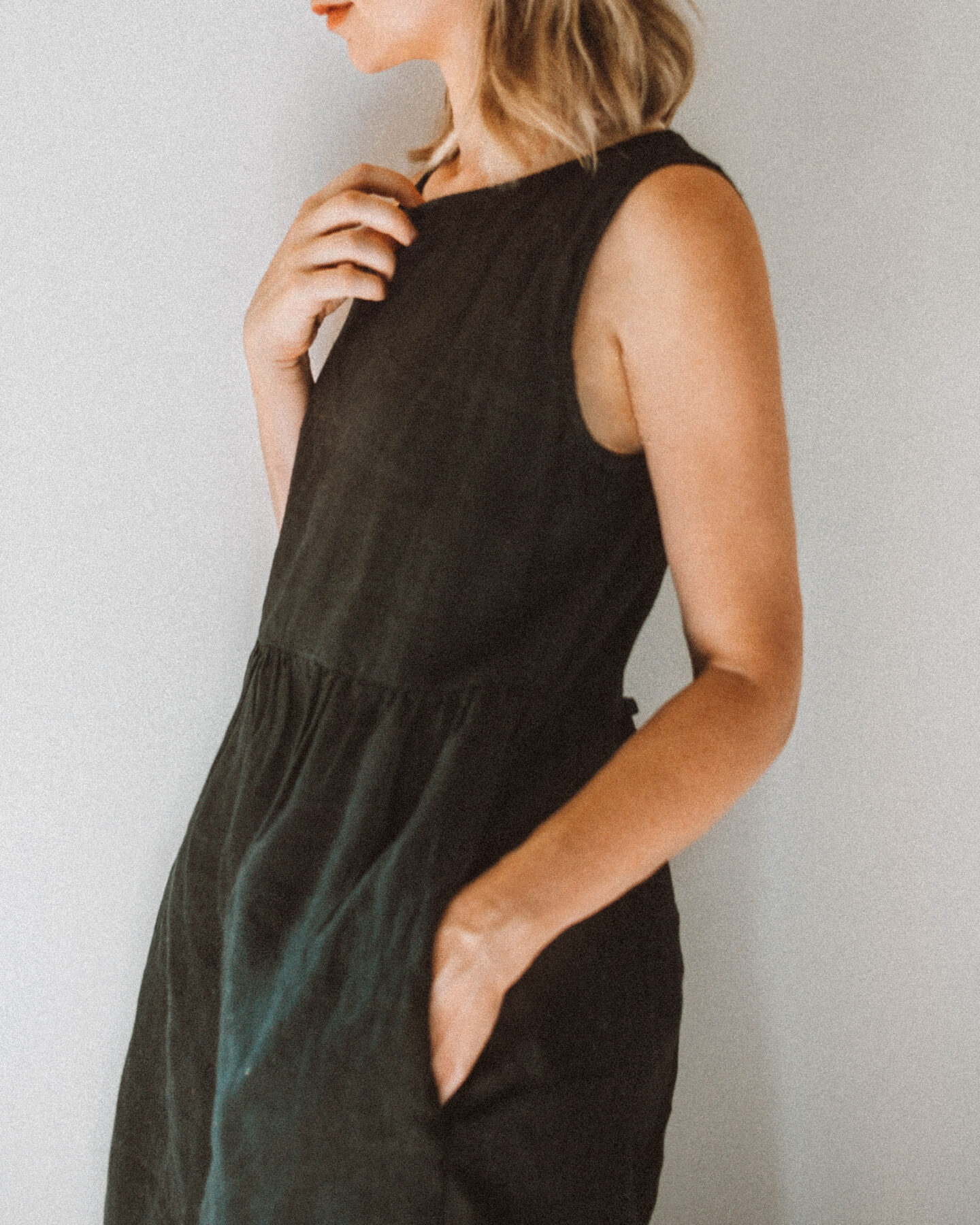 shoes are old so I linked similar. Hat is vintage so I linked similar
Alright. Let's get into the meat of this post:
Pyne & Smith Model No. 25
First off… my measurements:
5'5″ish
130ish pounds
34″ bust
26.5″ waist
32″ hips
I've been wanting to review the Pyne & Smith Model No. 26 dress for you because, well to be perfectly honest, this dress is something I totally looked over when I was first looking through the warm weather models on the Pyne & Smith site. Earlier this spring, after not wearing it for close to a year) I finally sold my older Pyne & Smith No. 12 Dress (you can see it styled here) for a couple of reasons:
The length, and the 3/4 sleeve.
I've come to realize since I bought that dress that I'm just not a knee length dress kind of girl. It's very rare for me to like anything that's shorter than midi length, and for that reason alone I just never wanted to wear that dress.
Second: in Midwest 3/4 sleeves are just not that practical. It's either super cold or super hot here so a weird in between sleeve just doesn't really work. I would rather have a sleeveless style that I can wear layered up in the winter, or at the very least have a more billowy sleeve to allow for some airflow when it gets super hot.
ANYWAY:
I sold that dress after realizing I would get more use out of the model no. 26…
and I was 100% correct.
But back to my original point about looking it over the first time I was on the site:
The dress has an entirely different look to it when worn true to size, and while there's nothing wrong with that look, it's just not my vibe.
I like things to look a bit more casual, worn in… effortless?
And after seeing Brianna (from the Constant Closet who is no longer on Instagram) style her Pyne & Smith dress a size up I knew immediately that, that's what the Pyne & Smith Model No. 26 was missing for me.
So all that to say, I got this in a medium (I'm typically between an XS/S), and the relaxed fit makes this dress so much more wearable for everyday use (that's my personal opinion of course!).
It also comes with a tie that you can use to cinch at the back (in the close up shot you can see the little loop for the tie), but I prefer to wear it without. In fact, I may get out my seam ripper, and take the loops out. But again, that's just personal preference.
The linen on this dress is absolutely superb. It's so soft (it keeps getting softer every time I wash it), and the quality is very much reflected in the price. It's also more of a midweight linen so the dress has a beautiful drape to it.
And finally, the craftsmanship is excellent as well. It's a fairly simple design, but it's executed so well. The seams are tight, no loose threads, the neckline lays flat, and the sleeves are cut generously enough that the armholes aren't too tight, but they also aren't so low that you can't wear a normal bras.
I would 10/10 recommend this dress. The simple, elegant design and the high quality make it the type of dress that my girls will be raiding from my closet in 20 years (I wish my mom would have kept some of her older clothes!).
---
So there you have it! I hope this review of the Pyne & Smith Model No. 26 was helpful, and answered any questions you guys might have. I recognize that these dresses come with a hefty price tag so I hope this will help you decide whether it's worth it or not for you. Please feel free to ask any additional questions in the comments!
Until next time,