Okay guys, I'm here and I have a post for you (yay!), but I also spent a ton of time this week putting together Wednesday's post, and I already feel as if my blog life has interrupted my family life a bit too much this week so I'm going to just jump right into the meat of today's post.
Thanks for understanding that family comes first! 🙂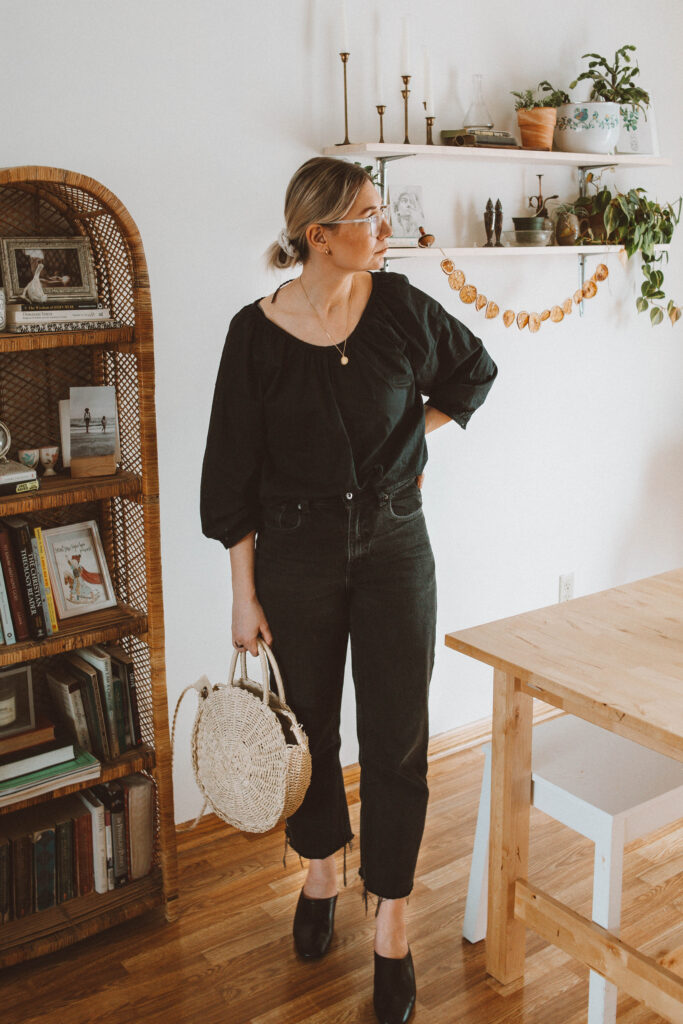 Outfit Details (Affiliate Links):

Shoes & blouse (review here) were gifted | Jeans are vintage. Linked similar
I love an all black outfit, but I especially love them in spring when you can pair them with straw bags. The contrast just really pleases me ha! A little update on these mules: They are very comfortable. Bubs had his six month appointment, so I wore them for the entire morning with no sore feet. I took my normal size 9, and they fit perfectly.
---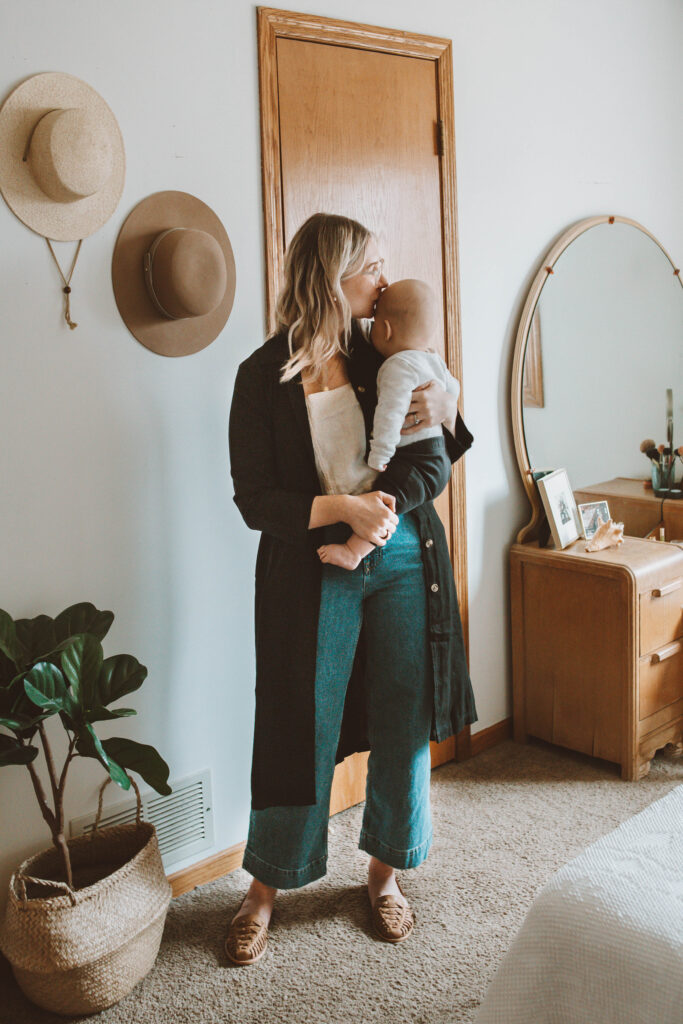 Outfit Details (Affiliate Links):

Jeans were gifted (see review here) | Me & Arrow Jacket (30% off with code STRANGETIME) | Sugar Candy Mountain Tank (20% off new arrivals) | Nisolo shoes are 15% off with code NOTALONE
A few clothing notes:
This Me & Arrow jacket is so lovely to wear! Way more than I was expecting it to be. It has the most beautiful drape and the material doesn't wrinkle easily which makes it so easy to wear. I ordered it in my true size small and it fits perfectly. I would size up if you want to layer underneath it with heavier knitwear. Bonus! It can convert to a dress when buttoned up (perfect for nursing!)
The Sugar Candy Mountain tank is part of their spring launch (I also got the matching shorts). I sized up based on the website's suggestion, and it was definitely needed as the bust would have been too tight in my typical size. It's VERY cropped (I have a short torso for reference), but with high waisted pants you don't see any midriff. It has a really pretty seam detail down the front, and the boxy fit makes it a really unique version of a classic shape.
Finally, these Nisolo Huarache sandals are somewhat new to me, but they are one of my favorite spring pieces. I ordered them in my true size, and they have required a bit of breaking in but are now very comfortable. The leather stretches with each wear, and I can already tell they will mold to my foot with continued wear. They really are the perfect summer shoe… especially great for being on your feet when you don't want to wear a tennis shoe. You can tell they are really well made, and with care I imagine they will last a long time.
---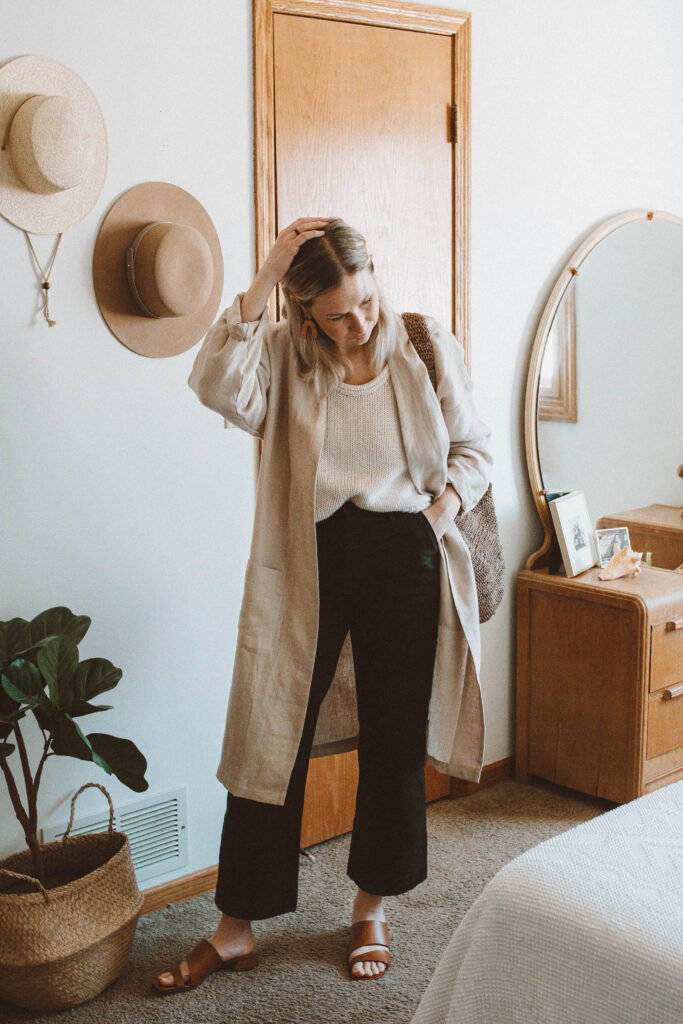 Outfit Details (Affiliate Links):

Pants and Shoes were gifted
I just really love the tones in this outfit. Plus the sweater is soft and cozy, the linen duster is basically a robe, the pants are stretchy, and the shoes are easy. This is one of those magical outfits that's secretly super comfy. You can't go wrong!
---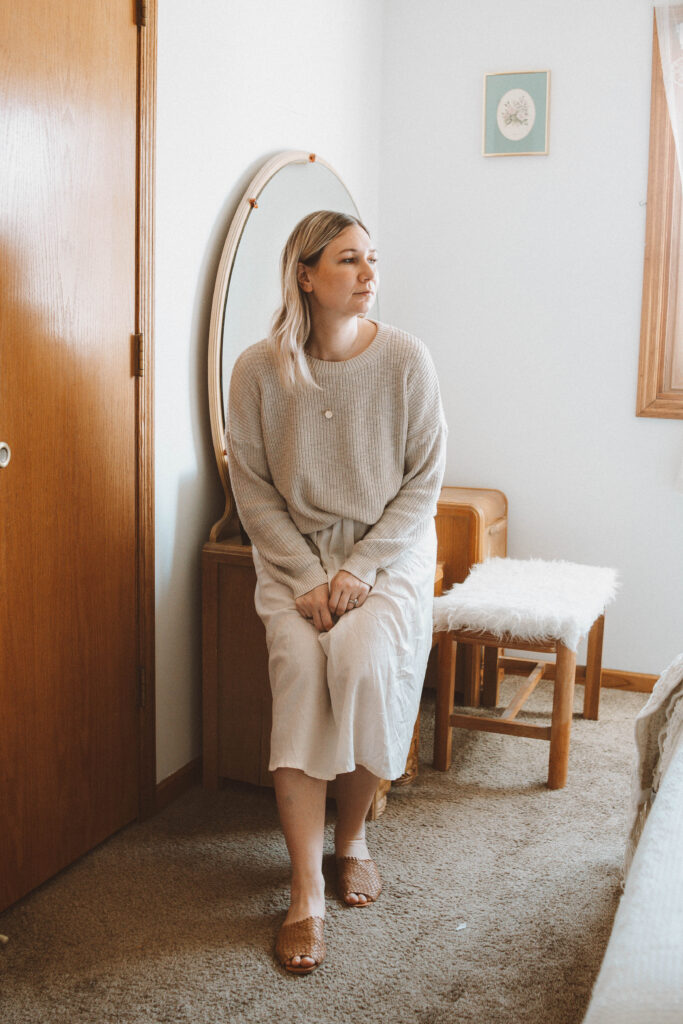 Outfit Details:
It is Well L.A. Sweater & Skirt | Either/Or NYC Sandals (Gifted)
Apparently I'm into magical outfits lately because this is magic outfit number two. Such a comfy thing to wear around the house and yet so pretty. Sometimes I prefer to wear dresses or skirts when I'm hanging around the house because it's nice to let my legs breathe? Air out? Ha! Not sure what the right term is, but I think you know what I mean!
---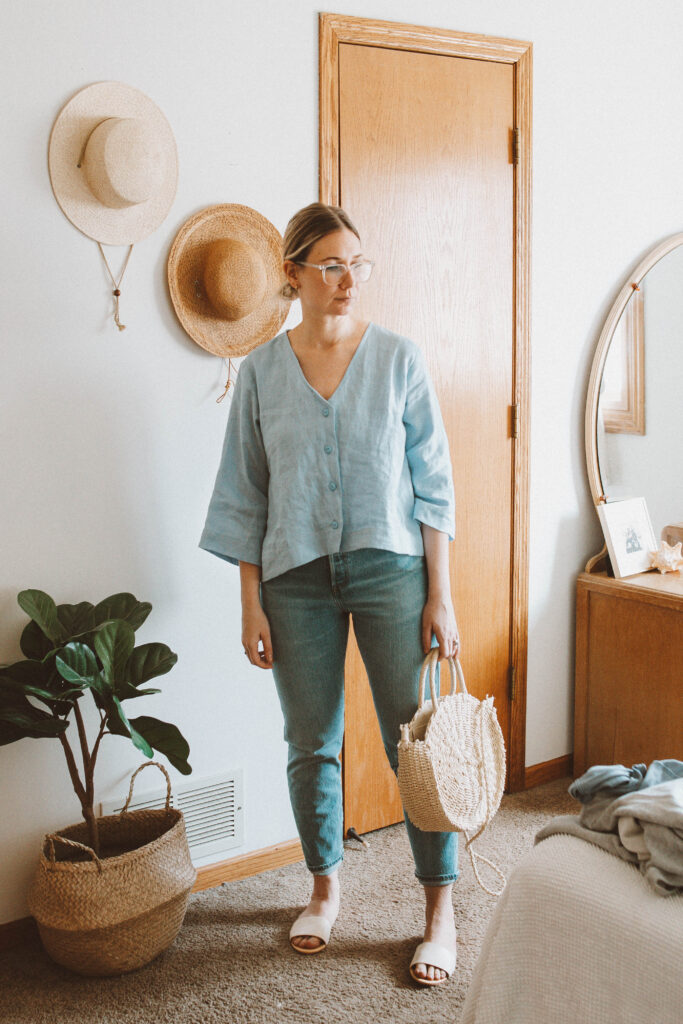 Outfit Details (Affiliate Links):

Earrings were a gift from Kiki Koyote
I had a major revelation about my wardrobe recently. I mentioned recently that I've realized warm colors aren't for me, and yet I had filled my wardrobe with warm colors like cognac, camel, golden yellows… because those seem to be "the" colors to wear. And it's not that I was wearing them because they were trendy, I truly do think they are beautiful. But lately I've realized that for accent colors I actually prefer blues. This pale blue top is the perfect example! It's so pretty, and I LOVE putting it on… something I never felt with those other colors. Lesson learned: pay attention to what colors you love on yourself, and not the colors you love on other people.
I hope you're all having a great week despite all the craziness. I'm finding it helpful to just adjust as best as possible to this new "normal", and create new routines. How about you? Let me know in the comments!
Until next time,
Karin