It has been a WEEK you guys.
We have done so much around the house:
we put a bunk bed up in the girls room (and just like that the twins are now able to sleep in big girl beds! I think it took actually giving them a new bed instead of converting their cribs… who would have thought!), and over the last couple of days, David put together a swing set.
I'm tired. David's tired. We're all tired!
Plus Gabe is popping four teeth right now (weirdly, all of my kids have gotten teeth in sets of 4… anyone else's kids teeth like that??) so he has been crab.by.
As we say here in Minnesota:
Uff da!
To be serious for a moment though, this week has been a pretty tough week as Minneapolis has been going through so much pain and turmoil. My heart is so broken over the news of George Floyd's death, and it is even more broken over the fact that this kind of news is not isolated or new.
I don't typically stray too far from the subjects we cover here on a regular basis, but I did think it was a good opportunity to take a pause and mention a few things I think we, as white people, can do in response to such a tragedy:
Check out this Anti Racism resource list and do the work of looking through it and learning from it.
Listen to this podcast episode which breaks down the history of racism in America
Speak up when these injustices happen. Don't allow your white privilege to allow you to remain silent, but also listen to what our black brothers and sisters are saying. Be eager to learn, and willing to believe.
I'll leave it at that for now, but with all that's happened over the last few weeks I couldn't come on here and not say something.
Alright. Feels a bit weird to pivot to outfits, but let's do it shall we: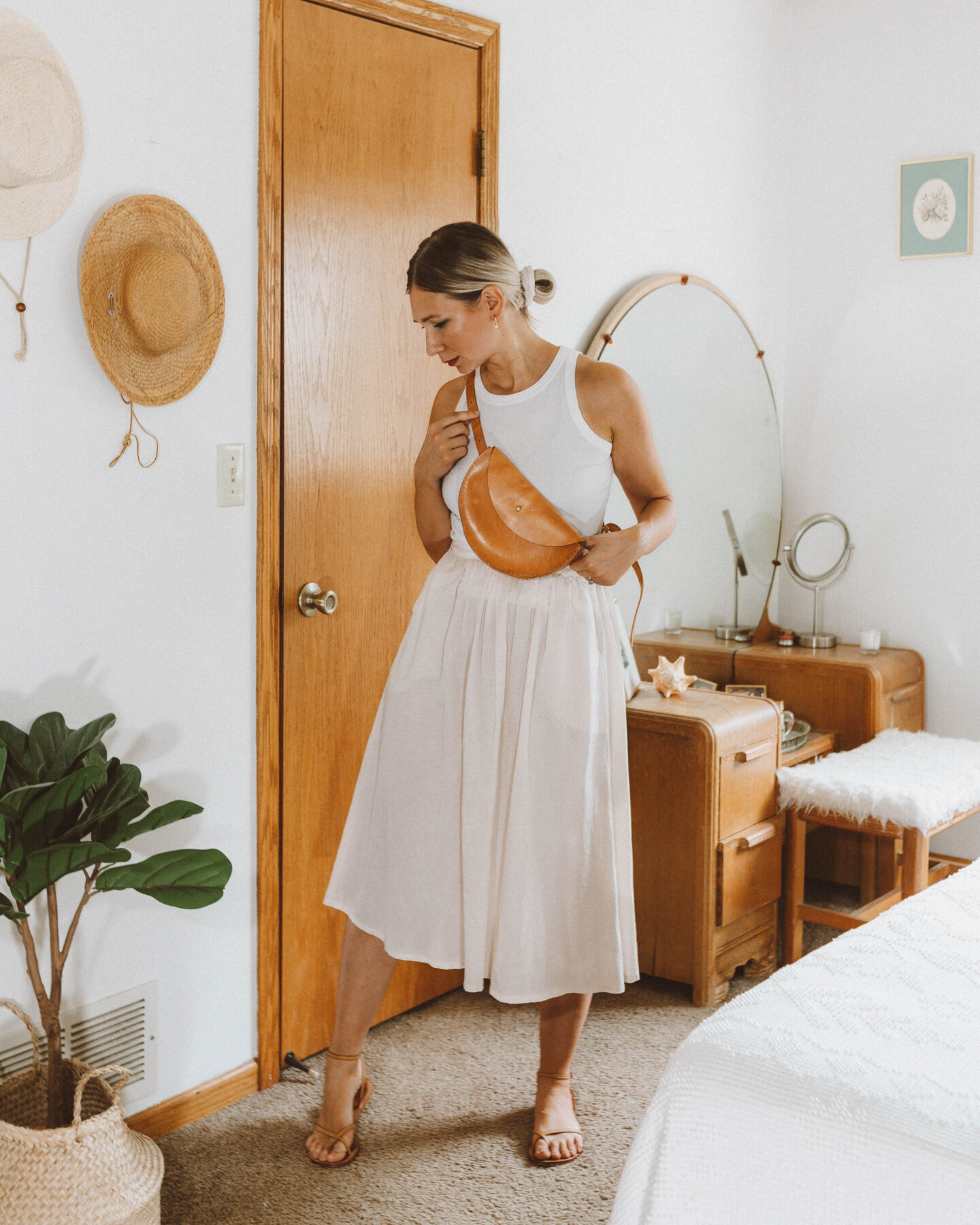 ---
Outfit Details (Affiliate Links):

Everlane tank (25% off. Size down for fitted) | It is Well L.A. Skirt | Old Nisolo Sandals (Linked to similar) | Tree Fairfax Hip Pack | The Silver Wren Earrings
This skirt from It is Well is quickly becoming a go to favorite of mine. It's just so floaty and silky, and it feels like you are wearing literal air. It's perfect for really hot weather days. It is a bit on the sheer side, BUT you can totally get away with just nude underwear if you are okay with the outline of your legs showing a little. If not, you'll definitely need a slip. I got it in my true size (S).
I've had some questions on this tank: it's the cutaway tank from Everlane and I like it so much I have it in both colors. I did want to touch on the fit however, because the black and the white have a slightly different fit (weird I know). The black is definitely true to size, but the white you'll need to size down in because the cut of the arm is slightly bigger. I do really like them though, and I find them to be a much more substantial than the average Everlane t-shirt (I'm not a huge fan of their basics range typically), and they don't wrinkle as easily as their other tees.
I get asked about the specifics of this bag all the time so I'm going to answer it here for everyone: I have it in the extended size, 50″ strap, and in the russet tan. It doesn't fit a whole lot in it, but it's perfect for phone, keys, and a lip balm or credit card/cash (I can't fit my keys, phone, and wallet in it so I typically just grab my card when I use it). I typically use it when I also have a diaper bag to stash things in or I'm on a walk and want to have things handy while keeping my hands free.
---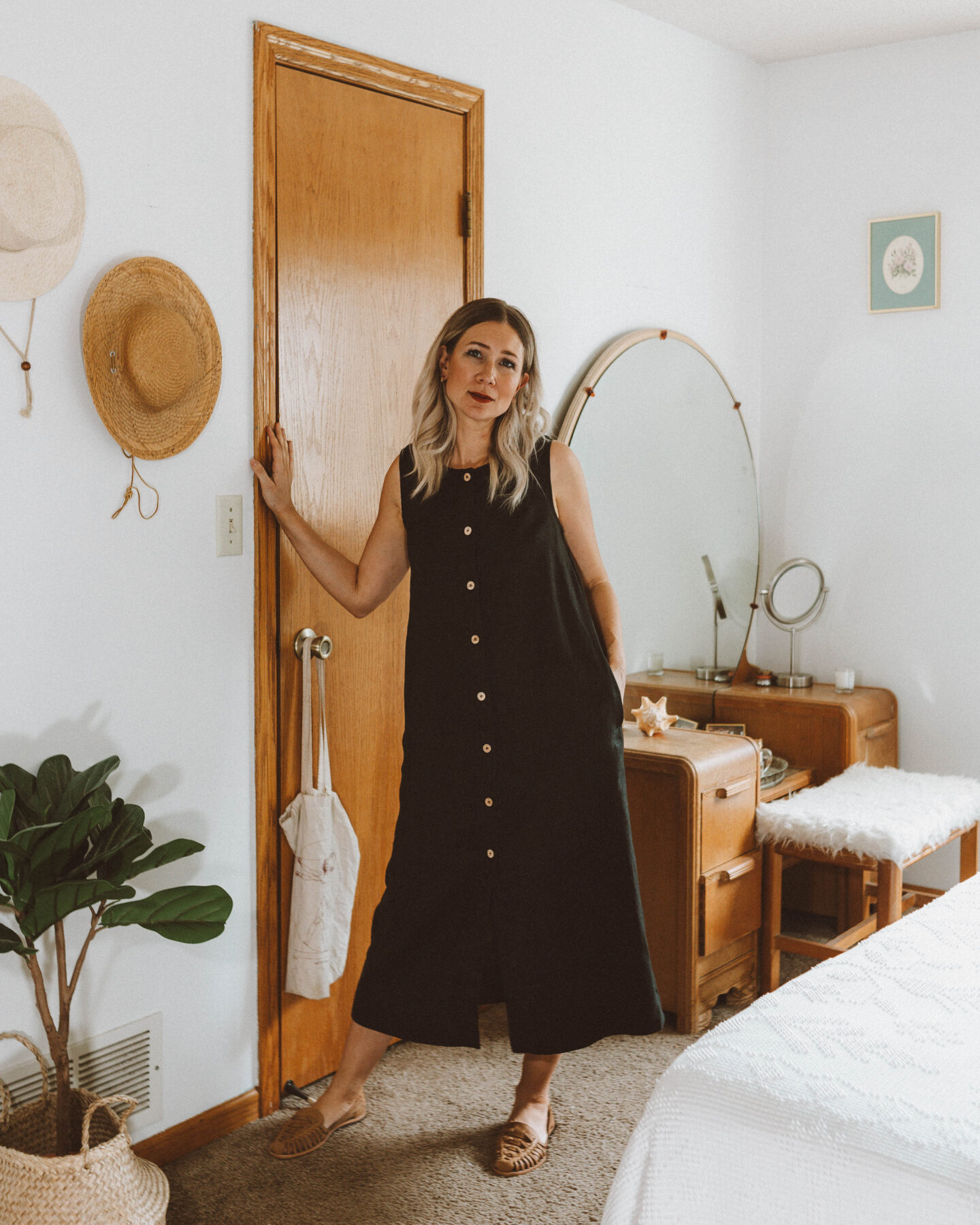 ---
Outfit Details (Affiliate Links):

Linenfox Dress | Nisolo Sandals (15% off with code NOTALONE) | GLDN Hoops (Gifted)
This linenfox dress is going to be a new summer staple for me. I love the A-line fit with the brown buttons all the way down. I originally bought it because I was needing more breastfeeding friendly dresses (but then Gabe decided it was time to be done breastfeeding), but now I just love the buttons for the extra special touch they add. They especially pair well with other brown accessories like these Huarache sandals from Nisolo (I stayed true to size). This dress runs true to size, and comes in lots of different colors!
---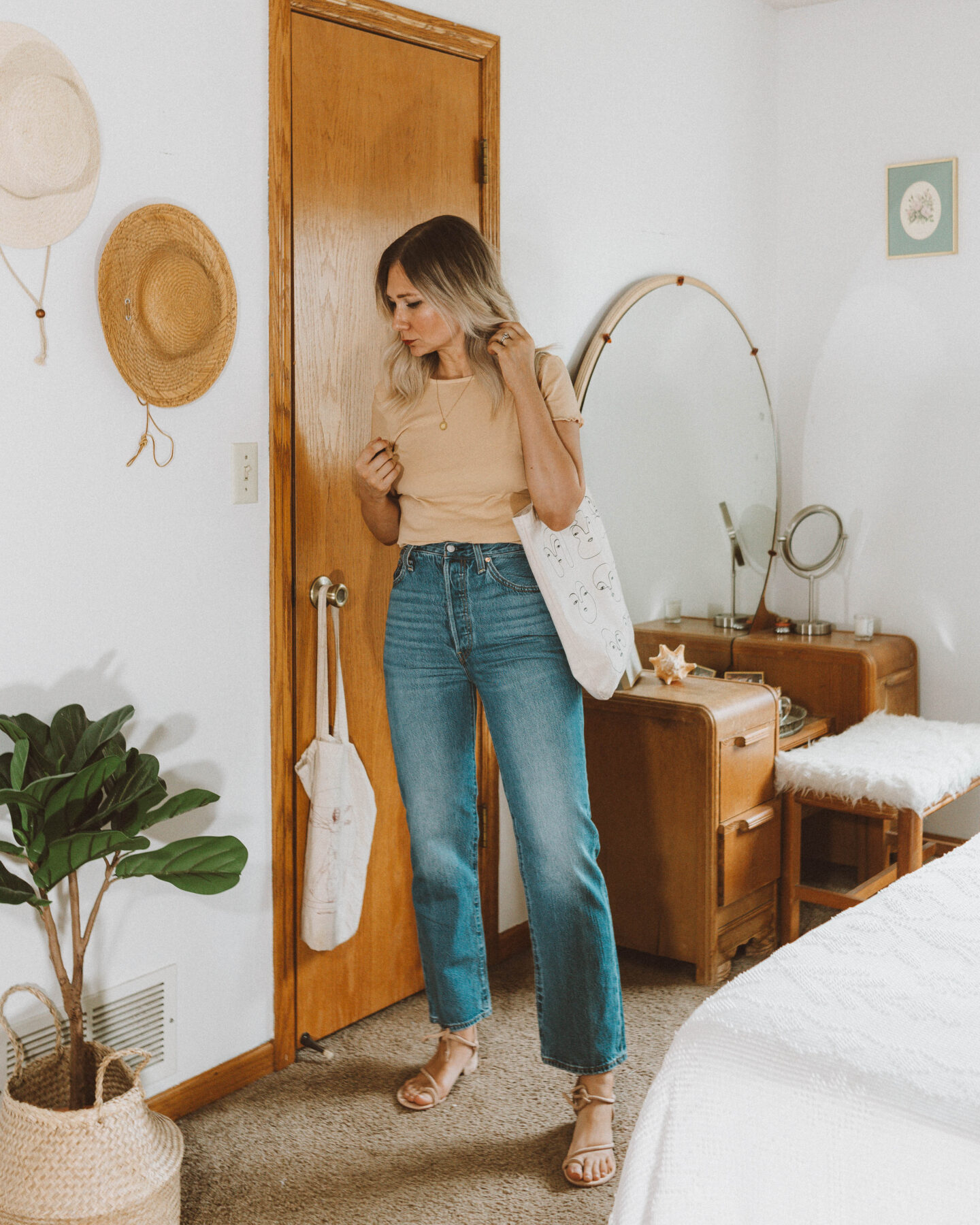 ---
Outfit Details (Affiliate Links):

Levi's Jeans (Gifted from Prism Boutique) | Back Beat Co. Tee (Gifted from Prism Boutique) | Old Jeffrey Campbell Sandals (linked similar) | Red Cherry Blvd Necklace | Tradlands tote is no longer available
These Levi's are the ribcage straight leg jean, and I thought it would be good to talk about sizing because they are a bit tricky. They DO fit true to size, but if you have hips at all they will be snug in the hips with your true size. I had to really work to get them on, but then once they were on they felt good albeit snug. If you are curvy you will definitely have to size up, but then probably either wear a belt or have the waist taken in. To be honest, I find this to be true of almost any Levi denim I've tried… the brand seems geared more towards less curvy physiques, but to be fair I haven't tried that many styles.
The tee is on the smaller size so size up. It's meant to be snug, but I think most people could still do with a size bigger. It will be a bit cropped on those of you with a long torso, but will hit right at the hip for anyone with a shorter torso.
---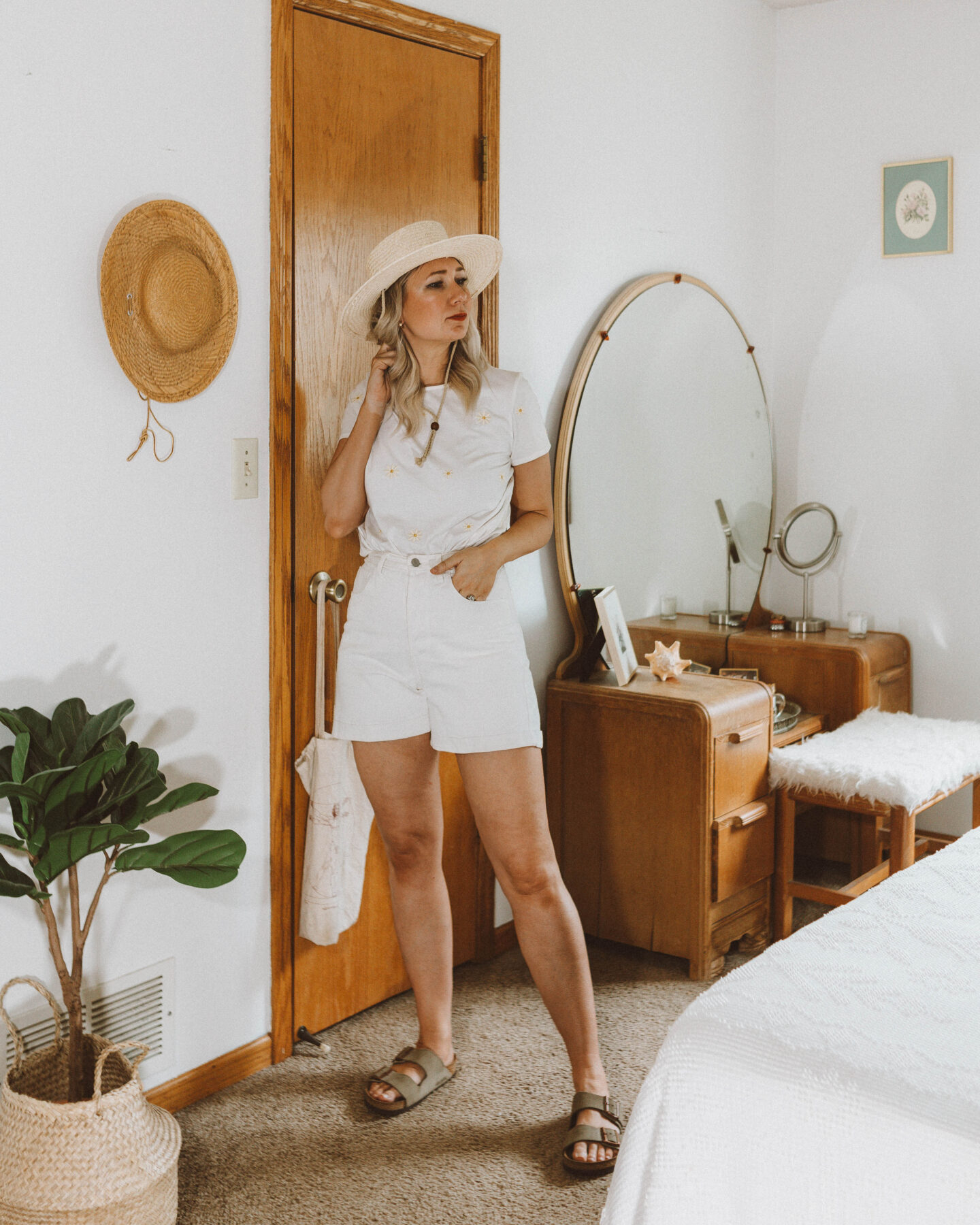 ---
Outfit Details (Affiliate Links):

Sezane Tee | Vintage Guess Shorts (Linked Similar) | Birkenstock Sandals | Lack of Color Hat | GLDN Hoops (Gifted)
I don't know if I've touched on this before, but if you are thinking of ordering some Birkenstock Arizonas, I took my true size 9.
Also, this tee from Sezane is one of my favorites, but just a heads up that the neckline is not stretchy so it's a bit hard to get it over your head! Definitely put it on before you do your makeup otherwise you will smear it everywhere trying to get the shirt over your head. Just thought I'd mention that just in case it's a deal breaker for anyone.
---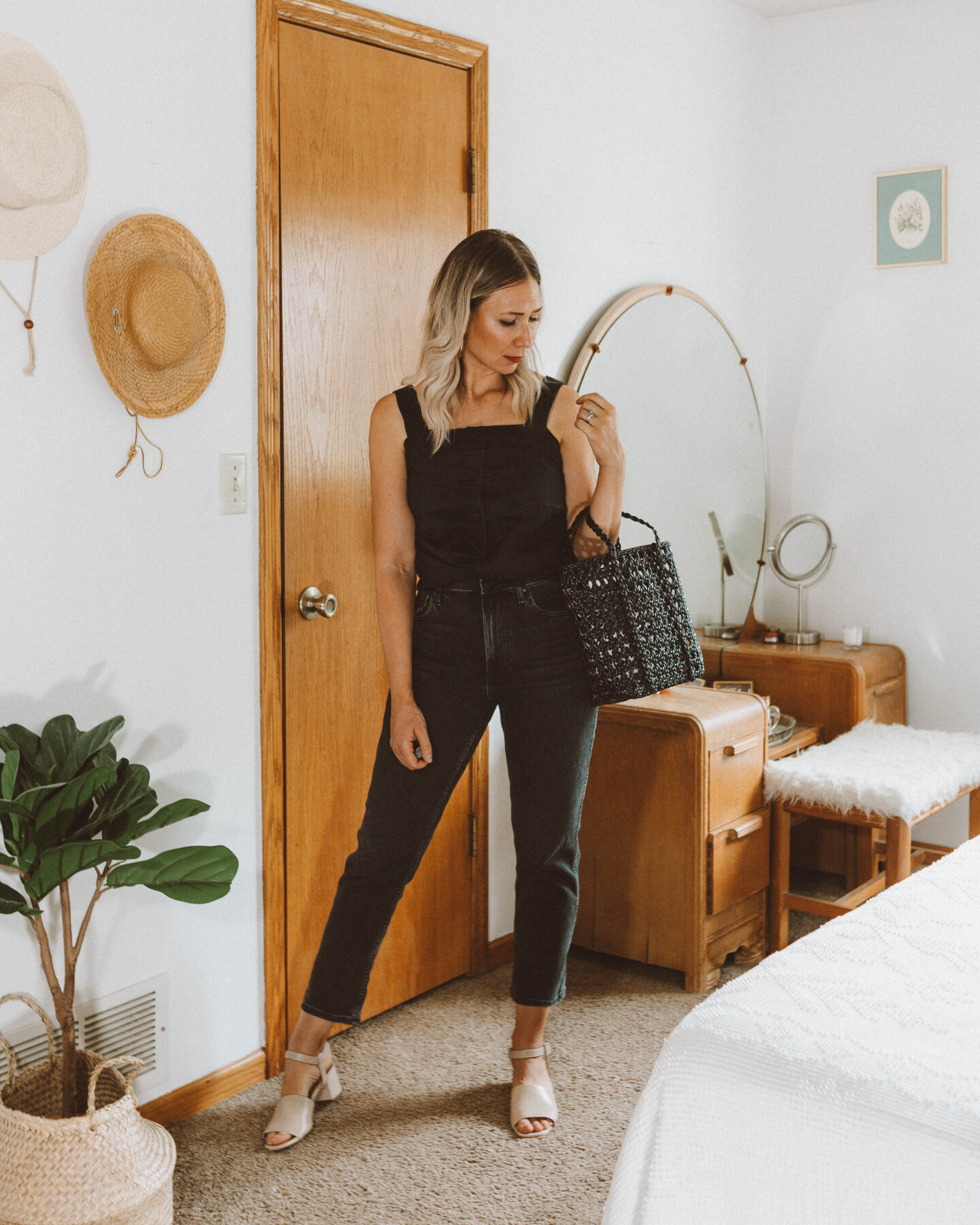 ---
Outfit Details (Affiliate Links):

Everlane linen blouse | Everlane bootcut denim (see review here) | Everlane Sandals (30% off. Gifted. See review here) | Bembien bag
This all Everlane outfit is a new favorite of mine.
I finally caved and got the linen apron top, and I'm so glad I did because it's such a pretty top! I love the square neckline, the thicker straps, and the buttons all down the front. Those details make this blouse stand out even more. I love it paired with these washed black jeans.
---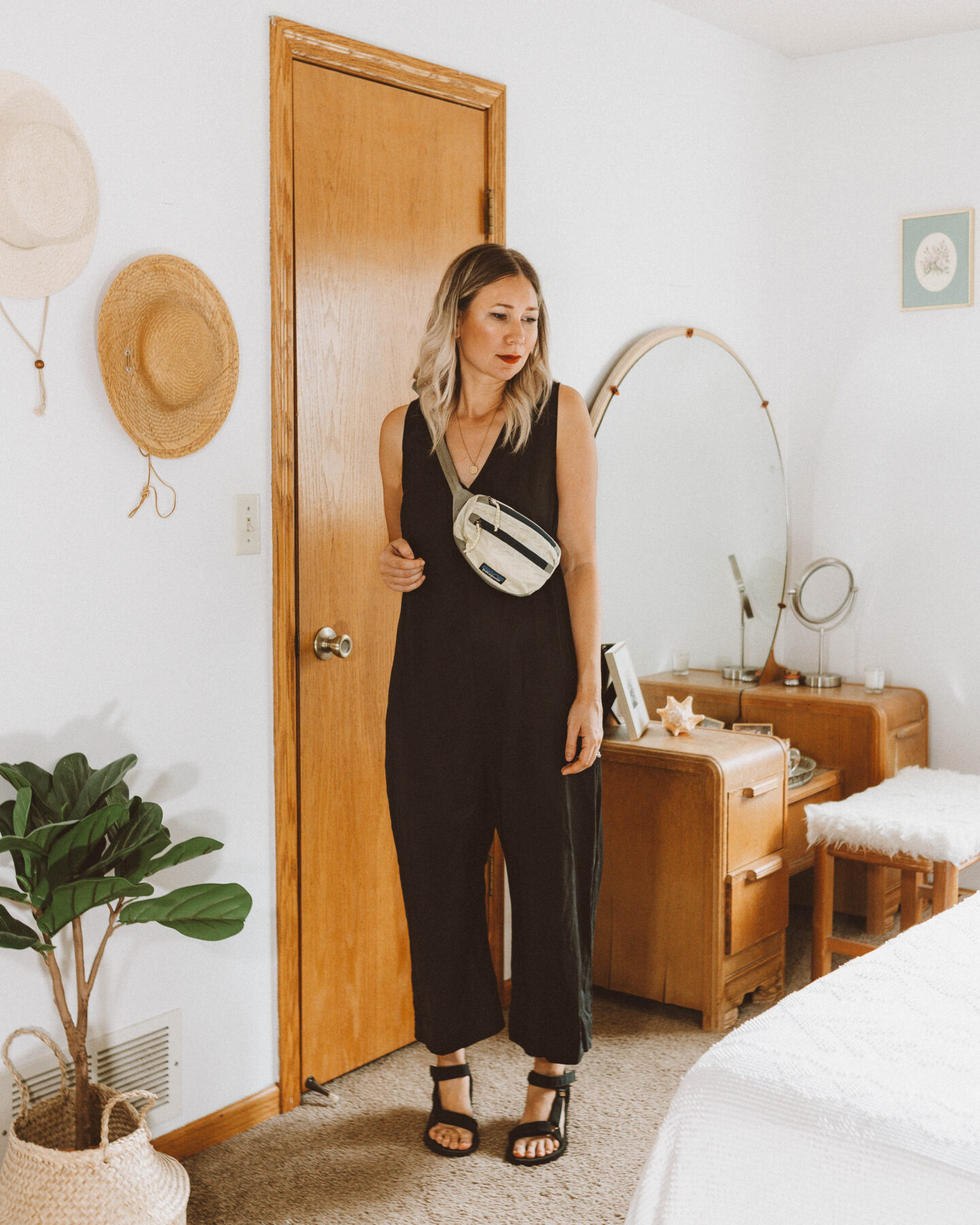 ---
Outfit Details (Affiliate Links):

Hackwith jumpsuit | Teva Sandals | Patagonia hip pack | GLDN Motherhood pendant
This jumpsuit from Hackwith Design House continues to be a favorite of mine. I wore it all of the time when I was pregnant, and I was curious to see if I would still reach for it all of the time, and the answer is: YES. It's made of the silkiest, lightweight (breathable!) material so it's so cool and comfortable to wear in hot weather. Plus it's not hard to get in and out of (which is very important in a jumpsuit) because it just has a simple button closure in the back. I like the versatility that the tie gives as well. It doesn't have belt loops at the side so you can place the tie wherever you want (or wear it without), and it look intentional.
---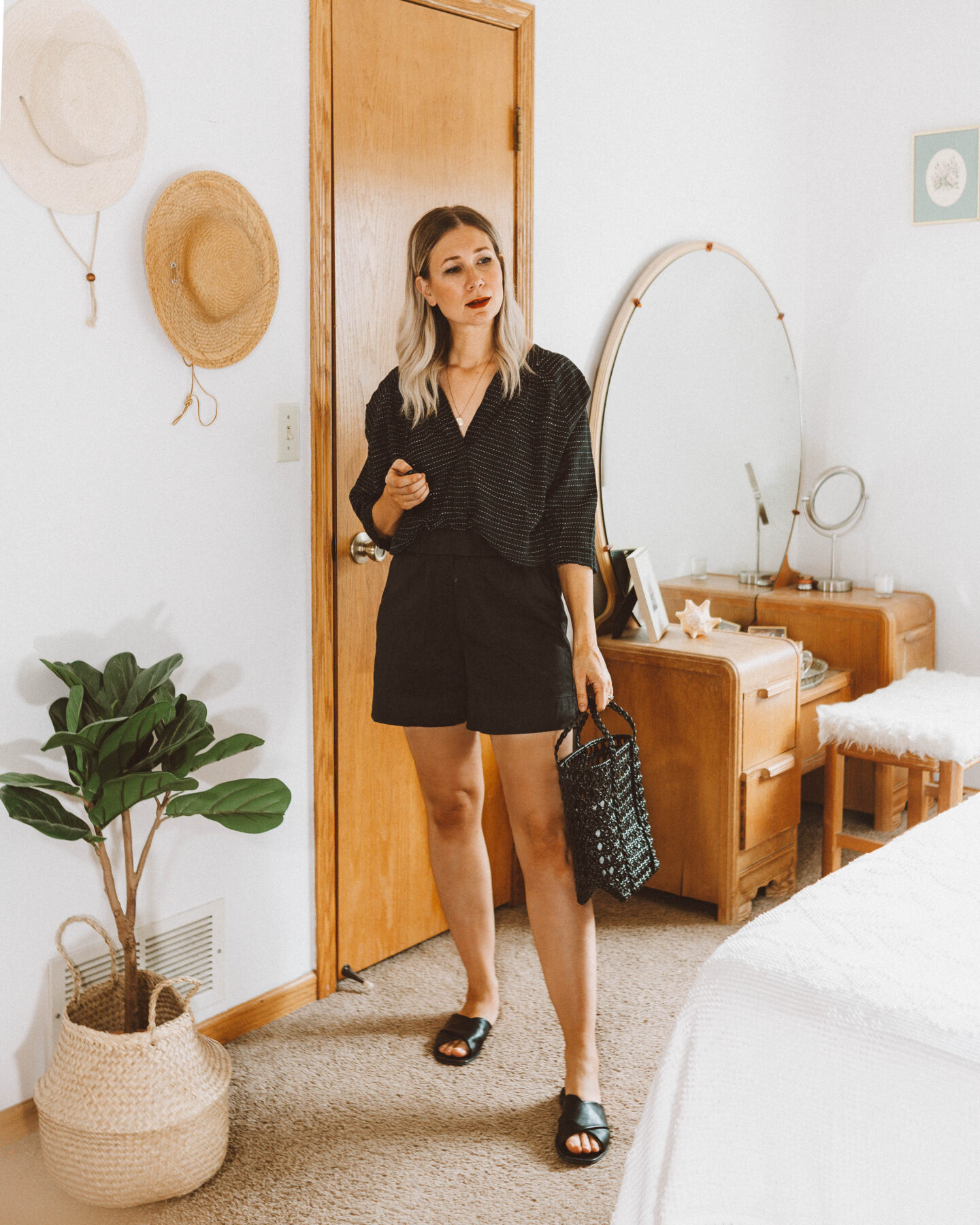 ---
Outfit Details (Affiliate Links):

Mirth Blouse | Everlane shorts (gifted. see review here) | Everlane sandals | GLDN Motherhood pendant | Bembien bag
This blouse from Mirth is such a pretty piece to wear. I don't have much in navy, and honestly I sometimes find it too severe to wear, BUT the ivory stripes running through it make it a much more soft look. It's the details on this top though that I love: the v neck, the slightly ballooned sleeves, and the crop shape. It's the kind of blouse you can get away with all year round.
I wanted to quickly touch on these Everlane Sandals. I had the original version of these in white, and I liked them, but I ended up selling them ultimately because the white didn't feel versatile enough to me. I prefer a softer, creamier white like the Nisolo Isla slide sandals. I was missing the crossover shape though so when I saw Everlane was releasing these in a square toe version I went for it. I MUCH prefer the square toe version for pure aesthetics. They are just as comfy and easy to wear as their counterpart, but the square toe just makes them a lot more modern. I'm a fan!
---
That's it friends! I'm SO tired right now (writing this right before my bedtime), and I almost nodded off a couple of times while writing. Either I'm REALLY tired, or I'm a really boring writer…
I hope you enjoyed my week of summer outfits! Let me know which one was your favorite in the comments below.
Until next time,