HI. Not sure why I just yelled that at you, but I did and there's no backtracking now.
I have no idea why I have waited so long to do this post.
Because it's a topic that comes up ALL the time in this community… here on my blog, on Instagram, on Facebook… basically anywhere I share my outfits I hear this comment whenever I share a white outfit:
I LOVE that dress (shirt, pants, etc.), but I can't wear white! I have (x amount) of kids!
I always chuckle when I hear that because, well…
I also have kids… and a lot of them! My four kids are definitely not any neater or less messy than the average kid.
My white clothes get all manner of kid related crud (mmm) on them every time I wear them. Plus makeup, sweat, grass stains… you name it.
But here's my secret for how to keep whites white:
I wash them after I wear them, and… problem solved!
Okay, that's definitely oversimplifying, but it's also the truth…
with a few caveats/tricks:
First things first: the white clothes I DO own are washable. I don't wear any white clothing around my children (or really just in general) that I can't throw in the washing machine.
But more than that, I also keep my whites to natural fibers. So most of my whites are linen or 100% cotton.
I didn't know this until a couple of years ago, but synthetic white fabrics are much harder to keep white than natural white fabrics… like MUCH harder.
So start with that step: if you're wanting to incorporate more white clothing into your wardrobe, but are terrified of stains: keep your fabrics natural.
99.9% of the time my whites come out of the wash stain free with just a bit of stain remover on them.
I use Dapple if you're curious.
However. There ARE times when the stains are stubborn, and I do have a few tricks up my sleeve for when that happens.
FIRST. I swear by the RIT White Wash. This works super well especially for whites that have yellowed. This is always my first line of defense when whites are starting to look like they need a serious pick me up.
SECOND. When you feel like all hope is lost, pick up some OxiClean White Revive powder. I know it's not made of the best ingredients, which is why I save it as a last resort. BUT it works wonders. A lot of the time throwing it in with my wash does the trick, but for truly stubborn and dingy whites I will soak them in a bowl with this (sometimes for days), and they come out good as new. I'm not kidding.
I also carry a Tide stick around with me for when I'm on the go, and they do a reasonably good job at keep the stain from setting in when you can't get to it right away.
And that's really it. Nothing groundbreaking really, but they are strategies that really work at keeping things nice and bright.
So now that you're feeling a bit braver about wearing whites, let me share some of my favorite white outfits: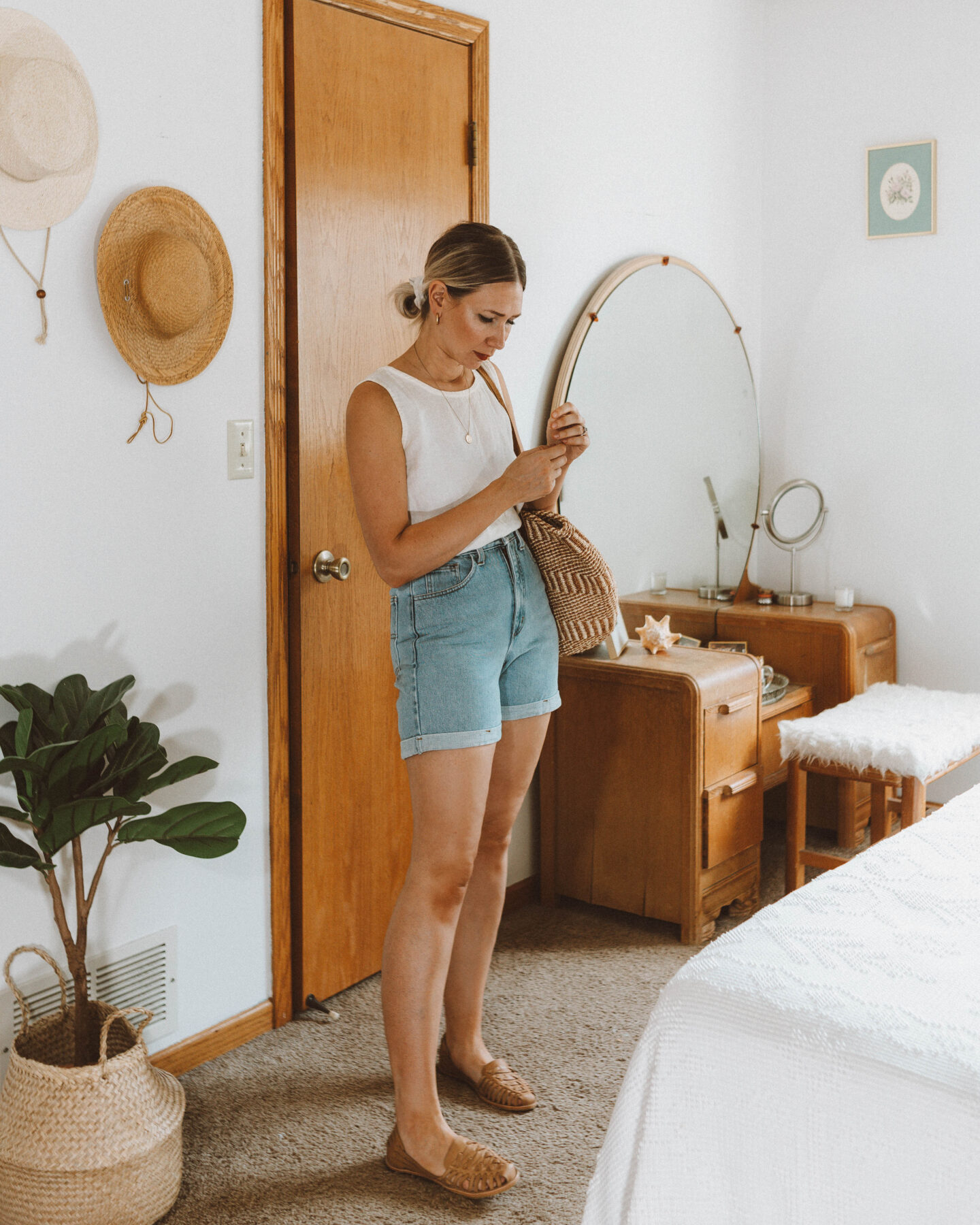 Outfit Details (some affiliate links):
There's nothing more classic than a crisp white top with blue denim… especially when paired with cognac. I'm a huge fan of this combo and it's something I've reached for time and time again. IN FACT, it was one of the very first combos I shared on here when I was a newbie blogger.
The tank top I'm wearing is the Tank 1 from Eli & Barry in Foam. This is, hands down, my favorite tank top I have every owned. I KNOW. Those are big words, but it's true. It's a fairly simple white linen shell, but it's the quality of the linen that makes it magical. It's so soft and lightweight… it feels like it's floating around me when I wear it. Plus, the crop on it is absolutely perfect… not too short, not too long. I can still do a french tuck on it, but it's short enough that it looks great with high waisted bottoms. I could sing it's praises until the cows come home if I'm being honest. It IS an investment, but it's one worth making. I got it in OS 1 and I have a 34″ bust.
So this tank top is one of the things that needed a whitening overhaul. I wore it to death last summer and it was dingy and stained from my self tanner. But after a good soak in some OxiClean it came out as good as new (I soaked it for a full 24 hours).
You don't have to be scared of white clothes!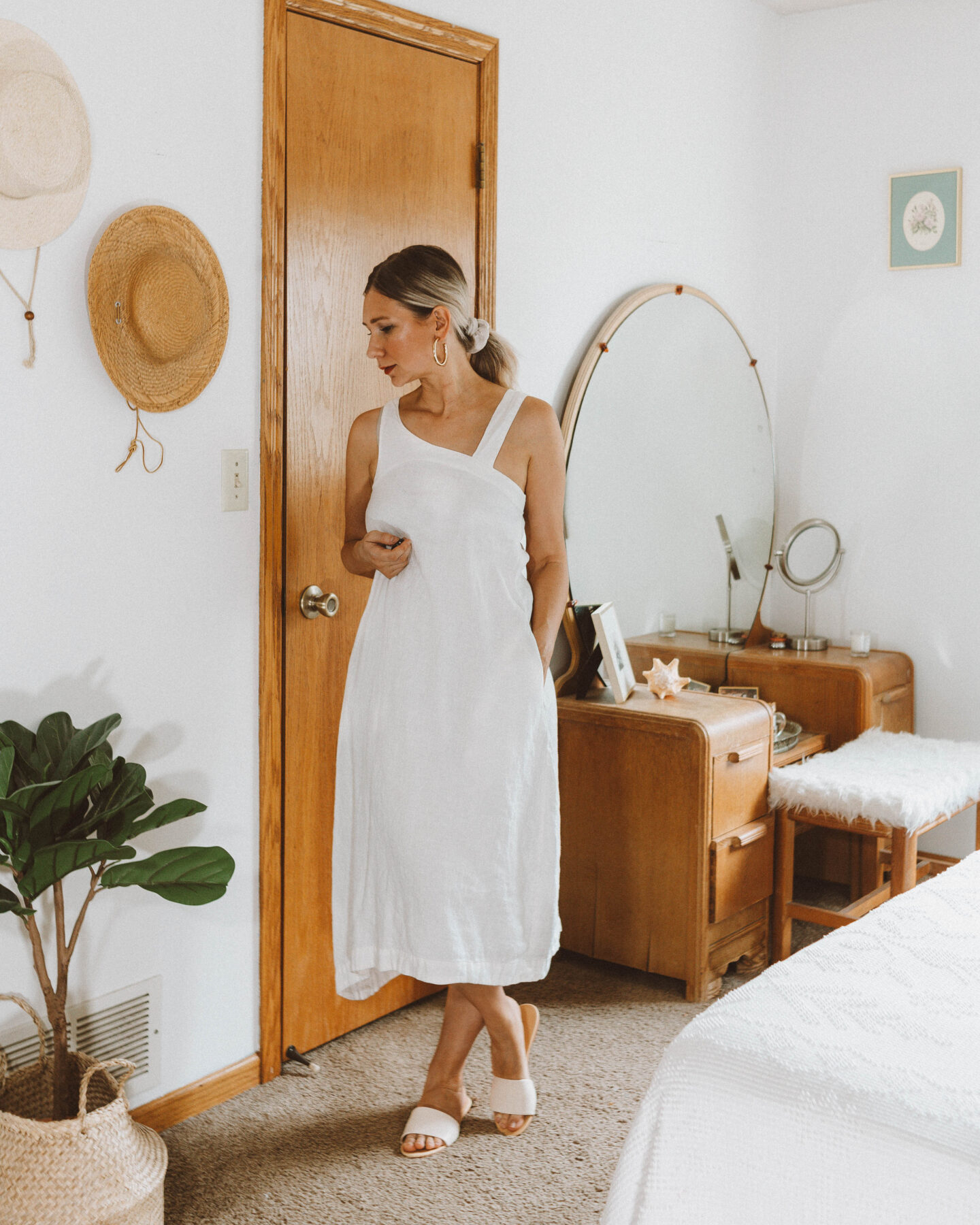 Outfit Details (some affiliate links):
This dress from Sugar Candy Mountain is one of my absolute favorites. It's also made of a beautiful, high quality linen (I've found that when it comes to linen, quality makes a huge difference). And… you can wear a normal bras with it! High fives all around am I right? This is honestly the only thing I want to wear on super hot days. It's cool, covers everything, but also allows a lot of air flow. The perfect combo! The white linen I have is from last year's color ways, but I was pleased to see they brought it back this year in their current colors. I have it in a small, but if you have a large bust, I would size up. FYI the Dune color on their website looks very close to white, but it's actually more of a light beige linen.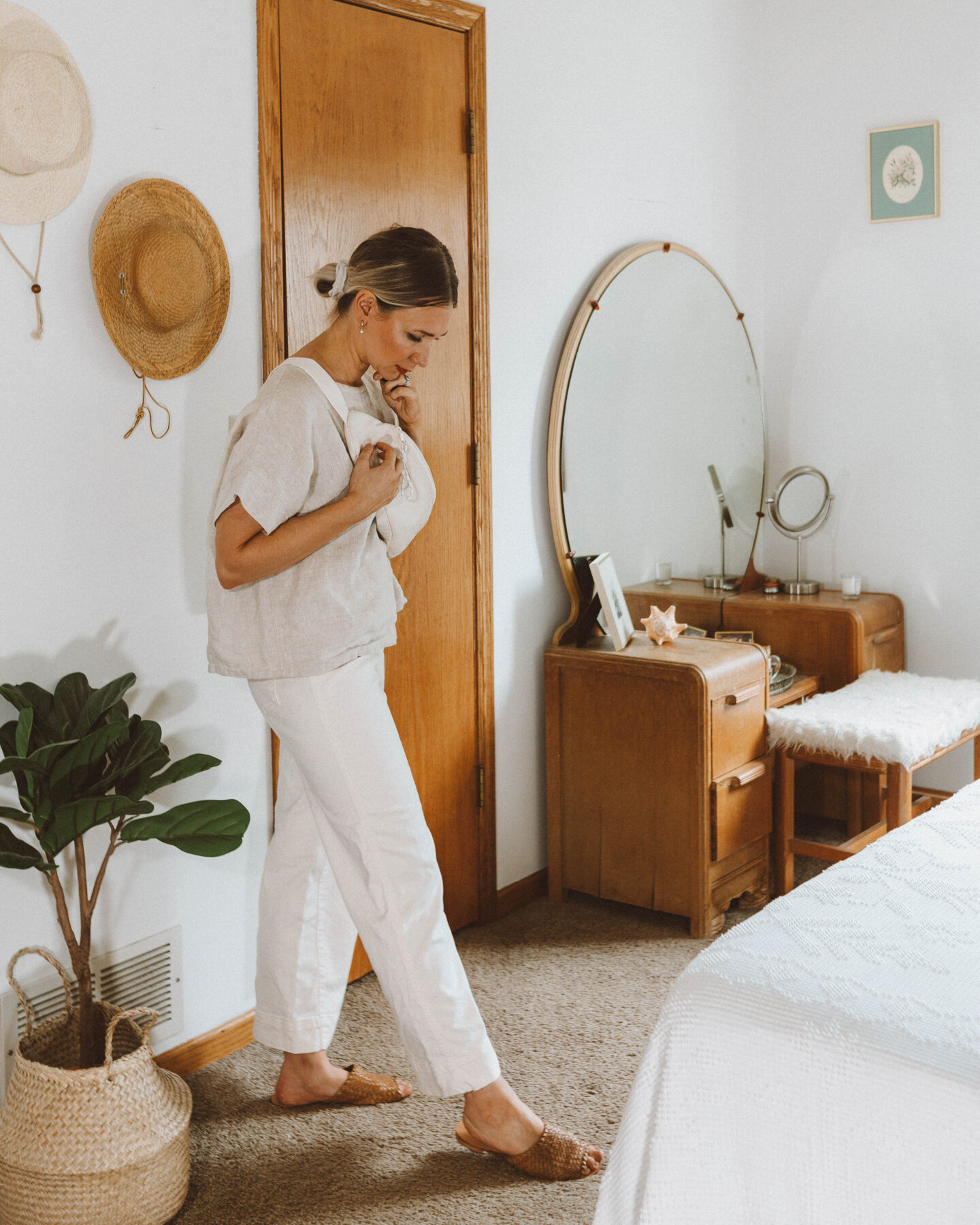 Outfit Details (some affiliate links):
sandals (review here) and top were a gift (no longer available)
It's funny because I've had this Georgia tee from Elizabeth Suzann for a super long time (sadly Elizabeth Suzann is closing it's doors so it's no longer available), but I've always struggled with how to style it. I think if I had a slightly longer torso I would find it easier as I find the crop to be just a bit too long and awkward on me. BUT now that I've incorporated more wide leg styles into my wardrobe, I'm finding that I actually really like it with a wider silhouette on the bottom… which kind of bucks all of the style advice you normally hear: don't pair volume with volume. Meh. In my experience, style advice should be taken with a grain of salt. It's more about what you like than it is about what you should like. In my opinion, this is a good combo.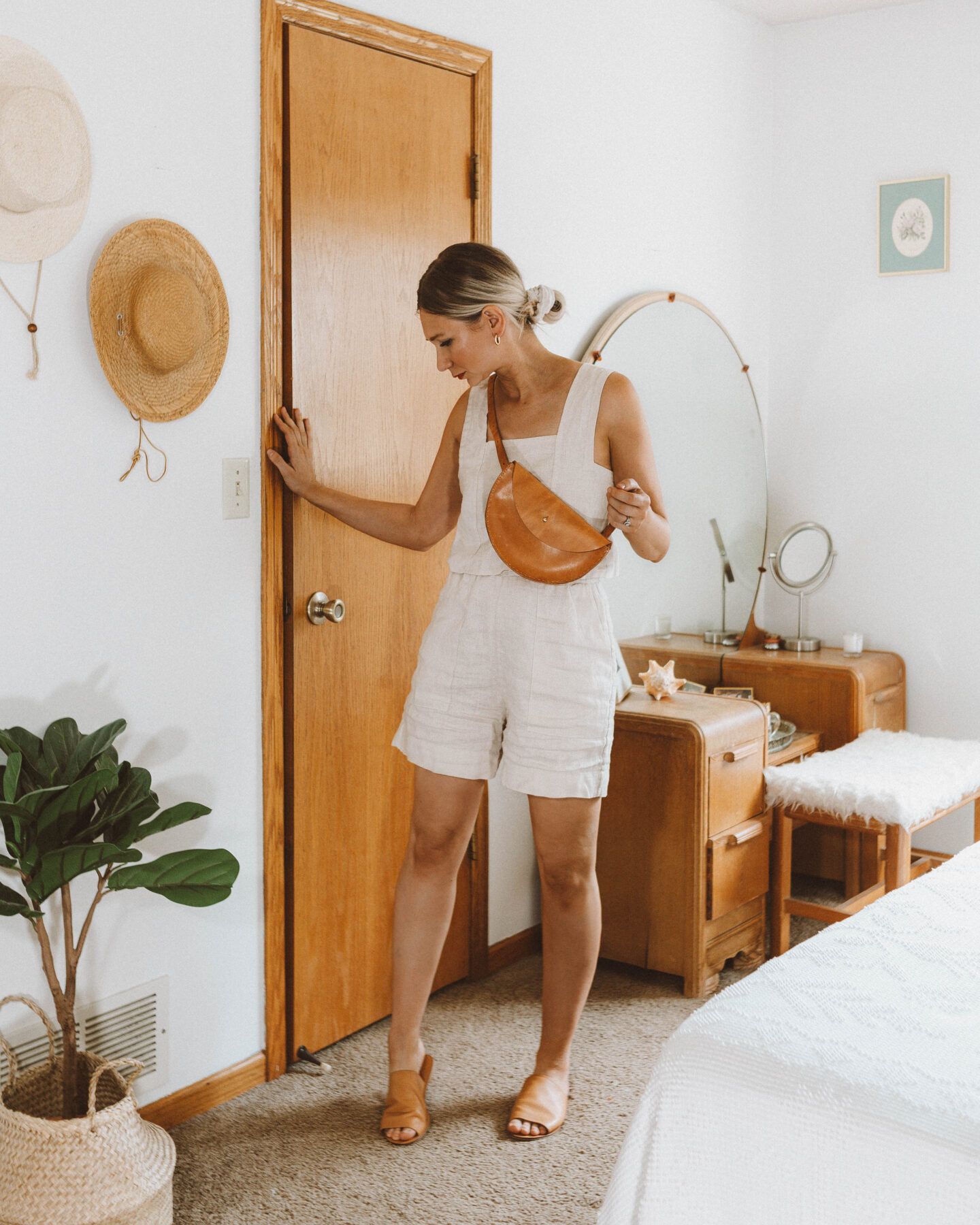 Outfit Details (some affiliate links):
Sandals were a gift (review here)
ANOTHER favorite from Sugar Candy Mountain (are you sensing a trend here?). This set is exactly what I want to be wearing all day, every day. It feels like pajamas, BUT IT LOOKS LIKE YOU KNOW WHAT YOU'RE DOING. Okay I'll calm down now, but I'm just really passionate about clothes that make your life easier. 😉 I sized up in the top although I'm not sure I needed to. It fits fine, but it would have been nice to have a little bit more snugness around the armpit area. The shorts I stayed true to size. This set is in the Dune linen that I mentioned above. It's still hard to see in this photo, but at the same time it is a pretty fair representation of the color of the material.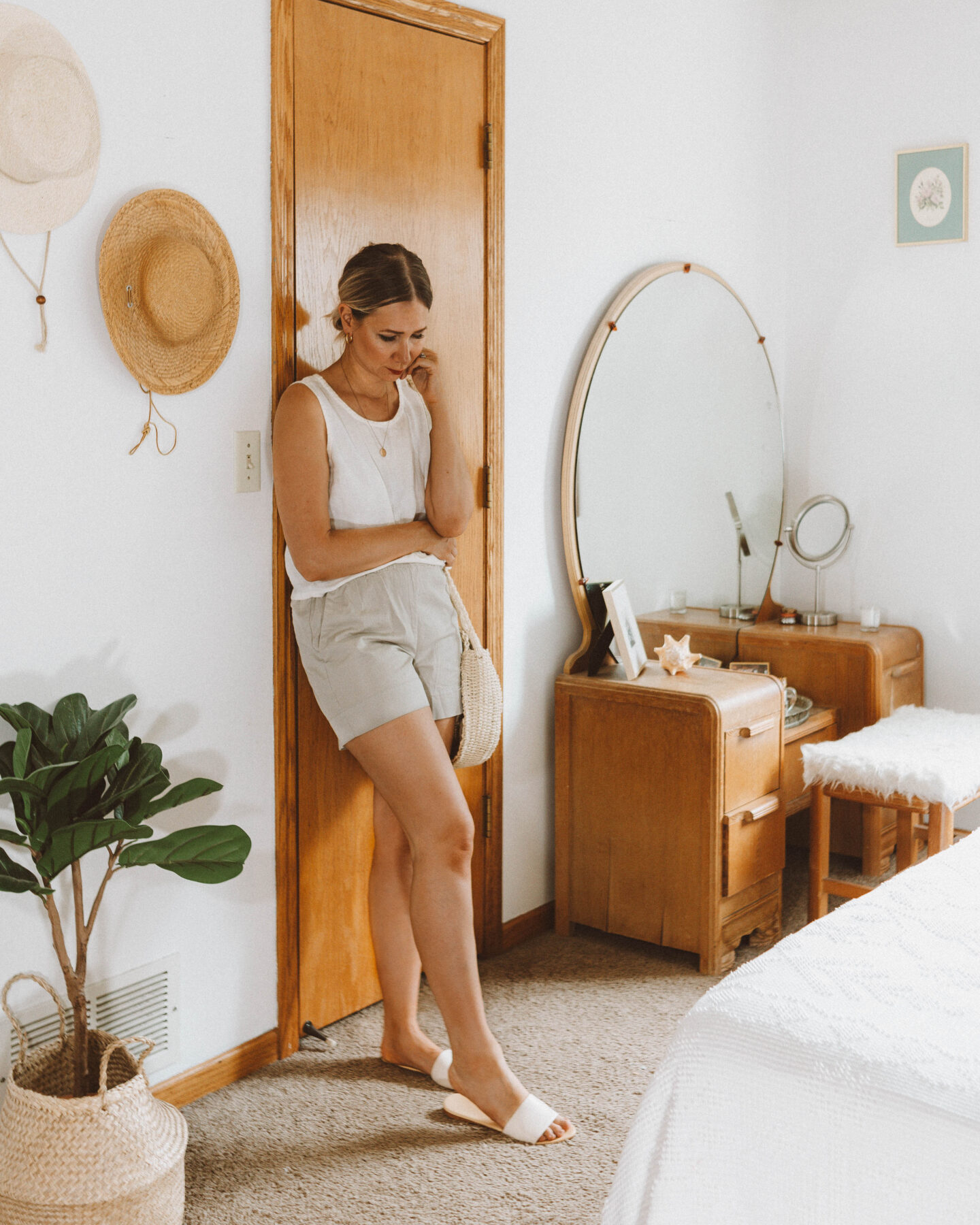 Outfit Details (some affiliate links):
This is a go to mom outfit for me. I'm wearing the tank top from outfit one (which is also a go to mom outfit), but this time I paired it with my chino shorts from Everlane. These shorts are a really comfy option for days when you just want easy. They are pull on so they aren't fussy at all, and I find the length to be the perfect in between. I am planning on posting an Everlane shorts guide next week so I won't get too involved in a review right now, but stay tuned!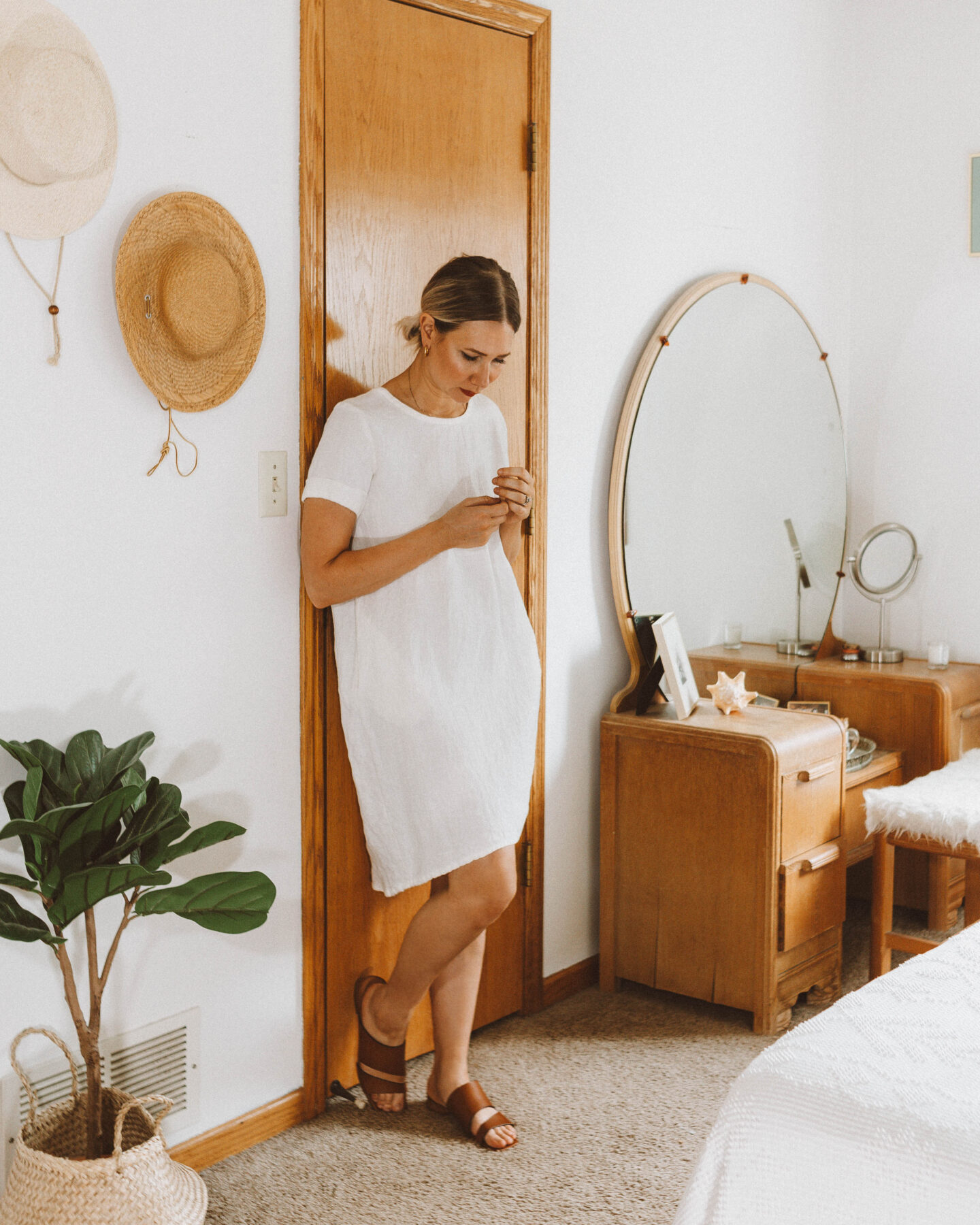 Outfit Details (some affiliate links):
sandals were a gift (mini review here)
FINALLY. The ultimate in easy outfits. I love a simple shift dress, and I love it even more in linen. A lot of times I will just wear this dress from Only Child when I'm hanging around the house because it's just a really easy thing to throw on. The white linen I have is from last year's collection so it's not available in white linen, but it is available in a few other colors plus they have a cotton version (and Only Child's cotton fabric is truly like butter) in white. I would suggest sizing up in this dress as the arms run a bit tight. I got it in a small, but I would have preferred it in a medium.
K. Now you know. And once you know, you can't unknow. Right?
Until next time,