A few weeks ago I shared on my Instagram stories that I was going to finally, officially commit to doing baby and toddler capsule wardrobes for my kids.
I took a poll asking if anyone would be interested in me sharing them with you, and the resounding 100% was a pretty clear answer ha!
Here's the thing: I am SO fed up with the sheer amount of laundry I have to do. Due to poor planning, and disorganization on my part we had accumulated so many clothes for the girls (and Bubs had a ton of hand me downs as well… which we are very thankful for. Thanks Kels!) that I don't currently have to do laundry every week. Which means I put it off (because I hate doing laundry) until it's absolutely necessary, which means that when I finally get to it I'm doing 6-7 loads. Bleh.
It's my least favorite chore.
So one day, as I was sitting there folding all of those itty bitty pieces of clothing, I realized I was the only one who could lessen the laundry load for our family.
My kids don't care how many clothes they have, and to be honest, I don't really either. I would always just feel like the girls needed more leggings or long sleeve shirts, but because most of it was always in the laundry I didn't ever really know how much we had.
I knew that if I got myself organized, and did some planning I could easily put together capsule wardrobes for each kid.
And with a smaller amount of clothing to wash, I should be able to fit all of their clothes into one load. The only caveat: I'll have to do a load every week… but I'd rather wash and put away one load of laundry once a week rather than 6-7 loads every two or three weeks.
I'm planning to implement this approach moving forward, and I'll be creating two capsules for each kid every year: a warm weather capsule wardrobe and a cold weather capsule wardrobe.
Each capsule will consist of 7 outfits for play, a few dressier options for church or special occasions, 1 pair of play shoes, 1 pair of dress shoes, and 1 each of whatever seasonal accessories are required.
My only accessory exception: for summer I do like to have a two piece swimsuit for water play at home and a one piece for water play elsewhere… at home it's nice so they can easily go potty when they need to, but I don't like them wearing two pieces in public. My personal feeling is that two pieces feel too grown up for little girls, but absolutely no judgement for anyone who disagrees with me.
Let's break down the capsules shall we?
For Bubs:
he's currently in 12 month sizes, and I wanted to keep his options super simple because he is already so messy! I can't imagine how he'll be in a few months when he's crawling. I chose three two piece outfits that can convert to one piece outfits when it gets warmer, 8 one piece play outfits with a couple that can work for dressier days (like church), one pair of swim trunks, one sun hat, and only one pair of shoes. All of my kids have been super late walkers so I don't imagine he's even going to need these shoes this summer… they were one of Bella or Posie's so I pulled them out just because we already had them.
For the Twins and Bug:
they are currently just in 2T and 4T sizes so a lot of their clothing still comes from the baby section (ha!), but I don't mind because I like my kiddos to look like little kids. I chose 3 tees, 3 tanks, 1 handmade or vintage blouse, 4 dresses, 1 romper, 1 sun hat, 1(2) swimsuits, 2 pairs of shoes, and 7 pairs of shorts.
A few notes: there's a lot of hand me downs from Bug floating around in the twins' wardrobes, but she also has been the same-ish size for for the last couple of years so she hasn't actually passed a ton down yet.
They definitely don't need 4 dresses, but we already had them so I included them. I was fine with this because they aren't dress kinds of girls so they really only wear them on Sundays and I don't always wash them after each use… but in a normal capsule I would have kept it to 2 dresses.
I think I might have a few more pairs of shorts floating around in storage, but I think I'll just keep them there unless we absolutely need them (which I don't think we will).
FINALLY, I just want to say that I am not a neat freak when it comes to my kids so I don't foresee this number of clothing to be a problem. If they get dirty early in the day… oh well! They'll just wear their dirty clothes until it's time to change to PJ's (speaking of PJ's, we're doing 2 sets each). If they get wet then they can change to swimsuits and start swimming until their clothes dry! So one pair of play clothes for each day of the week is fine with me.
Okay. I think I covered everything I wanted to say! I'm not going to say anything more about each image because I think they speak for themselves. Let me know if you have any questions in the comments, or tell me if you've tried this with your kids! Were you successful?
Until next time,
Karin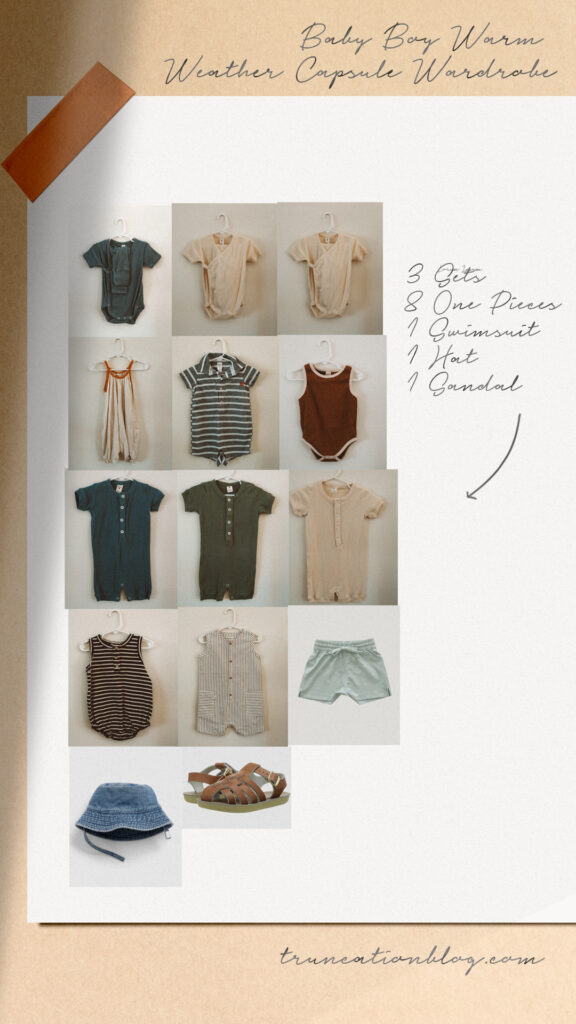 Clothing Details (Some Links are Affiliate Links):
Top Row: Kate Quinn Organics Onesie & Legging Sets (these are currently majorly on sale)
Second Row: Little Moony Romper (Gifted when Bug was a baby! All four kids will have used it now. This color is no longer available so I linked the same style in different colors) | Carter's Romper (Hand me down. Linked similar ) | Brown Romper (Found at a boutique. Not sure about the brand so I linked similar)
Third Row: Kate Quinn Organics Union Suits
Fourth Row: Les Gammins Bodysuit (Currently on sale) | Oliver & Rain Woven Romper (Currently $10 Off) | Jamie Kay Swim Trunks (Currently on Major Sale)
Fifth Row: Gap Bucket Hat (Currently 40% off) | Saltwater Sandals (Currently 20% Off)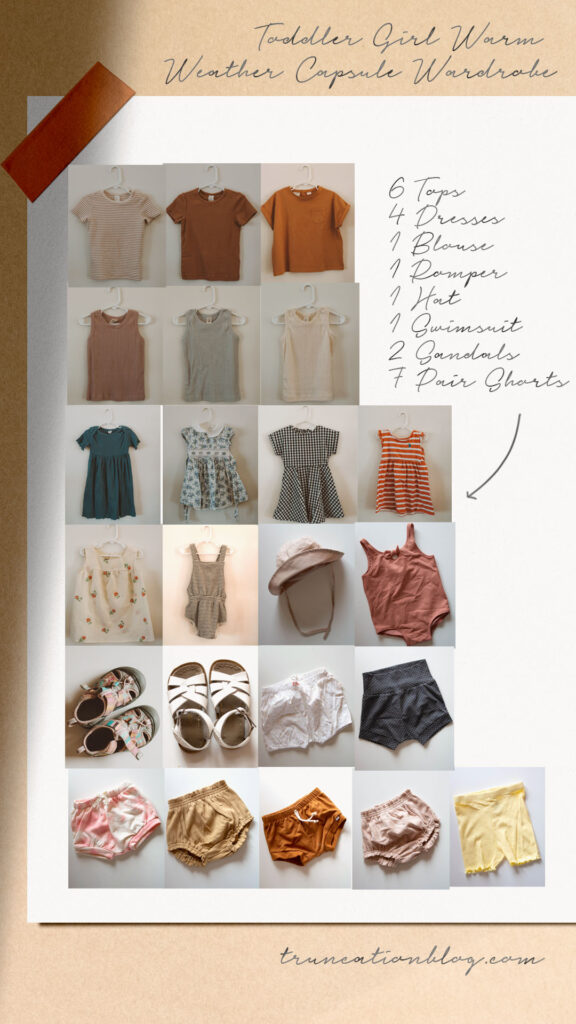 Clothing Details (Some Links are Affiliate Links):
Top Row: H&M Striped Tee & H&M Ribbed Tee | Zara Tee
Second Row: Kate Quinn Organics Tanks (no longer available so linked similar that are 50% off)
Third Row: Kate Quinn Organics Dress | Smocked Dress (Gift from my Mom. Linked Similar on sale for $20 off) | Roolee Kids Gingham Dress (No longer available so I linked similar here and here | Ralph Lauren Striped Dress (Hand me down. Linked similar here)
Fourth Row: The Sheet Shop Hand Sewn Blouse (She's taking a shop break right now so I linked a similar shop I like here | Les Gammins Bloomer Overall | H&M Bucket Hat | H&M Swimsuit
Fifth Row: Keen Sandals | Saltwater Sandals | Oliver & Rain Bloomer Shorts | Shopatots Shorts (Print no longer available, but I linked to the shop)
Sixth Row: Gap Bloomer Shorts | Quincy Mae Shorts (older color so I linked similar) | Kookaburra Shorts | Kookaburra Striped Shorts | H&M Shorts (older color so I linked the same shorts in a different color)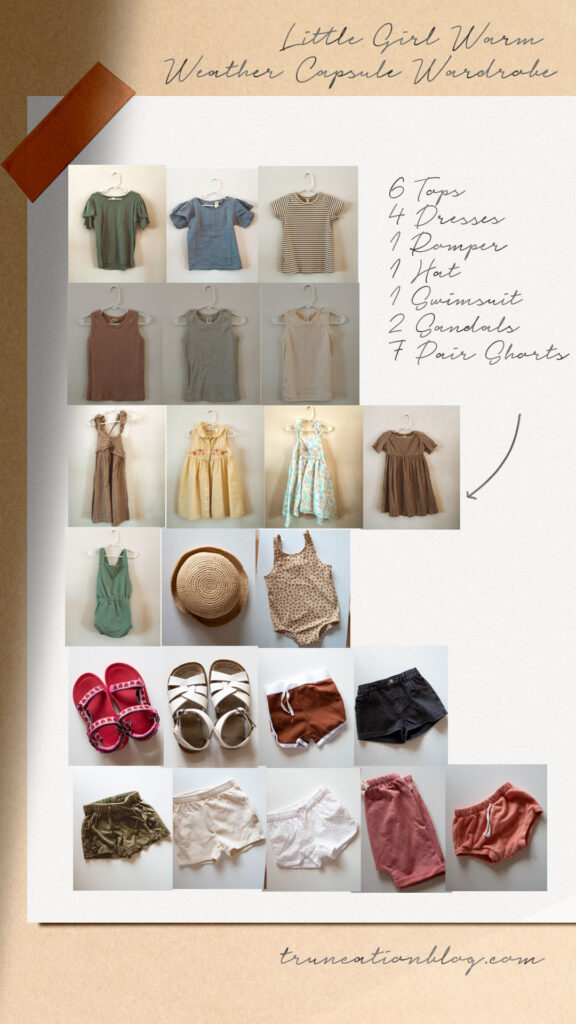 Outfit Details (Some Links are Affiliate Links):
First Row: Kate Quinn Organics Ruffle Tees | Childhoods Clothing Tee
Second Row: Kate Quinn Organics Tanks (no longer available so linked similar that are 50% off)
Third Row: Jamie Kay Dress (older color so I linked same in different color currently 50% off here) | Older Thrifted Dress (linked similar here) | Boutique dress from last year (linked similar here) | Kate Quinn Organics Dress
Fourth Row: Les Gammins Bloomer Overalls | H&M Hat | H&M Swimsuit (No longer available in one piece so I linked the two piece option)
Fifth Row: Teva Sandals | Saltwater Sandals | Boutique Shorts (Not sure of the brand as the tag wore off so I linked similar) | Zara Shorts
Sixth Row: Oliver and Rain Shorts (Old so I linked similar here) | Zara Shorts (Old so I linked similar here) | Target Eyelet Shorts | Childhoods Clothing Shorts | Childhood Clothing Shorts
Just in case you want to pin this post and save it for later: