And just like that it's Wednesday! Wednesday's are a much more relaxed day for us as only Kit is in school today. I think we may try to go to a park somewhere, but I kind of have to decide if I'm feeling up for the inevitable wrangling of twins running in opposite directions when I tell them it's time to go. More and more the "work" of Ella and Rosie being twins is feeling more manageable… until they decide to "divide and conquer." We were at a play area a few weeks ago, and thank goodness we were there with a friend because I had to hand off Gabe to my friend while I had to (by sheer determination and adrenaline on my part) grab both girls and carry them out of the play area due to some… ahem… stubborn desires to stay at said play area. I told my friend that those moments are the ones that make me feel 100% like a twin mom. But you know what? I also feel that way when they're (literally) laying on top of each other while watching a movie. The give and take of motherhood right? Anyway. Let's talk about this shawl cardigan that I almost returned.
Now that I've worn it a few times, I'm not sure what I was thinking ha! When I first tried it on I thought it felt a bit scratchy (it is), but the more I played around with different styling possibilities in my closet the more I loved it… and the more I realized it's more like a jacket than a sweater. I mean you can definitely use it as a cardigan, but it's so nice and warm that it definitely moonlights as a jacket. That's how I wore it yesterday, and paired over a simple white long sleeve t-shirt, you don't feel a bit of itch. I like how a statement shawl cardigan like this one looks paired with a really simple color palette, and combined with the texture of the wool bag and sherpa shoes. In my opinion, there is nothing better than a simple, neutral outfit that's made interesting with a variety of textures… the perfect capsule wardrobe outfit. And best part? This is an easy look to recreate with pieces you already own.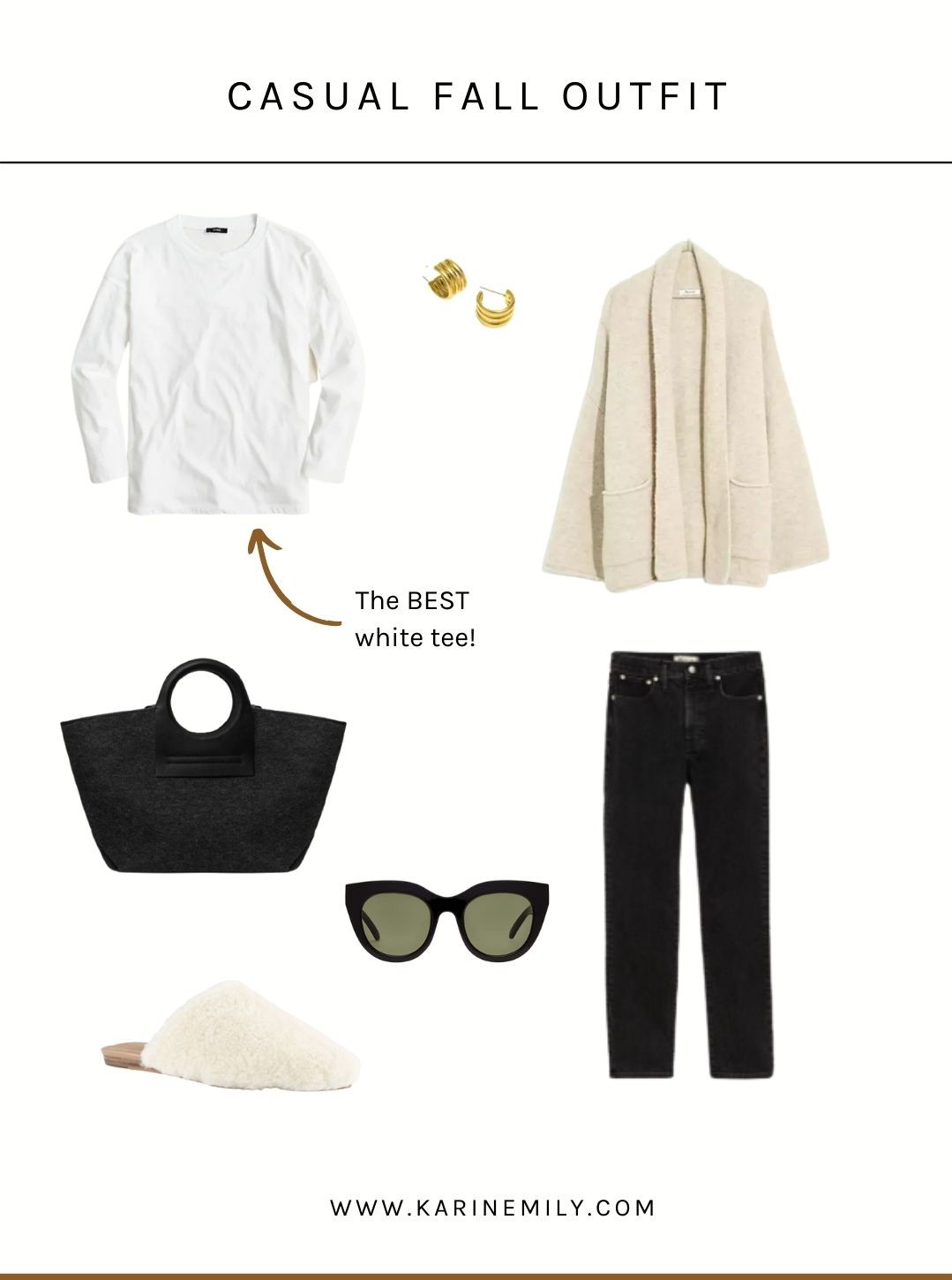 Shop the Look

The shoes and the white tee are on sale right now! The shoes for 25% off, and the white tee for 40% off. My bag is an older style from Hereu that I found on the RealReal
Capsule Categories: a White Tee, a Mid Length Cardigan, Black Jeans, and Mules
---
---
That's all I've got for you guys today! I'll see you tomorrow.