David and I just got back from up north Minnesota camping in the Boundary Waters, so this post is coming to you from a very tired Karin (ha!)
It was SO good to get a weekend away from "life."
Yes, I cried leaving my babies at home (especially Gabe), but it was just so nice to get a chance to unwind.
To be perfectly honest, I think I needed some space to just process my current life. There has been so much change, so much intensity, so much of figuring new things out over the last few months that I needed to be in a quiet space to journal, think, and allow some room for processing.
I've also allowed my life to get majorly out of balance. I've been so wrapped up in social media and wanting to know what's going on that I haven't been maintaining even simple healthy practices like early bedtimes, working out, eating healthy consistently, reading for pleasure… it's all been kids, social media, sleeping (and a lot less sleeping).
Being in nature, and being forcibly removed from social media (no service in the wilderness!) gave me the perspective I needed, and the desire to make some changes.
Well.
That was a bit of a longer intro, so let's get into the meat of today's post:
I was recently gifted a pair of the Sandgren Maya clogs, so I thought I would do a quick review, and also share with you 4 ways to wear clogs.
If you've been here for awhile then you know how much I love clogs. I've been a big fan of the Troentorp clogs you've seen on here over and over, and I really love the new Everlane clogs that were released earlier this spring.
Clogs are one of the best pairs of shoes you can own because:
a.) they are super comfortable
b.) they look good with everything
You really can't go wrong. I had been searching for a pair (and reading reviews) of clogs with a higher heel, with a lighter wood heel, and in a bit more of a traditional style so I was thrilled when Sandgren reached out and asked if I would like to try a pair.
I have to be honest:
I can't give you the best review today.
And it's primarily because I chose the Nude Veg which is a natural leather that does not contain synthetic coatings so it needs time to break in. It also gets a beautiful tan after a few hours of direct sunlight.
SO that means that I can't give you a final verdict because I haven't worn them out of the house yet (due to… ahem… Covid).
I will circle back here whenever the break in process is done and let you know my final thoughts. Deal?
What I CAN tell you is:
They are beautiful, and they are exactly what I was looking for. Sleek and minimalistic.
The heel is quite a bit higher than what I'm used to wearing, but they have been easy to walk in around the house. They are pretty heavy, but that's due to the pine wood heel, and the thickness of the leather. They're not so heavy that they are uncomfortable though. I tried the clog boot trend for awhile, but they were too heavy for my liking. These don't make my calves or ankles ache, but again I haven't worn them for long periods of time. There is also a slight platform on the foot bed which makes them a little more stable than they would be otherwise.
I love the little details on the clogs like: The simple staples at the bottom of the clog, and the light stitching at the foot opening. The wood grain is unique to each pair of clogs as well which I love.
Now. let's talk break in process:
They are not comfortable when you first get them (I can't speak for the other colors, just the nude veg) because it does not have any coatings on it (see above). So the leather is very stiff, and almost rough. In other words, it's not a soft leather at all. BUT supposedly they will soften up with time, and become more supple so I will let you know how that goes.
I should note that they aren't so uncomfortable that you wouldn't be able to wear them out of the house for a quick trip to the grocery store, but I would definitely build up the amount of time you are wearing them. I'd wear them around the house for a few weeks, and then gradually build up to wearing them for outings.
As far as sizing, I wear a true 9 and I got mine in a size 40, but in their size chart they have the measurements of each size so I would measure your foot and go with the size closest to your measurements.
My feet were a few centimeters smaller than the size 40, and they don't feel too big so if you're in between I would go for the bigger size.
OKAY. I hope that was helpful.
Before I close this post out, let's get to my 4 ways to wear clogs.
Here are the looks:
1.) With an oversized sweater and dad jeans.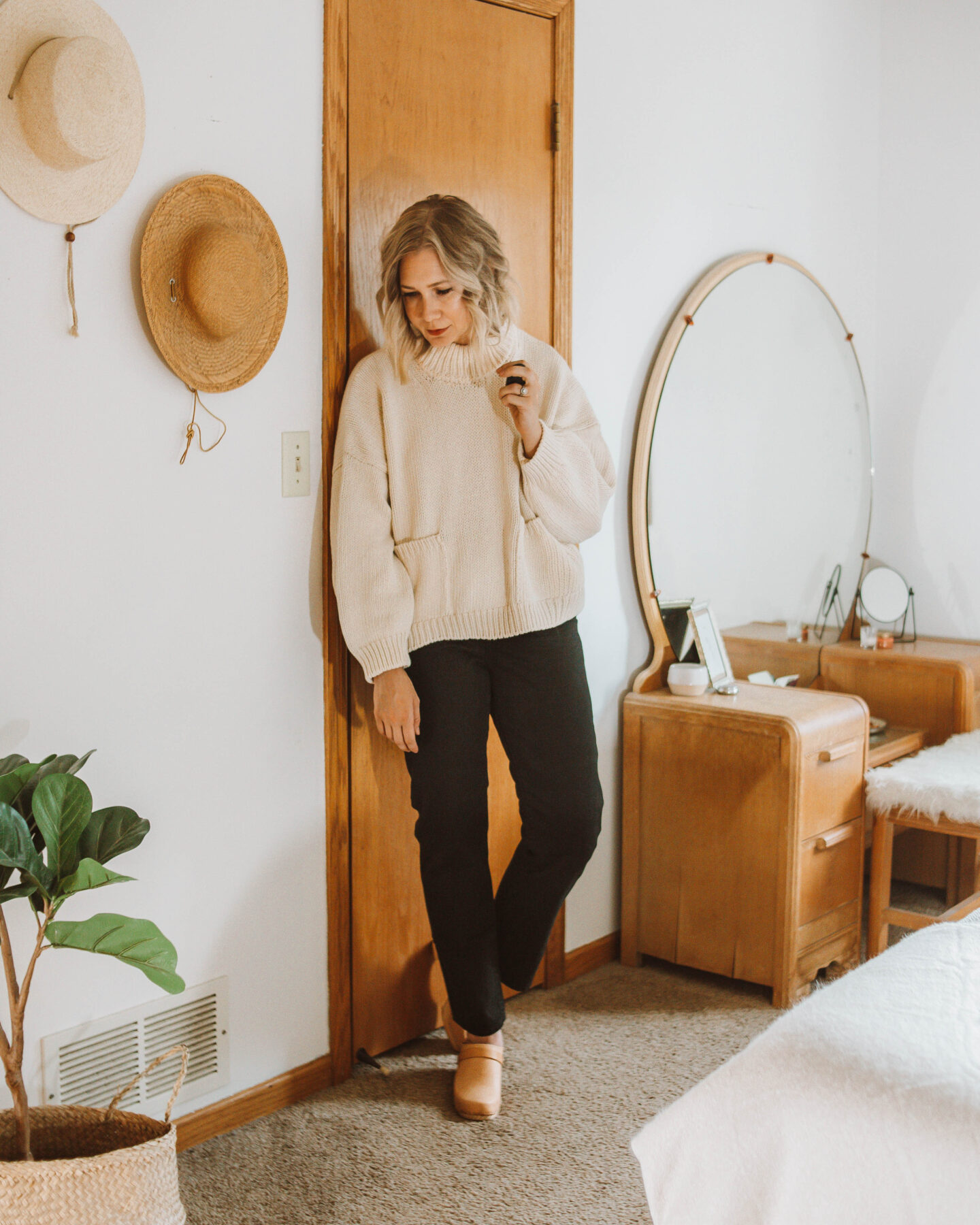 Casual and cool. I love the way the baggy top layers juxtapose with the sleek lines of the clogs.
2.) With linen from head to toe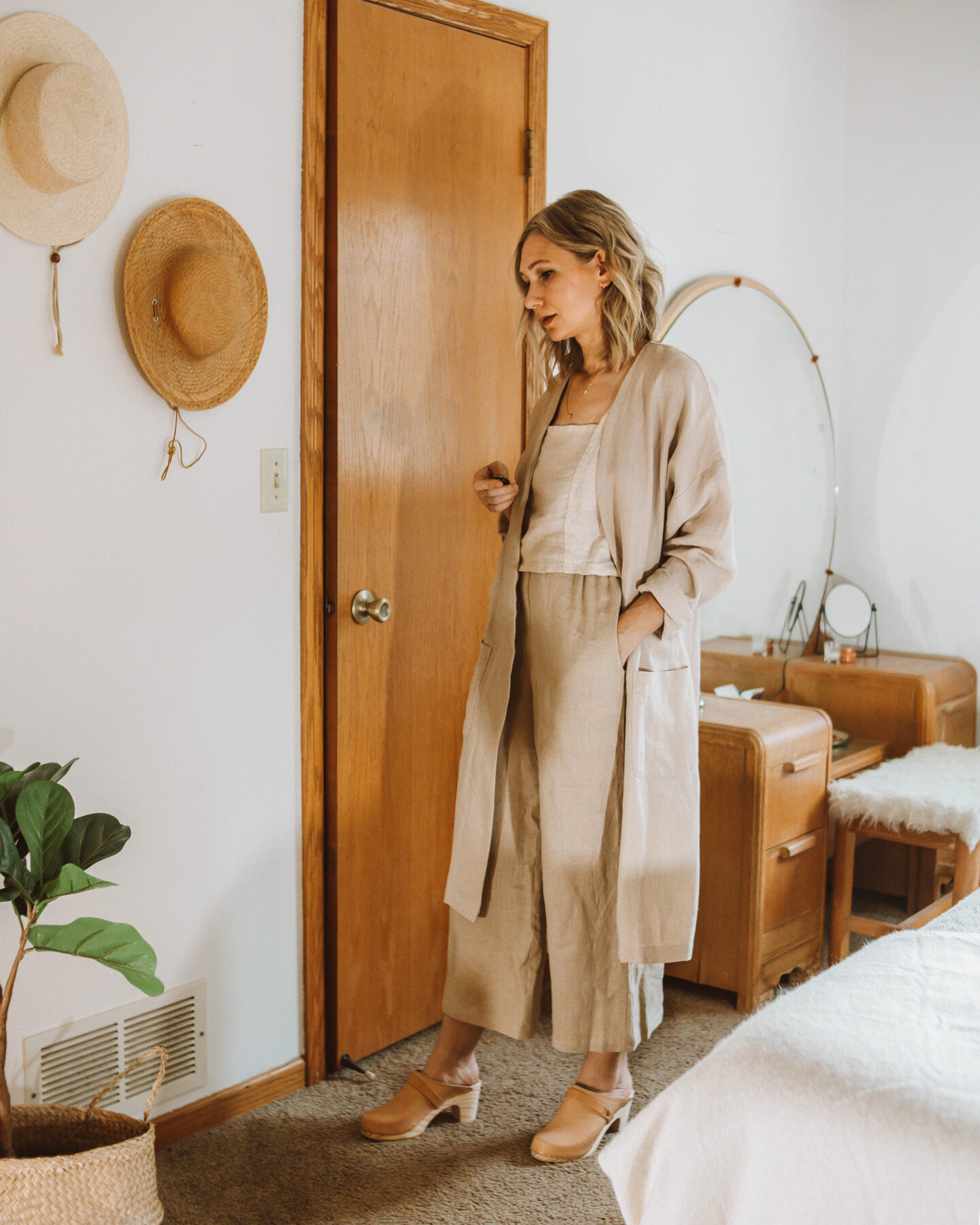 The best way to wear neutrals in my opinion. The addition of the clogs makes this outfit look like way more than a lounge outfit
3.) With a button down and jeans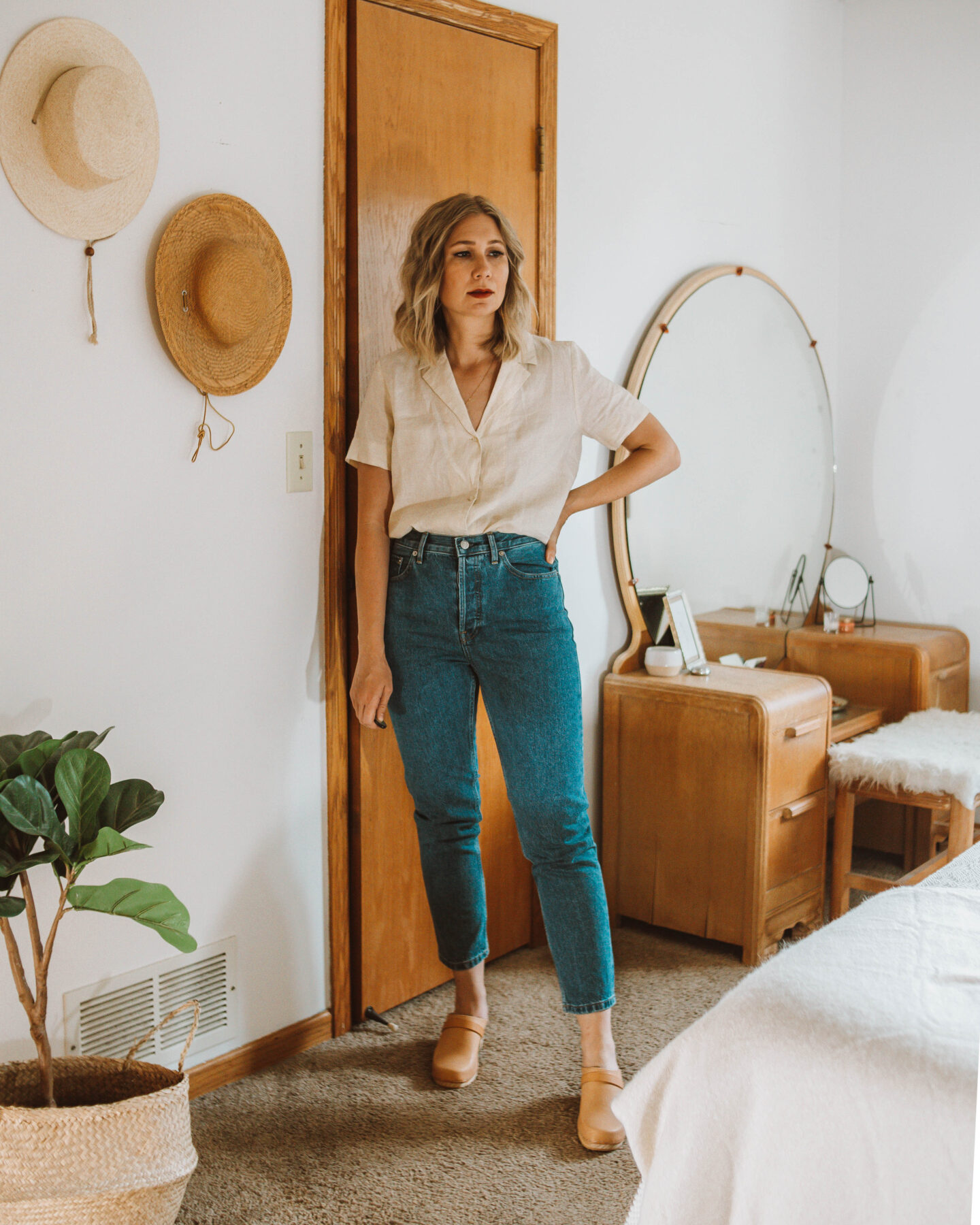 Back in my office days, this would have been my casual Friday go to. Still casualish due to the linen and denim, but the clogs make the top parts look much more pulled together.
4.) With a sundress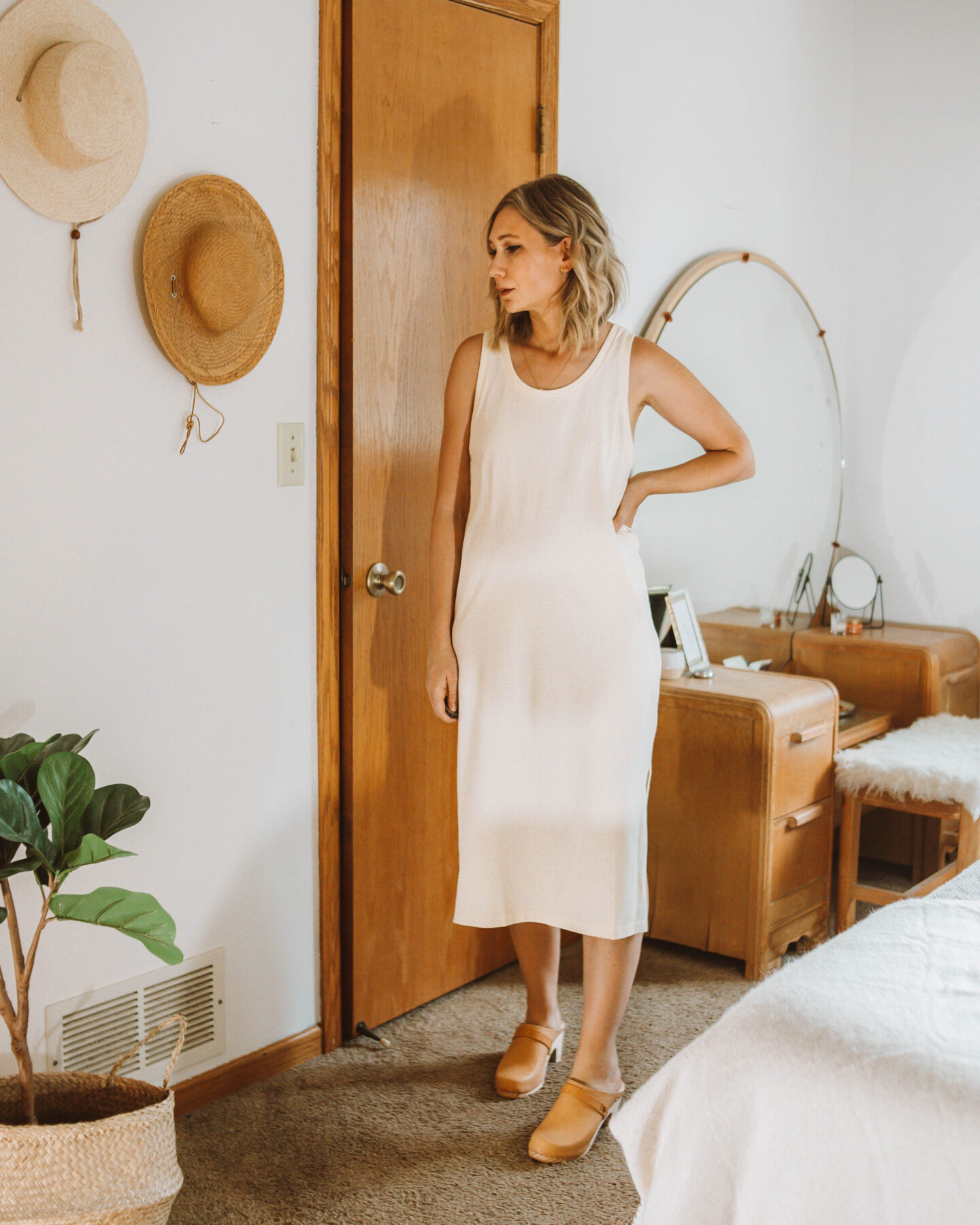 One of my favorite pairings for warmer weather. I have reached for some variation of this outfit over and over for the last several years… it works so well!
Clothing Details from all 4 Looks (Affiliate Details):
clogs, blue denim (review here), and button down were gifted (review here)
The Babaa jumper and sundress are currently on sale
I hope you enjoyed a deeper dive into one of my absolute favorite closet staples, and seeing the 4 ways to wear clogs. Have you jumped on the clog train yet? Let me know in the comments below!
Until next time,