Happy Friday friends! We've had a really good week over here, of which I am very thankful for after the past two months of sickness after sickness. And it's perfect timing too, because the weather here has hit that perfect in between time where it's cooling down quite a bit, but it's not frigid yet and everything is gray, and quiet, and calm… It fills my soul to the brim.
Even though the Holidays are just around the corner, I haven't felt even a stirring of desire for Christmas decorations. Last year I had already decorated by this point in November, but this year I've felt a shift and I'm slowly learning how to allow every present day, every present week, month, year speak for itself. We can learn from the past, but learning how to let go of the past and embrace the now is also an endeavor worth pursuing.
BUT even though my Christmas decor is still firmly in storage, time marches on and in just two short weeks Thanksgiving will be upon us so it's now or never for this post. Thanksgiving outfits, to me, are the epitome of fall dressing… warm colors, cozy fabrics, stretchy waistbands… what's not to love? And all of those things are present in today's outfit inspiration! So without any more chit chat here we go:
Outfit Details
The sweater and boots are PR
When it comes to Thanksgiving outfits you really do have to prioritize comfort… even when you have a fancier dinner to attend. There's nothing worse than eating a big meal while wearing a constricting outfit! Hard no for me ha! I love an outfit like this one because it looks refined and classic enough that it would work for any fancier event, but each particular element of the outfit is comfortable, stretchy, and easy to move in. This particular skirt is from Cuyana and it's so stunning. It's washable silk and make so incredibly well, and I love that it has a longer length because it really stands out compared to other slip skirts. Unfortunately it's sold out in this color so I'll link to a similar color and this same skirt in black. I have a size small. I already reviewed the sweater and boots in this post if you want to check it out.
Outfit Details
The jeans, sweater, and boots are PR

This sweater was recently sent to me from Everlane and it is the best Cashmere sweater I've had from them. To be honest, their first generations of cashmere weren't the best, but over time they've gotten better and better and this style feels on par with Jenni Kayne. I also love this new boxier fit because it gives that perfect, I didn't try/laid back vibe. Such a pretty sweater! I got it in a medium, which is what I get almost all of my sweaters in.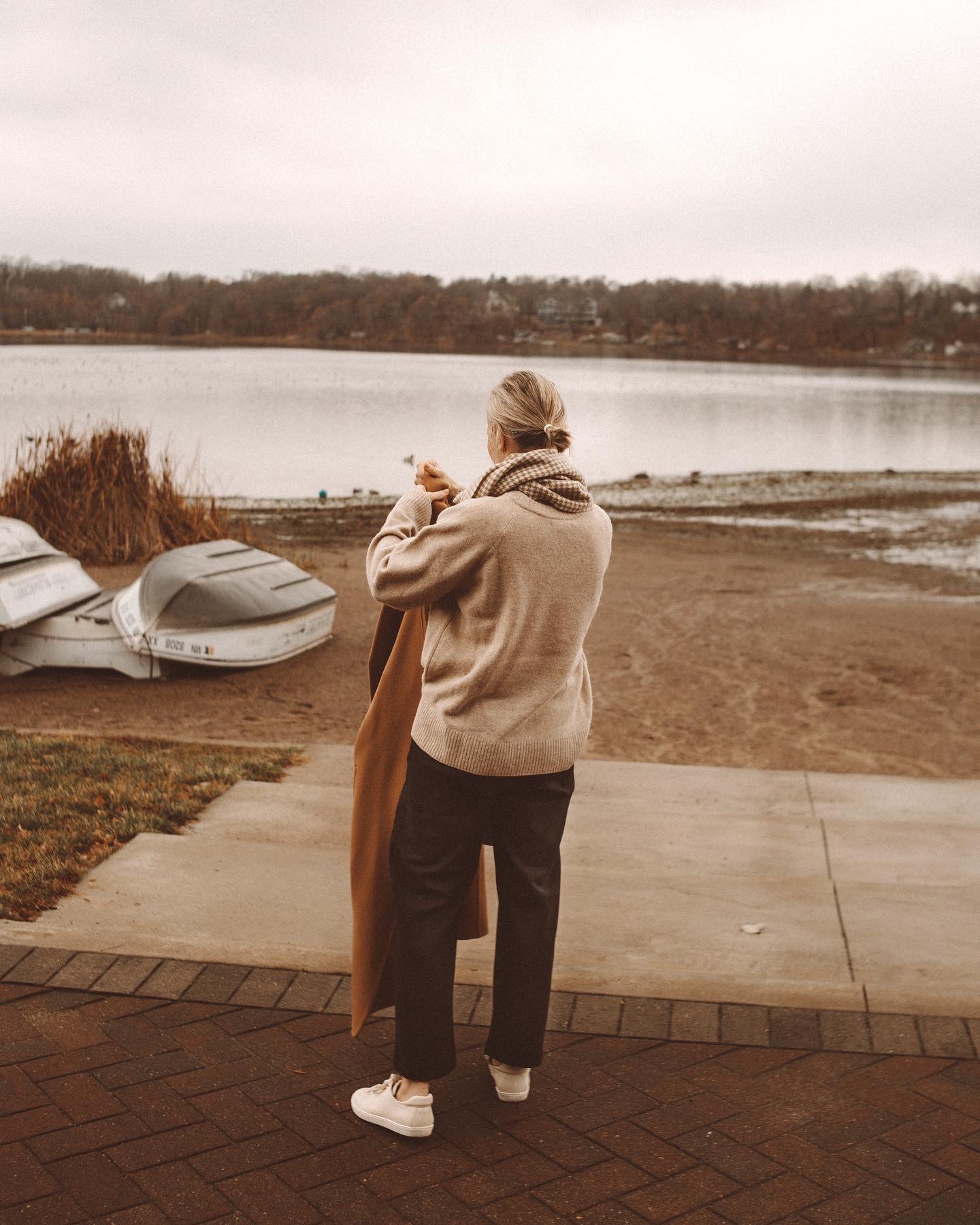 Outfit details
The scarf, coat, sneakers, and pants are PR
This is the ultimate Thanksgiving outfit you guys and it is likely what I'll be wearing. The secret? It's a lounge outfit that doesn't look like a lounge outfit… amazing! These pants are the new wide leg Dream Pants from Everlane and for once, Everlane got it 100% right with a pair of pants. I usually can find at least one thing that's off with their pants, but not with these! They are so, so good. The fit is perfect, the material is thick enough to work in cold weather, and the elastic waistband is so comfortable. The perfect pants for Thanksgiving! To make the outfit look a bit more elevated I added this new wrap coat from Sezane. It's so soft and warm, but it adds such a classy element to any outfit. This is my second Sezane coat and they have amazing quality! So impressed with their outerwear.

---
Well that's all I've got for you guys today! Has anyone else already decorated for Christmas? Have an amazing weekend!
Until next time,
Karin