Happy Friday my friends! HOW is it the weekend before Thanksgiving already? It has snuck up on me this year and I feel a little unprepared for the Holiday season that's basically upon us. This weekend we plan to put up our Christmas tree so that will definitely get us in the Holiday spirits, and you know I can't wait for Thanksgiving food ha!
Anyway, a few days ago I had put up a question box on Instagram and a recurring theme was you guys wanted some affordable options for cold weather clothing… and you know I've got your back! You guys know I love the Free Assembly line at Walmart and their fall and winter releases have been SO good this year! I found the best pair of relaxed jeans and a sweater I love so much I got it in two colors. Let me show you:
*thanks to Walmart fashion for sponsoring this post!
Outfit Details:

These jeans are so good you guys! In fact, I really love every pair of jeans I've tried from Free Assembly… so on trend and really affordable, but the quality truly is there. I love the baggy fit on these, and the color goes with everything… plus they are super comfortable! I got a size 2, and I typically wear a 25 in jeans. This sweater is also super well made! I'm really picky when it comes to affordable sweaters because, in my opinion, there is nothing worse than wearing a sweater with material that feels… gross. I don't know how else to explain it ha! And I do find that most affordable sweaters have that really nappy feeling to them, but not this one! It's super soft, thick and the material has a really beautiful drape to it. I've worn it with leggings too and the length is perfect for that. Plus I love the little slits at the side because they add a bit of movement that makes the sweater feel way more expensive than it is. I have this one in a small so the fit is oversized… I'd recommend sticking to your true size.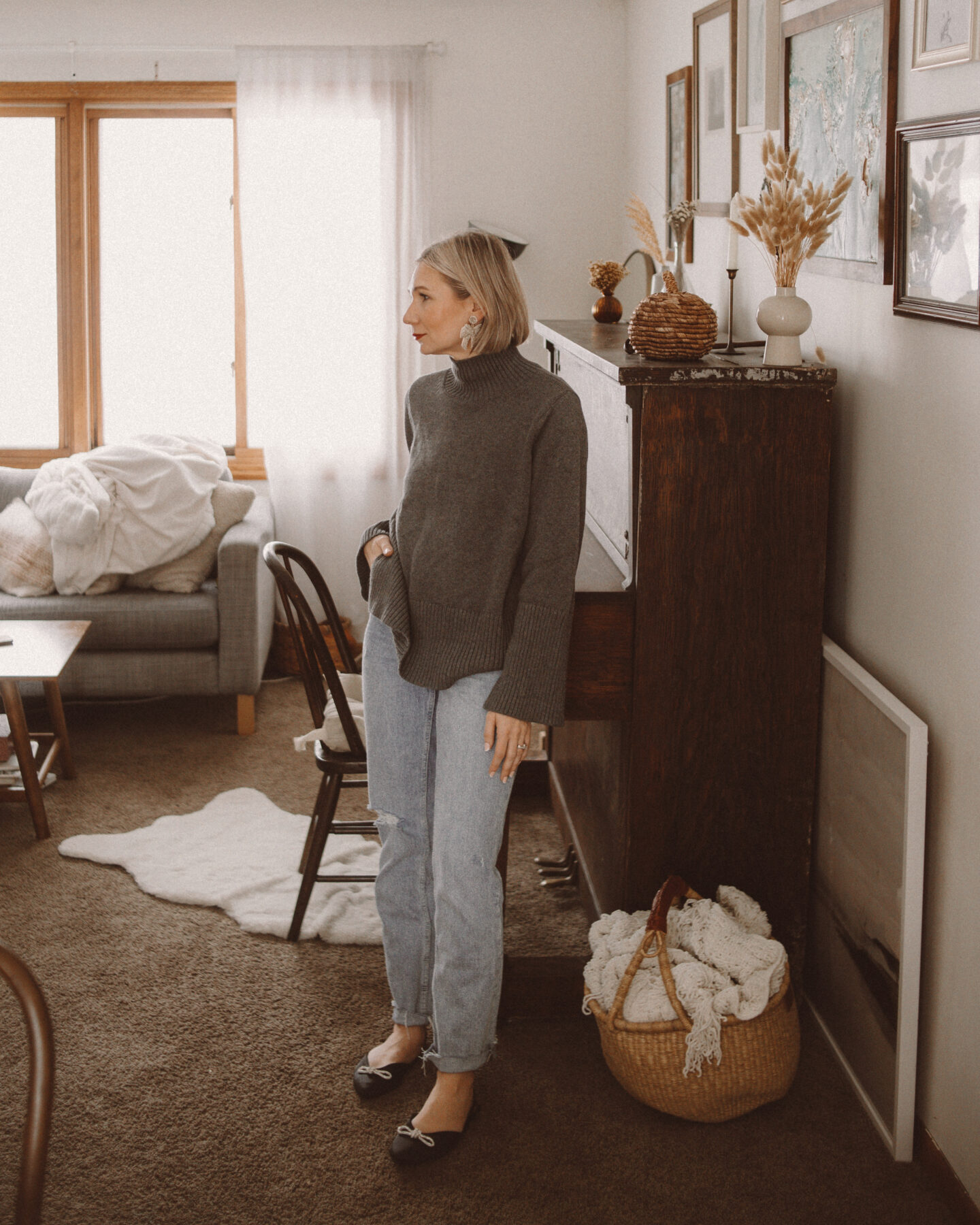 Outfit Details:

These little bow flats are so sweet for all of the Holiday parties coming up! I was so impressed with how comfy these are. The heel strap is nice and snug, but doesn't leave blisters plus there is plenty of room in the toe. The satin material is also really pretty… again these look really expensive, but are only $34! I got my true size and they're a perfect fit.
---
Well that's all I've got for you guys today! My mindset has always been that quality comes first when it comes to my purchasing decisions which is why I don't share a bunch of cheaply made stuff just for the sake of it being affordable, so it's amazing when I can find the best of both worlds… quality AND affordable! I hope you all have the best weekends! Anyone else putting up their tree this weekend?
Love you guys!
Until next time,
Karin