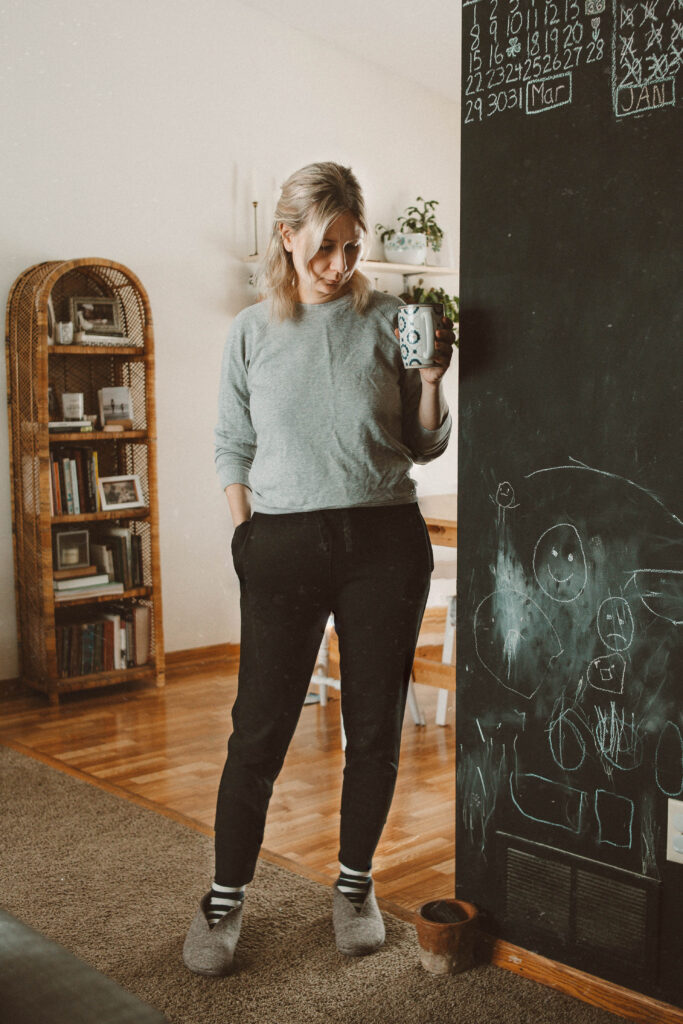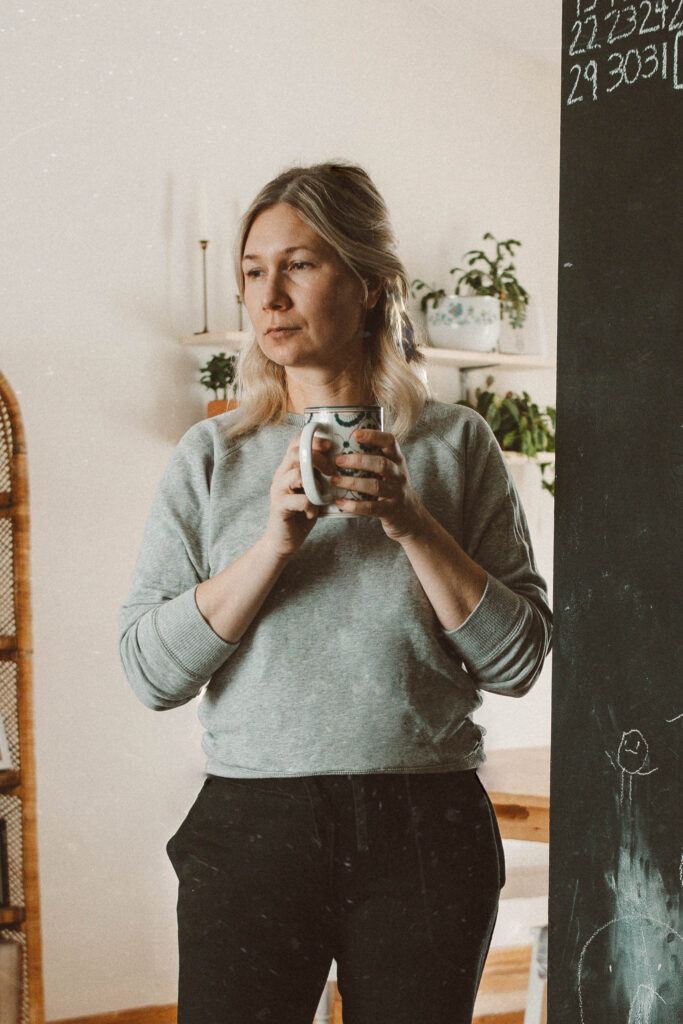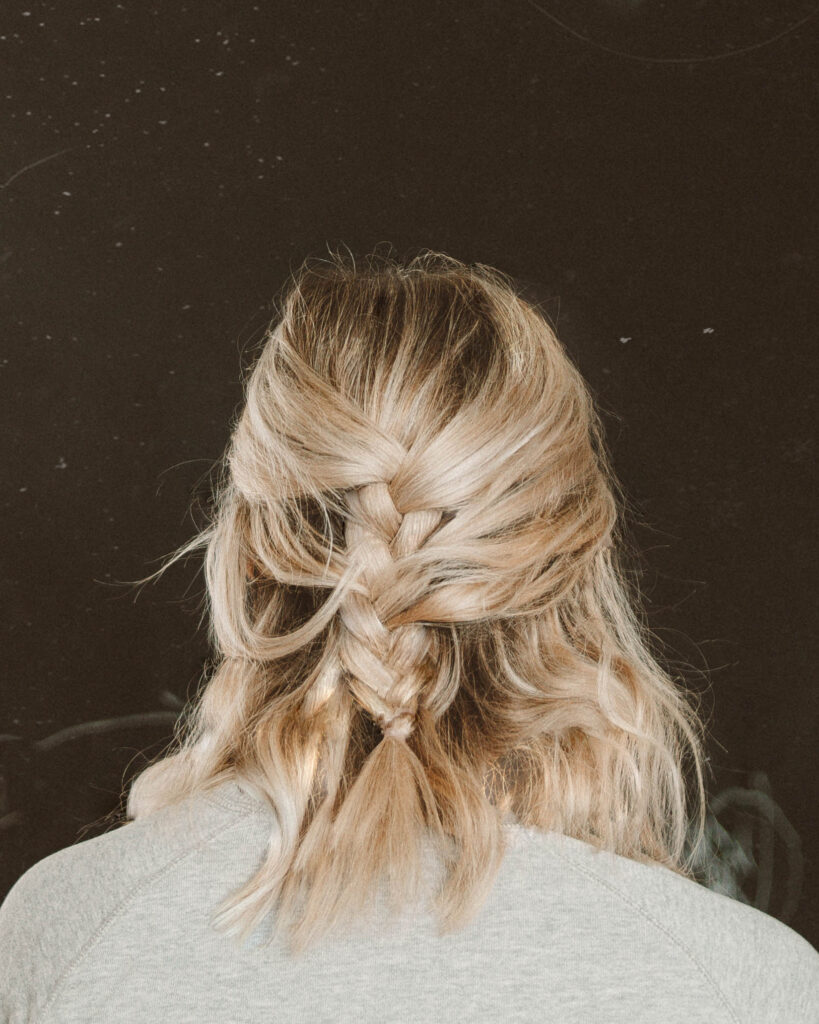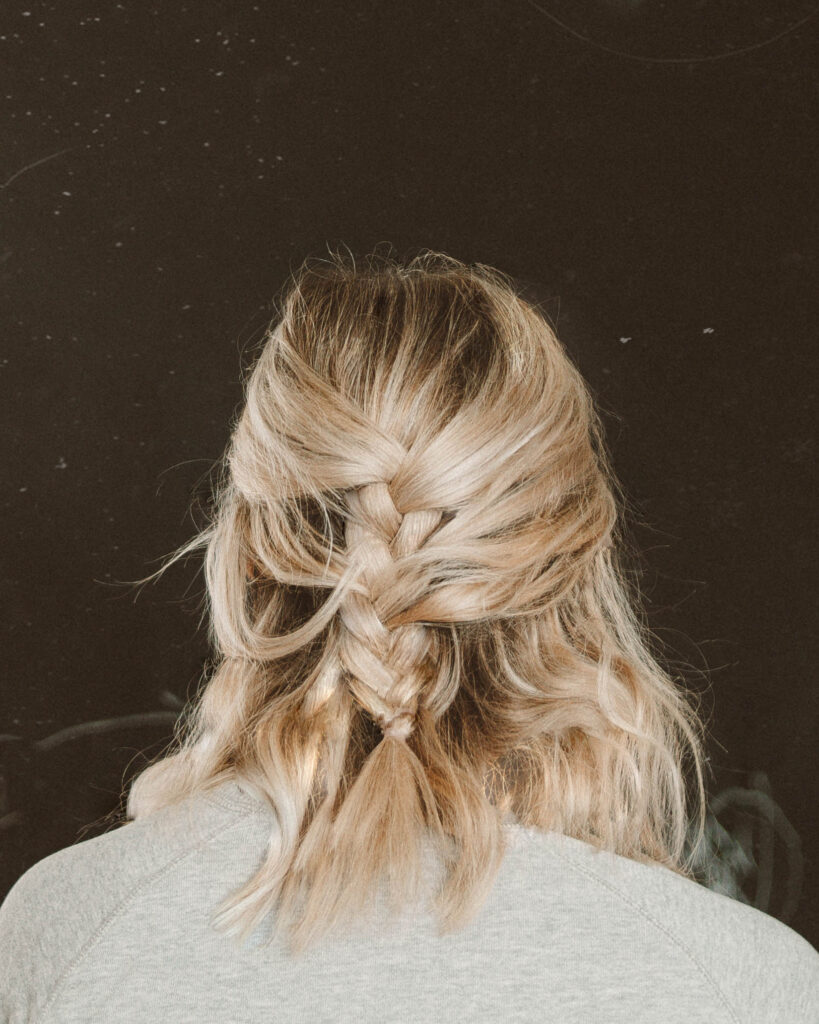 We've had winter head colds passing through our family, and I was hit with it over the weekend so this was the best I could do in terms of getting dressed.
Oh well! I always like to see what other people wear for lounge wear so I thought you might as well (I do have a lounge wear specific post here).
Thankfully we didn't have to leave the house yesterday so we could lay low all day. I'm still not feeling totally better yet (my immune system hasn't fully recovered yet from being pregnant… I think. Don't take that as science ha!), but hopefully I will by this weekend because we're having the girls' birthday party on Saturday!
I get asked all the time about my blonde… how I keep it bright, how I keep it healthy, what products I use. It's honestly not that complicated, but I can see why it would be helpful to have it all listed out in one spot so here goes:
Use heat tools as little as possible. I almost never blow dry my hair. I wash it at night then sleep with three braids (one on each side of my head and one down the back) so it dries with a bit of wave. The morning after I wash my hair I will curl it with a curling wand, but then I don't do anything else with it until the next time I wash it. I just embrace the messy, sort of curled look most of the time.
Speaking of washing, frequent washing is one of the worst things you can do for blonde hair. It dries your hair out and makes it really brassy. I wash my hair two times a week, and I do have oilier hair (though it's not as bad as it used to be). The rest of the week I rely on Dry Shampoo.
And that's pretty much it for care. As for products, I use this shampoo/conditioner from Kerastase. I'm still on the hunt for an organic brand that keeps my hair as healthy, but I haven't found it yet. I find that with a lot of organic brands, my hair seems healthy at first, but then gets really brittle over time as I continue to use the product. To keep it bright, I use this purple shampoo every time I wash my hair. I've tried a lot of different shampoos, and this one is, by far, the best one I've tried. The key to toning your hair with shampoo is to use your regular shampoo after you use the purple shampoo. Otherwise you might be left with purple streaks. I leave the purple shampoo on my hair for about 1-3 minutes depending on how dull my hair is looking, but no more than that. Finally, I deep condition every third wash so my ends stay soft. Again, I use this one from Kerastase, but I'm on the hunt for an organic version. If you have any suggestions, let me know! I have tried a lot, but you never know. 😉 The final product I use is this oil by Kerastase. Again, it's the best I've found for keeping my ends healthy. I just put a little on right before and right after I curl my hair, and then as needed the rest of the week (just a note that a tiny bit goes a long way).
My final step is something I do just once a month, but it really makes a difference. Typical clarifying products are too much for my blonde so for one hair wash a month I will finish up with an Apple Cider Vinegar Rinse. I do 1/3 cup apple cider vinegar to 4 cups of water and then dump it over my hair. I'll wrap my hair up in a towel for 10 minutes and then rinse it out. It gets rid of any buildup, and leaves my hair looking really shiny afterwards!
And that's it! Like I said, it's not that difficult, but blonde does require a bit of maintenance. My hair has stayed relatively healthy over the many (many) years that I've been blonde and I attribute it to the above steps.
Oh and if you are in the area and you're wanting a similar color, you can find my stylist Matiah here. Just send her a DM and she'll get you scheduled.
Hopefully this was helpful to any of you who were wondering. Let me know if I missed anything!
Until next time,
Karin
Outfit Details (Affiliate Links):

*Sweatshirt and slippers were gifted
The Tradlands Sweatshirt is currently on sale for $79. Use code BDAY20 to get 20% off all sale styles.
Products Mentioned (Affiliate Links):