Hello again friends! Today I'm sharing 3 ways to wear a slip dress for the Holidays.
While Holiday parties aren't really going to be a thing for me this year due to Covid, I still like the idea of getting dressed up for a dinner at home with my little family.
The temptation is just to stay in my sweats or pajamas, but I think getting dressed up will make the Holidays still feel special, even if we're not able to do as much as we have done in previous years.
And for that reason, I love a good slip dress because of it's versatility. You can really dress it up, but you can also make it a lot more casual so no matter what occasion you are dressing up for… whether its for a dinner at home or a future Holiday party. It's a great way to keep your closet minimal because it's a base piece that you can style in a myriad of ways.
So I had some fun playing around with some outfit ideas, and planning some ways I might wear my slip dress this Holiday season and I thought I would share the outfits I came up with today.
K. Here goes:
(One quick note that the slip dress I'm styling is an older style from Madewell so the sizes are extremely limited. I linked to some similar styles, but you could create these looks with any slip dress you already have!)
Slip Dress Outfit 1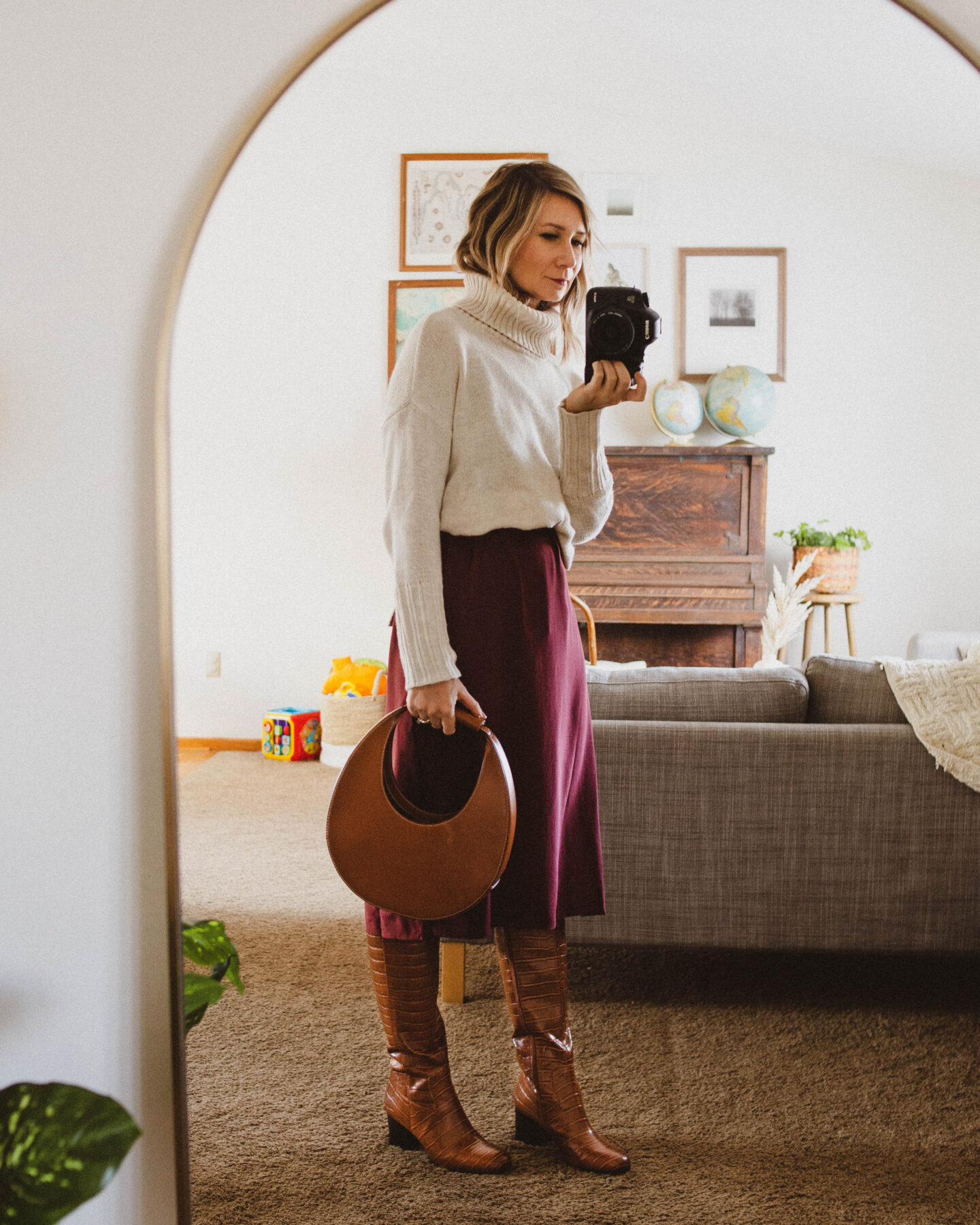 Outfit Details

This is the most casual of the looks, and it's probably my favorite! I love pairing a sweater over a slip dress. One tip: wear a belt over the dress, but under the sweater and then you can tuck the sweater up into the belt so it stays in place. You could also pair this look with sneakers for an ultra casual cool look, but I chose knee high boots for warmth.
Slip Dress Outfit 2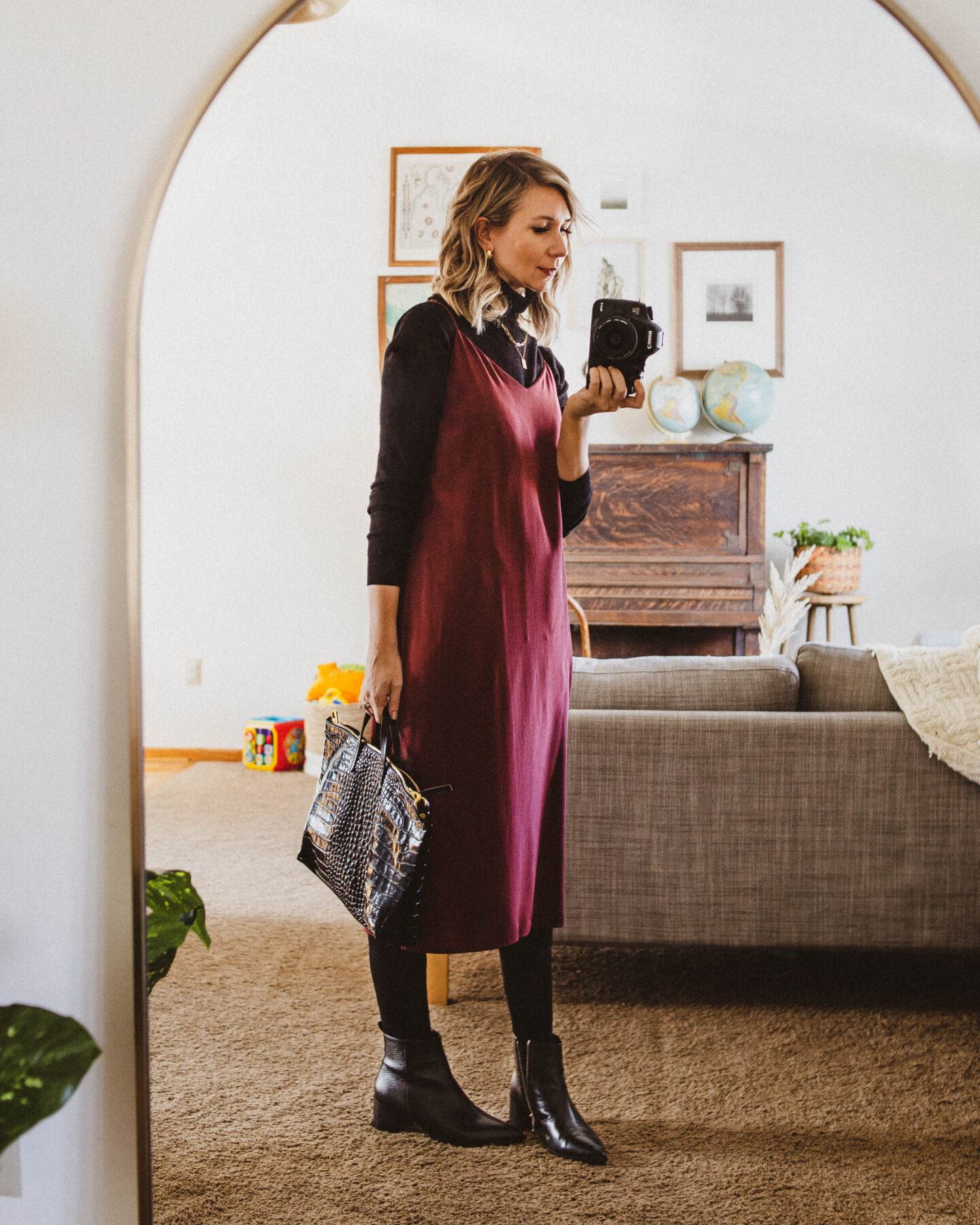 Outfit Details

Boots were gifted (see review here). This tote is an older version of the Clare V Attache tote. I have a link to the current colorways here, and I linked to a smilar croc print tote in the images above.
This look is a bit dressier, but still very wearable. I typically wear my sweaters over my slip dresses, but I like this turtleneck sweater underneath as well!
Slip Dress Outfit 3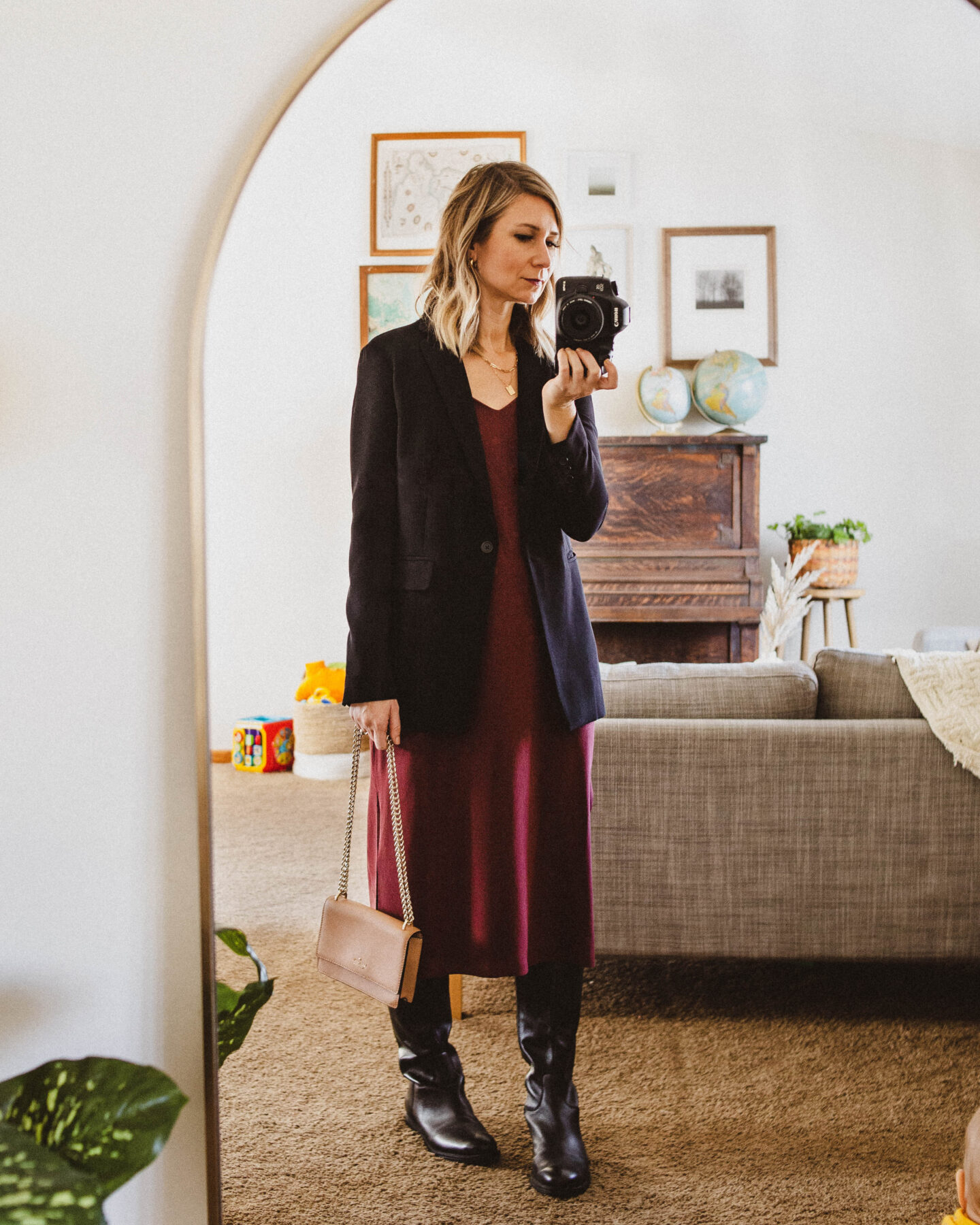 Outfit Details

And finally… my fancy look! Being that I live in a cold climate, I styled this with a black blazer and knee high boots, but you could easily leave the blazer off, and style this with a pair of black pumps if you live in a warmer climate. And if it gets warm in the space I'm in, I can always take the blazer off. If I were to style this again, I probably would have paired it with my leopard print clutch and my hair thrown up in a claw clip because honestly this look does seem a bit formal to me… but ah well!
---
Well that's all I've got for you guys today! I hope you found inspiration in my 3 ways to wear a slip dress. Do you guys own a slip dress? Would you recreate any of these looks? Let me know which one in the comments below!
Until next time,