I kind of can't believe that I'm sitting down and sharing a Holiday outfit idea with you guys.
But, alas, we have had our first official snowfall, and so I feel just a bit more justified in doing so.
Can I share a little secret with you guys?
I never mind these first few snow falls. They're always quick, gentle, and still so magical.
The girls quickly suited up, and ran outside to catch snowflakes on their tongues, and Bubs got to experience snow (he mostly just stared confusedly at it).
Then, of course, we had to indulge in some hot chocolate when we came back in.
I know I won't feel this way in February when the snow drifts are as high as our house, but I'm holding onto my enjoyment for as long as I can.
Anyway.
It got me in the mood to create a Holiday outfit for you guys, and it's probably a good thing to be doing it now anyway because the blouse I'm featuring is from Etsy, and it does take awhile to receive an order from Etsy linen shops so you may want to order this top ASAP if you want to recreate this look for your own Holiday gatherings (small as they may be).
For me personally, I never lean into a super festive look for any holiday. I just always feel a bit too cliche wearing anything too obviously holiday-ee or, for that matter, just don't own a lot of clothing in the colors of most holidays and think it's wasteful to buy something I'll only wear once a year.
Again, that's just my personal perspective… I don't judge anyone who keeps a rack of Christmas sweaters that they pull out only during the month of December. If that's your thing… more power to you!
However, I do love to wear something just a little bit more special than my everyday uniform…
Like this blouse. I wore it last year for Valentine's Day, and I'll definitely be pulling it out this coming Holiday season as well.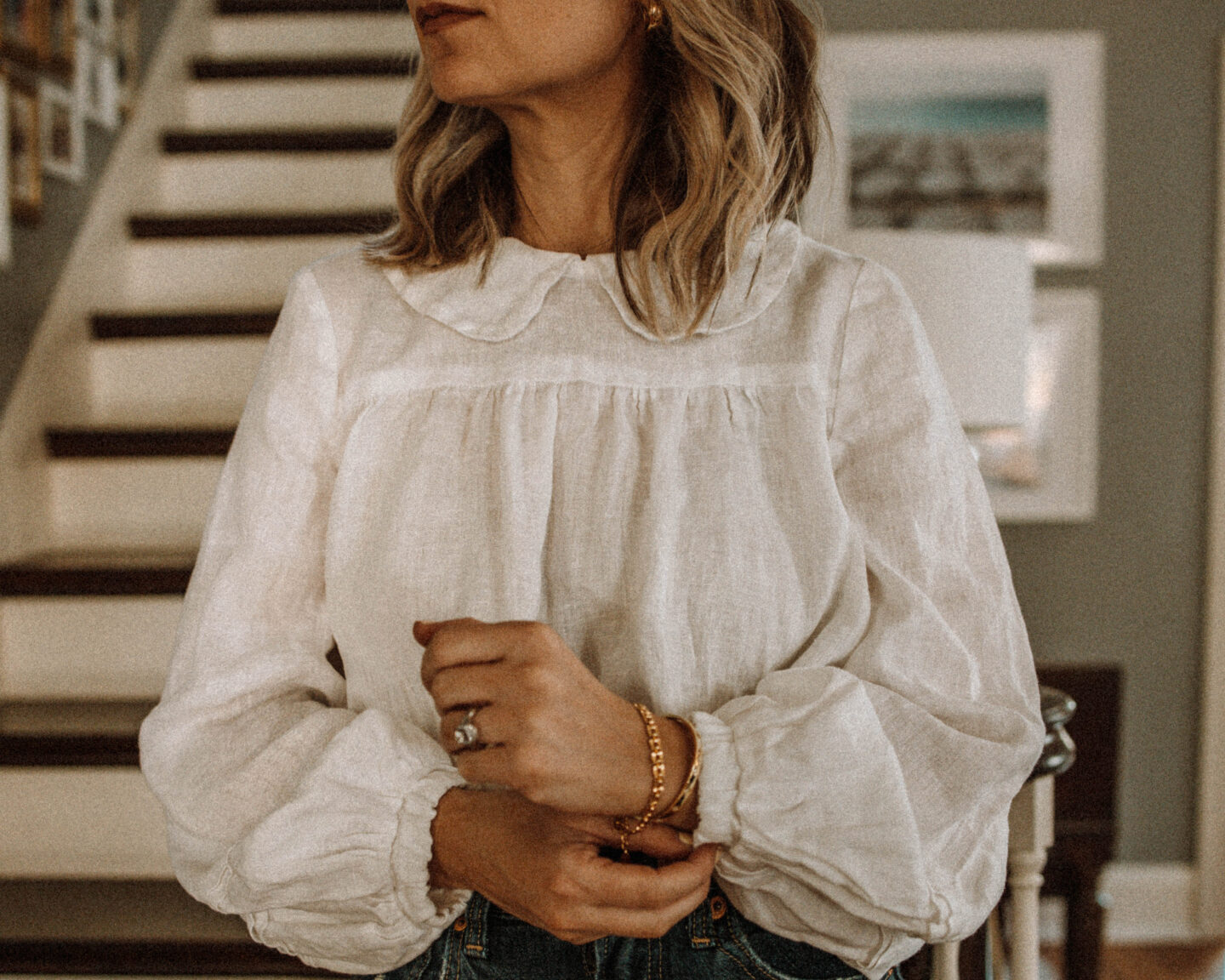 It's festive in a minimalist, understated sort of way and that's exactly the vibe I like to go for.
It also has a very timeless feel, while still having some elements to it that are very trendy right now (the puff sleeve, the peter pan collar, etc.) so it's the kind of blouse that won't be going out of style anytime soon.
It's made of linen so you'll definitely want to layer underneath it if it's cold where you're at, but because of the high neck you can easily fit a long sleeve crewneck underneath (though I tend to reach for a nude tank top like this one from Organic Basics – gifted).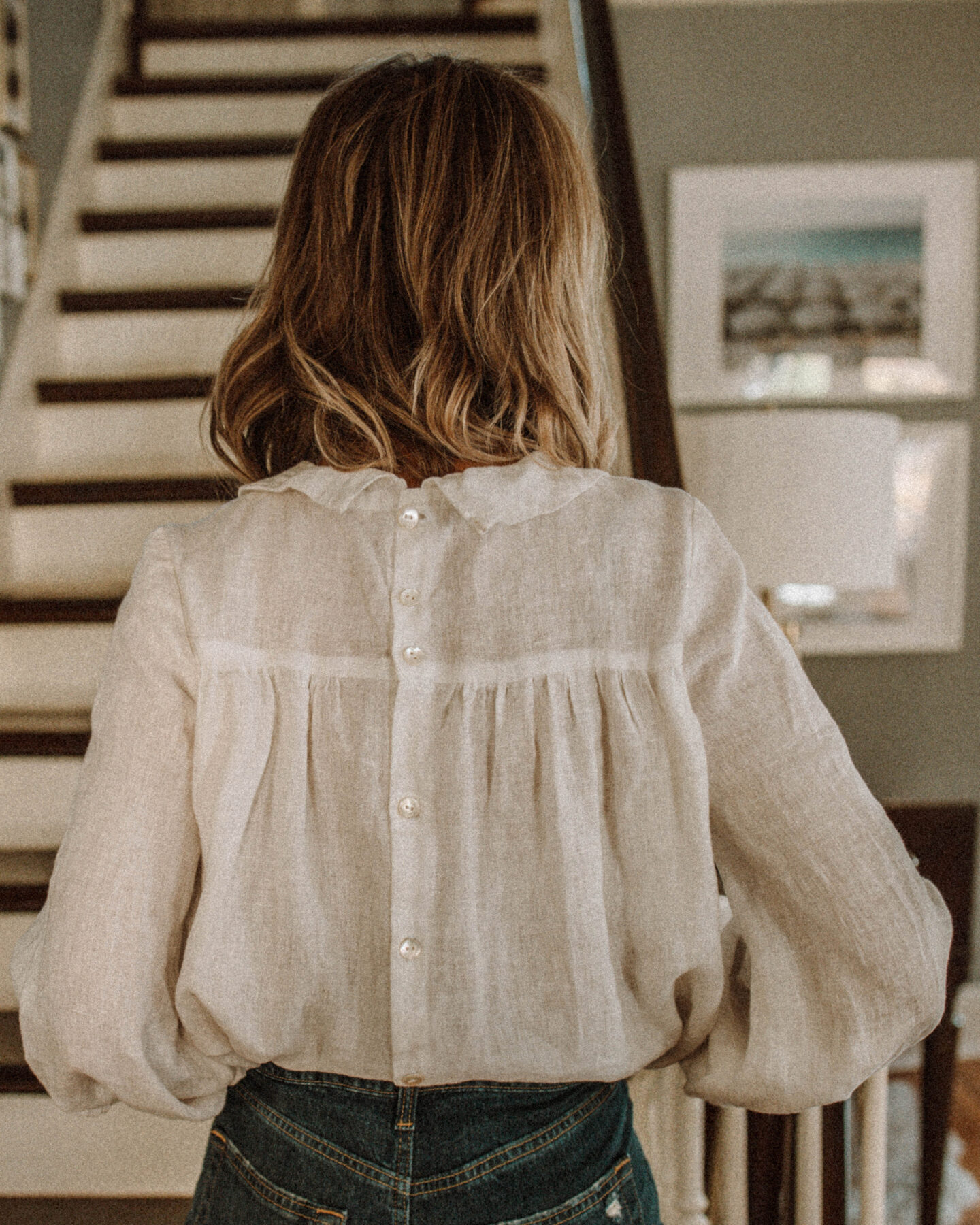 I have this top in an XS (if you're curious about my sizing, I now have it listed here).
I chose to style it very simply here to let the blouse take center stage, but this would also look stunning with a pair of wide leg black pants or with a slip skirt. It would also look really cute under a pinafore style dress.
Although… word to the wise: I originally styled it for this post with a pair of skinny jeans and knee high boots and I looked a LOT like a pirate so unless that's what you're going for I'd avoid that combo. 😉
Shop the Look
---
Other Statement Blouse Ideas

Over the coming months I plan to share some more Holiday outfit ideas with you guys, but if you could do me a favor and chime in below in the comment section on what types of outfits you'd like to see (i.e. stay at home casual or party outfit ideas) that would be super helpful!
We won't personally be doing parties this Holiday season (save for a wedding we're attending in November), but if you need ideas I'm happy to style some things for you guys.
Well that's all I've got for you guys today. I hope you have a great week!
Oh and P.S. my sister Becky Ankrum Photography took these photos so make sure to hop on over to her site and take a look around!
Until next time,