Happy Friday friends! It's my birthday weekend (yay!), and I'm trying to do my best to get everything wrapped up so I can really unplug this weekend and spend lots of time with my family. David and I are going to get to sneak away for a little date night tonight, and since I'm very out of practice on how to dress for a date night, I thought it would be fun to do a little date night styling session with these arc jeans from Everlane.
Okay so I really love these jeans. I think they are super cool, different, and they make such a fun statement… but they are super hard to style. And after trying them on with so many outfits only to take them off again because something was "off", I think I finally figured it out:
I don't love them as a casual pair of jeans. I mean, I may feel different this spring because I do feel like they may look better with sandals and a basic tee tucked in, but for winter dressing I much prefer them a little dressed up.
So with that revelation in mind, I figured out three ways I do like to style them for when the occasion calls for a nicer outfit. These looks would also all make fantastic work outfits… they are all three outfits I would have absolutely reached for on a casual Friday back when I was in a 9-5.
So yeah! There's my schpiel, and I'm sticking to it. 😉
Oh! And real quick, if you want an in depth review of the jeans, I have one here in my Everlane Denim Guide.
Let's take a look at the outfits.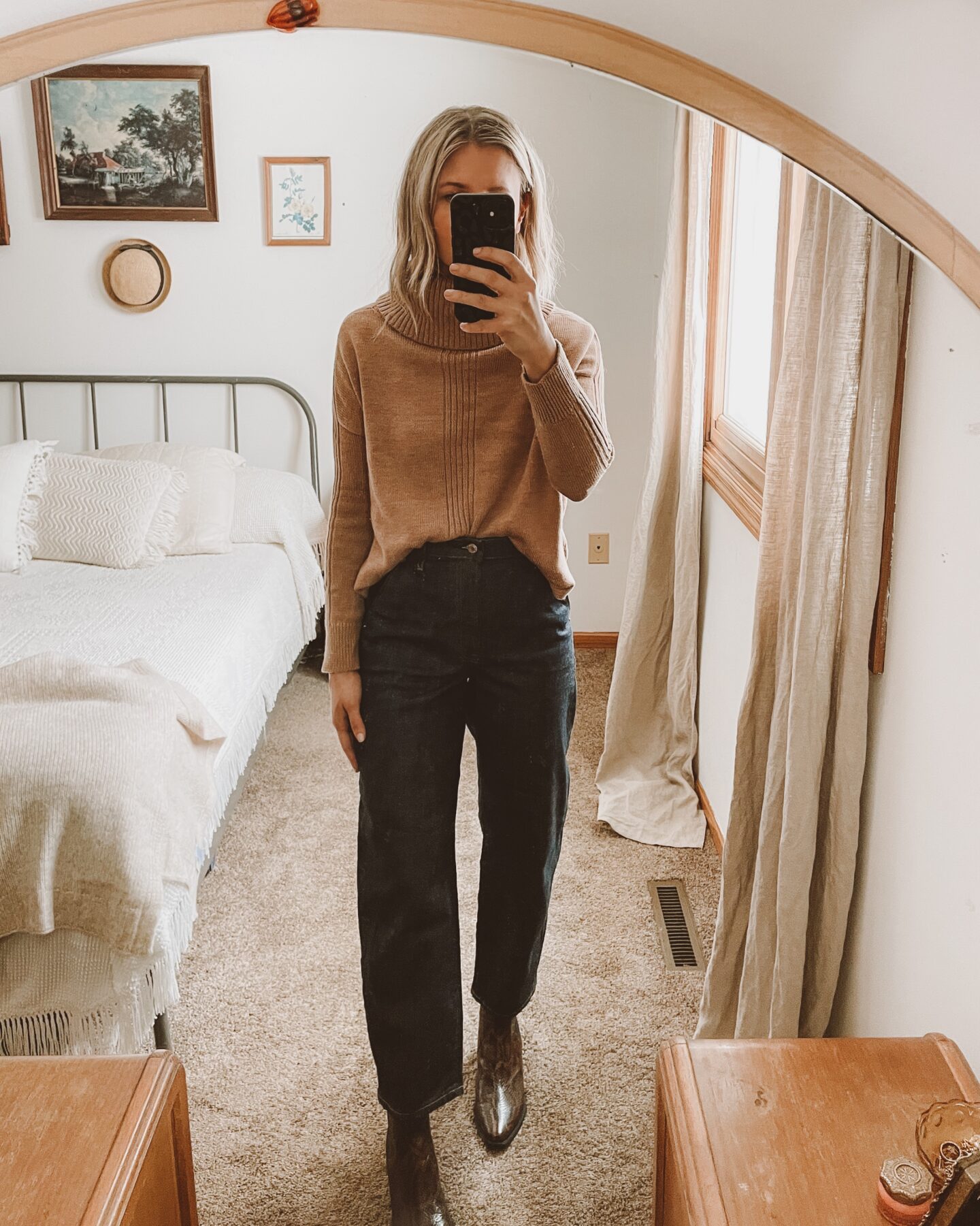 Shop the Look

I really love the wash of these jeans with a camel sweater, and there's something very dramatic about pairing the snake print boots with the darker colors on top. It's a very rich, warm look and I am all about it. I do like how the top of the boot hits right at the hemline. It creates a lengthening effect and it doesn't cause the jeans to bunch up at all. This would be a great outfit for a casual patio and drinks with a walk afterwards.
---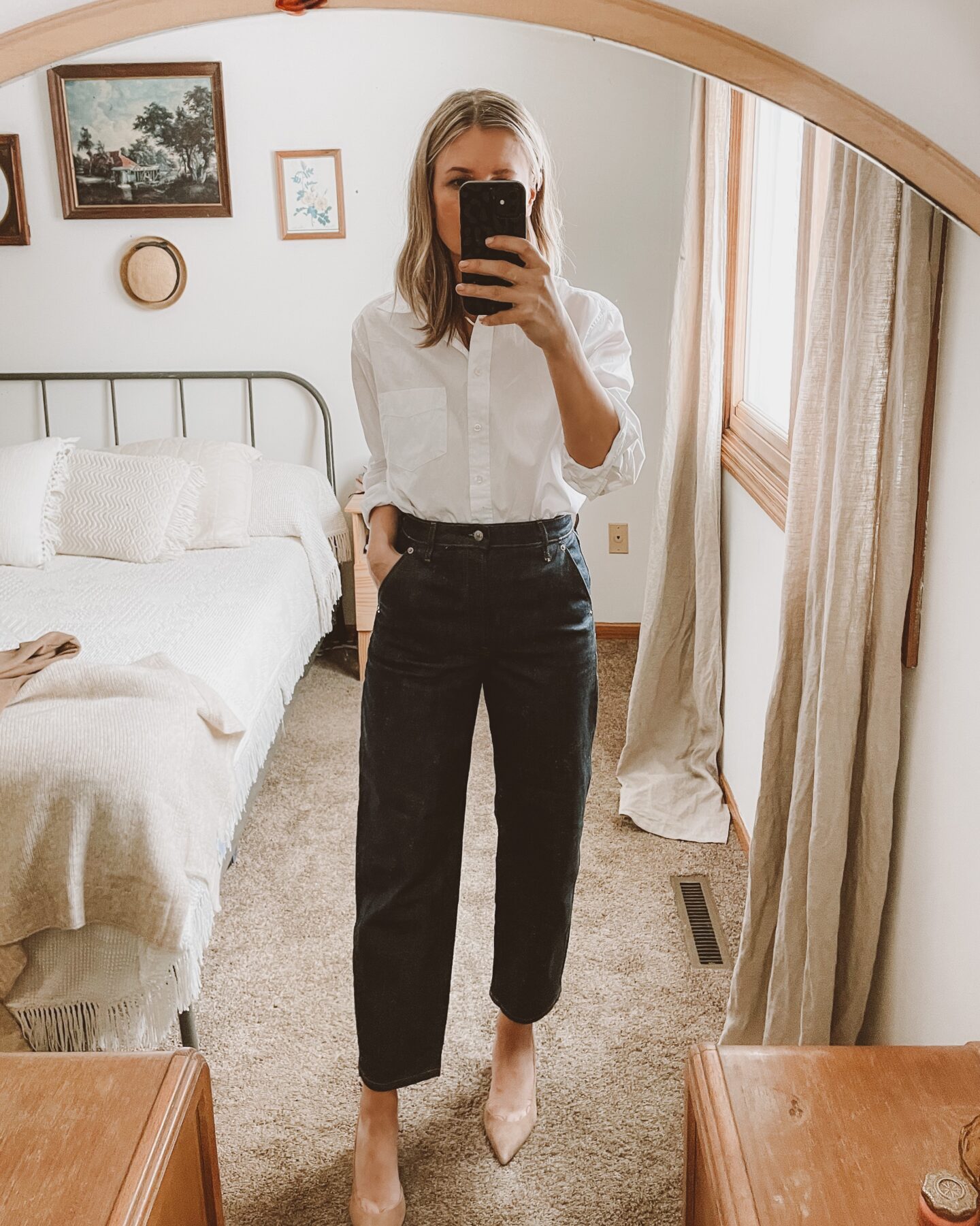 Shop the Look

This look is very basic, but if you've been around here long enough then you know that's kind of my thing. There's just something very classic about a crisp white button down paired with a nude heel. You really can't go wrong with that combo! But the addition of the more modern shape of these jeans keep this classic look feeling fresh.
---
Shop the Look

If you look closely, the only change to this outfit is the addition of the sweater coat, but it changes up the whole look! It brings that warmth back to the look which I love, and the length of the sweater coat really lengthens the whole look and creates one seamless line from top to bottom. But it's slightly oversized so it keeps everything looking really current. I also love the pop of dark cognac in the bag. It plays off of the other deep, saturated colors in this outfit but adds some depth to the overall look. This outfit is a huge winner in my book!
---
Well there you have it! I hope you enjoyed this little date night outfit styling session. And also, I hope this helped you see the potential in these Arc jeans from Everlane. They are a very unique shape so it's easy to be intimidated by them, but they are a really fun way to spice things up a bit.
Have a great weekend guys! I'll see you next week.
Until next time,
Karin