What do you guys usually do for Mother's Day? We typically spend the day at the zoo, which maybe sounds like the opposite of what a mom would want to do on Mother's Day, but I love it ha! We only get there once a year because its a bit of a trek for us, but seeing as how my love language is quality time, I just love the extra concentrated family time we get when we go. We always pack a picnic and we have a specific little hill that we climb to the top of that overlooks a pasture of horses… so many good memories. And this year our youngest is old enough that we won't have to worry about afternoon naps. I can't wait!
With that said, this year we won't go on the actual day (we're hoping to avoid crowds by going during the week) so we're planning on doing an actual Mother's Day brunch this year which I'm pretty excited about! First of all it's brunch, but second it's the thing to do on Mother's Day right? Ha! So as I've been outfit planning for the day of I thought I'd share a Mother's Day Brunch Look with you guys today and maybe a few others over the next week or so.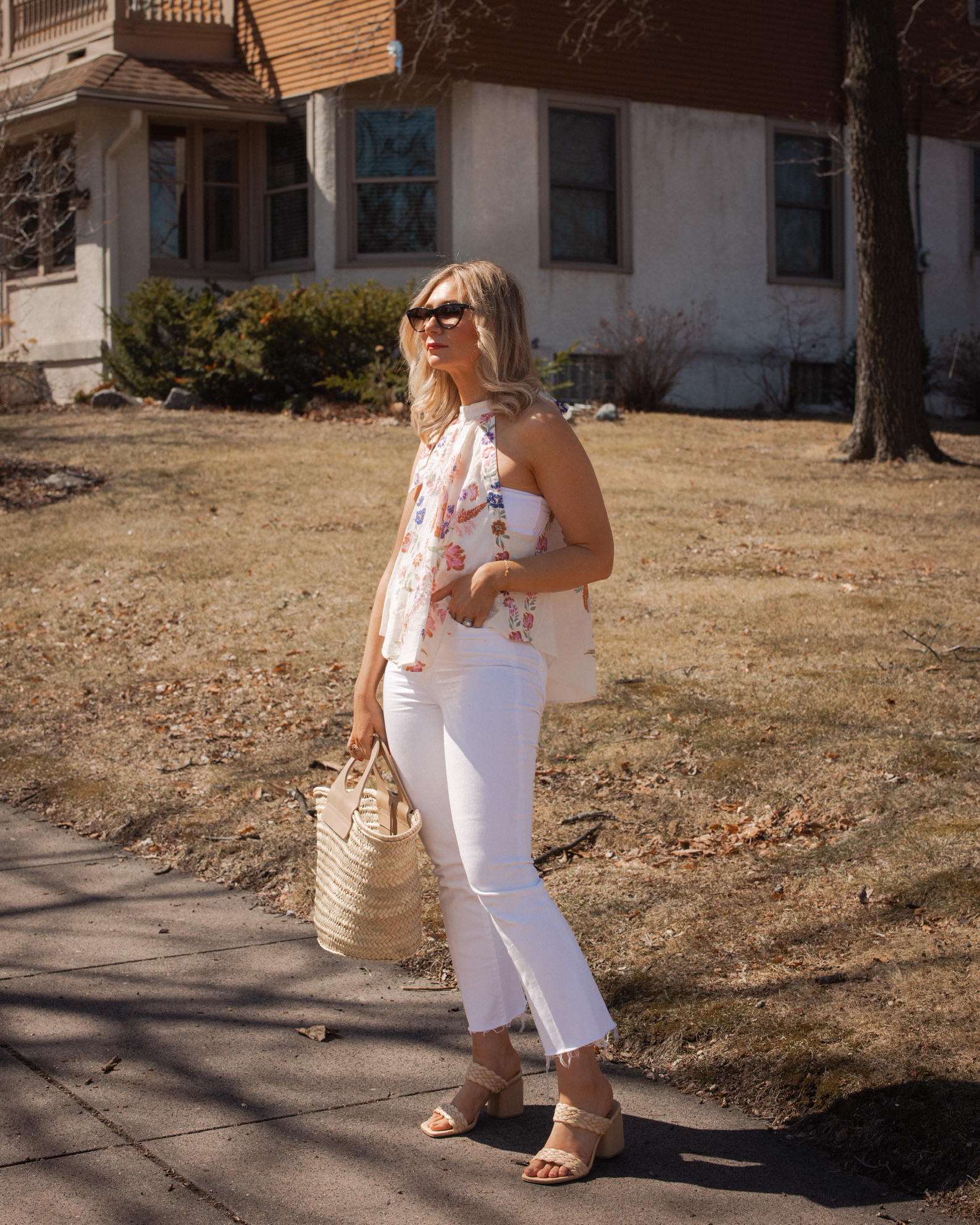 Outfit Details
Top | Crop Top | Jeans | Heels | Sunglasses | Bag (old from Hereu) | Earrings | Bracelet (would make a great Mother's Day gift!)
I like the idea of a pretty sundress on Mother's Day, but this year I'm kind of leaning towards a crisp pair of white jeans… and I love them paired with this floral halter top and raffia heels. This outfit is spring in an outfit and Mother's Day always signifies spring to me! You really can't go wrong with white jeans in general, but paired with a floral top and spring sandals you have the perfect Mother's Day brunch outfit.
This top is a bit tricky because the arm holes are quite… generous ha! But I paired it with this crop top for a pretty easy solution. I love that this outfit is also versatile enough that you can re-wear it for a future date night, baby shower, or even for a more casual outdoor wedding.
Are you leaning toward something other than a sundress for your Mother's Day brunch look this year? Is anyone else planning their outfit already or is that just me? 😆 Let me know in the comments!
Until next time,
Karin
* photos by Becky Ankrum Photography *