AND it's Wednesday! Huzzah!
I have no idea you guys. I have no idea.
Sometimes I sit down to write these intros, and my brain literally acts like it's a toddler that's been forced to play in a play pen, and explodes into action the minute he's let loose.
See what I mean?
ANYWAY. I have to let you guys in on something today:
trousers. You heard me right: I'm going to let you in on trousers today.
Stop it Karin, you're being awkward.
What I MEAN is, I'm going to let you in on my recent comfort secret:
trousers.
I've been loving trousers lately (or shorts made out of trouser material… what would you call those?).
I have been such a denim fan for so long that I honestly never thought about trousers as an option for everyday wear…
or it could also be that because I had to wear trousers every day for my 9-5 job pre-kids, I've been rebelling against them over the last few years.
Or maybe they just felt too fancy?
Whatever the reason, I just haven't reached for them over the last almost 6ish years.
Until recently. With all of the Covidness going on around, I have really taken a step back to reexamine my wardrobe.
I always thought I had a really functional wardrobe, and that it worked for my casual lifestyle, but being home SO much has made me realize how lacking I really am in comfortable options for… well…
being home.
EVEN though I work from home, we've always been super active as a family in that we always got out of the house.
So typically what I would do is wear my jeans or dress, and then change into leggings when we got home.
But real talk here: I CAN ONLY WEAR LEGGINGS SO MANY DAYS IN A ROW BEFORE I NEED TO WEAR REAL PANTS.
I don't know why I shouted that.
But I also don't always love to wear jeans when I'm at the house, so…
enter trousers.
They're so much more comfy to wear. The fabric is less rigid, they typically sit looser on your body, and the waist band is less constricting.
But I'm also not interested in wearing them in a typical, 9-5 type of way seeing that my life is very casual.
SO, I've been playing around with ways to wear trousers that are comfortable and practical for a casual lifestyle and I thought I would share the formulas I've come up with today.
Sound good? Let's get to it!
Here's four ways I like to wear trousers casually:
Shop the Outfit
I love a good pair of drawstring trousers because a.) drawstring so comfy, b.) depending on the material they can look really pulled together, but feel so comfy. These are made of a lightweight poplin so they fit into both categories quite well. I've really been drawn to navy lately because it's a little less severe than black (i.e. more casual), but still a very classic color that works with a lot of pairings. With that in mind, I love the pairing of a Breton stripe with a navy pant. So classic, looks pulled together, but the slightly oversized fit of the top makes it look casual and cool
Fit notes:
Trousers: size down, they run big. I got them in an XS. They also come in a really pretty honey brown and are currently 50% off!
Tee: size up to get this oversized fit. I got it in a Medium. It comes in three colors.
Sandals: I wear a US 9, and I wear a 39 in Birkenstocks.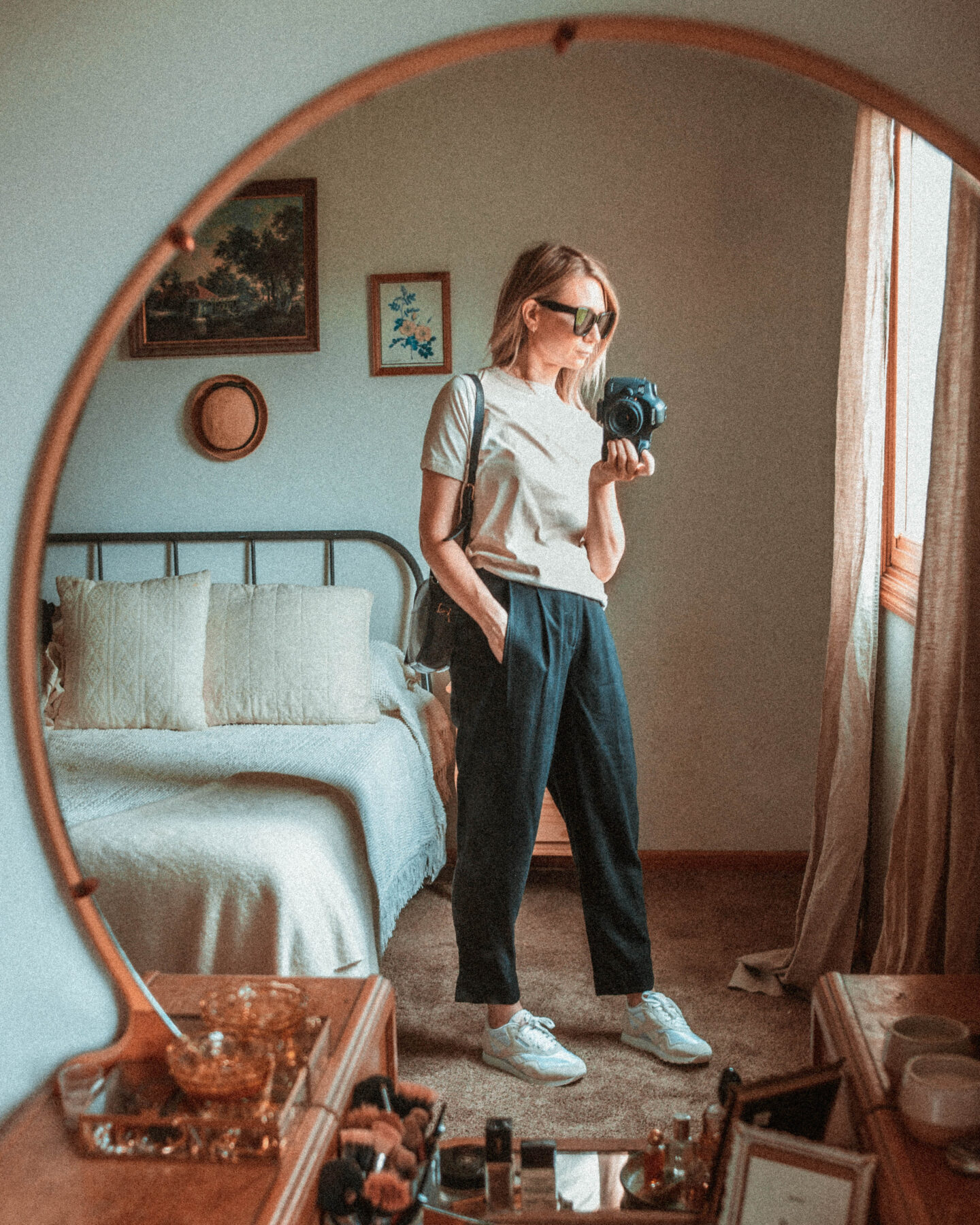 Shop the Outfit
trousers were gifted. review here
This is one of my favorite ways of wearing trousers in a casual way: with a tee and sneakers. The oversized fit of the tee, and the chunky sneaker give it that modern cool look, but the pleated pant and the classic shoulder bag pull this look together. It's the perfect balance of dressed up/dressed down. Plus this type of look translates so well into cooler weather because a slouchy sweater gives a similar vibe.
Fit notes:
Trousers (gifted): True to size. I have them in a 4. Also comes in a beautiful clay color.
Tee: Fits oversized. I have it in a Small. Comes in a bunch of colors.
Sneakers: Wearing my true size 9.
Shop the Outfit
trousers were gifted
So this is basically pajamas to be honest. I just love a good pair of linen pants, and the fact that these have pleats make them just slightly more elevated. I could have dressed these up by tucking the tee in, but I wanted to share with you how I would really wear this look, and I'd likely wear it in this slouchy way. I do think adding a neat little handbag makes this type of outfit instantly look a lot more pulled together. It's such an easy way to make a casual outfit look more like you're trying.
Fit notes:
Trousers (gifted): size down. I have these in an XS. Comes in a bunch of colors, mine is Brown.
Tee: Fits oversized. I have it in a Small. Comes in a bunch of colors.
To see a bunch of other linen stylings look here and here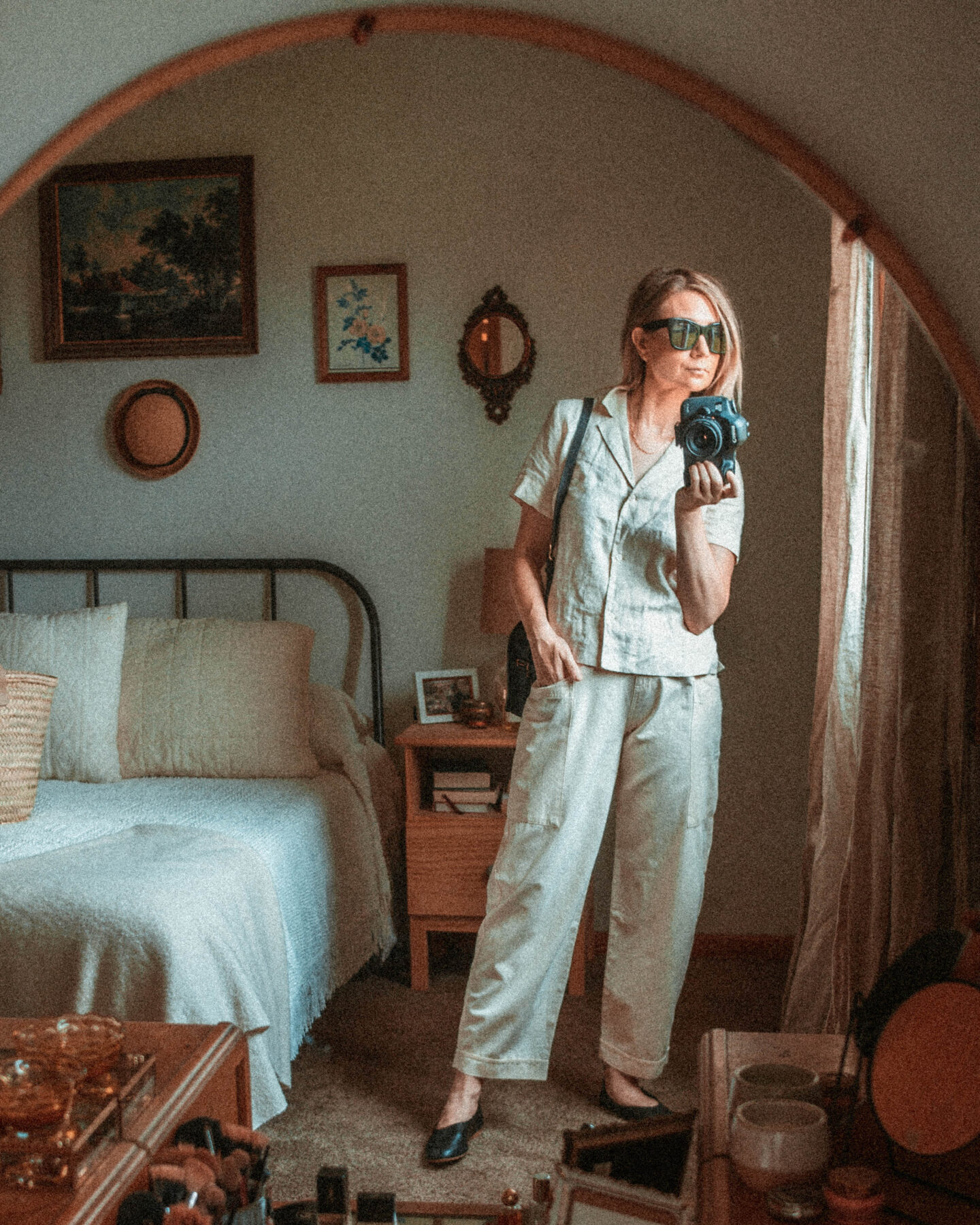 Shop the Outfit
Flats and Button Down were gifted
I call this my "is it pajamas?" look. As with the above outfit, this could look a lot less casual by tucking the top in, but I like keeping it un-tucked for an ultimate casual look. I also think keeping it un-tucked is a more modern way of pairing these two pieces. As with all of the above looks, accessories are key to making this outfit look like, well, an outfit. A pair of nice flats and the handbag bring the outfit up just a notch (but the right notch if you ask me).
Fit notes:
Trousers: true to size. I have them in a 4. Come in three colors, but limited sizes avaiable.
Button Down (gifted): Runs a bit big. I have it in an XS.
Flats: Run true to size. I have them in a 9. See my review here.
---
Well that's all I've got for you guys today! I hope you guys got some inspiration to wear trousers! Do you prefer to wear them over jeans? Or are you still firmly in the legging camp (no shame in that!)? Let me know in the comments below!
Until next time,