Hi friends! Happy Friday. Summer feels like it's officially starting here for us now that all the kids are out of school, and I am fully immersing myself in it all. We've already had a BBQ with friends, we've swam in our little blow up pool, and I am firmly in summer dressing territory.
And speaking of summer dressing, one of my absolute favorite things to wear is a lightweight pair of pants and a tank. It's just the easiest combo ever and it looks effortless and chic every time.
BUT, my wardrobe was lacking in the pants department due to weight changes over the last couple of years and I've found myself recently wanting to do a little revamp.
I tried to order a few one off pairs from different places, and I wasn't having any luck so I decided to just… order every pair from the Everlane website to try on so I could make an educated decision ha!
And I'm going to share them all with you guys today. I will NOT be keeping all of these pants, but I did find a few pairs that I really like so I'll let you know which pairs are staying and which ones are going back.
Alright then! Let's get to it:
My measurements for reference:
5'5″
32″ hips, 26″ waist
Style: The Straight Leg Crop in Sandstone
Size: 4 Regular
Price: $98
My thoughts: I've actually had these pants for a long time, and they are one of my favorite pair of pants ever. They aren't as trendy as the current wide leg styles, but they're a closet staple in my opinion. You can never go wrong with a good, solid pair of straight leg pants and this color is timeless. They are made of a midweight cotton blend and they feel really substantial, and I find that the weight of the fabric helps them keep their shape so they don't end up looking rumpled by the end of the day. I also find the rise to be a perfect high rise… it doesn't feel overwhelming on my 5'5″ frame. I kept my true size in these and they fit perfectly.
Style: The Utility Barrel Pant in Bone
Size: 4, 26 1/2″ inseam
Price: $98
My thoughts: This is the other pair of pants I already owned, and it looks like this color is low on stock, but I thought I would still include them anyway. These pants have really grown on me… when I first got them, I was not so sure about them and they sat in my closet for over a year without getting any use. But then recently, I've really had a change of heart! I've decided that barrel pants/jeans are not for me, but these are actually subtle enough that they still feel really wearable. It's a very subtle taper at the bottom, and the line seam detail at the shin gives it a nice touch. These feel like a really nice pair of khakis, but with a fun, modern twist. These are made of the same exact material as the straight leg crop with what feels like the same rise. In fact, other than the slight barrel fit these are almost identical to the straight leg crop so if you love those and want something a bit different, definitely try these. I got these in my regular size.
Style: The Dream Pant in Dark Forest
Size: XS
Price: $88
My thoughts: I WANTED to love these you guys… I really did. But I'm not sold on them. A lot of it is preference, so let me highlight the good first: I do love how comfy they are… SO comfy. They cotton/modal blend is soft and stretchy and they wear like a pair of jogger sweatpants. I also love this particular color and think that it's really versatile for most closets. What I don't love about them is the seam down the front. It just bothers me ha! I personally feel like it makes them a little bit more fussy. I also don't love how tapered the calf is. I wish it was just a little bit more straight at the ankle. The material is a little bit more midweight so these are a great option for all seasons if you do love them and can get past my own reservations. I did size down in these and they do fit really well so I'd suggest doing the same.
Style: The Easy Pant in Canvas
Size: 2
Price: $78
My thoughts: Alas, another pair of pants that I wanted to like and just don't. I actually owned this exact pair of pants in black a few years ago, and I ended up getting rid of them because I didn't like them… but I decided to try them again to see if my thoughts had changed. Nope! Ha! Here's my problem with them: I find the rise to be really awkward. I have a pretty short torso, and the rise is in between a high rise and a mid rise so it just feels really awkward to wear… plus I feel like it accentuates any sort of food babies. I think you would probably like these if you were very straight or maybe if you had a longer torso. They are a really nice, silky cotton material and I do like that they are a minimal pair of straight leg pants. I sized down and they fit well. However, I don't think you necessarily need to so I would suggest sticking to your true size.
Style: The Relaxed Chino in Dark Khaki
Size: 2
Price: $98
My thoughts: so these feel very similar to the barrel pants above except for in a very lightweight tencel material. They're very drapey and silky feeling and they feel really nice. And like the barrel pants, I do love that they feel like a classic, but with a modern twist. My complaint with these is that the inseam is a bit awkward on my frame… and I did notice on the website that they say that it's a 26″ inseam rolled and a 28″ inseam unrolled. But I'm not sure I'd want to wear these rolled, although that would definitely lend to the relaxed look that is in the name. I think these will come down to a style preference for people because I do think these probably need to be rolled at the hem. They feel really nice though and I like the dark khaki color. I sized down for this fit, but definitely stay true to size if you want an even more relaxed fit.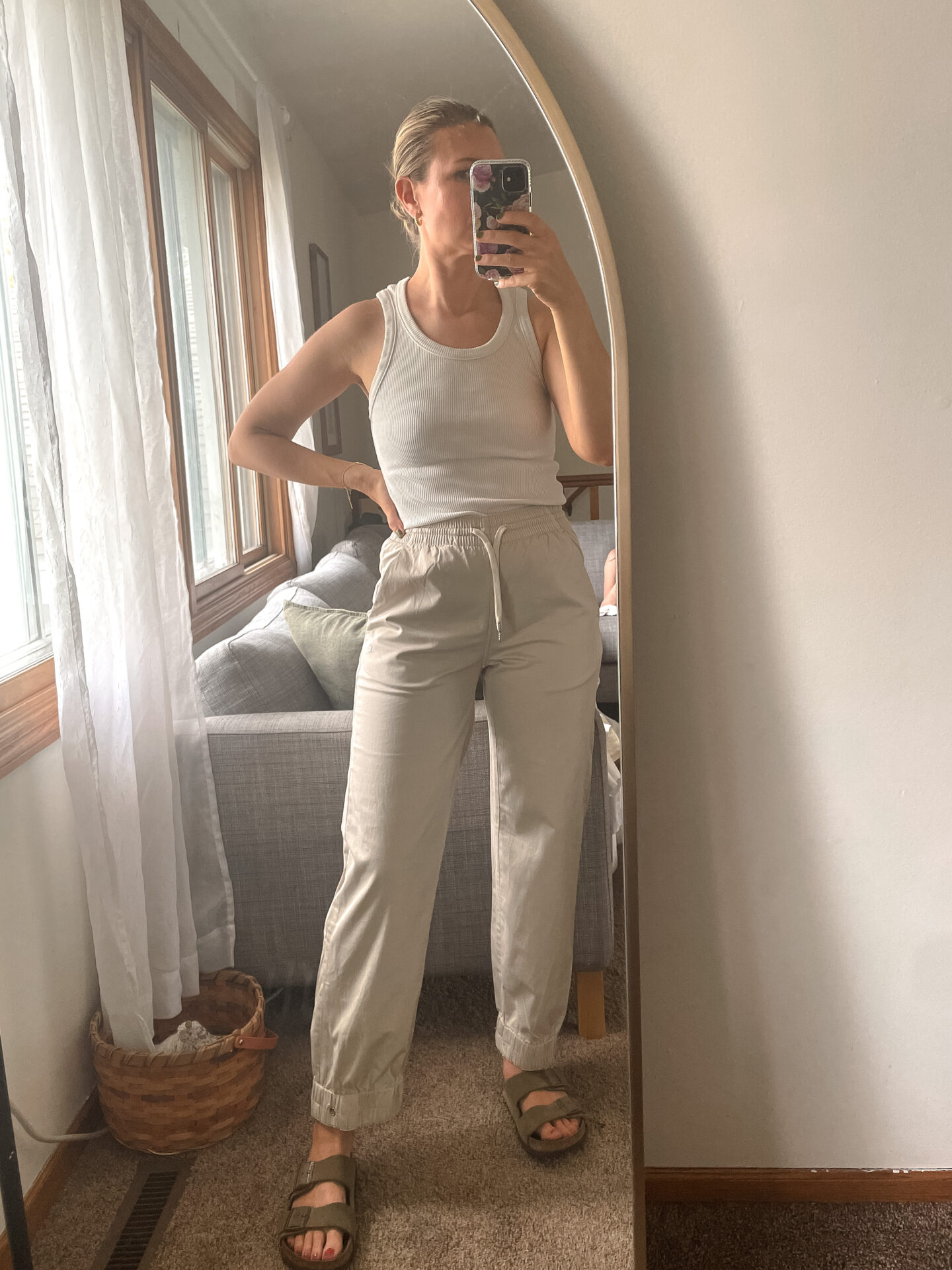 Style: The Easy Jogger in Bone
Size: XS
Price: $68
My thoughts: Nope, nope, nope, nope, nope. I hate these ha! I don't get them and I don't like them. I have the same thoughts on the rise of these that I do with the easy pant which is not surprising since these are made very similar to the easy pant in terms of fabric and waistband go. But the ankle cuff is just so bad. You can choose to either have them buttoned and more tapered (which makes them feel like Hammer pants) or you can keep them unsnapped for a bit more room… but then you have too much room and they look awkward. I'm sorry, but I can't recommend these at all! If you are choosing to ignore me and you like the way they look then I'd size down like I did.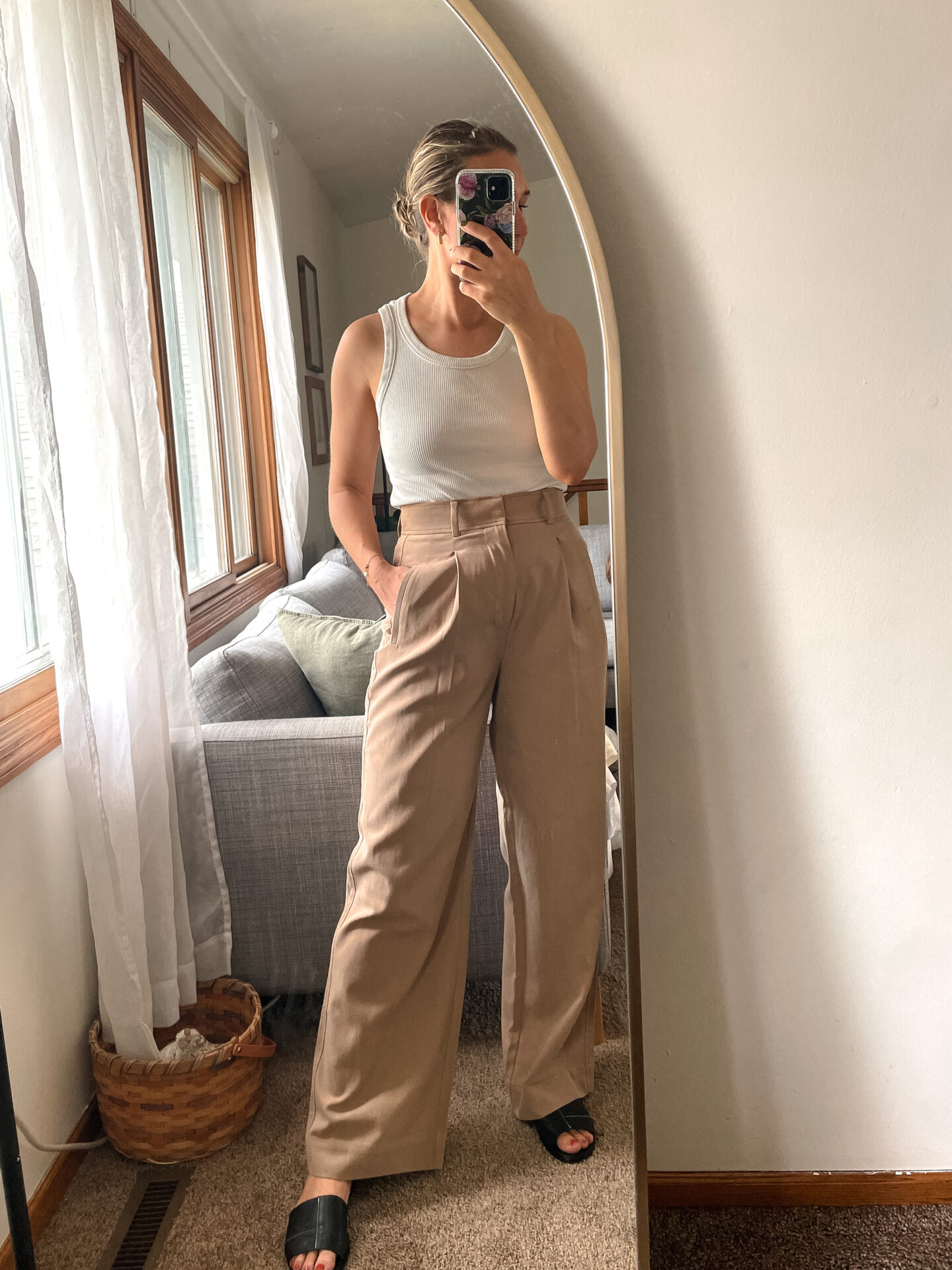 Style: The Way High Drape Pant in Ash Brown
Size: 2, 30″ inseam
Price: $118
My thoughts: Okay so these are pretty good, but not quite right for me. The rise is just a bit too overwhelming for me with my short torso, which I think is accentuated by the extra fabric with the pleating. It just feels like too much going on at my midsection, but if you have a regular or long torso, these should be a great option for you. They're made of a Lyocell and Cotton blend and they feel really nice and well made. They drape really well and they're a great option for most weather… but I probably wouldn't wear these for really warm weather because they're not super breathable. I sized down in these and that was 100% the right choice. These run big so definitely size down.
Style: The Linen Way-High Drape Pant in Canvas
Size: 2
Price: $118
My thoughts: So these I love a lot more than the original version. They just feel more easy breezy and for some reason I don't feel as overwhelmed with the pleating and rise on these. I also just noticed that they don't come in multiple inseams so this is it. I think I will keep these and I might have them hemmed just a tiny bit because I think they'll be perfect with just a slightly shorter hem. They're 100% linen so they're very lightweight and perfect for warmer weather, but they are a little sheer so nude underwear is a must. I sized down in these as well, and they run just as big as the lyocell version.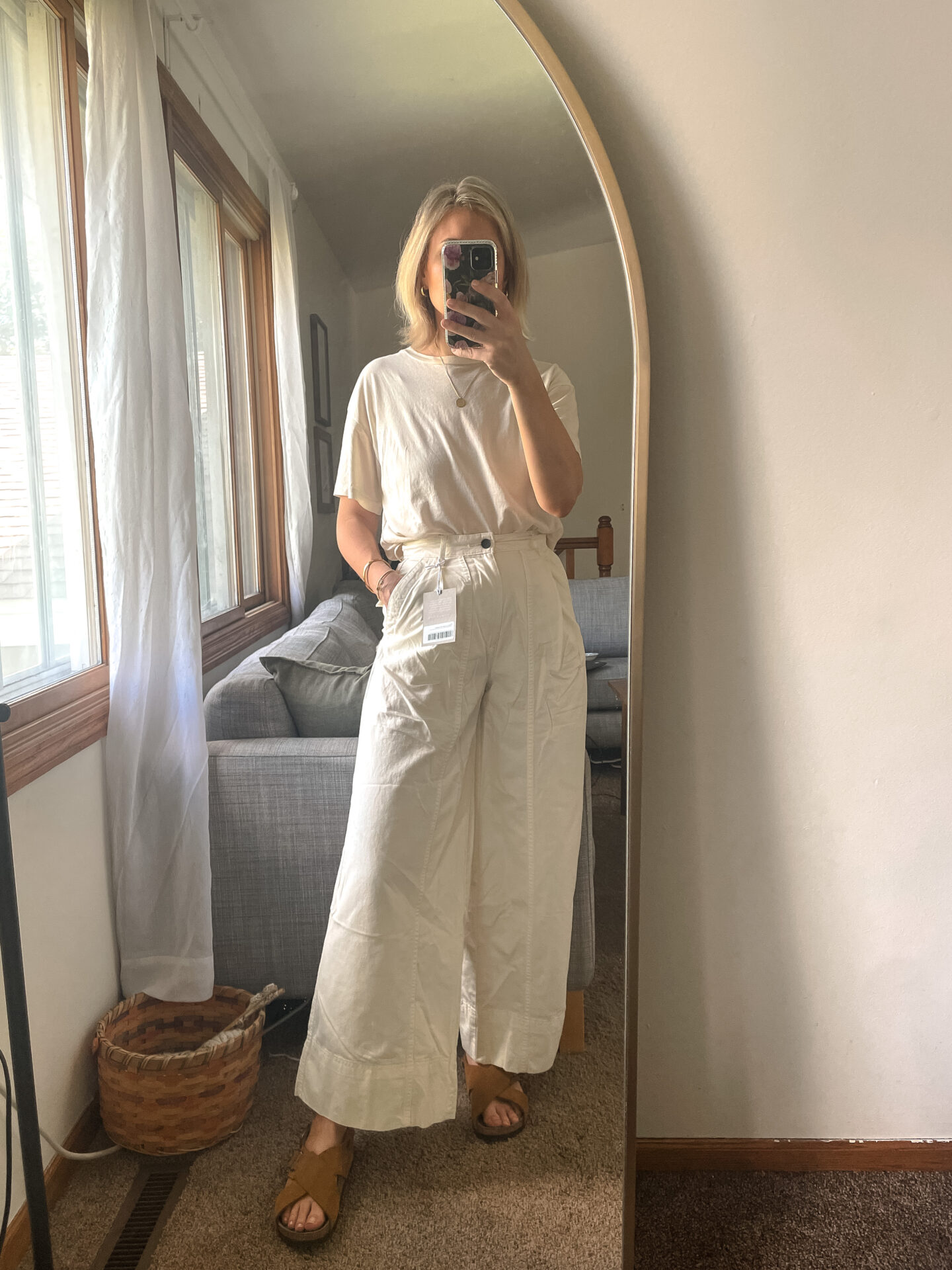 Style: The Tourist Pant in Canvas
Size: 2
Price: $98
My thoughts: okay so THESE I love! If you were waiting for me to really love something, I'm sorry I held you in such suspense ha! In my opinion, these are the best of both worlds. You get the trendiness of the pleating at the front, and the more draped fit but you get the cropped length that I prefer on my shorter frame. They feel really current, but they're the type of pant that really stand the test of time. These are made of a cotton linen blend and they feel really soft and nice to wear. I also don't find these to be sheer so they're just an easy pair of pants to wear. I sized down in them, but they are just slightly snug so I would advise sticking with your true size.
---
Okay well that's all of them! So now the moment of truth… which ones am I keeping?
I'll be keeping the Tourist pant, and I think I'm going to keep the linen way high drape pant. I also think I may try the drape pant in black for fall and winter… we'll see.
What do you think? Do you see any you really love? Let me know in the comments!
Until next time,
Karin
Check out my other comprehensive guides here.