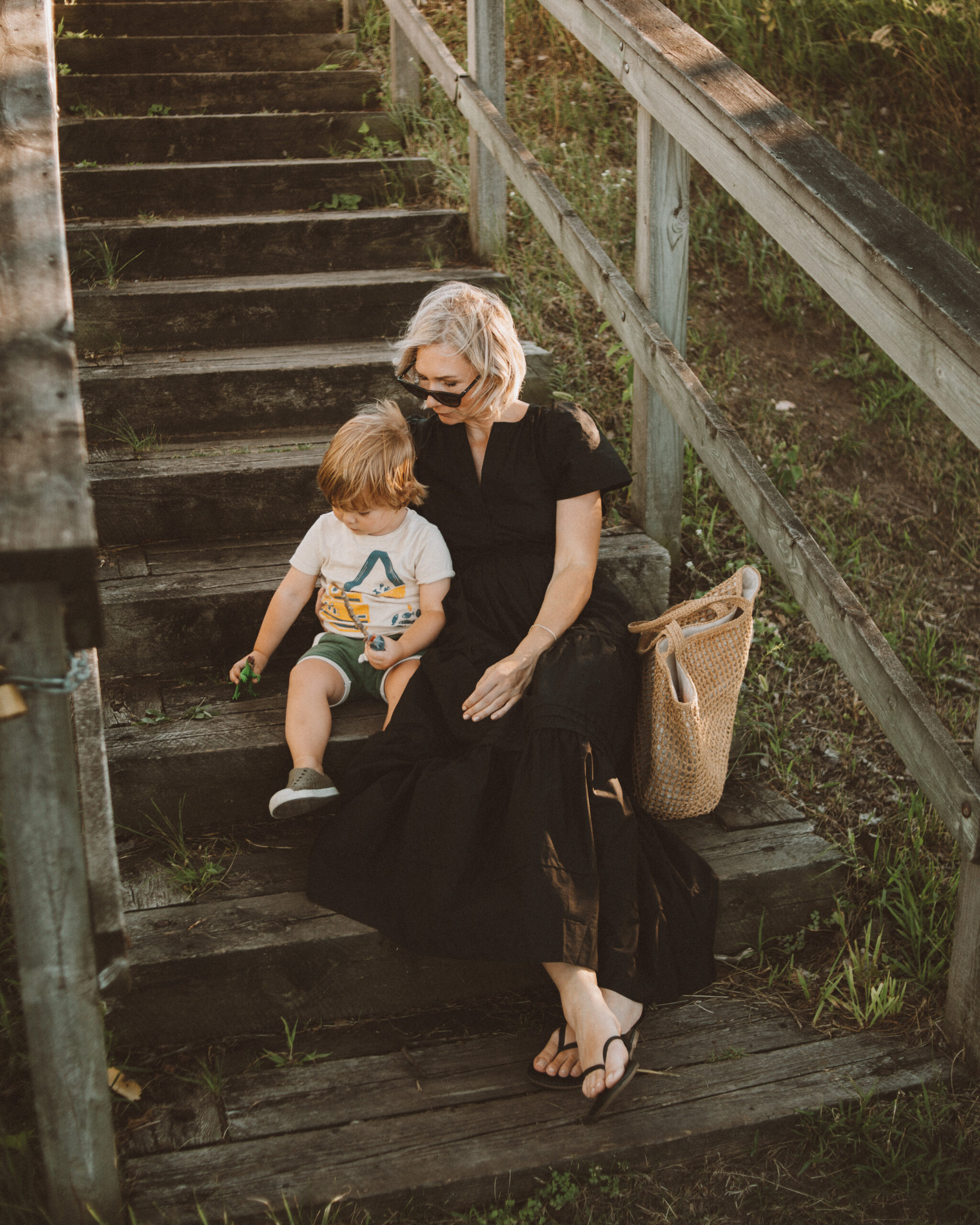 thanks to Anthropologie for sponsoring this post!
Outfit Details:
Dress (S. Gifted) | Bag | Sandals (TTS) | Sunglasses | Earrings
I have to admit that this time of the season, the last month or so before the weather changes, I get very uninspired when it comes to my style. I usually have had enough of the current season and am looking forward to a bit of… fresh air when it comes to my wardrobe. And it's usually this time of year where I start to really rely on the tried and true wardrobe staples that work no matter what.
A black maxi dress is one of those staples. It works… every single time. I mean, a maxi dress in general is a great staple, but you especially can't go wrong with a black one. It packs such a punch with the longer silhouette while also still staying a classic.
This Somerset dress from Anthropologie is no different… it's such a statement piece while also remaining somewhat subtle. I love that you can dress it down like I did here (I wore it for a trip to watch the boats with my kids), but you can easily dress this up with a pair of fun flats or heels. In fact, this would make a fantastic wedding guest dress… and for all my mamas to be out there, it's also a great pregnancy dress/breastfeeding dress. And thus my point is proved. So much versatility in one seemingly simple piece. This particular version is made of a really nice lightweight cotton that makes it a perfect option for hot weather days, but you can easily carry it into fall with a pair of leggings and booties underneath and a long cardigan or cropped jacket over top. It does have a pretty deep v at the neckline, but it has a little snap halfway up for anyone wanting a bit of extra coverage. And the smocked waist is really flattering and emphasizes the full skirt in the prettiest way. I find that it runs true to size, but if in doubt I'd go up a size.
When I put this dress on for the first time I felt that warm fuzzy feeling that I always get when I find my forever pieces. It's just the perfect, versatile dress that will work for anyone.
And if you don't love maxi dresses, or black dresses, or cotton dresses (you particular thing you 😉) the Somerset dress comes in all kinds of colors, patterns, lengths, and materials.
---
Well that's all I've got for you guys today! I hope you enjoyed my ode to a black maxi dress – make sure to check out the Somerset collection at Anthropologie… you'll love them as much as I do! I hope you all have a wonderful week. 🙂
Until next time,
Karin