Hi friends! I thought I'd share quick what I ordered online to try on from the 2021 Nordstrom Anniversary Sale! I don't have everything from my order yet (still waiting on a pair of boots and the outerwear!), but I thought I'd start a little try on session for you guys so you aren't waiting on me ha!
Now, just a disclaimer, that I am not going to keep all of these pieces! It's hard for me to get away with 4 kids to go do a big try on session at the store, so I am essentially doing that at home and then I'll send back what doesn't work out. I'll share what I am keeping/sending back in my thoughts below.
Okay! Let's get to it then:
---
Shop the Look

Sizing notes: Sweater – Small | Denim – 27 (sized up) | Mules – 9 (TTS)
I already reviewed these jeans in my Levi's Denim Guide so I'll skip that here, and I'll chat about the mules below so let's talk about the best thing that I've worn ever first (ha! but also not kidding). THIS cardigan is so soft and cozy… I KNOW I'm late on the whole Barefoot Dreams train, but I get it now. Truly. To be perfectly honest, I resisted trying them in the past because it seemed like they would have a very synethic feel to them (this one is a nylon/rayon mix), and while they kind of do, it's not a BAD feeling if that makes any sense at all? Ha! It truly is the coziest, cuddliest thing I've ever worn. I will be wearing this and my Jenni Kayne Cashmere Cocoon cardigan on rotation all fall and winter… I'm warning you now! The cardigan runs true to size, but I went with the larger of my two sizes for a little extra room.
Will be keeping this one (obviously)
---
---
Shop the Looks

Sizing notes: Cardigan – Medium | Distressed Jeans – 26 | Boots and Mules – 9 (TTS) | Light Wash Jeans – 27 (size up)
4 things to review here so I'll keep things brief –
Long Cardigan – This is SO nice you guys! I am really smitten with it. It's a really nice/substantial wool and cashmere mix and it's really soft (not scratchy at all!). I love the small details on it as well like the deep pockets and the wider cuff and hem… makes it look really luxe! I sized up to a medium and I'm glad I did because it gives it a slightly oversized fit that looks really current. It is selling out quick in this color (still a few sizes left though!), but it also comes in 3 other colors.
Keeping
---
Distressed Jeans – I'm so excited about these! One of the things I wanted to invest in with the sale was a nice pair of straight leg distressed jeans, and this pair from Paige are perfect! They're ALMOST a skinny jean, but I like that they have the straighter fit instead of a taper. They're very stretchy and comfortable, but they're not SO stretchy that you have to keep pulling them up. I think these are going to be my go to with oversized sweaters and sneakers this fall. I stuck with my true size, and they fit perfectly.
Keeping
---
Combat Mules – These boots are really nice. They're made really well, they aren't super heavy, and the creamy beige color is so pretty! I also love the slim and tall boot shaft because they can fit underneath jeans really well which adds that extra bit of warmth when it gets cold. I have nothing to complain about with them, and they are a great pair of boots… but I don't love them for me. I'm not sure why exactly, but they don't feel like "me" and I'm trying to be better about being strict with the things I keep so…
I'll be sending these back.
---
Mules – These mules are extremely well made… one of the nicest pairs of shoes I've tried on actually! They are very comfortable and easy to walk in, the shape is really flattering, and the construction is beautiful. I love every single thing about them, except for the color. When I ordered these I didn't realize they'd be such a dark chocolate brown and that color isn't as versatile for my wardrobe. These shoes are $$$ so they'd have to be absolutely perfect for me to keep them. Sad!
Sending back
---
---
Shop the Looks

Sizing Notes: Sweater – Large | Distressed Jeans – 26 (TTS) | Mules – 9 (TTS) | Flared Jeans – 27 (size up)
Two things to review here:
Oversized Sweater – this was a bit of a disappointment for me. It was pretty sold out by the time I placed my order so I ordered a large hoping it would give that perfectly oversized look, and it kind of does! However, I do think I would have liked it better in a medium. My issue with it is the quality. It's one of the more affordable things in this order so I was hoping for a gem, but the fabric feels pretty cheap, and it's got that bouncy lightness to it that a lot of acrylic sweaters do that prevent it from draping well. Bummer!
Sending back
---
Flared Jeans – These jeans from Re/Done are an investment, so the opportunity to get them at a discounted price is awesome! I've had mine for about 6 months now and I DO really love them, but weirdly I don't reach for them super often. The leg is a bit of a statement, and I just don't always find that it works well with my outfit. They are super comfy though and they look great with simple outfits so while I don't wear them that often, I do really love them when I do. They run small so size up!
Already owned so keeping 😉
---
---
Shop the Looks

---
Sizing notes: Sweater – Large | Pants – Small | Boots – 9
Two things to review here:
Pants – These pants are SO comfy, soft, and stretchy, but they're also a really good weight and super supportive so if you work a 9-5 I highly recommend these! I'm sending them back only because I'm looking for something with a bit more of a straight leg and these are a bit too slim for me.
Sending back
Boots – These boots are the ones! I've been wanting a pair of chunky black boots with a taller, slim shaft to wear with all of my straight leg/tapered leg jeans and these are perfect! I didn't realize the heel would be so substantial when I bought them, but I actually really love the heel on these now that I have them. It just gives that extra little bit of height that is really nice. I also love that the shaft of the boot is a stretchy knit material because it makes them really comfy on the ankle. They are a BIT on the heavy side so these might not be great for a full day of being on your feet, but with my lifestyle they are perfect. They run true to size.
Keeping
---
Shop the Look

---
Sizing notes: Sweater – Medium | Pants – Small | Boots – 9
The sweater is completely sold out and it looks like they won't be restocking it, but just in case: get it! Ha! So beautiful, soft, and well made. I love the batwing sleeves and the ribbed detailing. I sized up to a medium and it's perfect!
Keeping
Rain Boots – I WANT to love these, and in theory I actually really do! I'd love a good pair of rain boots and I like that these are waterproof, but they don't look like a rain boot. They're also super comfy and not too heavy. My only qualm with them is the color. I keep thinking I want a chocolate brown pair of shoes in my wardrobe, but then when I see them they don't seem to fit in my wardrobe. They do have these at full price in black and I may consider trying these, but I have to think about it for awhile. If you are interested in these, I'd go up a size as they seem a bit snug at my normal size 9.
Sending back
---
---
Shop the Look

---
Sizing Notes: Dress – XS, Boots – TTS, Coat – Small
The dress is completely sold out, but if it does restock I highly recommend! It's so pretty in person with the rich fall color palette. It has a drop waist and buttons down the front so you can adjust the neckline. It runs a bit big so I'd size down.
Keeping
The coat is… I'm not sure what I think ha! I actually do really like it a lot, but it's not what I was expecting. First of all, it's not lined so it's really more of a jacket or a sweater coat than an actual coat… which means it won't be great for really cold days. However, I do like the idea of having a coat like black jacket for times when I'm not going to be outside for long periods of time because where I live the heaters are cranked up in the winter and it can get super hot inside! And the style is super cute. It would be PERFECT for someone who lives in a warmer climate where the winters don't get that cold. I have to sit on it a bit and think about it.
Not sure
The boots are a no for me. They're just a little much for me. I still like the idea of having a pair of boots to wear over leggings, but these just aren't it. I don't love the way they wrinkle at the knee, and to be honest they're really uncomfortable at the ankle… even just wearing them for these pictures I couldn't wait to take them off! So yeah. Not a win for me.
Sending back
---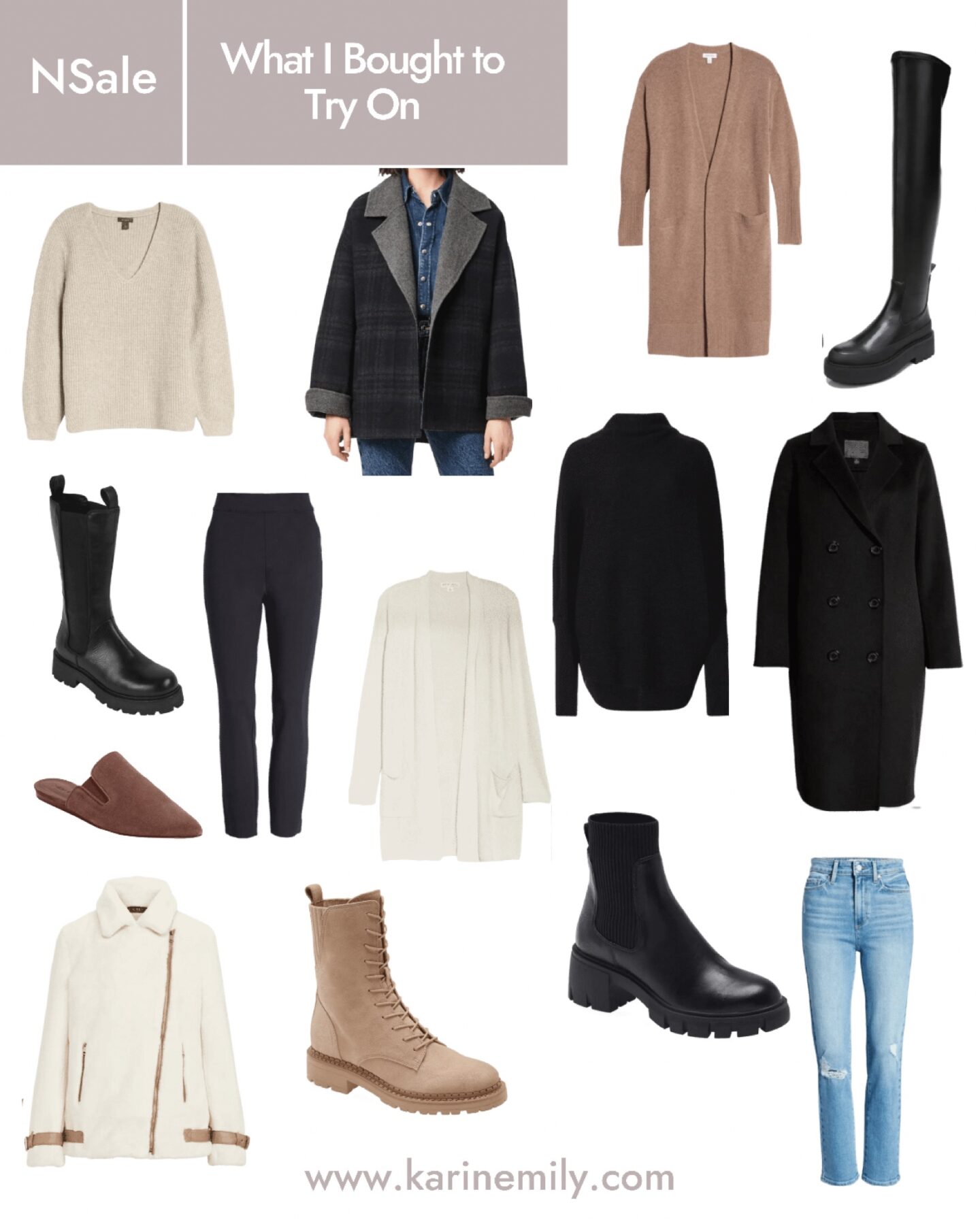 Shop the Edit

---
That's all I've got for you guys today! I'll add the outerwear/other pair of boots when they come so stay tuned!
Until next time,
Karin
Check out my other 2021 Nordstrom Anniversary Sale posts here