*thanks to Tradlands for sponsoring this post!
Hey guys! It's nice to sit down and chat with you guys after taking a week off from delivering real content.
I needed that break, and I'm so thankful for all of your comments.
It's been a rough week, but I'm shouldering on. I often tell Kit: "I know this is hard, but it's just practice for grown up life… it doesn't get easier babe."
And,well, grown up life really isn't easier is it? Definitely good and sweet and worth it, but there's a good amount of tough mixed in with the good.
But I digress.
I'm here to talk to you about my spring 10×10! I have a few thoughts now that I'm at the halfway mark, and I also have a review of this denim jacket I'm wearing.
Let's start with the review, and then I'll get into my other outfits from the week.
Just a side note: this is my day five outfit. K? K!
The denim jacket under scrutiny:
The newly released Atlantic Jean Jacket in Shore Wash from Tradlands.
Tradlands is known for sustainably making some of the best menswear for women. Their tagline is "Redefining tomboy: Hers can be better than hers." Honestly? I can't think of a better tagline. They really do make amazing pieces that don't feel fussy, but that are cut in such a way that they feel really special.
This denim jacket is no exception. Let's get into the specs shall we?
The fit:
It's longer than the average women's denim jacket, which I love… though keep in mind that I do have a super short torso so it might not be as long on you.
I ordered a size up (M) to give it a bit of an oversized fit, but if you want a more fitted look just order your typical size.
The shoulders are a bit wider than the average women's denim jacket, so keep that in mind if you do have more narrow shoulders. I'm pretty narrow shouldered and it's just a bit baggy in the shoulder area for me. If you're more broad shouldered this would actually probably really work for you.
While the body of the jacket is loose, the arms are fairly narrow. As you can see, with a larger size I was still able to fit a bulky sweater underneath, but I probably wouldn't have been able to with a smaller size.
The Quality:
It's made of 13 oz. selvedge edge denim. The website says it is soft washed and preshrunk, but it does feel like it's going to need some breaking in (I've worn it a handful of times and it is still a bit stiff). However, I don't mind denim that is a bit stiff at first because that usually means it's made well.
The fabric is thick enough that this jacket is actually pretty warm. I don't know how well this would do on a hot summer's evening, but for this Minnesota gal I think I could wear it mostly year round. Because of the thick material though, this is probably not a jacket where you'll be able to comfortably push the sleeves up to your elbow, so if that's your vibe you might want to keep that in mind.
The hardwear is also super sturdy (is there anything worse than a button falling off a week after you get something?!), and I love that they are made of brass so you can wear it with a variety of metals.
It's sourced and sewn in the U.S. and retails for $250, but you can get 15% off with code truncationxtdl (the code is good for anything on their site). The code will be valid through April 20th.
Okay I think that's it! I really love it. It's super comfy and sturdy and I see it being in my wardrobe for a really long time.
Let me know if you have any questions about the jacket in the comments below.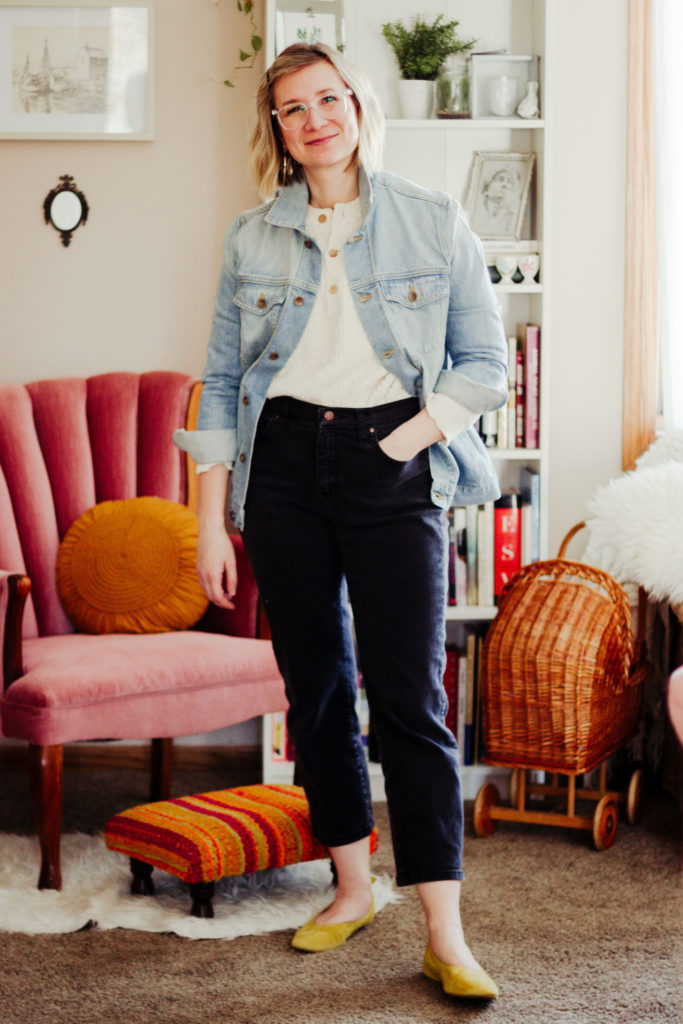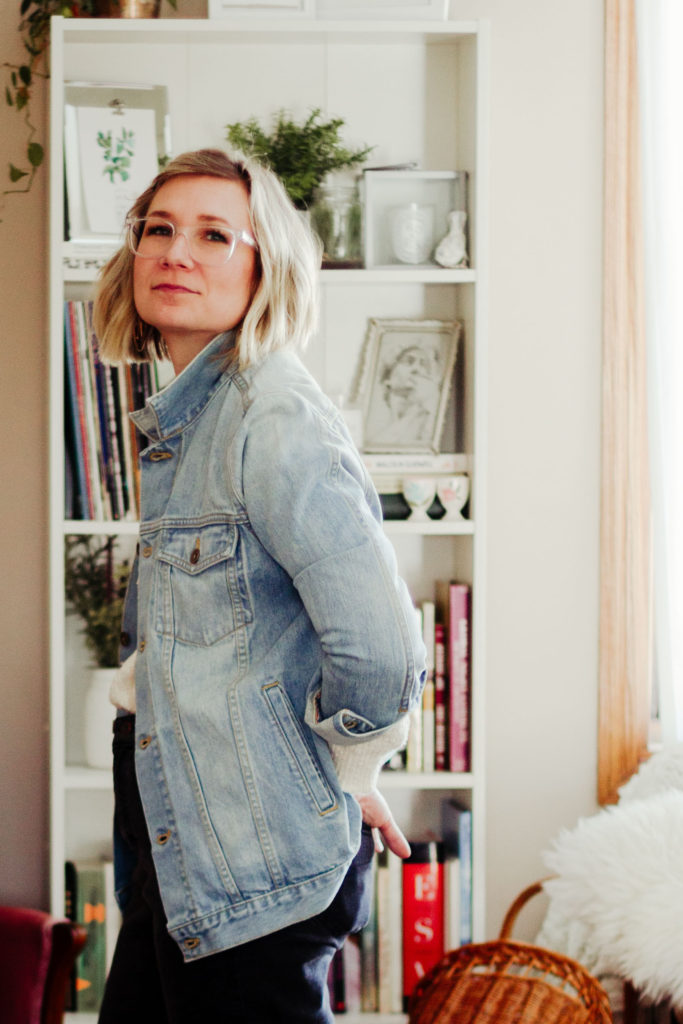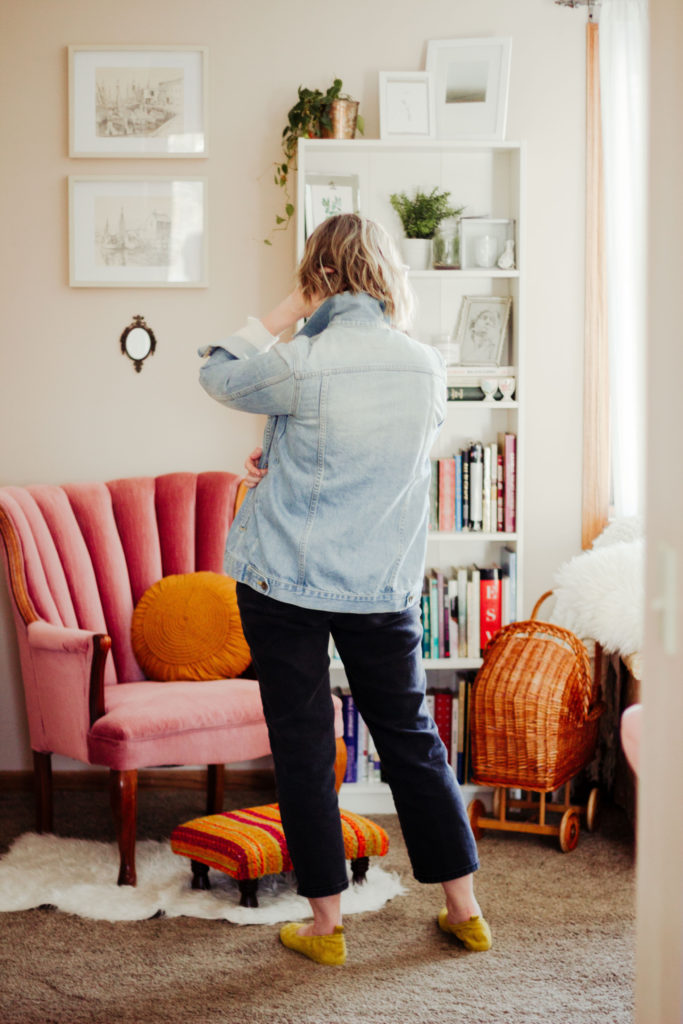 And now on to the first week of outfits: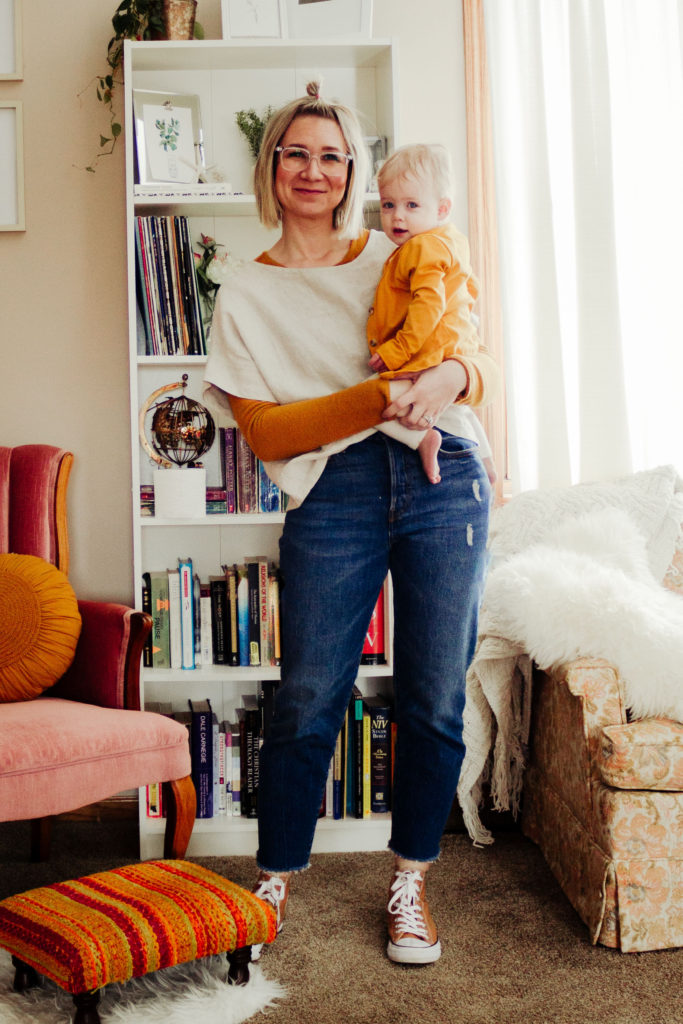 Day One: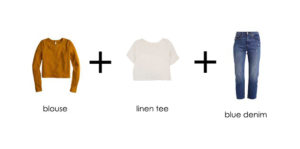 For the past couple of 10×10 challenges I've played it super safe, but I've been trying to push myself a bit more with this challenge. I decided to try to layer this Georgia Tee by Elizabeth Suzann over this long sleeve tee, but I don't love how it turned out. I had a lot of positive feedback when I posted this photo on Instagram, but I don't see myself putting this look together again. Though, I think my issue with the look is more with the jeans paired with this top combo than the actual top combination. Does that make sense?
---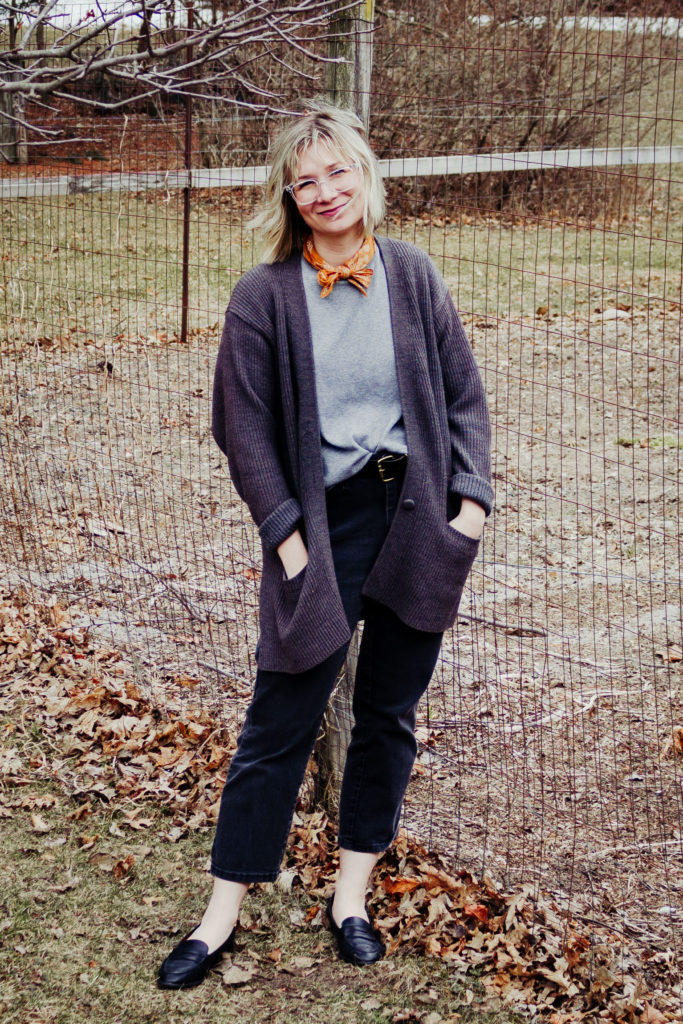 Day Two:
I love this combo. This unicorn sweater that I thrifted and these vintage jeans are just so good. They're comfy, and I love the vibe that they give off. I will definitely be doing this again!
---
Day Three: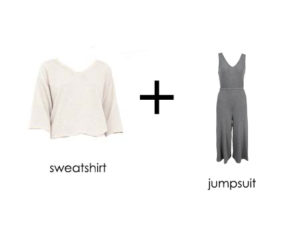 Another risky outfit… but this time I really liked how it turned out! Though this combo does make it interesting for going to the bathroom. Don't worry… I managed. I'm excited to play around with more combos like this.
---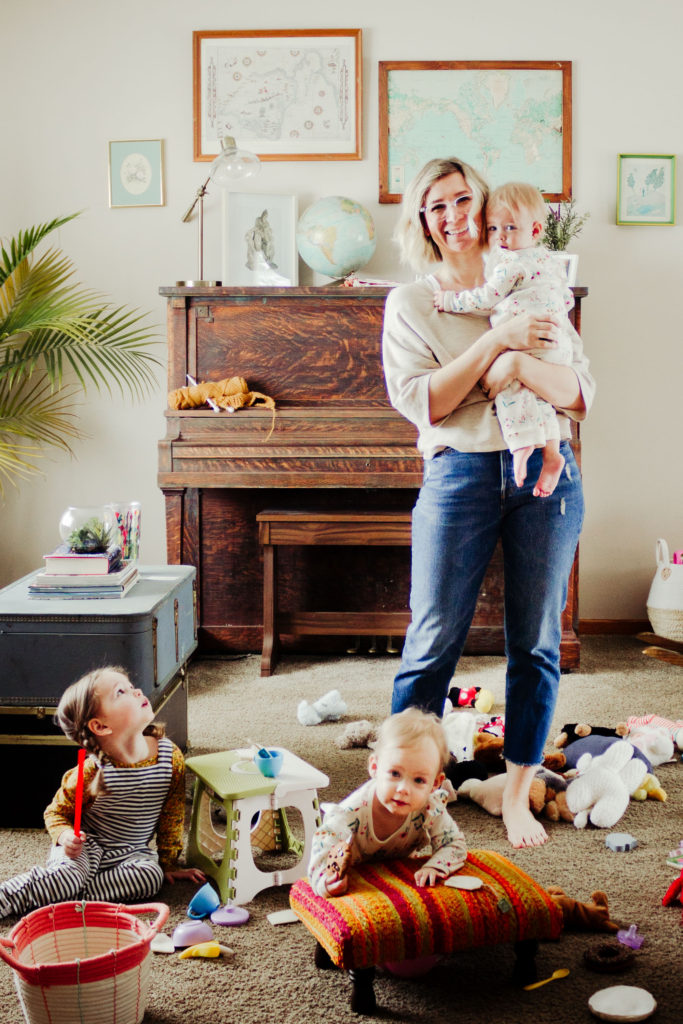 Day Four: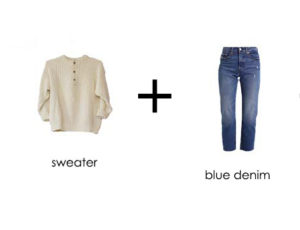 This is a super basic outfit. I didn't even put on shoes this day… we've been dealing with sickness and bleh. We finally have everyone on the medications that they need and I'm hoping we're finally on the mend. I love this sweatshirt for being at home though. It's cut really well, but it is so, so comfy. Best of both worlds!
---
Day Five:
(Photos above obviously).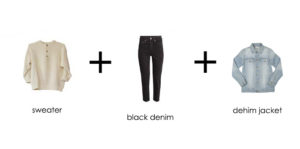 Sweater: Vintage | Similar
I'm glad I included this sweater because it has been SO frigid here this week. And, full disclosure, I was planning on only using this denim jacket as my one jacket, but I had to reach for a winter coat on multiple occasions. Such is life.
If you're doing the spring 10×10 challenge how is it going? I've seen that a lot of people are struggling because of the weather (meh).
Phew! This is a long one folks. And not to make it much longer, but I've got a few photos of the girls that I took this week that I'm just going to leave here at the end. Enjoy!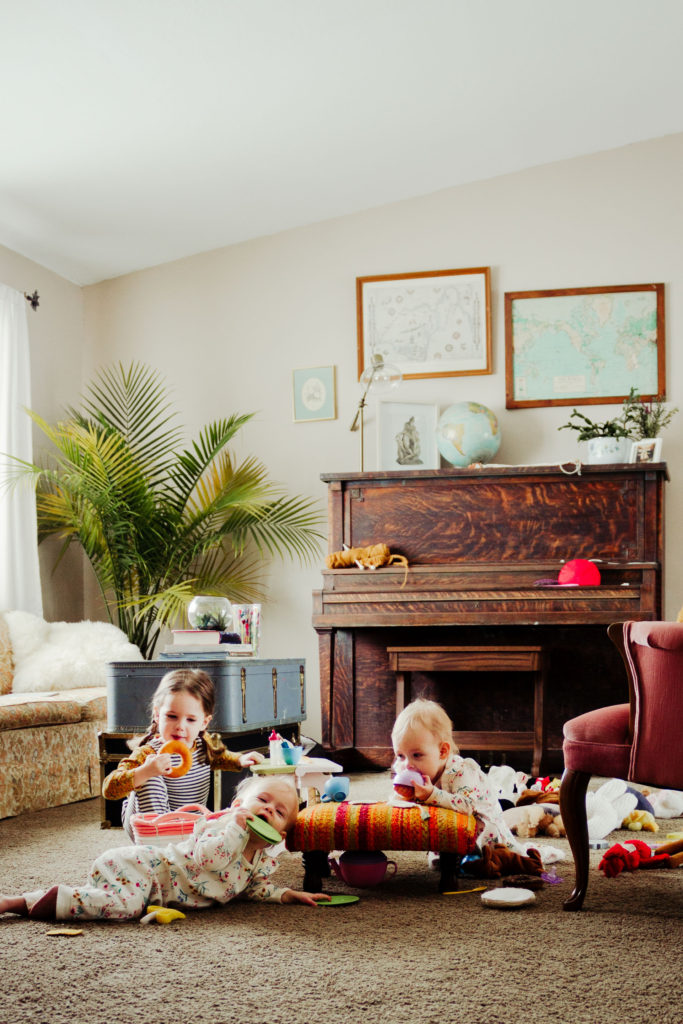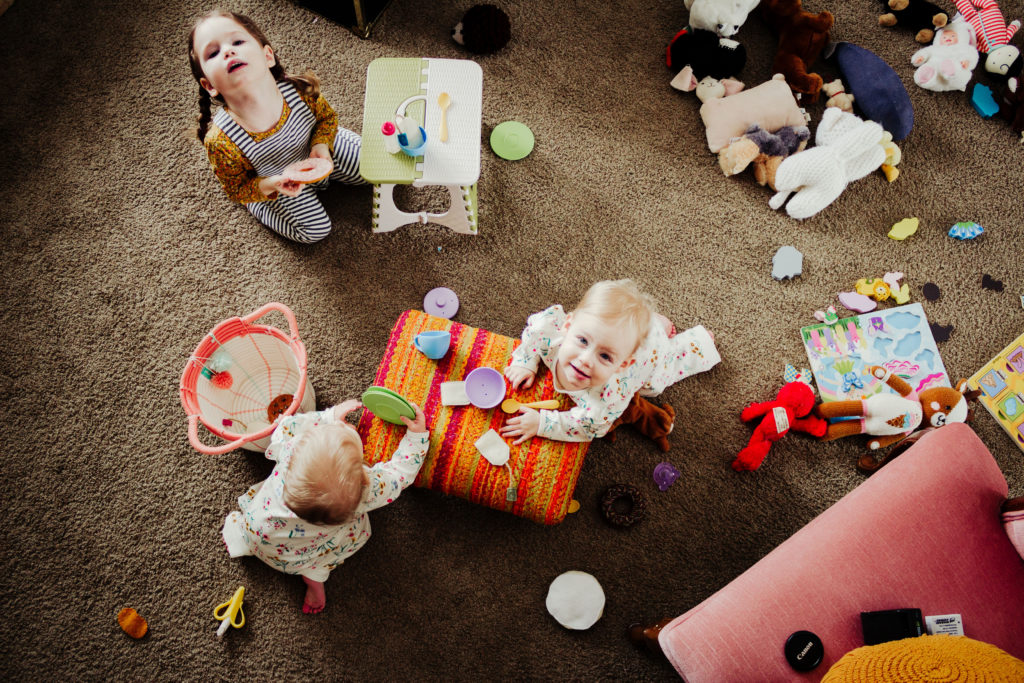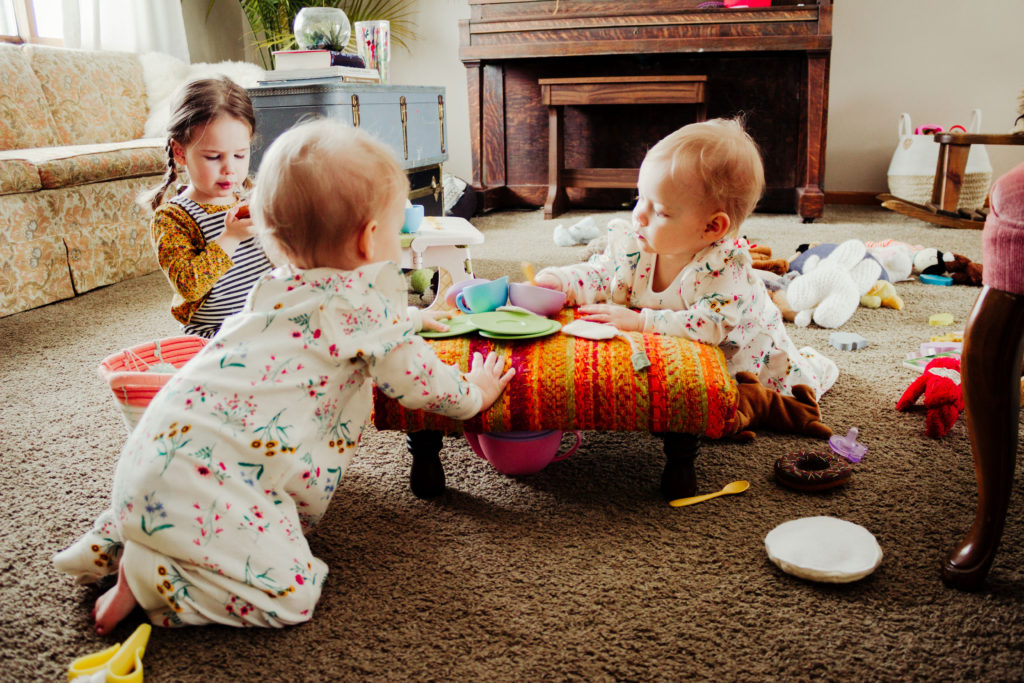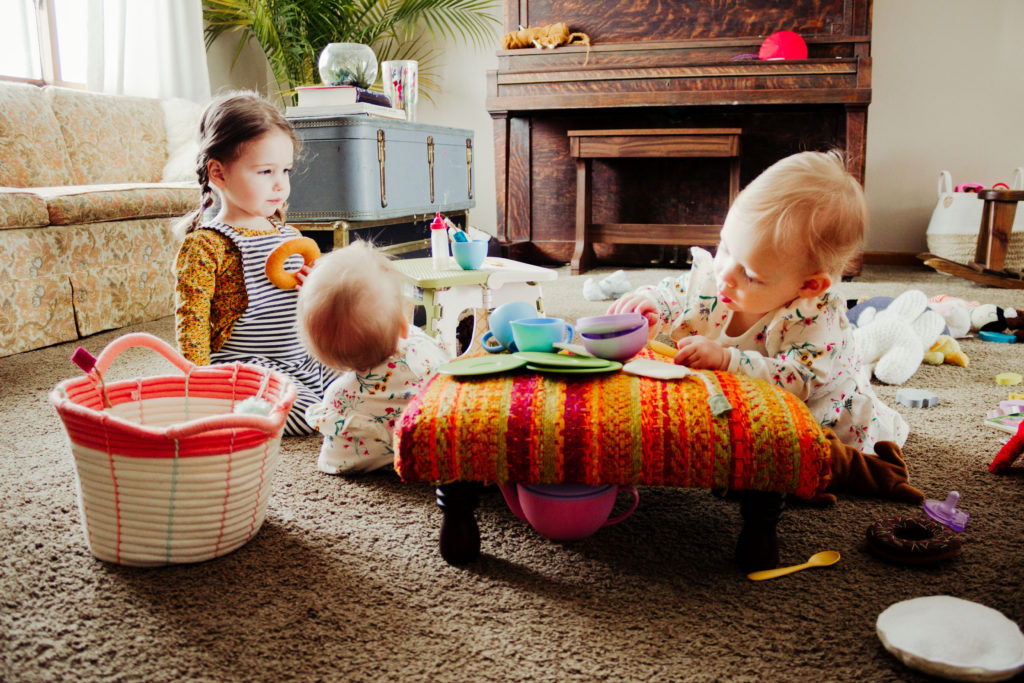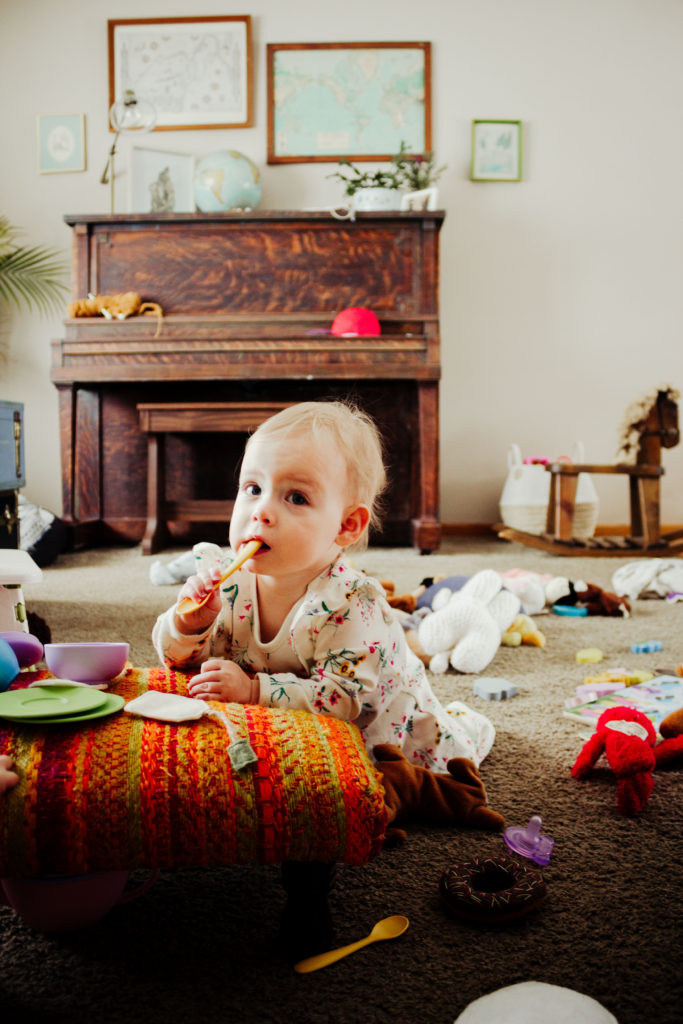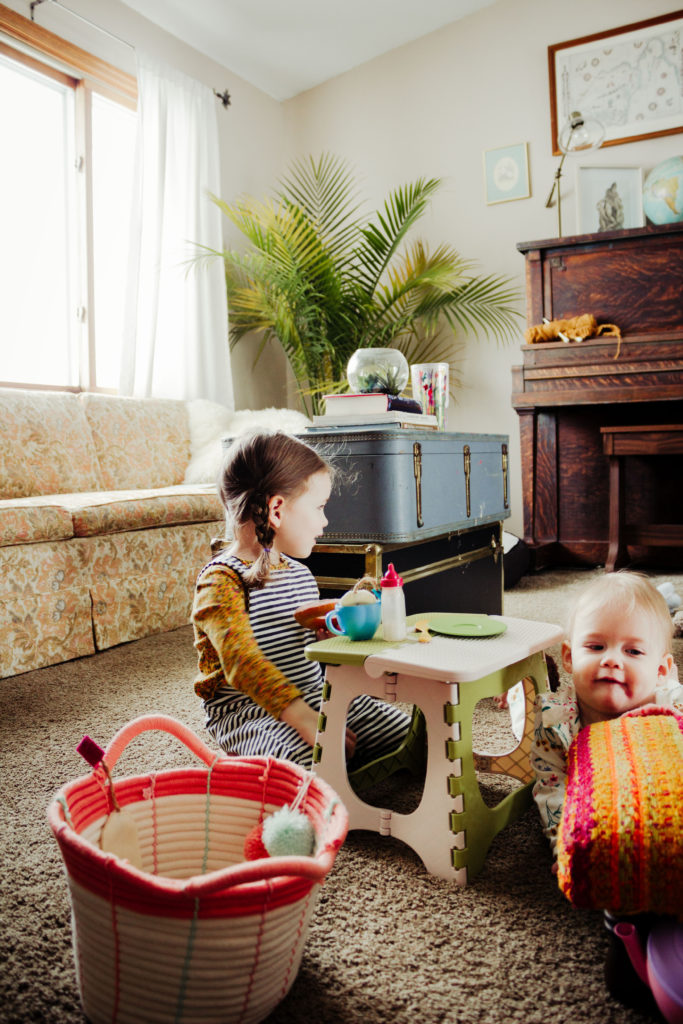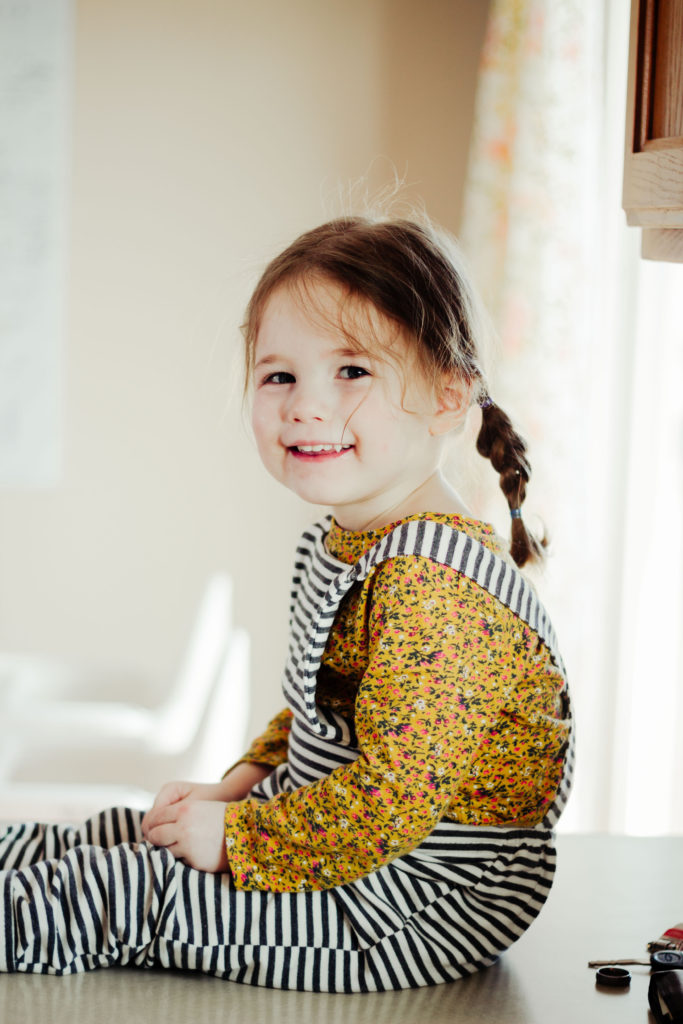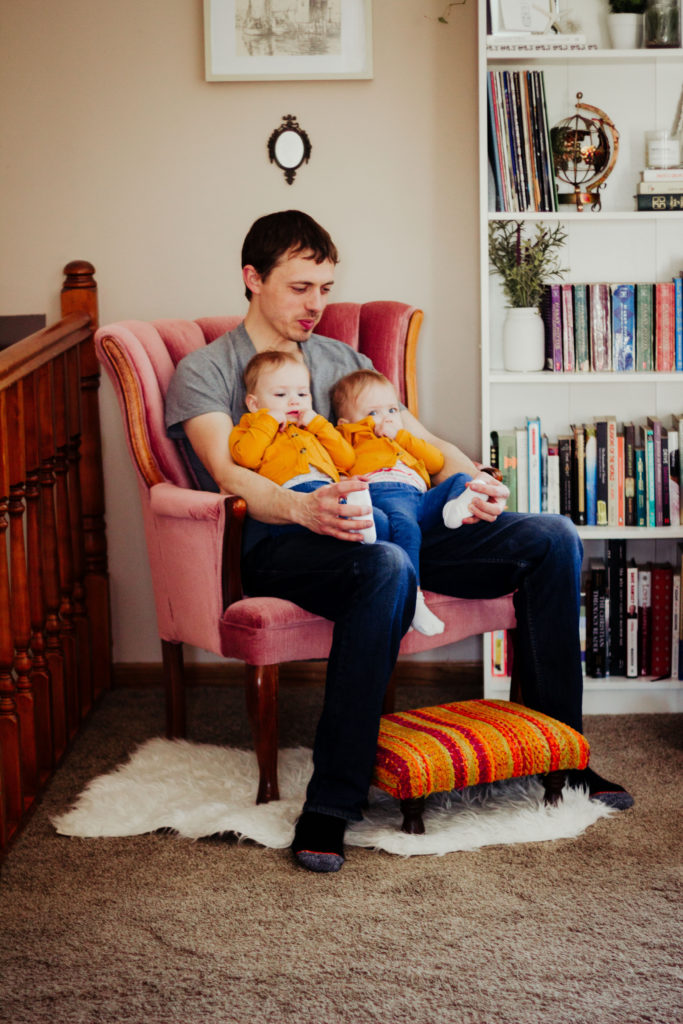 Until next time,