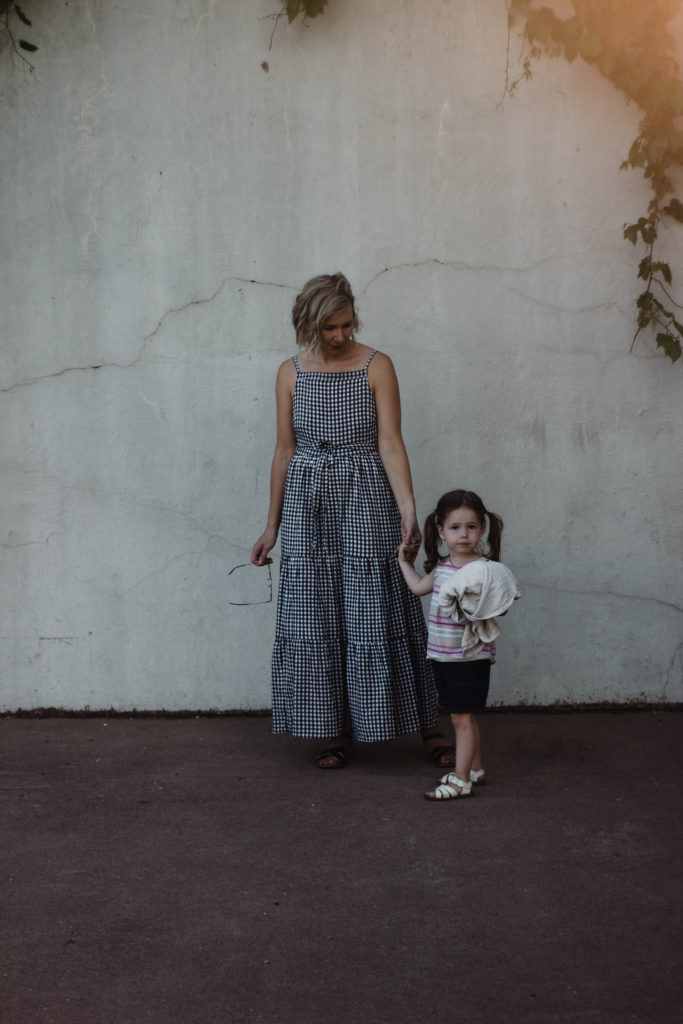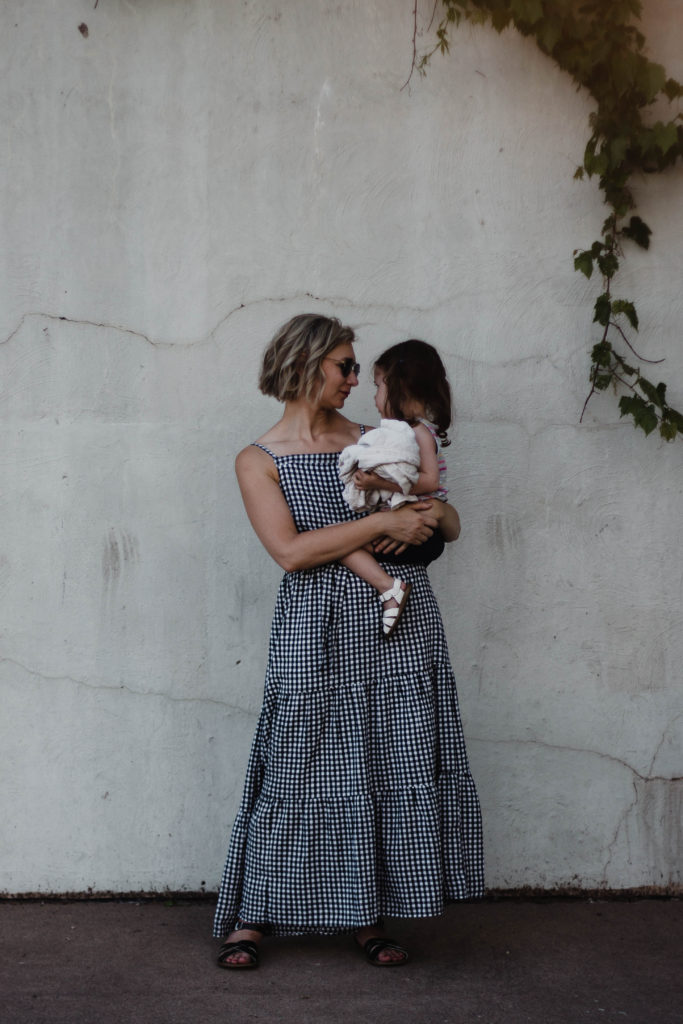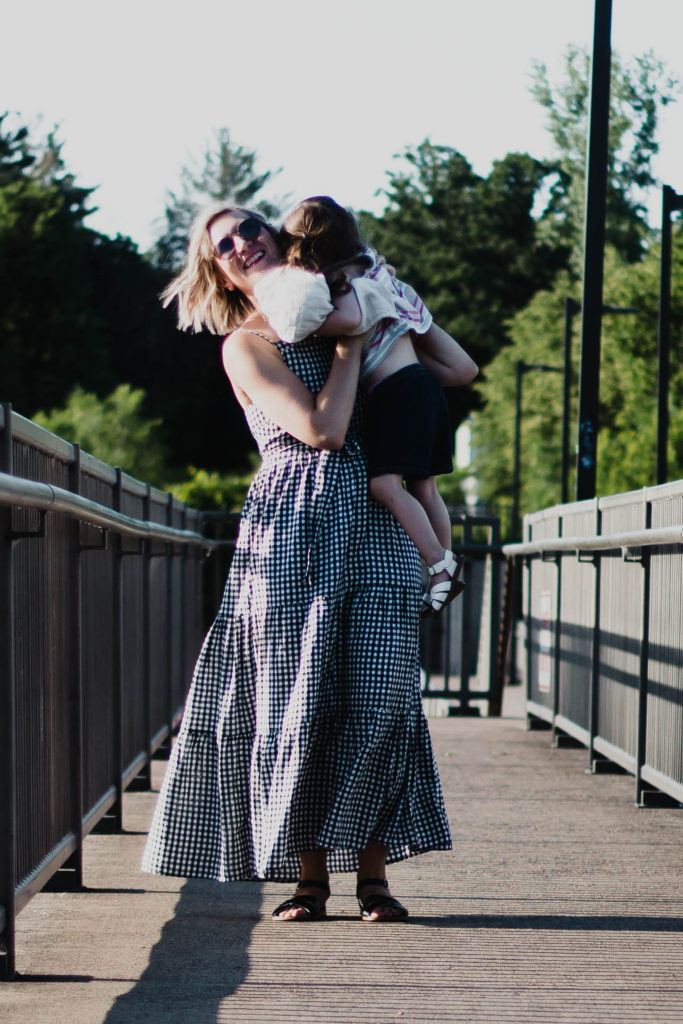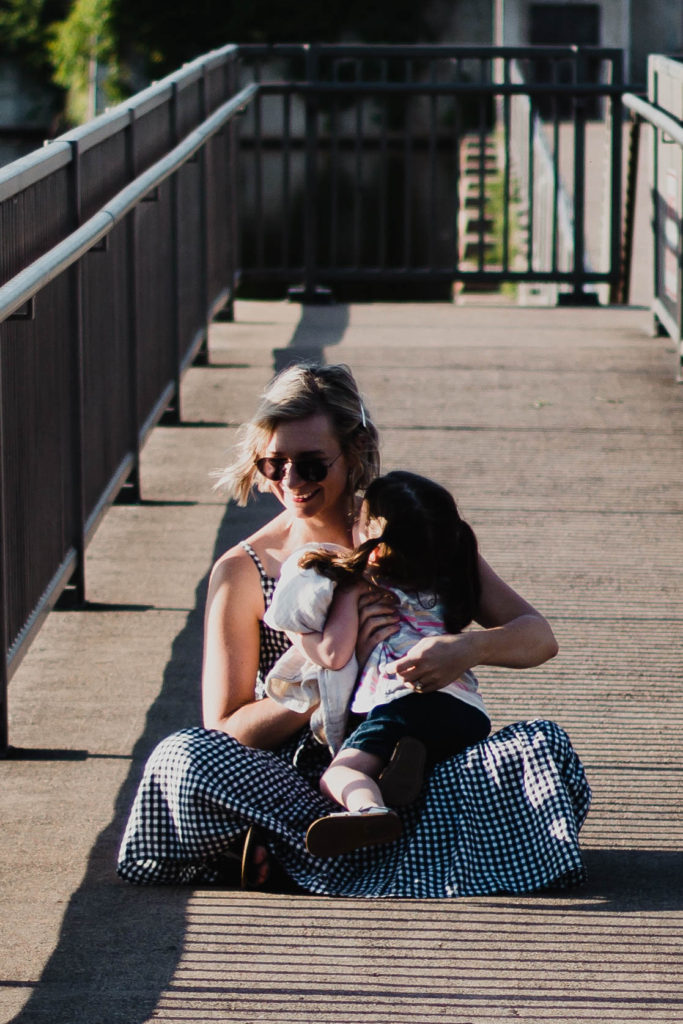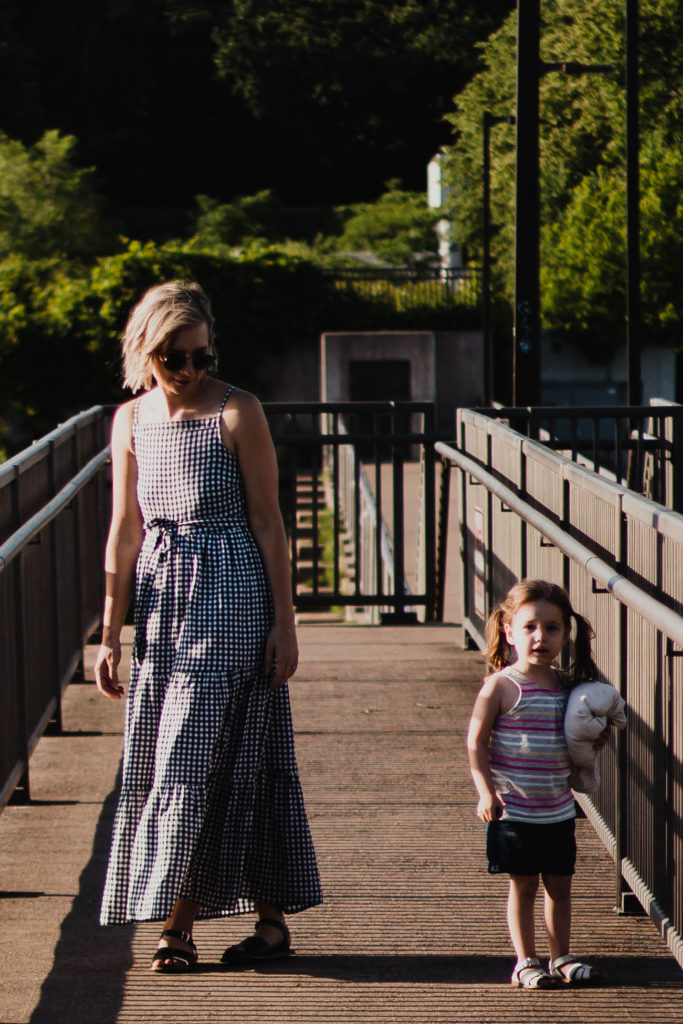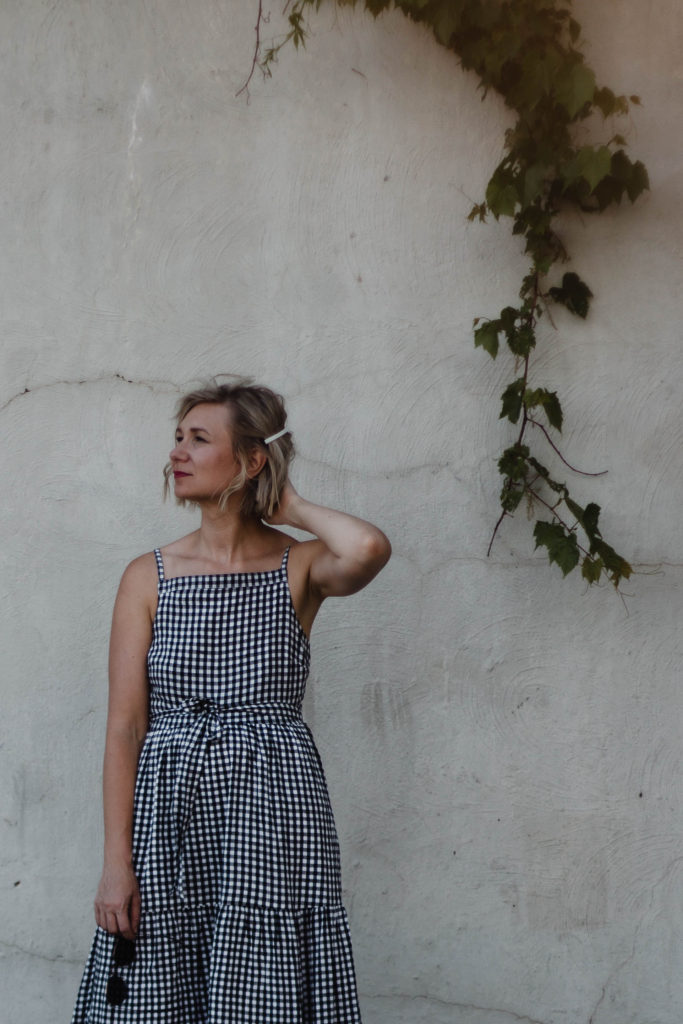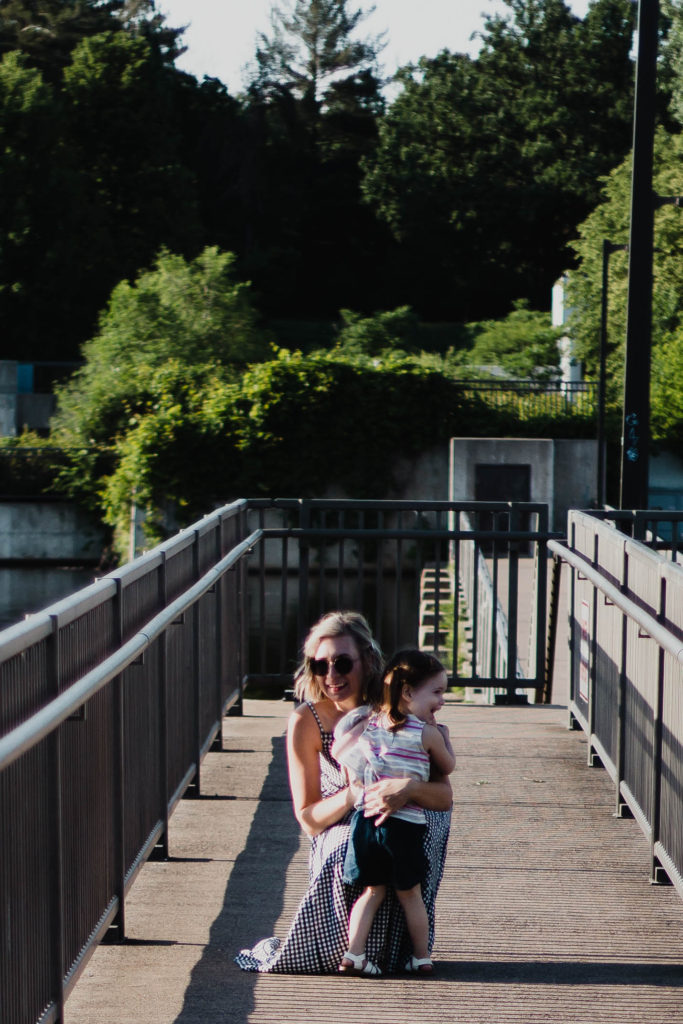 These photos were taken about a month ago, but the first thing I notice when looking at them is how much we've grown since then…
me in hair length, and Kit in stature.
Time is a funny thing isn't it? It's slow and it's fast all at the same time, which makes it a complicated thing indeed.
And that's how this week has been: slow and fast.
I always expect my body to need at least a week to recuperate from a trip as long as our Florida trip (10 days!), and this week has been no expectation.
Both Kit and I came down with travel colds, so we've done very little this week and yet there has been much to do. Much laundry, much grocery shopping, and the pears! Our pear tree came to peak ripeness while we were gone so we're scrambling to get as many pears picked as possible.
And we're off again this weekend! David's side of the family has a family reunion (so fun!), and his parents are going to watch the girls so we can get away for a few hours for our anniversary (bliss!).
So the fact that the summer 10×10 style challenge falls this week is a happy coincidence! I'm in need of some simplicity in my life, and I can't think of a better area than in my clothing.
I've written about the 10×10 challenge before , but a quick run down:
Choose 10 pieces of clothing (accessories and workout/lounge wear clothes don't count, but shoes do) and wear them for 10 days. Pretty simple yes?
You can be creative as you want with it. Some people choose pieces of clothing that they'd like to give new life to, some people choose clothing that's comfortable and familiar, and still some people see it as a way to create new combos with old pieces.
It's really up to you.
Me? I like to keep it simple. I see it as an excuse to not think about clothing for ten days, which is always such a welcome relief! I love clothing, but taking a break from thinking about it is healthy and good.
I'm curious to hear what other people's motivations for doing a 10×10 are… if you're doing the challenge, let me know in the comments!
Here are my picks: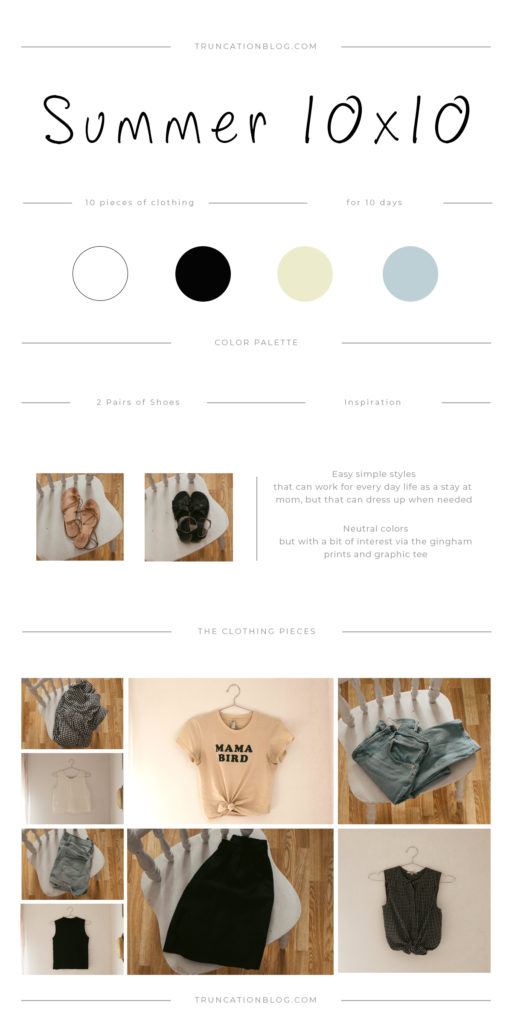 2 pairs of shoes:
:: Black super comfy sandals for walkin'
:: Nude, not as comfy, but go with anything sandals that I adore
1 dress:
:: the ultimate in femininity. I feel like I float every time I wear it.
(unfortunately sold out. Affordable alternative here. As similar as I could find here. Small maker option here)
3 bottoms:
:: 1 pair of denim shorts in the perfect wash
:: 1 pair of vintage black linen shorts to keep me cool
(pretty similar pair here)
:: 1 pair of sublime high waisted jeans that fit like a dream
4 tops:
:: 1 linen tank (from the sweetest maker) in a creamy white
(she's bringing it back soon! Until then, here's a similar option)
:: 1 perfectly broken in graphic tee
:: 1 gingham tank that just keeps on keepin' (about 6 years old! but a similar option here)
:: 1 mock neck tank for the slightly chili days
I'll be doing a follow up post after the challenge is done to let you know how it went, but in the meantime I'll be posting my daily outfits on Instagram so make sure to follow along!
Until next time,
Karin