I shared on Friday that it was Ella and Rosie's birthdays on Saturday!
We had just a small little gathering with David's parents… the biggest event was the cake tasting for the first time. True to form Rosie was much more tentative and took little bites from her cupcake whereas Ella grabbed her entire cupcake and basically shoved it into her mouth. Either way, both girls enjoyed their treat!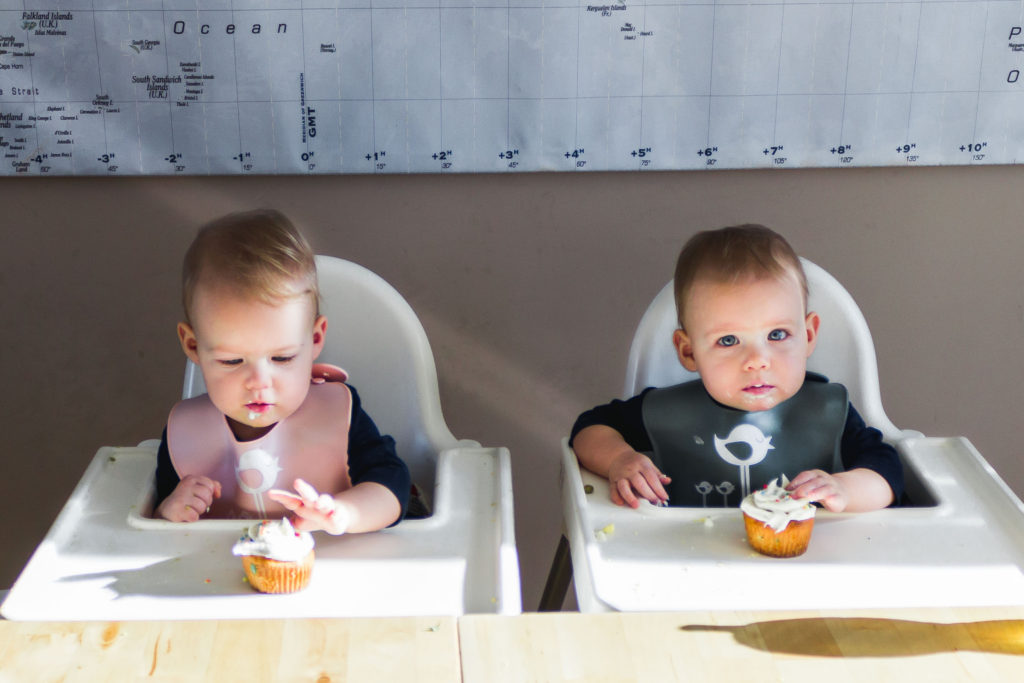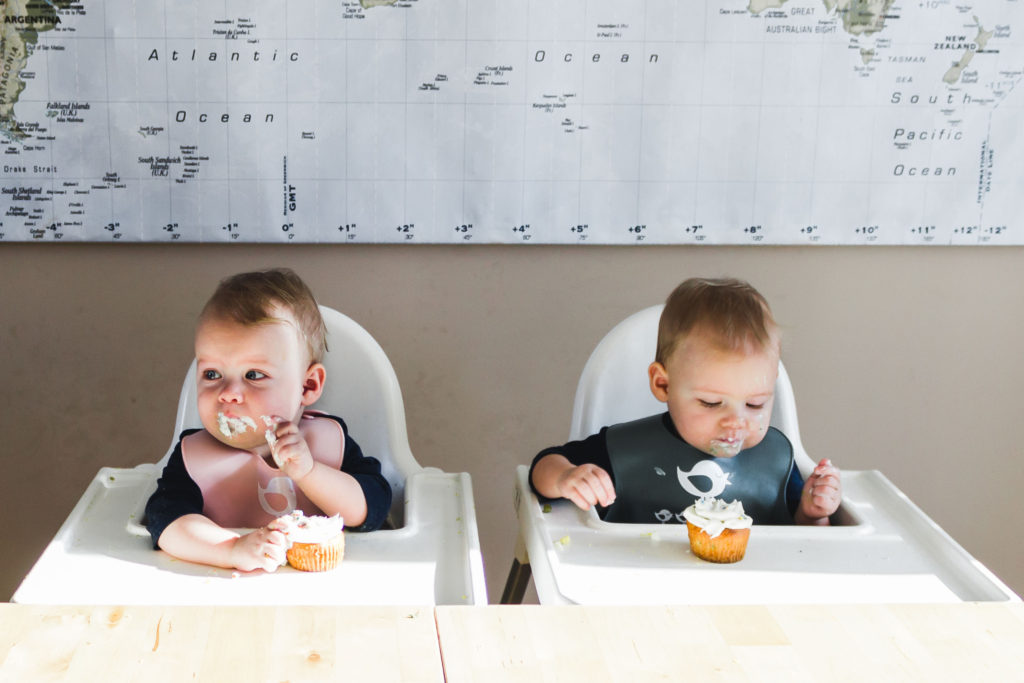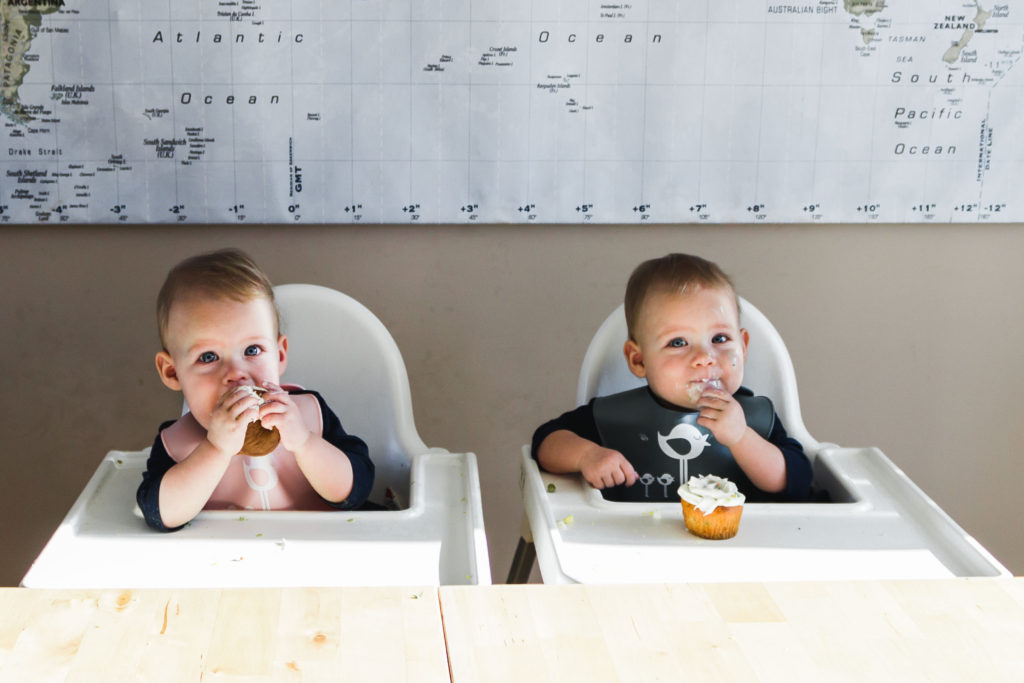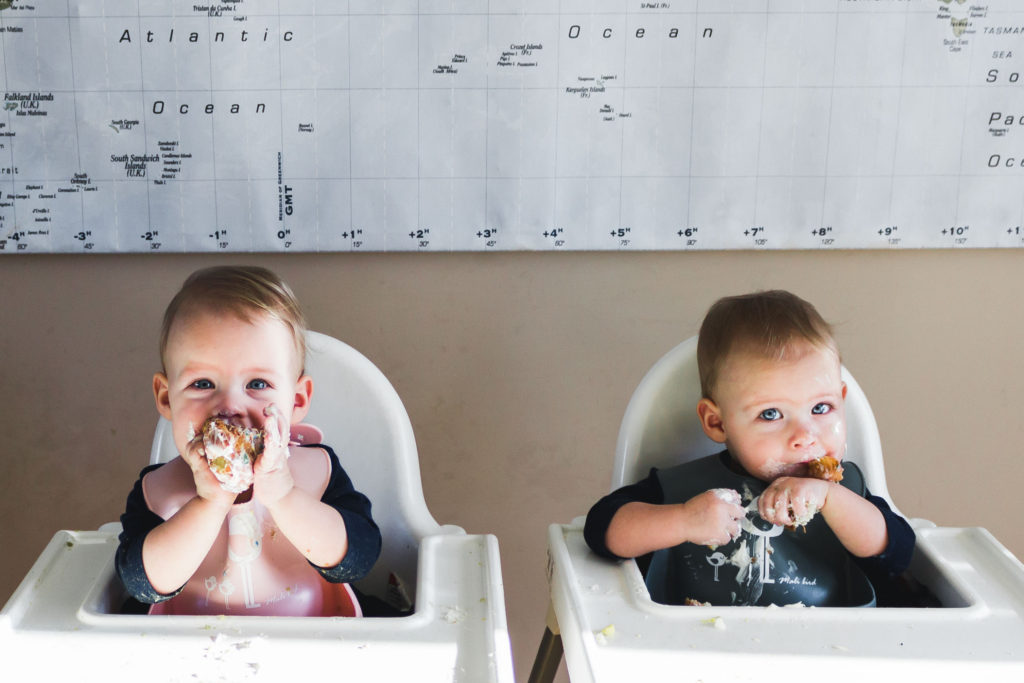 I still can't believe they are one… and that we survived the first year. Everyone who has twins kept saying "just get through the first year" and now that we have I get it.
I've actually known for awhile now that I wanted to write this post when they turned one.
Because even though I know a lot of people who have twins, none of them live close to me so I didn't have anyone (who really gets it) to take me out to coffee, or in other words, to send me a face to face lifeline.
Now I realize that we're not sitting down for a coffee right now. I wish we were. But I'm going to write this as if we were.
So, my friend who is expecting twins, this is for you. I know you're feeling the weird mix of joy, disbelief, and straight up terror right now. I felt it… I understand.
Having twins is one of the greatest blessings I can imagine, and it's also incredibly hard.
When I found out I was pregnant with Ella and Rosie, I had a bunch of twin mama's warn me they would be hard. I thought I understood what they were saying when they told me that. I thought they were warning me about sleepless nights and endless crying, about having my hands full, and never getting any alone time.
And they were… because the first year has brought all of those things more times than I can count.
But what I didn't understand was that having twins is not just a physically challenging thing. It's a heart wrenching thing. It's the hardest thing I've gone through emotionally.
And I know how that sounds. I know it sounds ungrateful, I know it sounds dramatic, and I know it sounds dishonest. But I'm risking you feeling those things about me because I wish someone would have sat me down and made me understand this before I had them. I wish I would have been warned so that when it happened it didn't make me feel like such a failure as a mother.
I can't really explain why it's so hard. Because my heart grew to include both of them. But at the same time, my heart was divided. I couldn't spend time with one of them without feeling guilty about not being with the other. If I was cuddling one I felt afraid that the other needed me at that moment as well. And when both of them were crying at the same time, how was I supposed to make that decision?
I remember one particularly low moment. I was sitting in church and I saw a new mama cuddling her newborn baby. She held her the entire service and I kept trying to look away, but eventually I broke down and started sobbing. I was jealous. Jealous that she could give her full attention to what her heart longed for. Because my heart longed for both babies, and yet I couldn't give my full attention to either of them.
And I realize that this is true for parents of children of various ages as well… to a point. But there is a big difference between being able to give all of your newborn attention to a newborn versus having two newborns with the exact same needs at the exact same moment.
And I know that you'll feel misunderstood by parents of singles. I know that you'll feel isolated because the only people who can truly understand are other parents of multiples. I know what it is to tell people who care, people who are 100% on your side, that it is hard and to feel frustrated when they don't fully understand. It's not their fault… remember that.
Prepare yourself for this. Prepare yourself for the pain. Expect to struggle with this. And when you do, don't feel like a failure. I know you will anyway, but try to be strong.
But don't lose hope, my friend.
In the middle of all of this. In the middle of feeling hurt, and stripped, and broken you will catch glimpses of the breathtakingly beautiful thing you have been given.
You get to experience the absolutely magical bond of twins. The tiny hand reaching over to hold her sister's hand just moments after birth. The moment they lock eyes with each other for the first time and just stare in wonder, and then later the first time they make each other laugh.
You'll get to experience them cuddling while they sleep and stealing food off of each other's high chair. You'll get to hold two babies at the same time and feel like Wonder Woman. You'll have two belly laughs to listen to and twin language? Yeah it's a real thing.
Yes, twins are hard. They make you question everything that you are. They'll make you wonder if you are enough… if you have what it takes. They'll make you question everything that you've ever known.
But, my friend, please don't despair. Because they will give you so much more. They will give you a strength you never knew you had. They will give you a new vision of motherhood. They will teach you what matters, how to listen to your instincts, how to truly be happy with "your best."
And you'll come out of that first year better than you were… maybe more subdued, maybe with less pride… but better.
You will survive. Don't be afraid… you can do this. You were made to do this.
And one last thing before I go: let other people help you. Don't be an island… now is not the time for pride. If someone asks what they can do, tell them. And if you have a partner, lean on each other. It's so easy in all of the stress and busyness to lose sight of the fact that you're a team. Be there for each other and give each other grace. Even the best of us fail when we're at our weakest.
Happy birthday sweet Ella and Rosie! You've made me a better person and I am so thankful for you.
(More on the twins: their birth story and their NICU story)
Until next time,