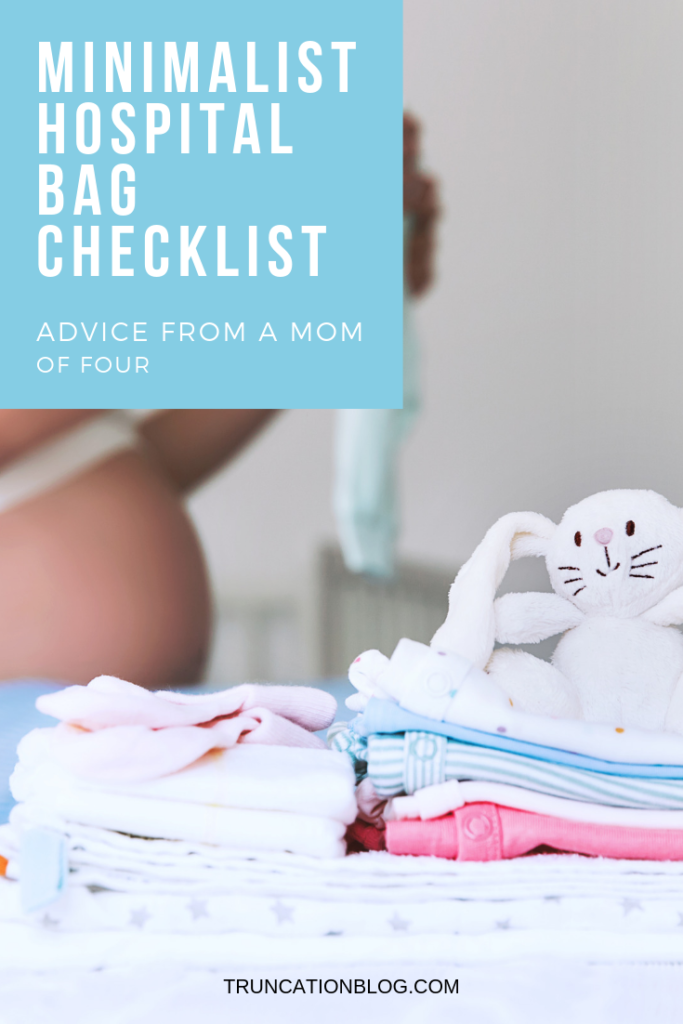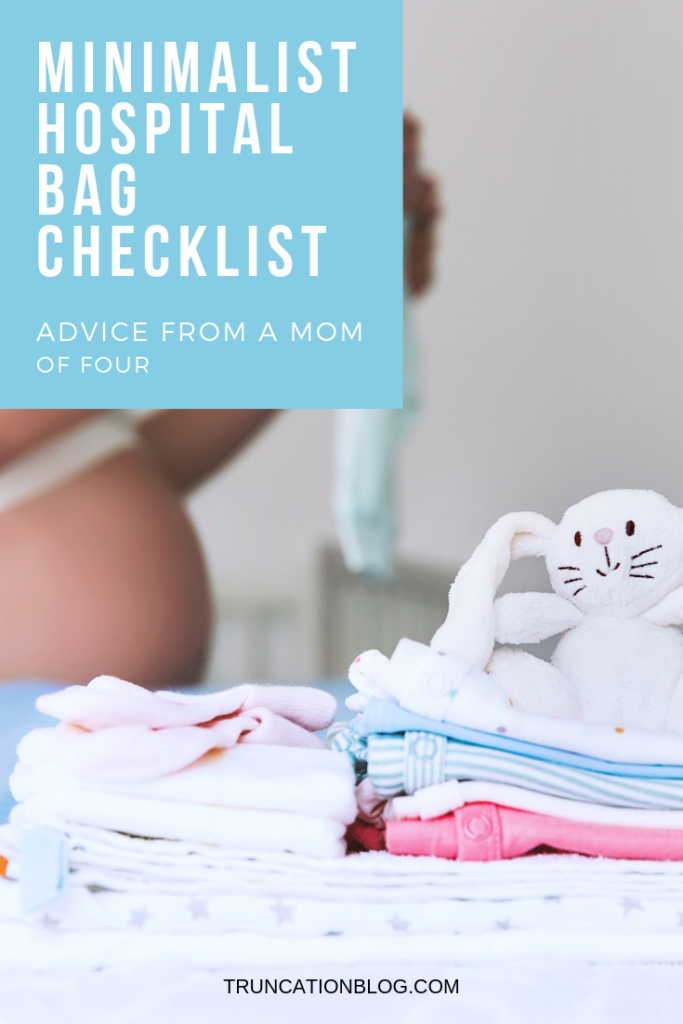 Listen. Not to toot my own horn or anything, but when it comes to hospital bag packing I'm kind of a pro (toot!).
I've just finished packing my third bag, and I've gotten to a point where I've really figured out what's necessary, and what's not.
I will admit, I've never been an over packer and I'm a fan of keeping things minimal and simple, but I've also just figured out over the last couple of pregnancies what really gets used and what doesn't.
Why bring 20 things you don't need when you can bring 10 things you do need right?
There are a lot of these kinds of posts/videos floating around the webosphere, but I'm here to tell you that you don't need all of the things. You really don't. I mean, of course it all depends on personality, but hospitals provide a lot of stuff and I don't feel like bringing my own versions of those things is necessary. Are their towels not as soft as mine here at home? Sure. But can I live with slightly rougher towels for 2 days? Yes.
Hospitals provide swaddles, pacifiers, diapers/wipes… lots of things. So my advice is to leave those things at home and focus on stuff they don't provide (side note: check with your hospital about whether they provide daily medications or not. I have to take several allergy medications on a daily basis and I loaded up my toiletry bag with them on my first delivery only to find out the hospital requires all medication taken to come from their internal stock).
So. With all of that said, here are my "seasoned" recommendations (i.e. my minimalist hospital bag checklist):
My Bag (the bag I'm brining is super old and I have no idea where I got it from. If I had to purchase one today this is the one I'd get):
A Robe. This to me is a must. After birth you probably won't want to get dressed, but if you have visitors you can throw it on and look somewhat presentable. Plus it will keep you warm and make breastfeeding easy.
Going home outfit. My advice? Save the cute stuff for later and go with something comfy and stretchy. First, you'll still look very pregnant when you leave the hospital so don't expect to leave in your pre pregnancy skinny jeans. Second, you may end up needing a c-section so you'll want something loose for the healing incision area. I'm bringing a pair of Jogger Sweat Pants + Comfy tennis shoes (because your feet swell. a lot.) + a Tee + a Sweatshirt. The weather can be all over the place when I'm due so I do have to pack a warmer layer just in case.
1 nursing bras. This is mostly for my going home outfit. I tend to just live in the nursing tank tops when I'm actually in the hospital.
1 sleeping nursing bras. I like to have this as an option for labor. I used it with my first because my labor was so dang long, but not with the twins… they came fast and furious.
3 nursing tank tops. Like I said above, I pretty much just wear one of these with the robe thrown over top the whole time I'm in post natal care.
Reusable Breastfeeding Pads. These aren't necessarily something I'll use because your milk doesn't typically come in while you are at the hospital, but they are nice to have just in case. The hospital does provide nursing pads, but my skin is sensitive to the material of the single use pads so I'm bringing my own.
Nipple Butter. Again, the hospital does provide this, but in my opinion nothing compares to the Earth Mama nipple butter (I'm a long time fan!) so I'm bringing my own jar.
1 pair of leggings. As a backup option for my going home outfit, or perhaps to throw on during the day.
1 pair of lightweight legging style sweatpants + 1 pair loose fit sweatpants. Here's my thoughts on what to wear on "bottom." You'll have a lot coming out of you. Trust me. You might think that loose fitting bottoms will be the comfiest, but in actuality it's nice to have something that's soft, stretchy, and comfy, but that sits close to where things are coming out so you don't feel so… "exposed." The birthing process really is glorious I promise.
4 pair of socks. I like these merino camp socks because they keep my feet warm enough that I don't feel like I need a pair of slippers, but they also repel "things" (i.e. they are a lot easier to keep clean).
Adult Diapers. A must. Trust me. The pads the hospital provides are O.K., but these are such a lifesaver. They are so much more comfy than the mesh underwear the hospital provides and the chance of leaking is drastically decreased.
Shower cap. I usually like to take a shower after labor, but don't want to wash my hair (way too much work right?) so it's nice to have this along. If you think you'll want to wash your hair this is something you can totally skip.
Wet Bag. Like I said above, things get messy during the birthing process and it's nice to have an actual bag made to conceal and contain messy things until you can get home and give them a thorough washing.
Ipad/Iphone/Charger. Don't forget these! You WILL be sorry.
Camera/Charger. This is one area we are not going to be minimalists, but that's because I didn't bring my nice camera for the first two births and I really wish I would have… and after debating with myself for several long, agonizing days I have decided to bring our big dslr AND our "vlogging" camera (I don't vlog, but that's apparently what these types of cameras are called). Usually if there is an extra nurse in the room they will offer to take pictures, but our DSLR is too complex for the average non photographer person. I figure we can hand off the vlogging camera in that situation, but afterwards when we're just chillin' at the hospital it will be nice to pull out the DSLR and take some nice photos.
Toiletry Bag: Random Skincare samples, perineal spray, Dry Shampoo, Glasses Case/Microfiber Wipe, Scrunchies, Makeup Remover Wipes, Manicure Kit, Hairbrush, Chapstick, Hydrating Face Spray, Basic Makeup, Toothbrush/paste, Deodorant. This category is totally a matter of preference. I like to keep things pretty basic, especially with hair tools, towels, etc. BUT I do like to pack a few makeup items. I've just found I enjoy the ritual of putting on makeup the days right after birth. Everyone is different, but my advice is: if you're the type of person to do a full beauty routine every single day then I'd pack some makeup or hair tools. If you're the type of person who goes bare faced almost always, don't bother.
Baby Bag (i.e. this backpack):
1 outfit in preemie, newborn, and 0-3 month sizes. I learned with my first that packing an outfit in three different sizes is a good idea. She came out tiny and didn't fit in any of the newborn clothes I had. I knew my twins were going to be small so that was a no brainer, but with this guy I have no idea how big he'll be so I'm packing options.
2 different hat options: one lightweight & one heavier knit. Again, the weather is unpredictable this time of year so I want to make sure I have something warm enough just in case.
swaddle blanket. This is not for use at the hospital, but rather to cuddle him in if it's cold on the way home (remember the hospital provides swaddles while you're there!)
carseat cover in case its cold, rainy, or windy on the way home from the hospital
Reusable shopper bag to collect all the samples they give us. I didn't do this with my first two deliveries and I wish I would have! They send you home with a lot of stuff, and it's nice to bring a reusable bag so you don't have to use one of their plastic ones.
David's bag
snacks. He likes to have snacks for the delivery, but I throw in some for myself for the days afterwards. My hospital does provide a fridge full of snacks for all of the moms in recovery, but I'm dairy free so I have to bring my own
phone/charger. Again, don't forget!
ear buds. I actually don't bring any ear buds/headphones because I get overwhelmed by sound really easily. The idea of trying to push through contractions while listening to music is super stressful to me… I know how odd that is, but it is what it is. However, if I want to try and rest during labor (I'm an epidural fan y'all), it's nice that David can still stay entertained without bothering me.
Toiletry bag (deodorant, bar of soap, toothbrush/paste, hand lotion). He's a basic kind of guy!
a pen/a list of who to contact post birth. We always bring a pen because we always find ourselves wanting to write things down and the nurses don't always remember to provide pens. With our first we actually had a handwritten note of who to text after she was born, but now I just create a handy little group in my iphone ahead of time.
3 pair of underwear
3 pair of socks
And that's it! We're able to fit everything into three small bags which makes it way easier to transfer from the delivery room to recover room. Honestly, I just can't be bothered with a ton of stuff while I'm there and this amount has really worked for me.
Am I forgetting anything? What are your must haves?
And to make it easy for you, I created the gallery below so you can see everything at a glance.