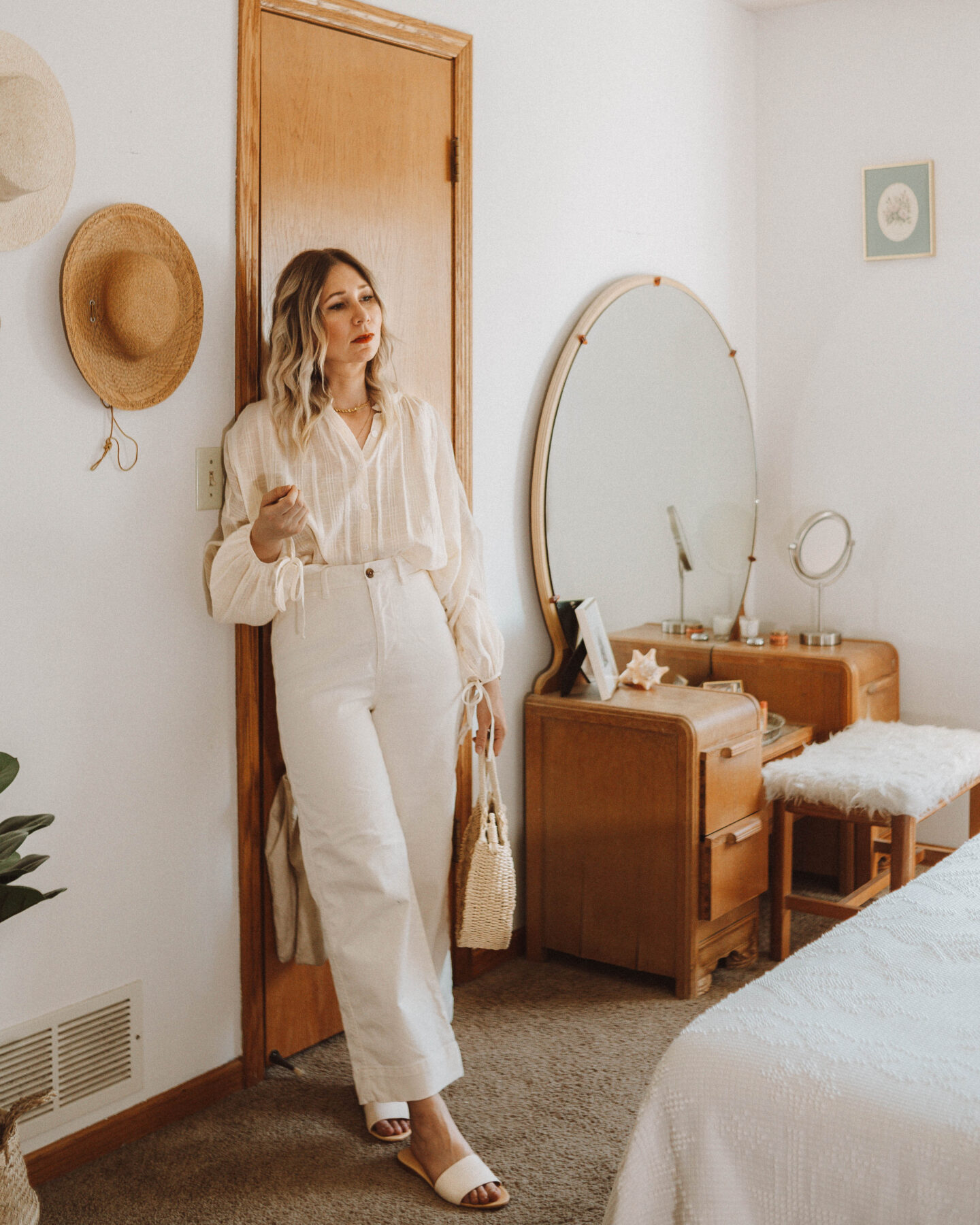 I shared on Instagram earlier this week that I had decided to style my favorite pairs of wide leg pants for the entire week to (hopefully) give you some styling inspiration.
Well. Mission Accomplished.
Or at least on my end, you'll have to decide if you were properly inspired after looking through the rest of this blog post.
(Feel free to skip this next section, and scroll to the images if you're just here for the outfits. But maybe you should keep reading. I don't know).
BUT.
Before we do that, I wanted to give you a little quick round up of some Memorial Day Sales that are happening with some of my partners.
BUT BUT.
Before we do any of that, I wanted to address the fact that my blog has now migrated over to a new website, and has a new name!
That's right. In case you didn't notice, my blog is now called Karin Emily (which is my name in case you were wondering). I've been wanting to make the switch for awhile because I felt like I had outgrown the name Truncation.
I will always think fondly on my time as Truncation Blog, but the name was born out of a desire to create a blog centered around capsule wardrobes. In other words, I chose the name to reflect my process of minimizing my wardrobe, and while that process will always be something I'm striving towards, I have felt for a few years now that my closet is in a fairly good place (always room for improvement though!).
I feel as if I've struck a good balance of new in, but also having a small enough wardrobe that I get lots of use out of what I already have and so the process hasn't felt relevant for awhile.
I wanted to rename my blog to better encompass the content I've come to enjoy sharing, and honestly it's a bit of a lot of things that interest me. So naming my blog after myself (that sounds v. self absorbed, I'm aware… but not sure how else to put it? Suggestions welcome if you're bored) seemed like the right thing to do.
Everything is in the process of getting switched over, and there may be a lag in the system so if you click on an old blog post, and you get an error that's probably why. Just type in karinemily.com and you'll get to the place you're trying to go. Any kinks should be ironed out in about a week.
OKAY. Enough about that!
Here are some of the sales I want to briefly mention to you (links are affiliate links):
Nisolo: up to 40% off all sale items with code LETSBEREAL with an EXTRA 20% off sale items with the code JUSTFORNOW (ends 5/31). You heard me right friends! That's up to 60% off select items. Shop sale here >>
ABLE: 25% off sale items with code SAVE25. Shop sale here >>
Outdoor Voices: Up to 50% off select sale items. Shop sale here >>
Naadm: 25% off through the weekend. Use code SUNNY25. Shop sale here >>
Dermstore: Up to 20% off sale with code SUMMER. shop sale here >>
VETTA: 20% off sitewide with code EVERYTHING20. shop sale here >>
I have my favorite pieces from the sales rounded up below in case you want some recommendations:

---
Okay then! Longest intro ever… I know.
Let's get into the meat of the post shall we? Like I said above, I thought it would be fun to do some styling with wide leg pants because, well, it's one of my favorite silhouettes to wear.
I always just feel as if they make a bit of a statement, while also simultaneously being very easy to wear.
Plus the silhouette looks great on just about everyone.
There is a bit of a trick to styling them as proportions really are important, but that's where this post comes in. 😉
I'm going to show you six ways that I like to style wide leg pants, with some fit notes on the exact pants I chose.
Let's hop to it!
|| Look 1: tucked in tee ||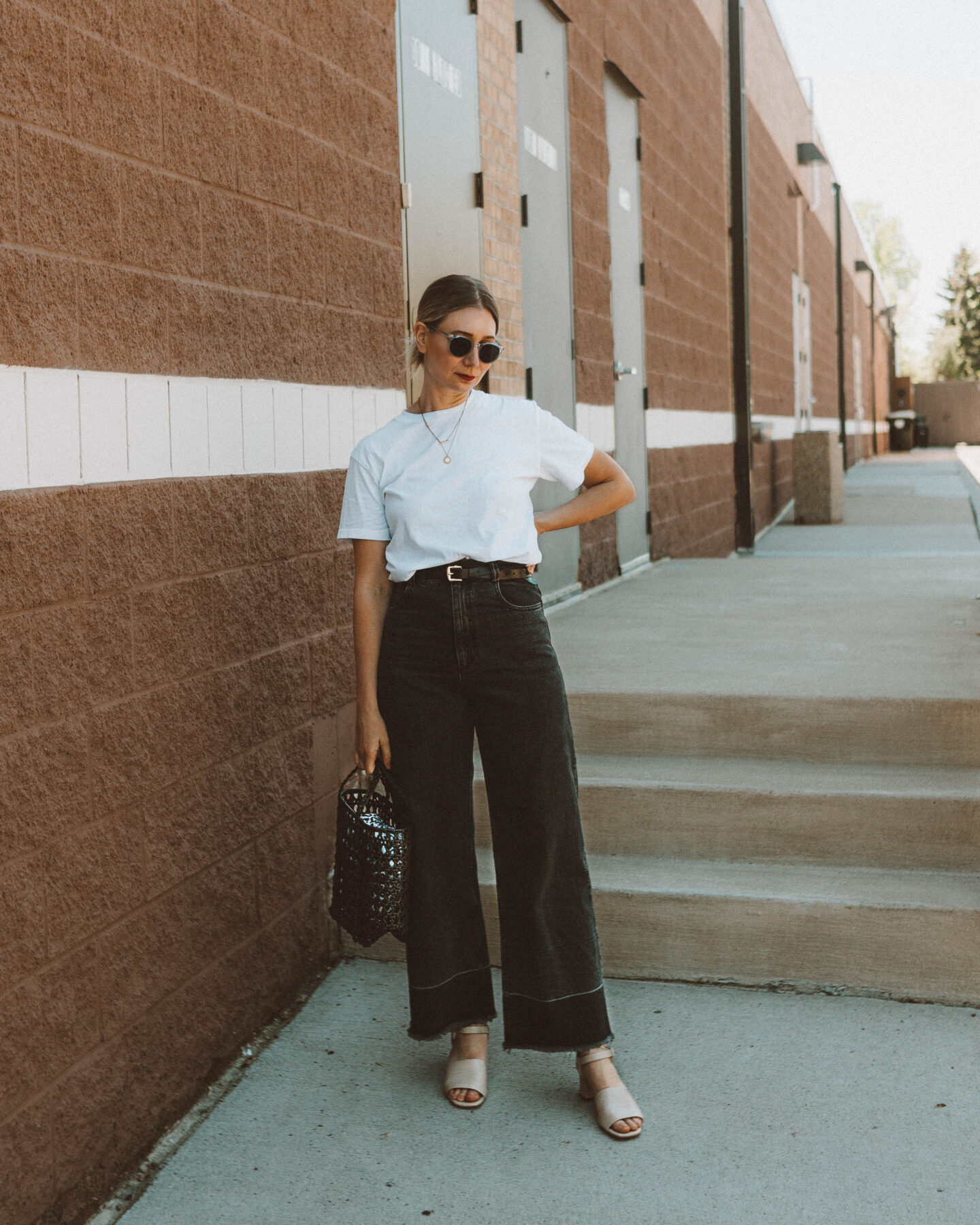 ---
Outfit Details (Affiliate Links):

Old Weekday Tee | Secondhand Rachel Comey Jeans via the Real Real (More affordable Option Here) | Everlane Sandals (Gifted. 30% off) | Red Cherry Blvd Bar Necklace & Roman Pendant Necklace | Bembien Bag |
Okay so these Rachel Comey jeans are an investment I am aware. I was very happy to find my pair on the Real Real (my favorite luxury consignment site) for a very good deal, but just in case you are considering the investment let me give you my thoughts: I have to admit… I adore them. They are SOOO high rise, but I love that look. They are very slim through the hips so keep that in mind, but they are surprisingly comfortable for being so high and slim. They feel very soft for being 100% cotton, and they are cut well so they don't dig in when you sit down or move in them. They do run small so order a full size up (maybe even two sizes if you're very curvy). I'm 5'5″ and they hit me right at the bottom of my ankle so I do prefer them with a bit of a heel, but that's just preference of course.
---
|| Look 2: with a crop top ||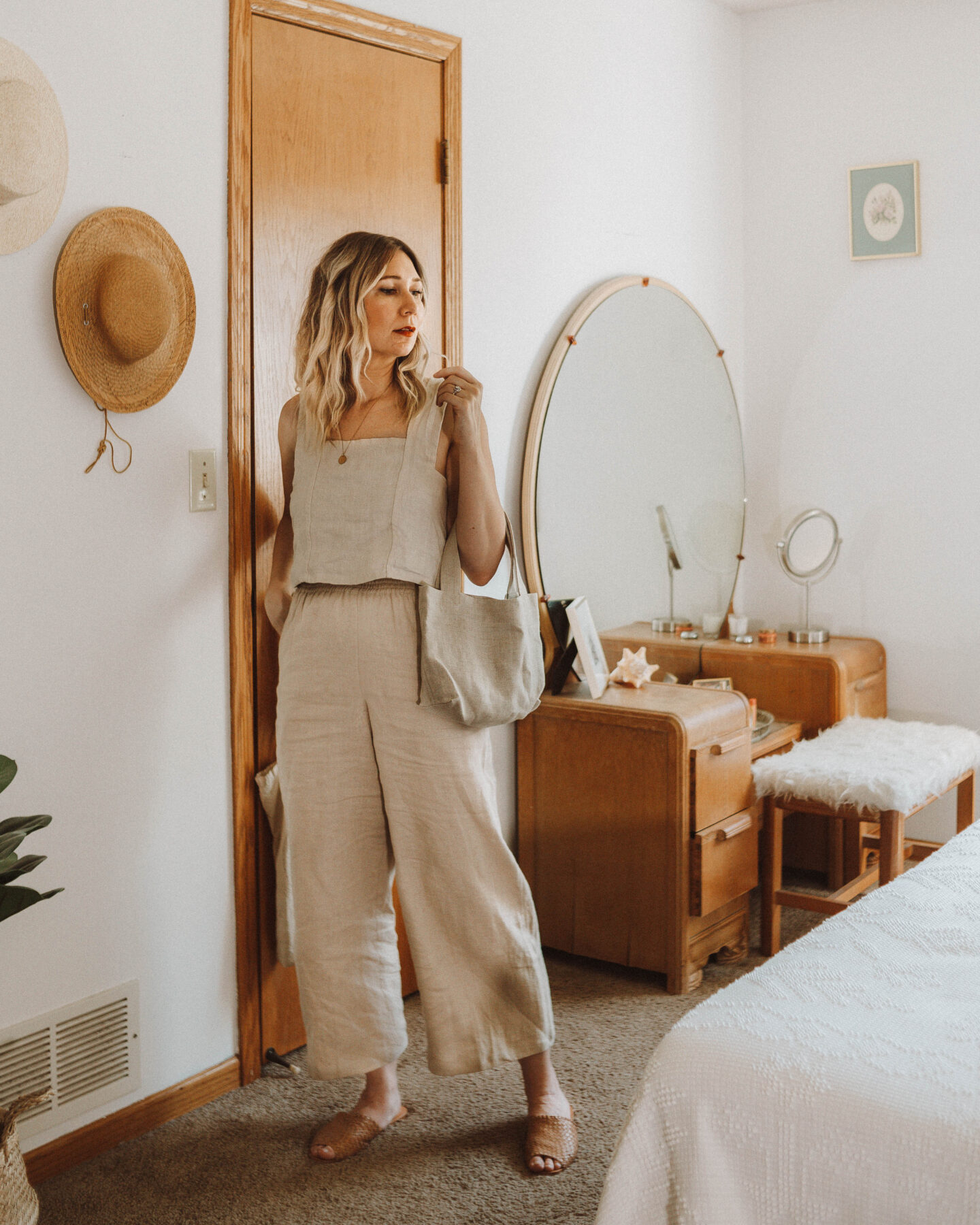 ---
Outfit Details (Affiliate Links):

Shin + Na Bag (gifted. review here) | Sugar Candy Mountain Tank (size up. more affordable option here)| Love & Confuse Pants | Either/Or Slides (gifted. review here. more affordable option here) | GLDN Motherhood Pendant
You've seen me style these pants from Love & Confuse a few times now on here, and that's because they've been one of my go to pairs of pants at the moment. They are a very basic pair of pull on linen wide leg pants so there's not much to say in that regard, but I will say that the linen is a nice mid weight linen. Order your true size… they have stretched out a bit on me, but not enough to justify sizing down. The elastic is a very tight elastic (does that make sense?) so ordering down would probably make the waistline very uncomfortable. The color I'm wearing is beige.
---
|| Look 3: with a tank top and clogs ||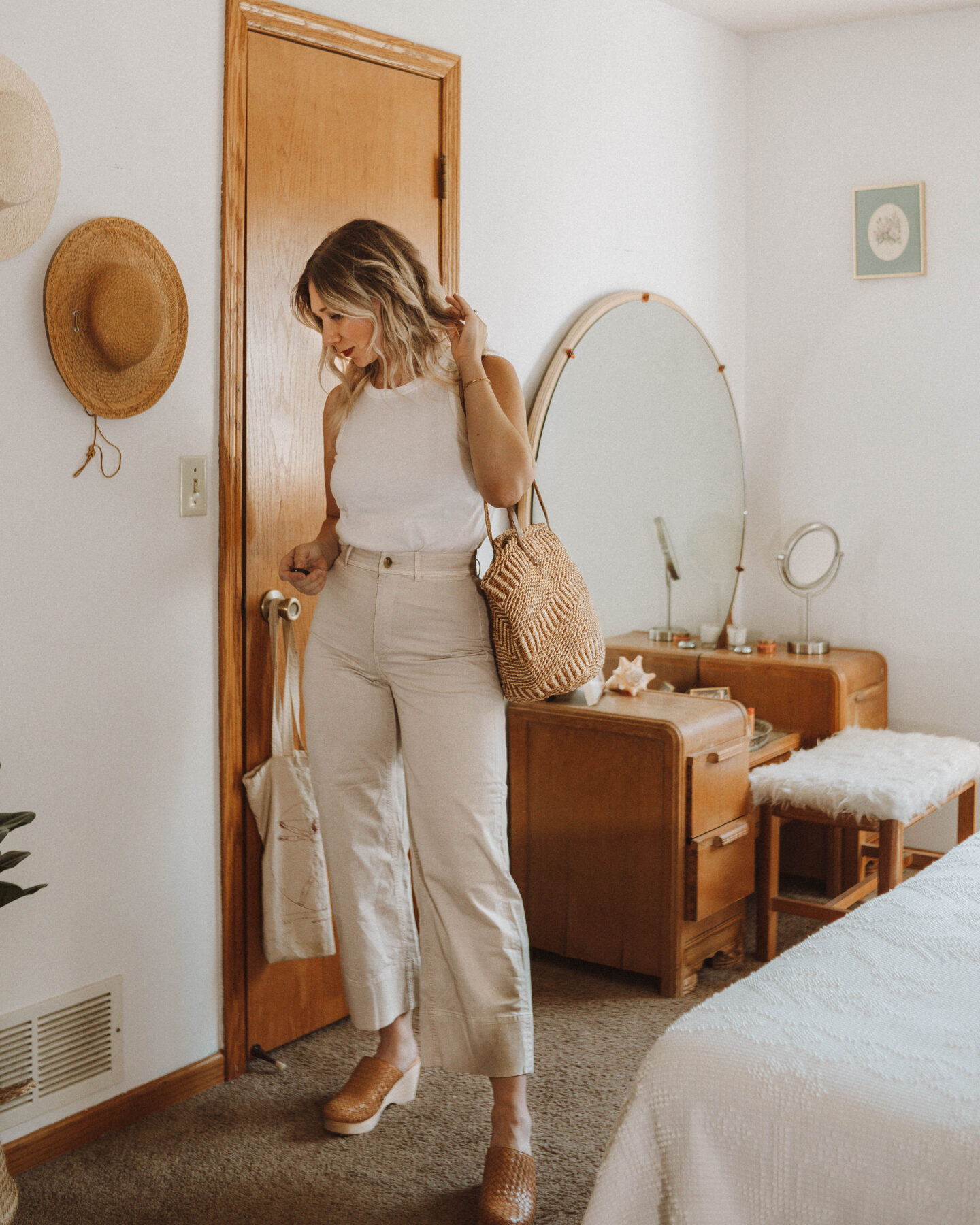 ---
Outfit Details (Affiliate Links):

Everlane Tank (20% off. size down) | Everlane pants (gifted. 31% off. full review here) | Everlane clogs (gifted. review here) | Vintage straw bag (linked similar) | Happiness Boutique Bracelet
I've already done a review of these Everlane chinos (they're currently 31% off) so you can head over there if you are interested in more information.
---
|| Look 4: with a voluminous blouse ||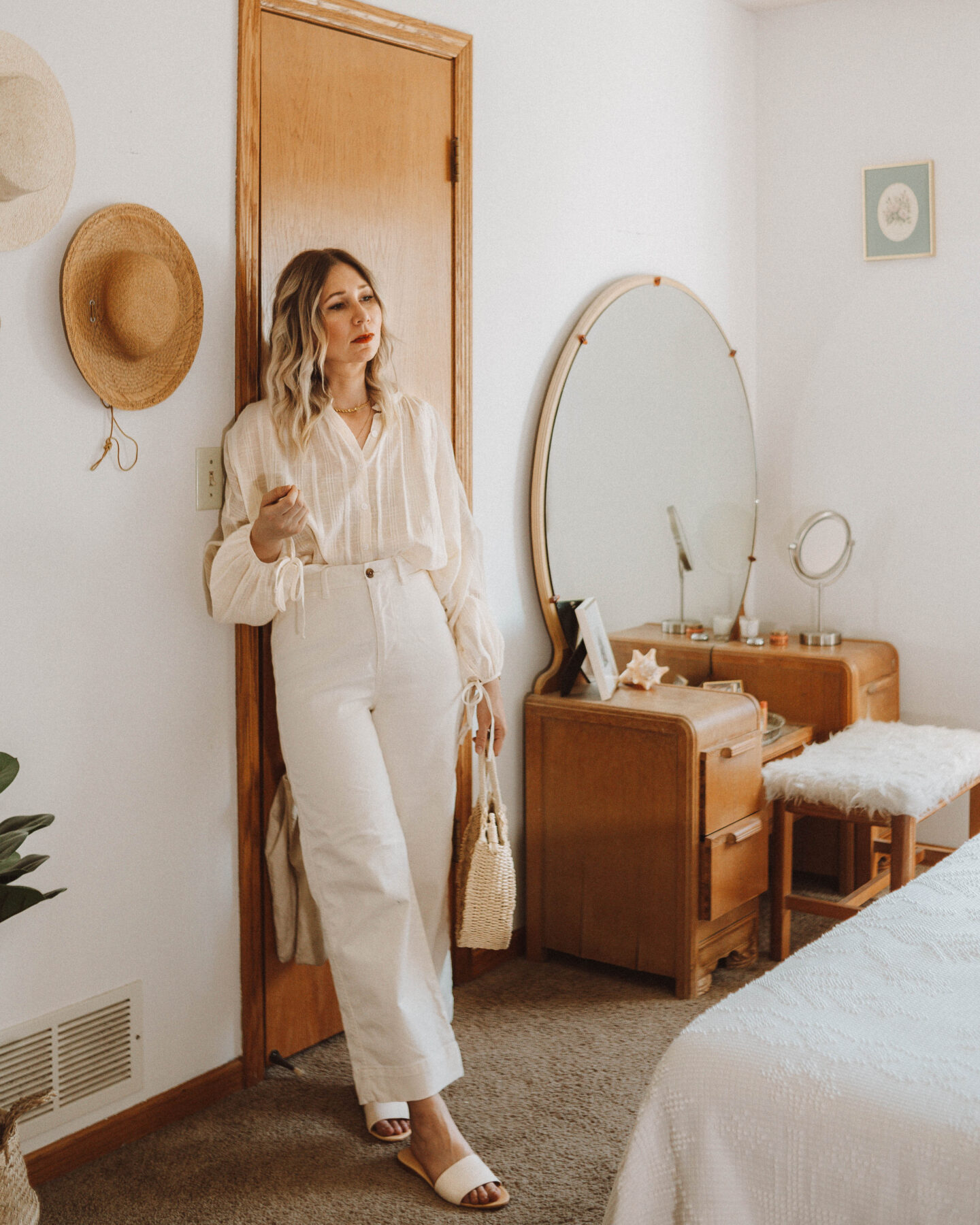 ---
Outfit Details:

Christy Dawn Blouse (runs true to size. limited sizes available, but 20% off with code together20. more affordable option here) | Gap pants (50% off with code WARM) | Nisolo slides (true to size. 15% off with code NOTALONE) | Secondhand Bag (linked similar) | Vintage Chain Necklace (linked similar)
These Gap wide leg pants are very comfortable. I have to be honest… they're more comfortable than the popular Everlane classic wide leg pant. They're just a bit thinner so they don't feel as restrictive, and I like that they have slit pockets instead of side pockets. If I have one complaint about the Everlane version it's that the pockets sometimes stick out. These run true to size, and they will stretch out a tiny bit over time so bear that in mind.
---
|| Look 5: with a basic cami ||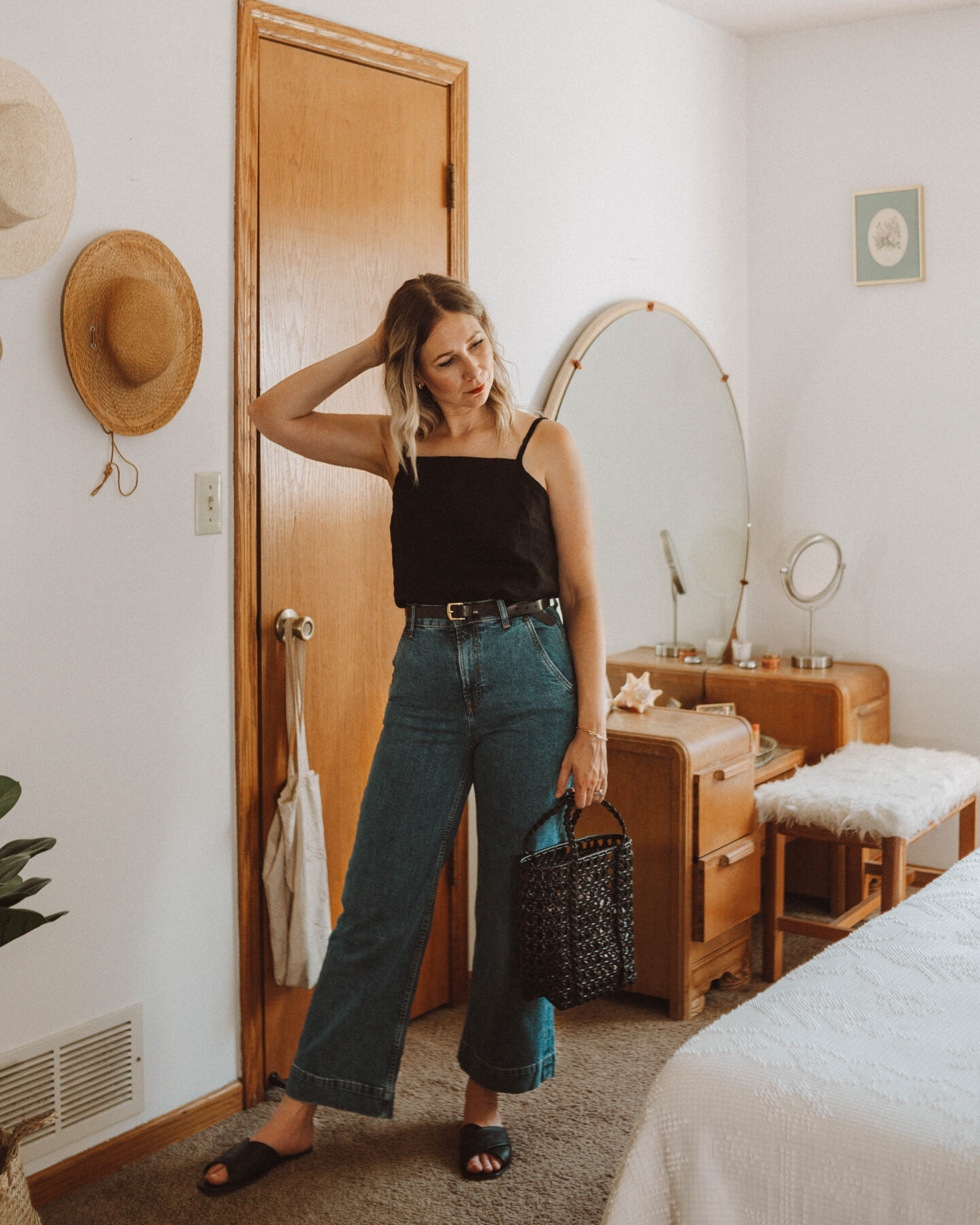 ---
Outfit Details (Affiliate Links):

Linenfox Tank Top (size down, color is black) | Everlane wide leg jeans (30% off. review here) | Everlane sandals (true to size. everlane sandal comparison here) | Bembien Bag | Kiki Koyote Earrings (gifted. Sold out so similar pair here) | Old Belt (linked similar)
As with the chinos above, I have a whole Everlane denim guide so you can check that out for more information on these jeans (they are currently 30% off!)
---
|| Look 6: with a casual blouse ||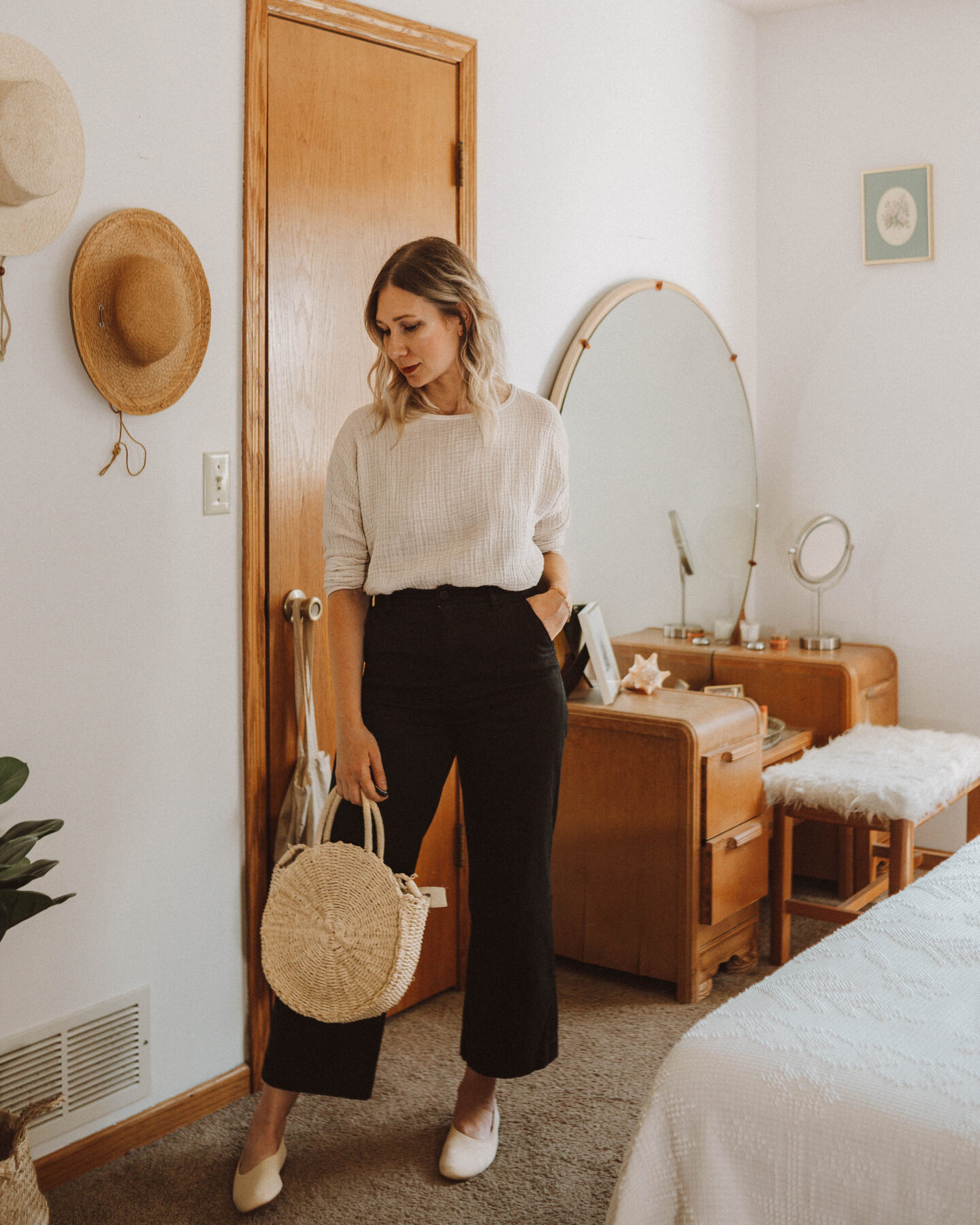 ---
Outfit Details (Affiliate Links):

It is Well L.A. Blouse (gifted. true to size or size up for a looser fit. color is natural. more affordable option here) | KOTN pants (gifted) | Everlane ReNew Day Gloves (gifted. 30% off. see review here) | Secondhand Bag (linked similar) | Happiness Boutique Bracelet
These KOTN pants are one of my favorites. They do have the side pockets, but unlike the Everlane version I never feel like they stick out that far. The website calls this style a culotte, but they are too long to be a culotte in my opinion… although I am on the shorter side. These have just the right amount of stretch to make them a very comfy pair of pants… although I have not noticed any stretching out with these pants so they do retain their shape. They run true to size.
---
The Constants (Affiliate Links):

(lip shade is Zip)
---
There you go! I hope that was helpful. It's been fun the last couple of weeks choosing a specific piece of clothing, and then styling it different ways (did you see last week's post where I styled basic tees?). I think it's a great way to maximize your closet… and like I said last week you could pull all of these outfits off with the same pair of wide leg pants. You definitely don't need to have six different pairs to make this work. Do you love wide leg pants as much as I do? Let me know in the comments!
I hope you all have a great weekend! We'll be setting up a bunk bed, a swing set, and redecorating the girls' room so… we'll be busy ha!
Until next time,