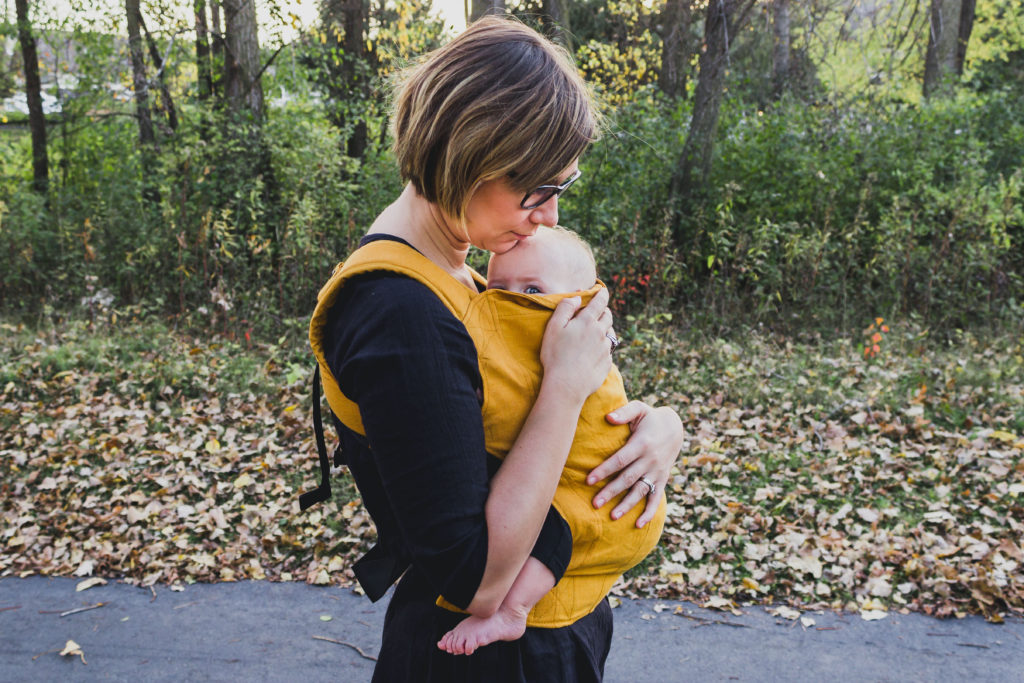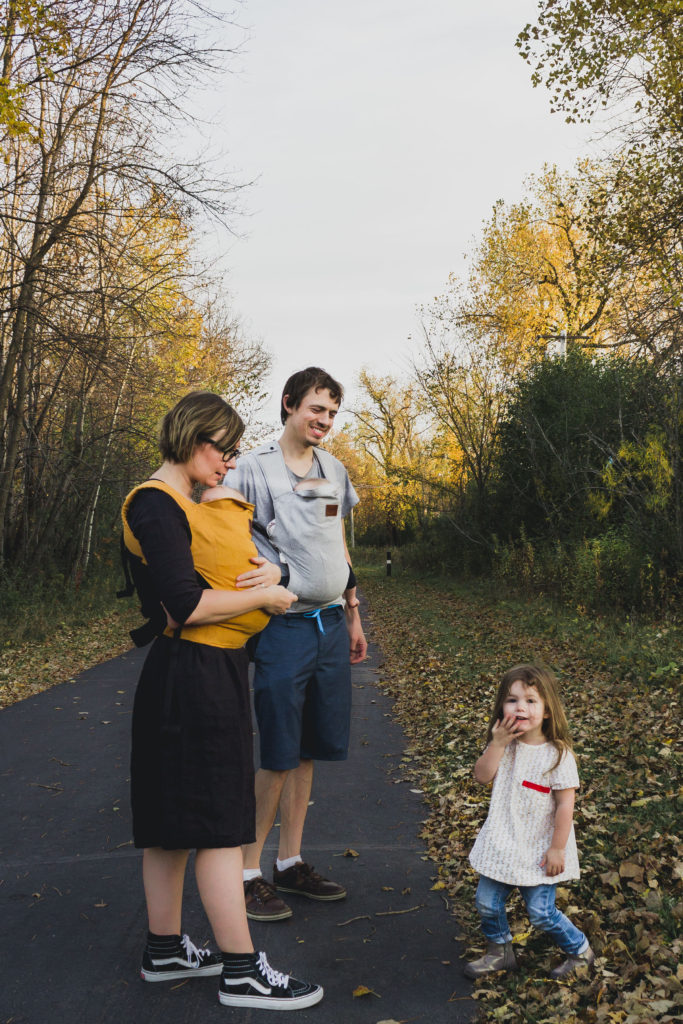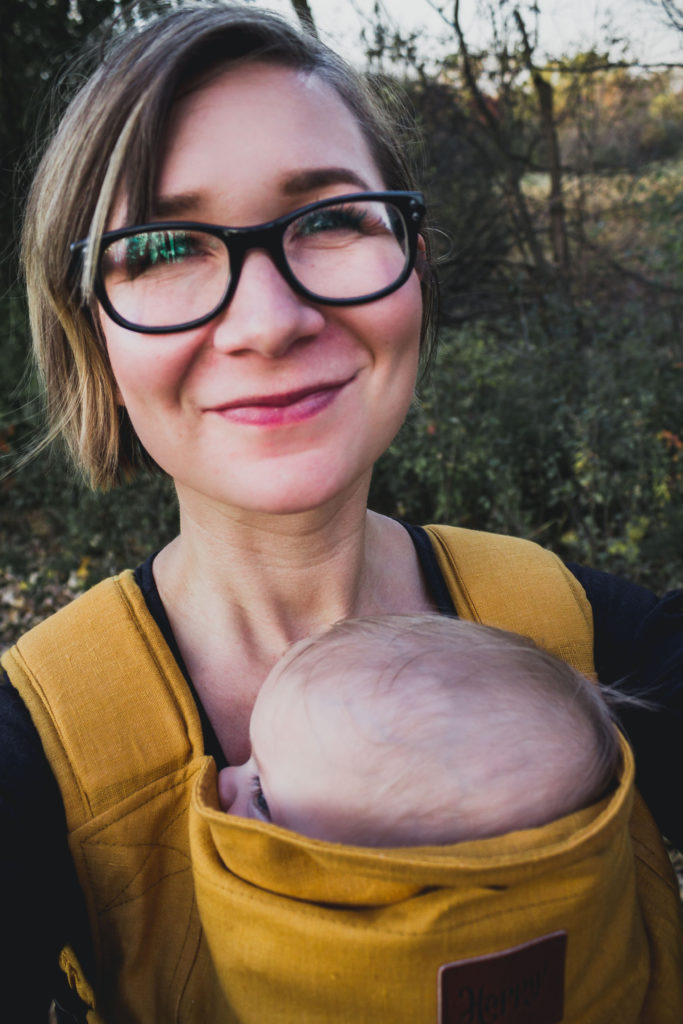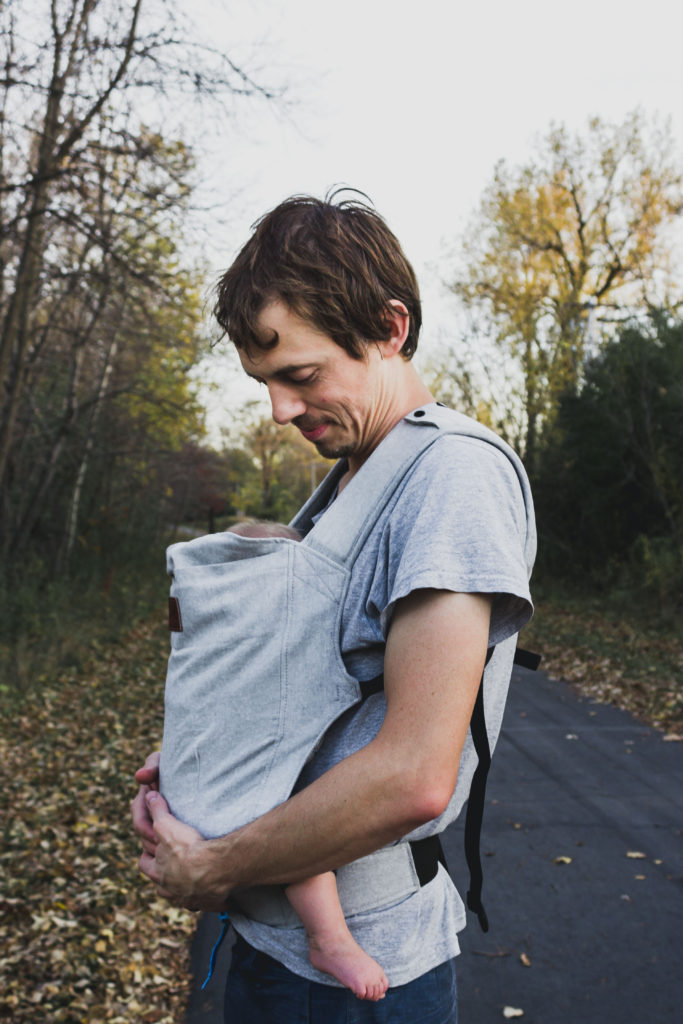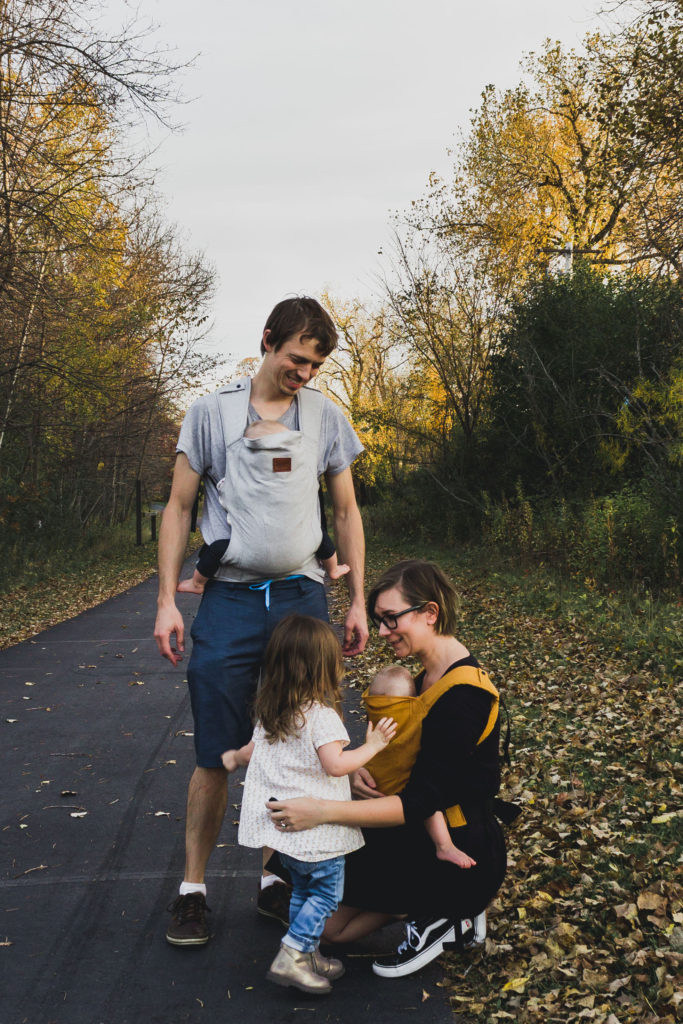 My dress | Shoes | Bug's Top c/o | Baby Carriers c/o
The weather last week was just so, so good! It was sunny and cool, but not too cool. We were able to go on so many beautiful fall walks and it was just what our cabin fevered little family needed.
The area that we moved to is full of hiking trails that have just blossomed with the most beautiful, fall foliage in the last few weeks.
In a past life before babies, David and I loved, loved, loved to hike and would have been hitting up these trails on a very regular basis.
We had all of these goals to continue hiking (and camping… ha!) when Bug was born and, well, three babies later and the hiking hasn't really happened… I blame it on naptime.
Hard to fit in hikes when you're trying to prioritize sleep!
But. Lately David and I decided we're really going to try to prioritize more of the things that made us happy before kids came along.
Yes, kids change things and yes, they make things harder, and no, our hikes won't be as relaxing as they were before kids… but, we don't want to treat it like it's an all or nothing kind of thing.
First things first though, if we were going to hike we needed to get some baby carriers. I hadn't invested in any because I actually don't wear the babies a lot… I have a really bad back and constantly carrying babies really exacerbates it.
But to hike you need carriers!
So we ended up going for the Happy Baby Carriers (this post is not sponsored, but the carriers were gifted) for a couple of reasons:
They are made in the USA
They have really beautiful designs
They are made of high quality linen
They have the slouchy feel of a wrap, but they attach like a more structured carrier (really similar to an ergo)
The babies can grow into them (this didn't really apply for us, but you don't need an infant insert)
They are really lightweight which helps with my back issues
We took them for a test drive last week and they worked great! We didn't do anything too strenuous, but we'll work up to that. 😉
Edited to add: we are wearing them wrong in these photos! Whoops! Do as we say, not as we do right? Here is a link to instructions on how to properly wear them.
Oh and if you're wondering how we'll handle the whole three baby situation while hiking, we have a backpack carrier that we got off of Craig's List (it's from the 80's so its super cool) and David wears one twin on his front and Bug on his back (#muscleman).
So yeah… our hiking situation is just a tad bit more weighted down and possibly a tad bit less quiet and calming, but I guess it is possible to hike with babies.
Until next time,