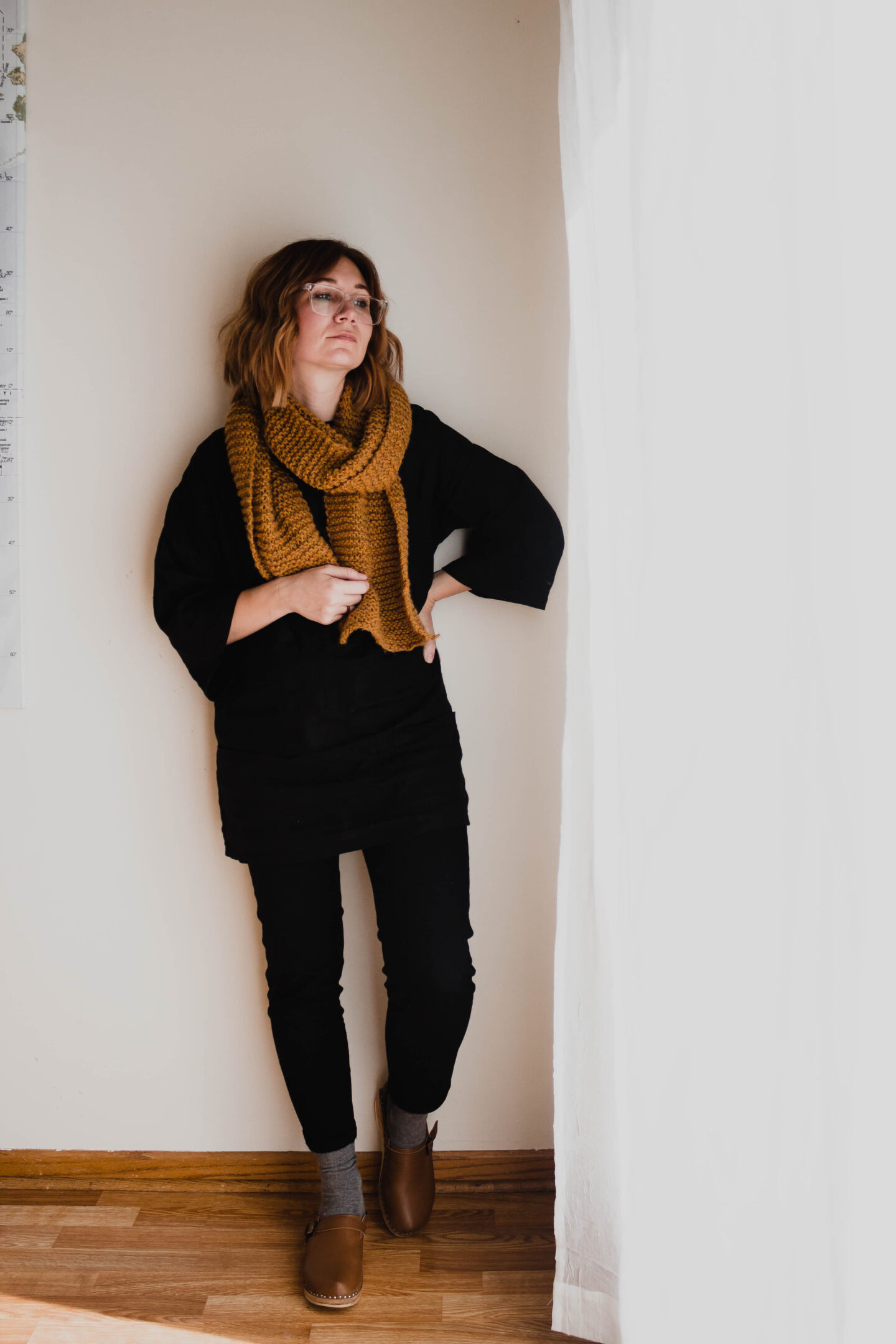 How was everyone's Halloweens? If you saw this Instagram post on Wednesday then you have an idea of how mine went ha!
According to Ella and Rosie, costumes are LITERALLY THE WORST THING EVER INVENTED.
Then again, I don't know how much I'd like to be dressed up like a sheep either so maybe they have a point.
Anywho…
Let's talk fall 10×10 shall we?
I didn't do a "what I picked" post here on Truncation prior to the challenge because I decided to change things up a bit (trying to figure out what the heck I'm talking about? Check out this post here to learn what the 10×10 challenge is).
I've always done the traditional method of picking out my pieces ahead of time, and then sticking with those pieces for the 10 days.
And I've always struggled to stay excited about my outfits during the 10 days.
SO, I decided to do a progressive 10×10, which basically means that I added pieces as I went. So every time I wore a new piece I added it to my list of 10 items until I reached the limit (spoiler: I only ended up with 9 pieces!).
This worked SO much better for me. I've always been more of an intuitive dresser… as in I wear what I'm feeling in the moment. I also feel restricted when I have tight limits set on myself (which is ultimately why I gave up a traditional capsule wardrobe).
Doing the 10×10 progressively allowed for both of those things. There was so much more spontaneity and freedom and it left me feeling content throughout the challenge.
If you've struggled with these challenges in the past, I urge you to try it this way! You may end up having a lot more fun.
One thing I did want to touch on before I finish this intro is the emergence of a new hashtag during this competition: #10x10representationmatters. You can find the feed here.
I'm not going to get into what it stands for because I urge you to scroll through the feed for yourself, and hear more about the heart behind it from the lovely people who started it.
But someone asked me how I think it aligns with my own hashtag: #ethicalmyway
That's a great question. And honestly? I think they align really well.
You see, my hope in starting my hashtag was to encourage more inclusivity in the ethical fashion movement.
Ethical fashion shouldn't be for one type of person. Anyone should be able to participate in the movement without being made to feel less than because they don't fit a specific mold or do things in a specific way.
Any income, any gender, any ethnicity should be able to participate and feel welcome at the table.
So I am thrilled to see more people stepping up and attempting to do just that. I appreciate the conversation because it brings to light areas where we can all learn and grow.
I don't have the same stories or experiences as some of the other people posting with the hashtag, but that doesn't mean that their experiences aren't real or valid or worth listening to.
I think, so often for the privileged (like me), it's easy to have a gut eye roll reaction… or a "push those opinions to the side so I don't have to deal with them reaction". It's awful to have that gut reaction, but it's the truth.
But I think it's easy to have that reaction because we don't want to have to deal with the truth… we don't want to admit that systems we benefit from may actually limit and oppress others.
And that's an uncomfortable thought because it may lead to uncomfortable change, and it's uncomfortable to deal with the implications of that reality.
But I've learned in my short time on earth that uncomfortable change is often worth doing. Yes it's hard, but it always leads to more.
So if my beautiful fellow human beings are sharing their pain, sharing their stories, shedding light on struggles that they have had…
It's my responsibility to listen… to absorb, to hear, and to do my part in shifting the way things are done so that more pain is not inflicted.
But here's the rub: it starts with listening and believing. Because we can't work towards healing if we're not willing to trust that someone else's experience is true.
So I urge everyone to approach this hashtag with an open heart, and a willingness to let go of skepticism.
That was a long winded response, and honestly I feel intimidated to give my opinion, but I think it's worth bringing up.
So let's get into the actual outfits: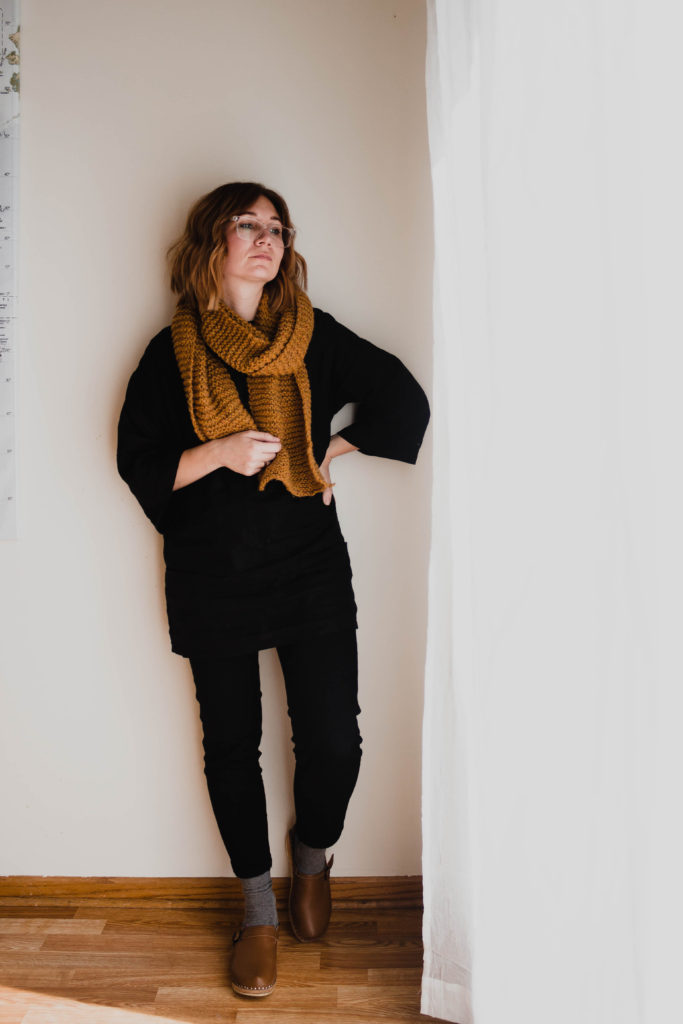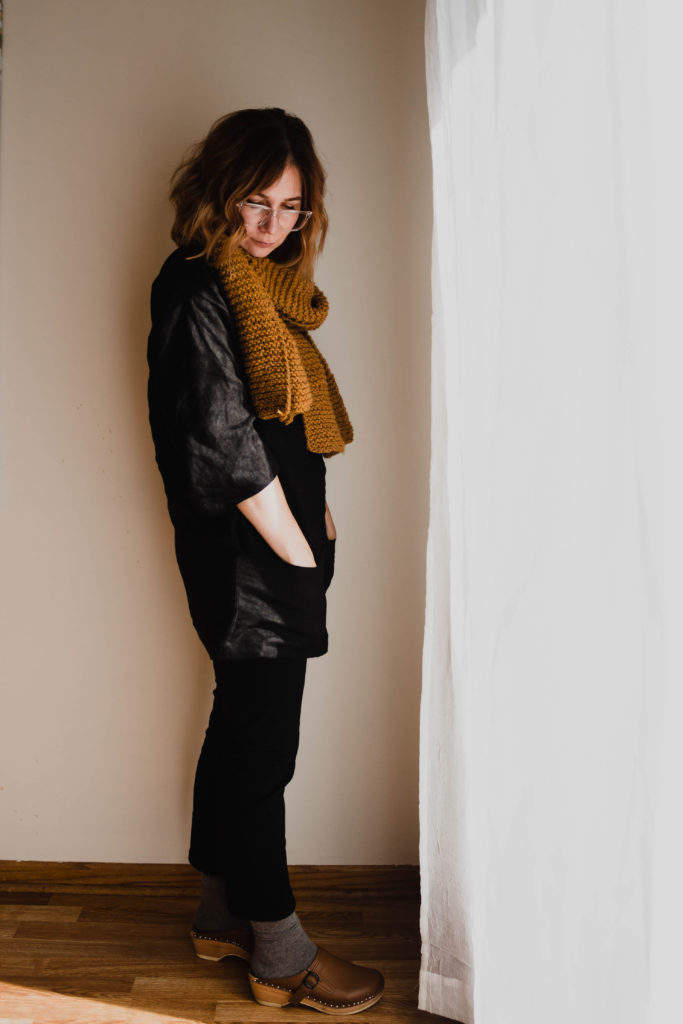 Day One
Outfit Score: 10
Thoughts: This was probably my favorite outfit of the bunch… a great way to start the challenge! I love the all black broken up by cognac, mustard, and gray. I also love the shape of the slim denim and looser tunic.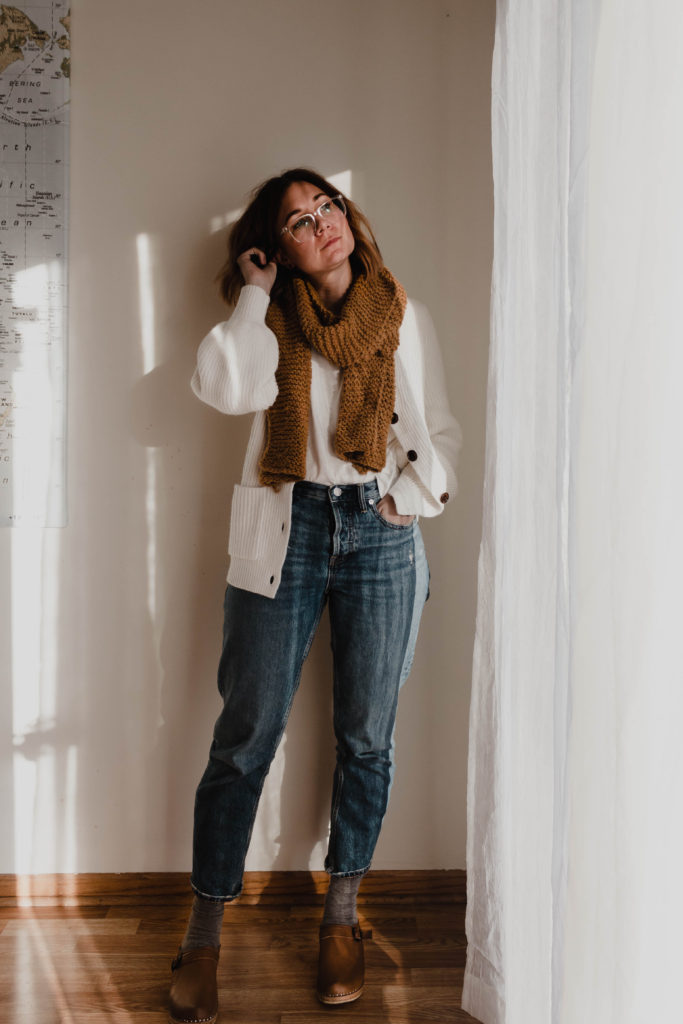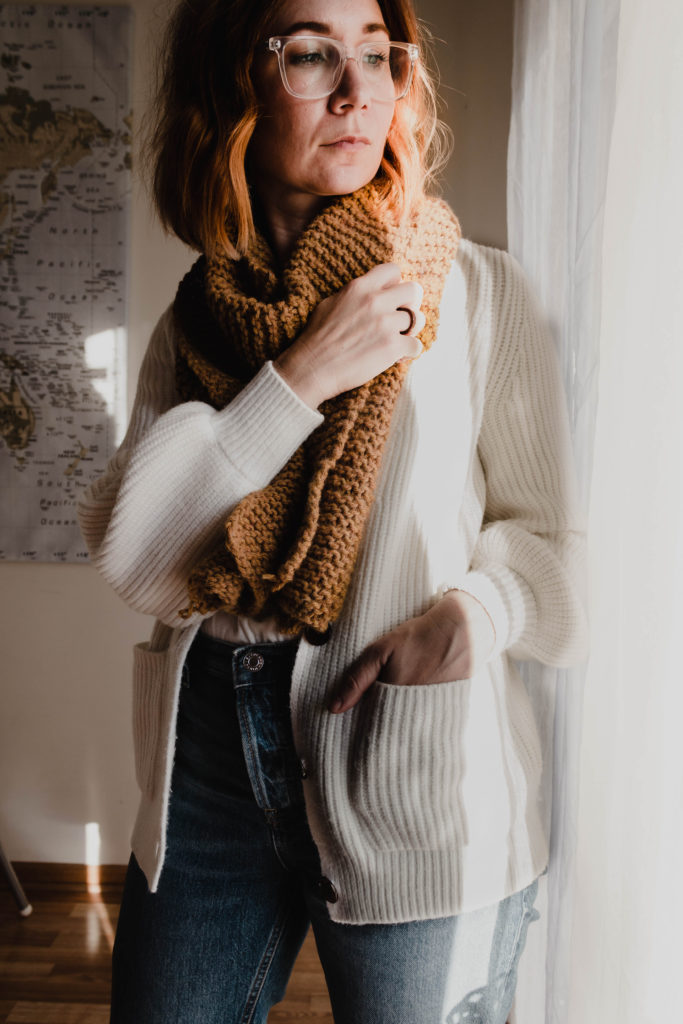 Day Two
Outfit Score: 10
Thoughts: And this was probably my second favorite outfit from the challenge! Ha! I'm a big fan of chunky sweaters mixed with baggy, loose denim. It's very "artist at work" to me for some reason. I also love it mixed with the socks and clogs from yesterday's look. Plus, this was a super cozy and warm outfit.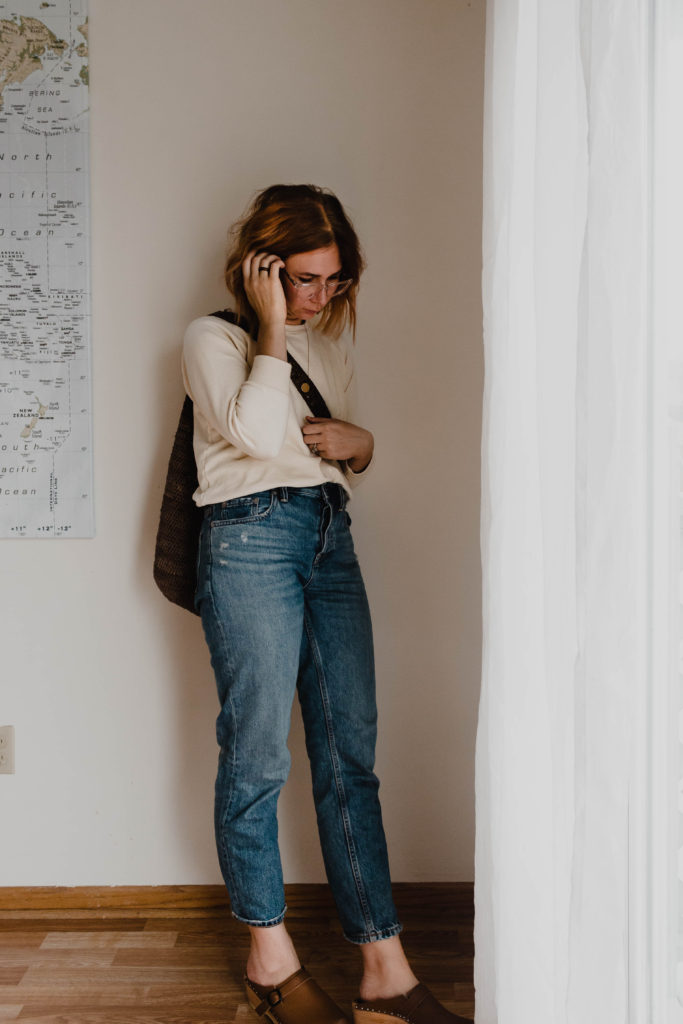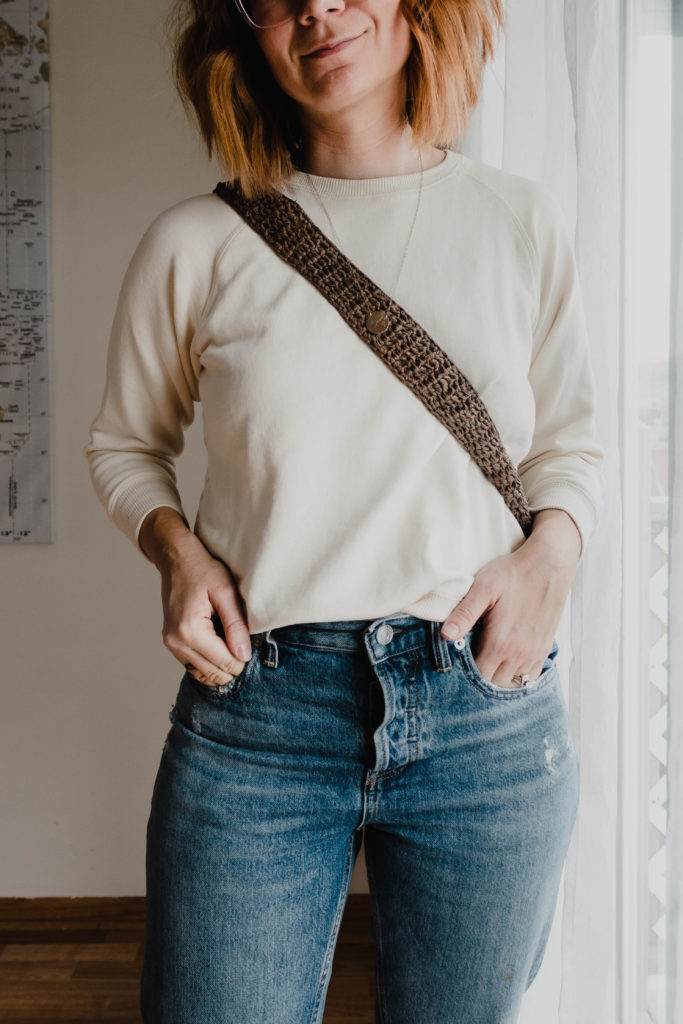 Day Three
Outfit Score: 10
Thoughts: Again! I love this outfit. Another sign that doing the challenge in a progressive way suits me so much better. This is a really basic outfit, but the simplicity of it is what makes it work in the end… and I'm learning that having high quality pieces that are cut well allows even simple outfits like this one to seem less casual. I just love the fitted sweatshirt with looser denim, and the clogs just bring it all together. I honestly don't even know what I did before I had my clogs… I get SO much wear out of them.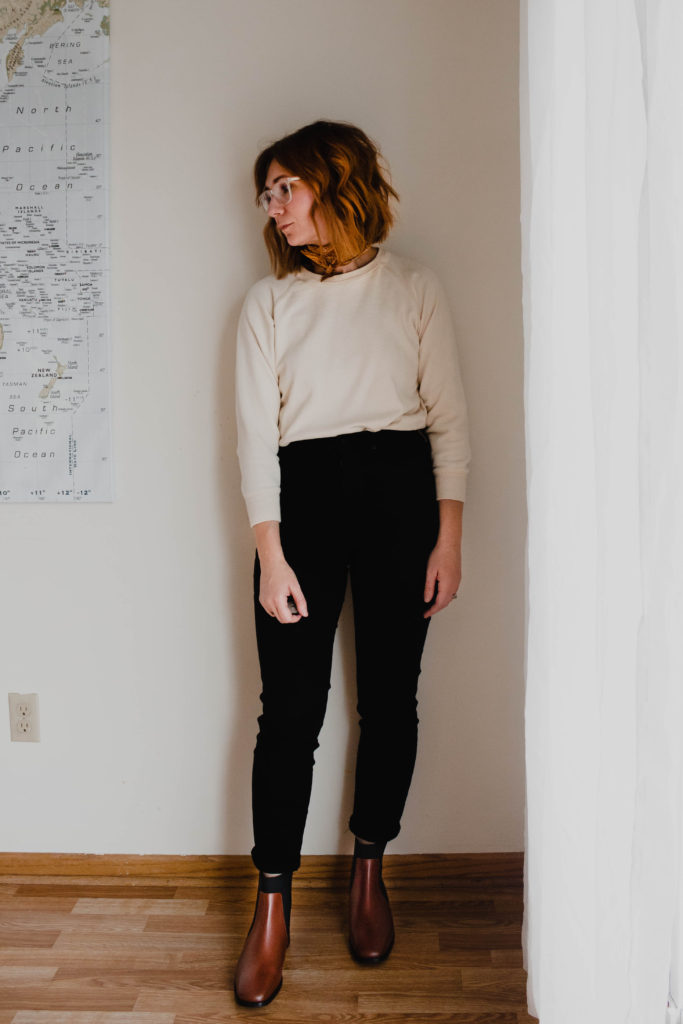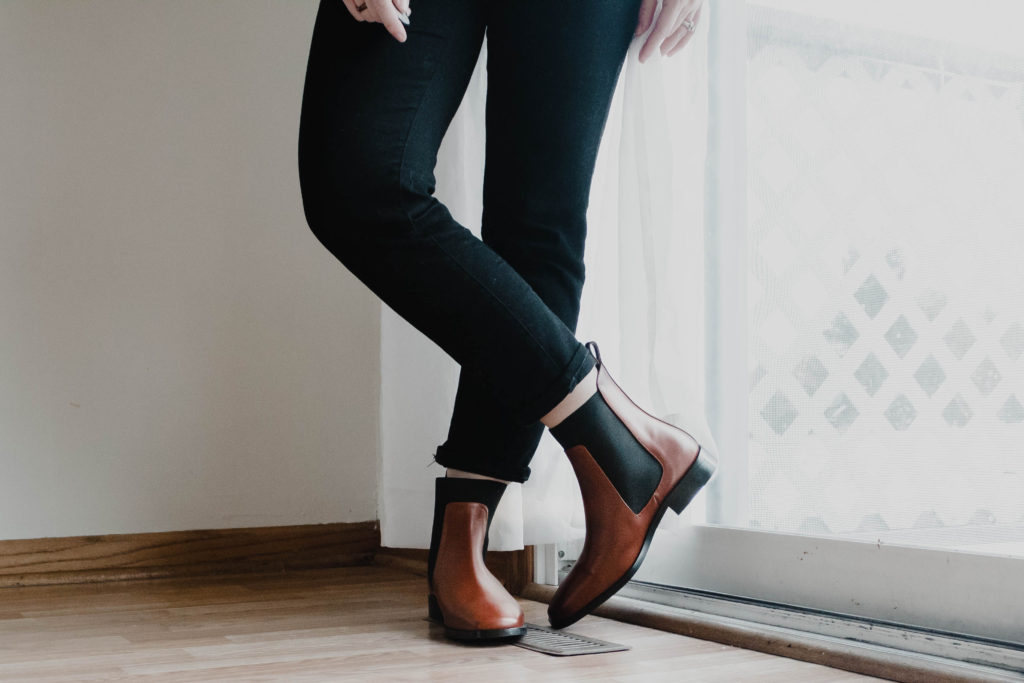 Day Four
Outfit Score: 9
Thoughts: Another outfit I love! I love how the entire look is very slim and streamlined. It makes the outfit look very pulled together. I REALLY love these new boots from Everlane, though I was a little hesitant about them at first. The leather is a bit stiffer than I'm used to, and the square toe felt a bit weird (I haven't worn square toed shoes since the 90's!). But as I've worn them they've softened up a bit to the point where they feel nice and structured and supportive… and I've gotten used to the square toe so it doesn't bother me anymore. I love the height on the ankle though, and the color is so pretty. If you're looking to purchase some new boots, I highly recommend these. The only reason I gave this outfit a 9 though is that I wish I would have added a higher sock to add a bit of interest.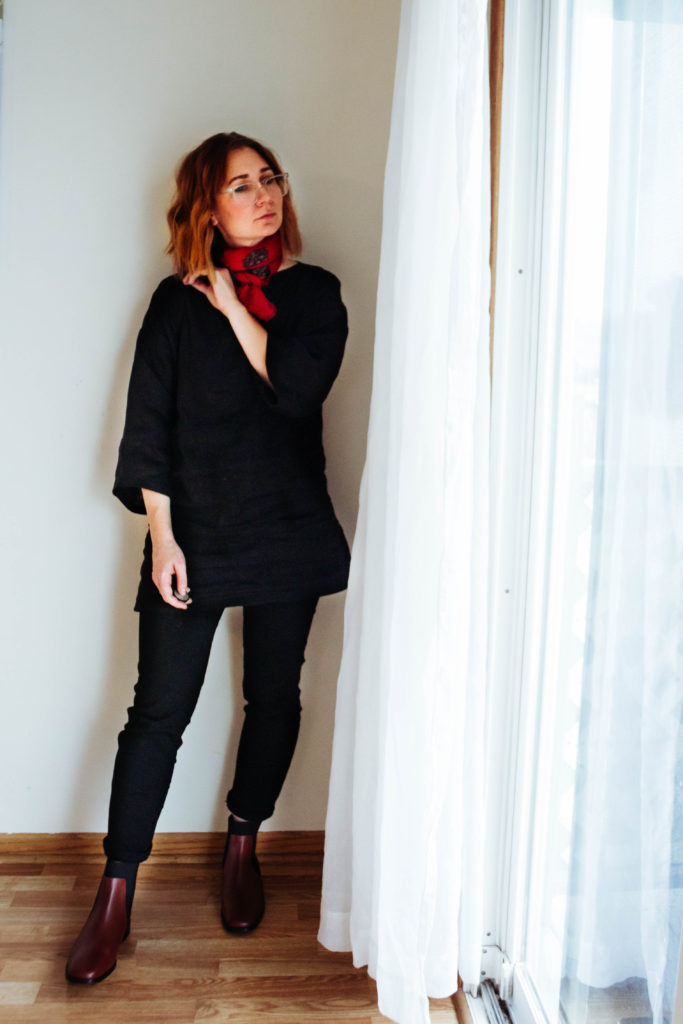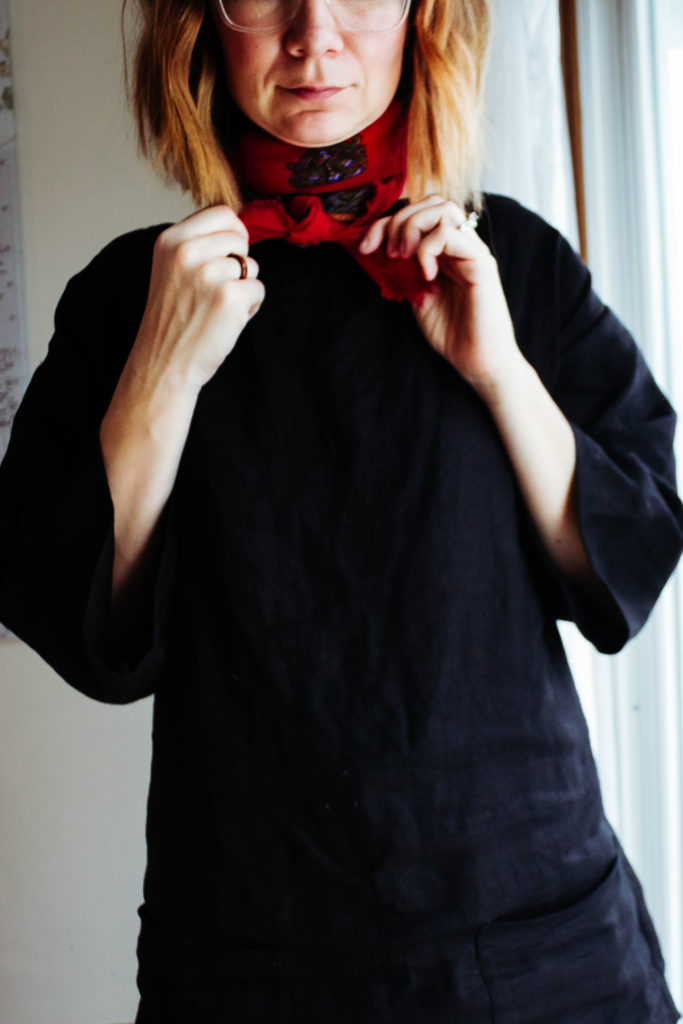 Day Five
Outfit Score: 7
Thoughts: I think I over complicated things with this outfit. I added the scarf at the last minute because I felt it was missing something, but then suddenly the outfit didn't seem as "me" as it did before. If I could do it again, I would have paired it with a bold pair of earrings and left it at that. I do really like these boots with the all black outfit though. It's funny how something as small as a scarf, can make such a big difference.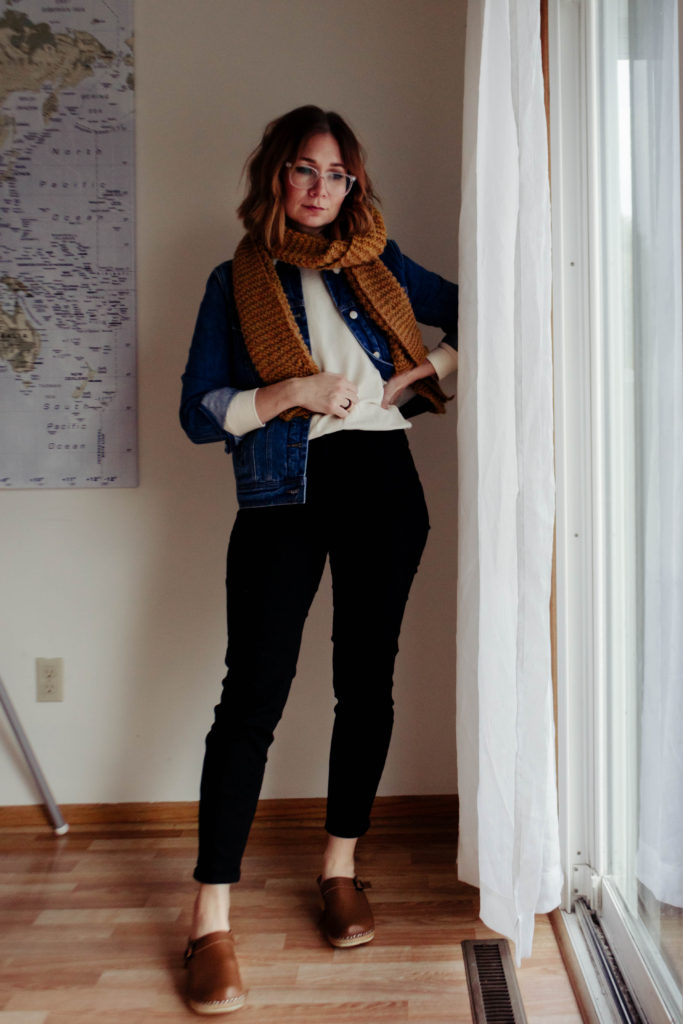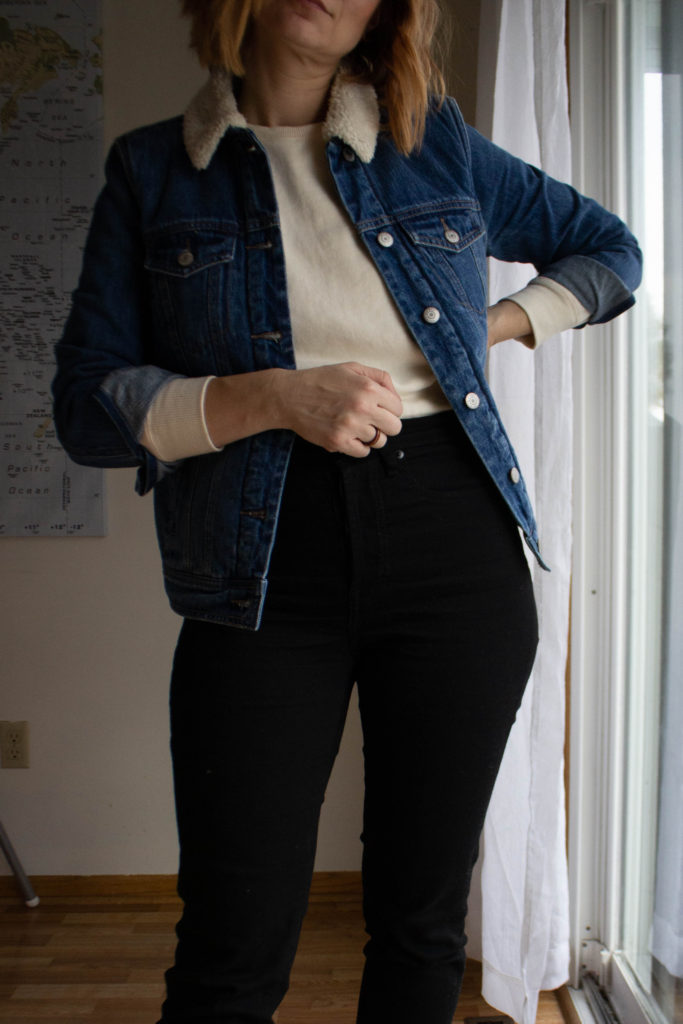 Day Six
Outfit Score: 9
Thoughts: I really love this combo… it feels really me. The cream, black, and brown paired with the denim blue is a favorite combo of mine, and I love the added details of the sherpa collar and hand knit scarf. I feel confident, and comfortable wearing this outfit and that's really what you want right? I only gave it a 9 because I wish I would have tucked the sweatshirt fully in… I think it would have sharpened everything up just a bit more.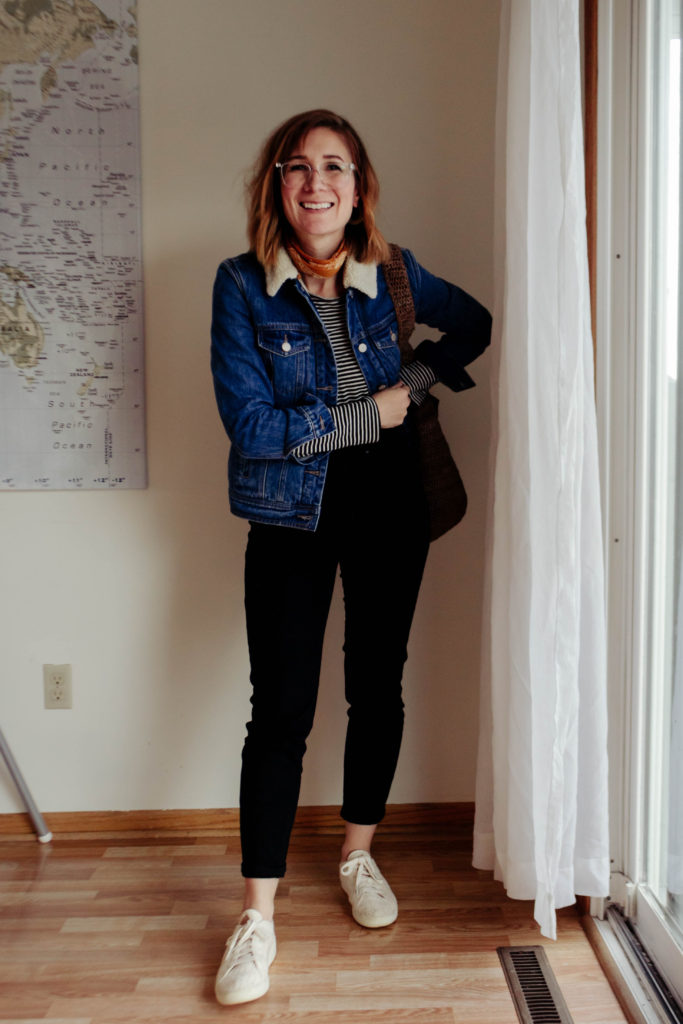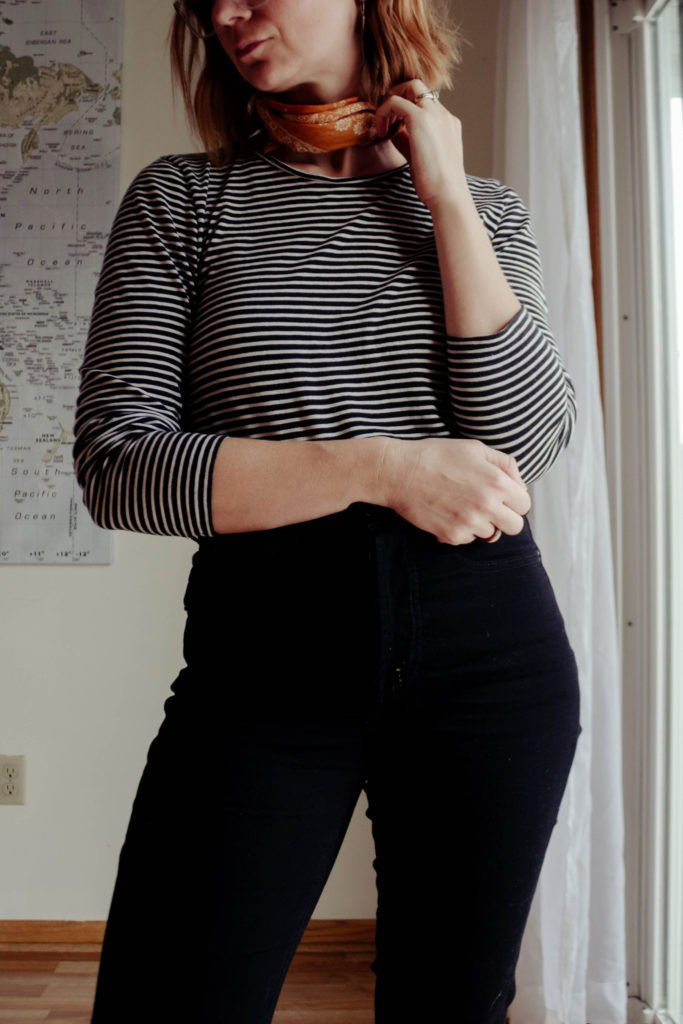 Day Seven
Outfit Score: 9
Thoughts: I finally broke down and added a tee and some sneakers to my rotation. I did a lot of walking over the weekend and I needed something a bit more comfy for long distances. And it warmed up a bit, so a long sleeved tee was kind of necessary. Like the above, super similar outfit, I really like this outfit and feel very "me" in it. My only beef with it was the scarf. For some reason, bandanas haven't been feeling right at the moment. I still really like them, but I just need to readjust the way I'm utilizing them. Isn't that just life though? Constantly readjusting and refining…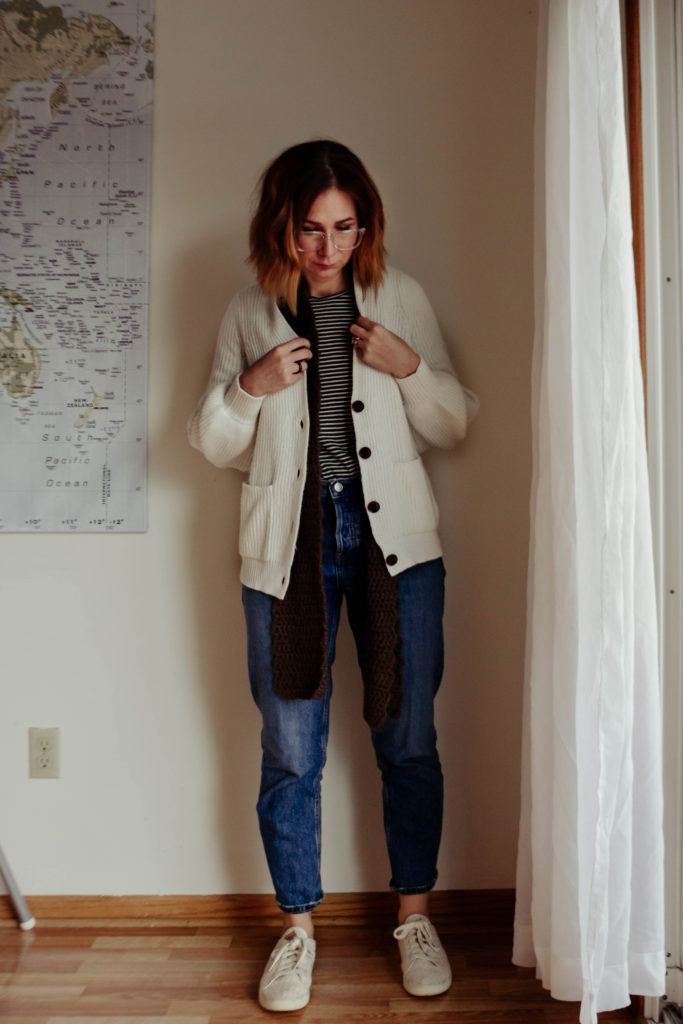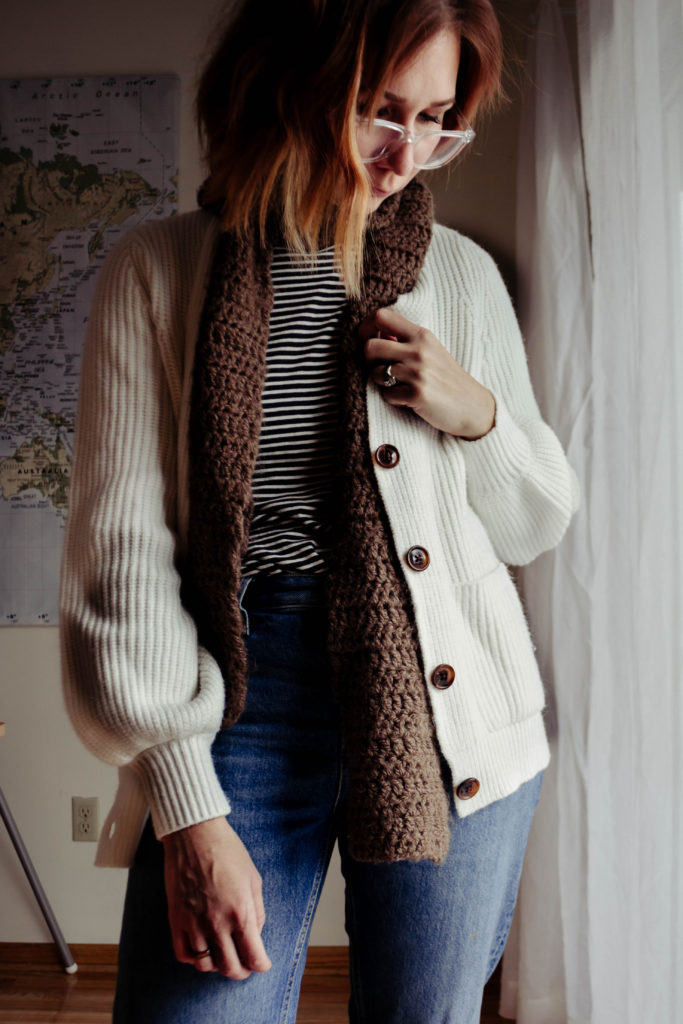 Day Eight
Style Score: 6
Thoughts: Home stretch! I'm going to be honest… I tried too hard with this outfit. I think I started feeling bad that all of my outfits were so simple that I tried to change things up and be more "interesting"… but it fell flat in my opinion. First of all, I don't love this cardigan over this striped tee… at least not with the denim and sneakers. Something about it feels too fussy, or… it just didn't mix well. I do like wearing the scarf under the cardigan like this, but it clashes with the tee a bit too much. I think if I would have worn a plain white tee, and my clogs this outfit would have worked really well (basically day two, but with a different scarf).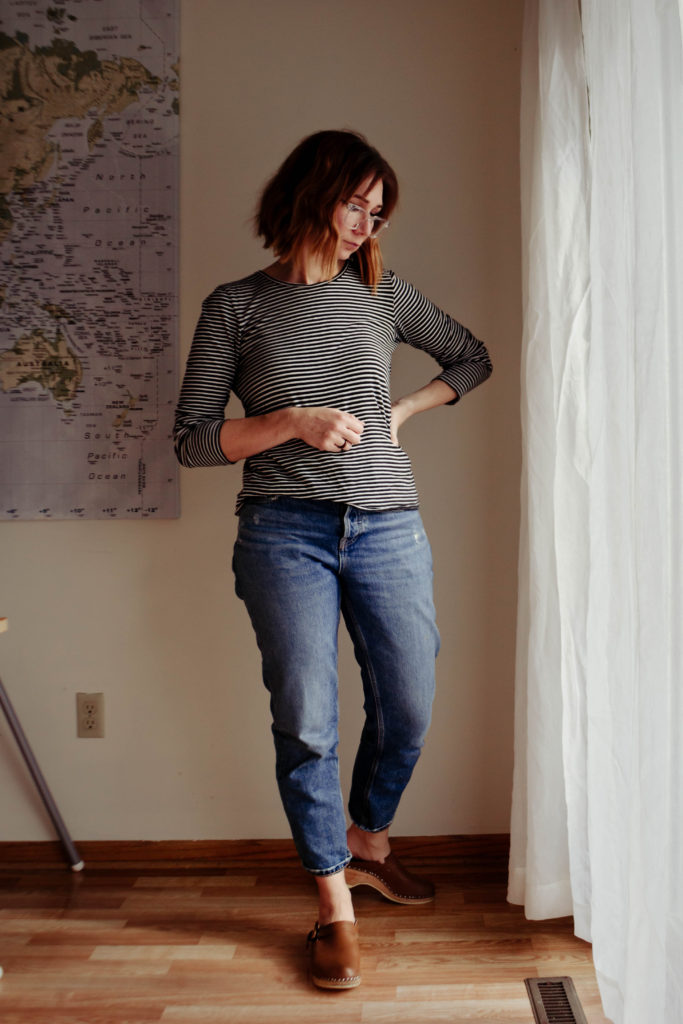 Day Nine
Outfit Score: 10
Thoughts: This is THE most simple outfit of the entire bunch, but I kind of just love it. Some days you just don't want to do a tucked shirt, and a boyfriend jean is the best way to to do an untucked shirt in my opinion. Adding the clogs makes it look a bit more elevated and intentional. This would not have looked nearly the same with a pair of tennis shoes. Also, this probably sounds strange, but I really love the hem on these jeans ha! I had to take a picture to show you. 🙂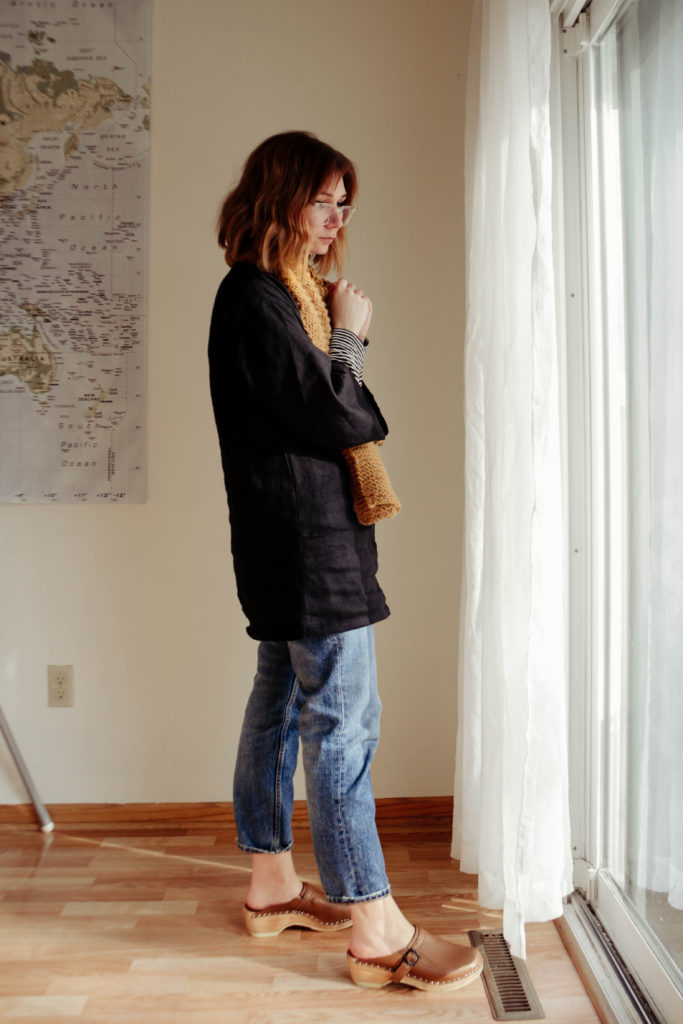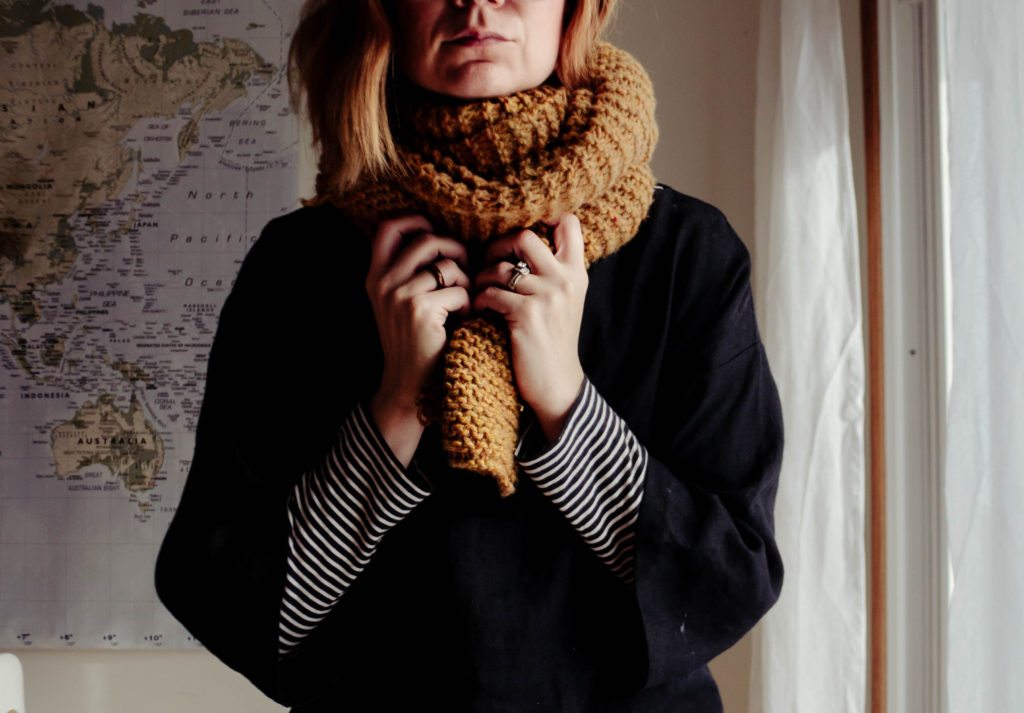 Day Ten
Outfit Score: 9
Thoughts: This was my take on a Halloween outfit. 😉 I'm never going to be the mom that dresses up in full costume, and I'm okay with that. But I did throw on a bit of black and orange! Which is also why this outfit got a 9 and not a 10. With the stripe of the tee underneath the tunic, I think a different colored scarf would have been a bit less Halloween. Ah well! I do really like this tunic paired with these jeans though… it's not an obvious combo, but one I really do like.
And that's all of my outfits! For reference this is the final list of pieces I chose in the order I chose them:
1:: tunic
2:: black denim c/o (see review here)
3:: clogs
4:: cardigan
5:: boyfriend denim
6:: sweatshirt c/o (15% off with KARIN15)
7:: boots c/o (go up a half size if you want to wear socks)
8:: striped tee
9:: sneakers c/o. sold out.
I only ended up with nine pieces, but honestly I could have kept going if I wanted!
So there you have it. Fall 10×10 is in the books, and I'm already looking forward to the next challenge.
Oh an just a bit of housekeeping: things have been insane around here lately. And because I'm sharing what is essentially a week of outfits today, I'm going to take a break from posting on Monday. I'll be back on Wednesday, and then weekly outfits will resume in another week.
I hope you all have a great weekend!
Until next time,
Karin