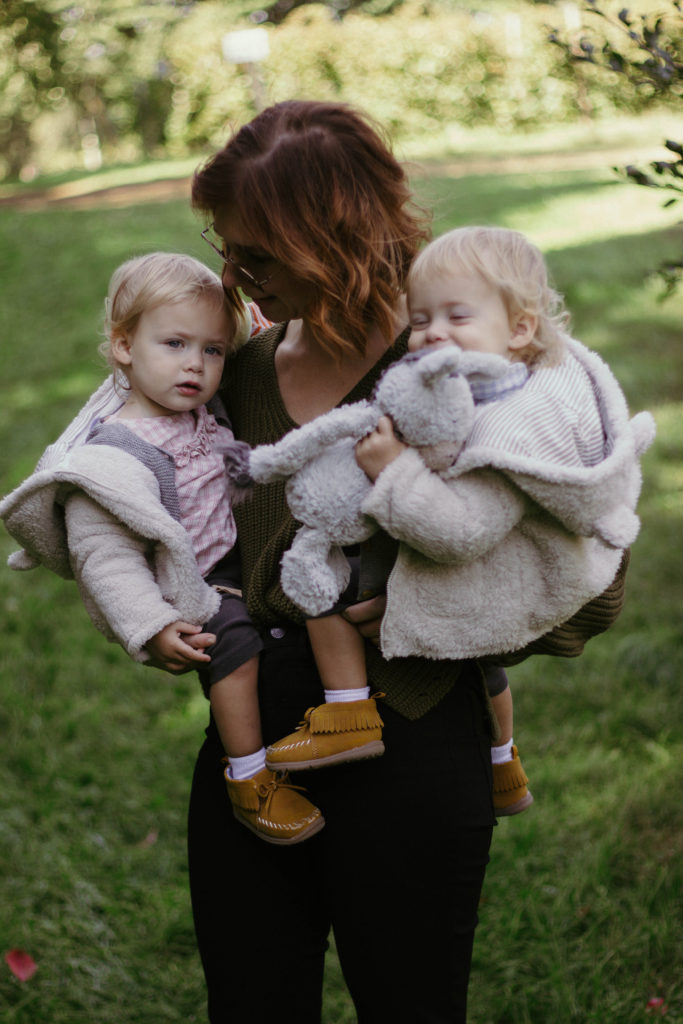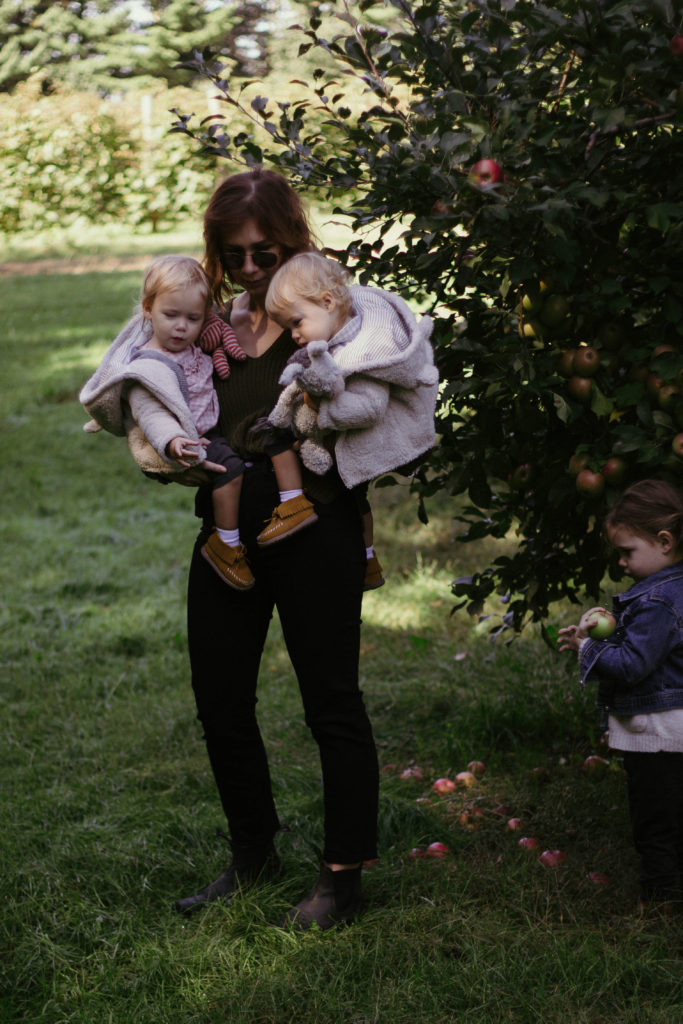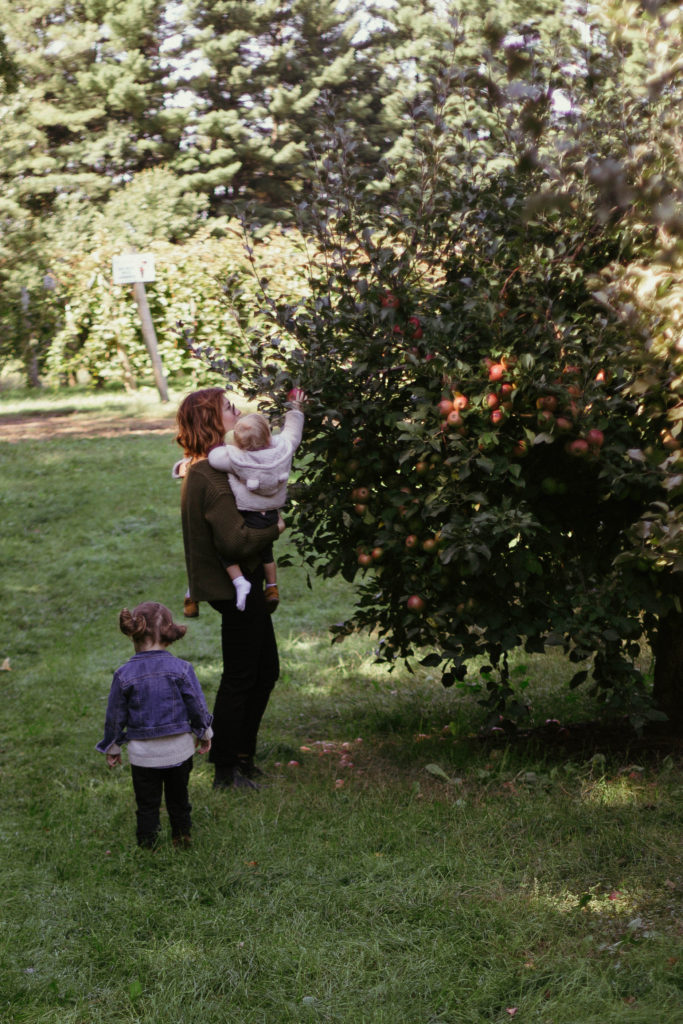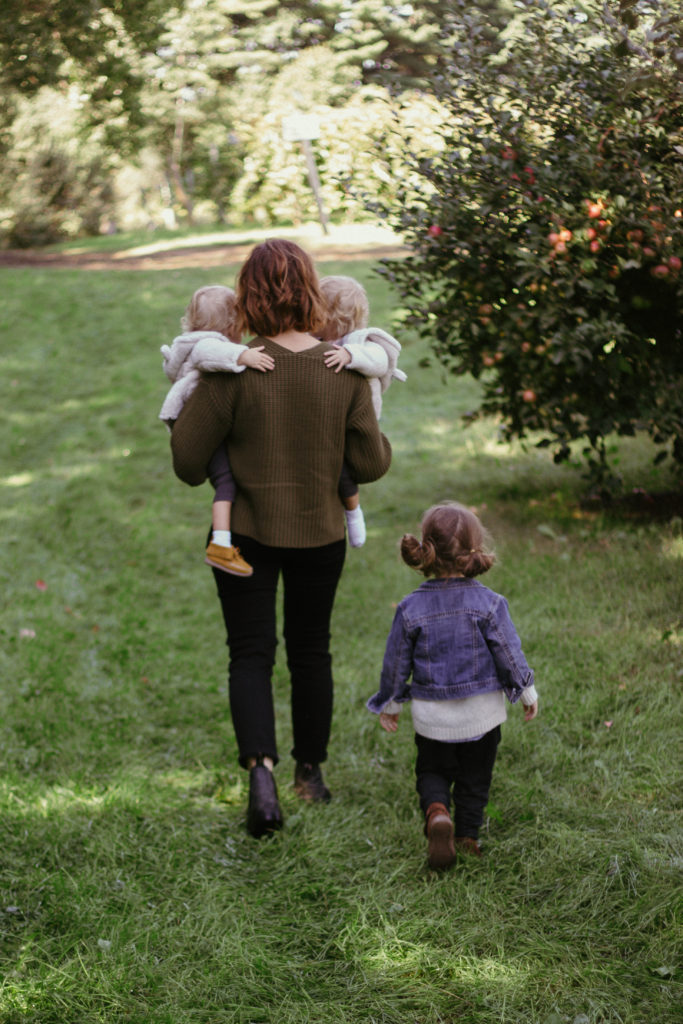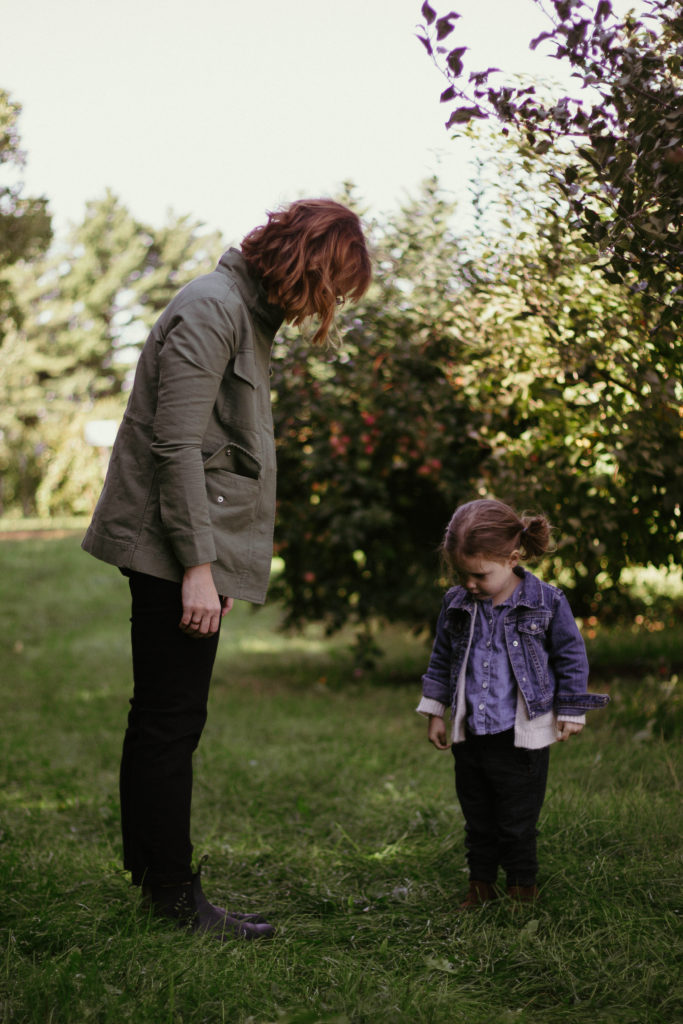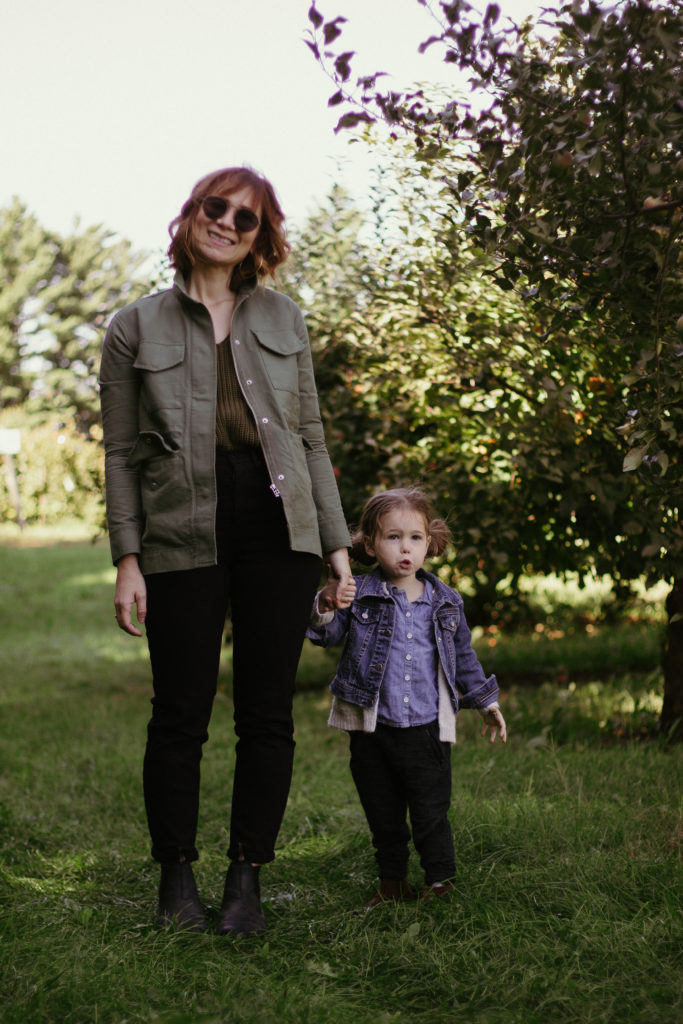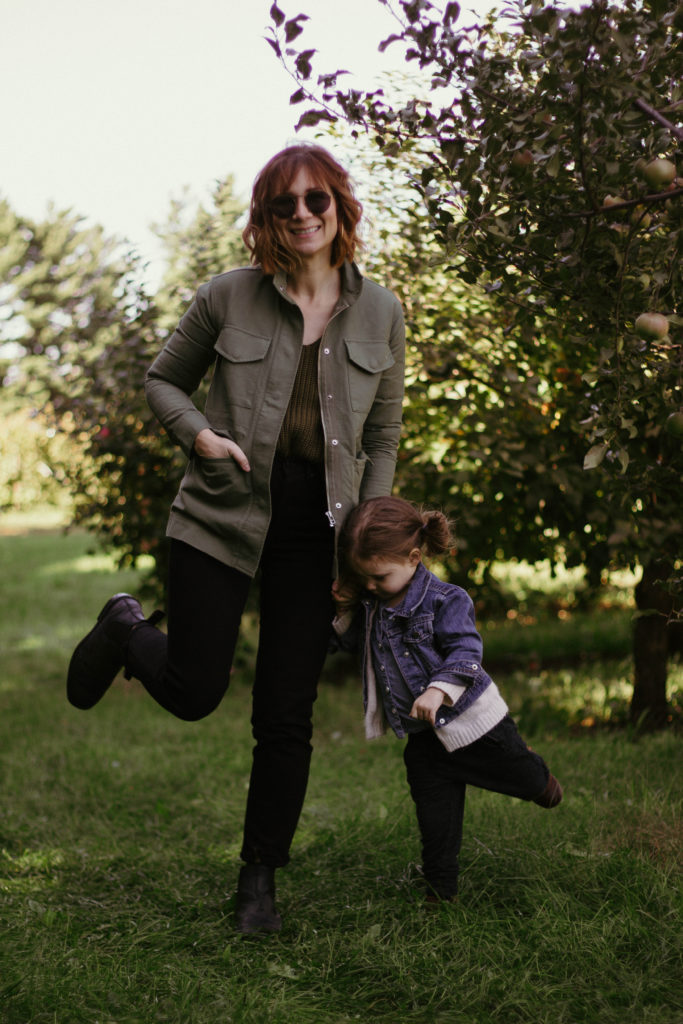 Bug suggested this pose. 😉
Sweater. TTS | Jeans c/o. TTS | Jacket. Size Down | Boots. TTS
Hey friends!
Now that fall is in full swing around here (did you catch my fall look book and my fall favorites?), we've been working down the list of fall traditions.
We have hopes to take Bug fall camping this weekend, but it might be a little too cold. We'll see! If nothing else, we'll do a bonfire in the backyard, and take her hiking the next day. I can't wait. 🙂
Last weekend we went to our second Apple Orchard for the season, but this time it actually felt like a fall activity. The first time we went, it was in the 90's and kind of miserable.
But last Saturday was perfect! The sun was shining, the weather was cool… and it was packed ha! But we still had a great time. The place we go is pretty chill… no fancy bells or whistles, but I kind of love it that way.
We stroll through the orchards, play on the little playground they have, and sample the apples (okay, and also the apple cider donuts).
Bliss my friends!
While we were there we took some photos of these new Everlane Authentic Stretch Cigarette Jeans that Everlane so kindly sent me.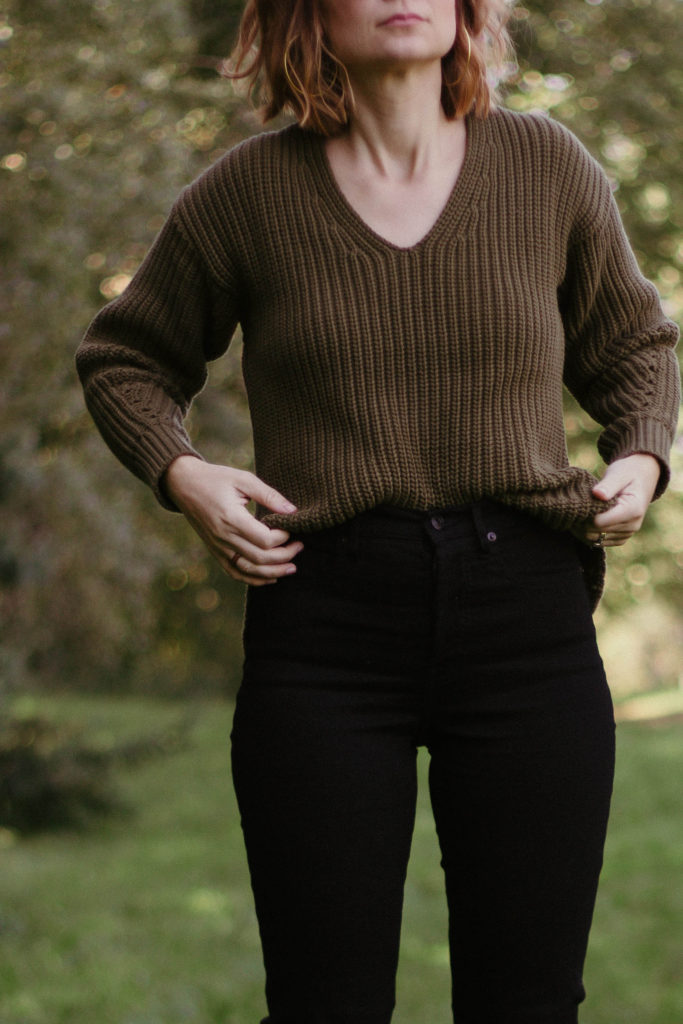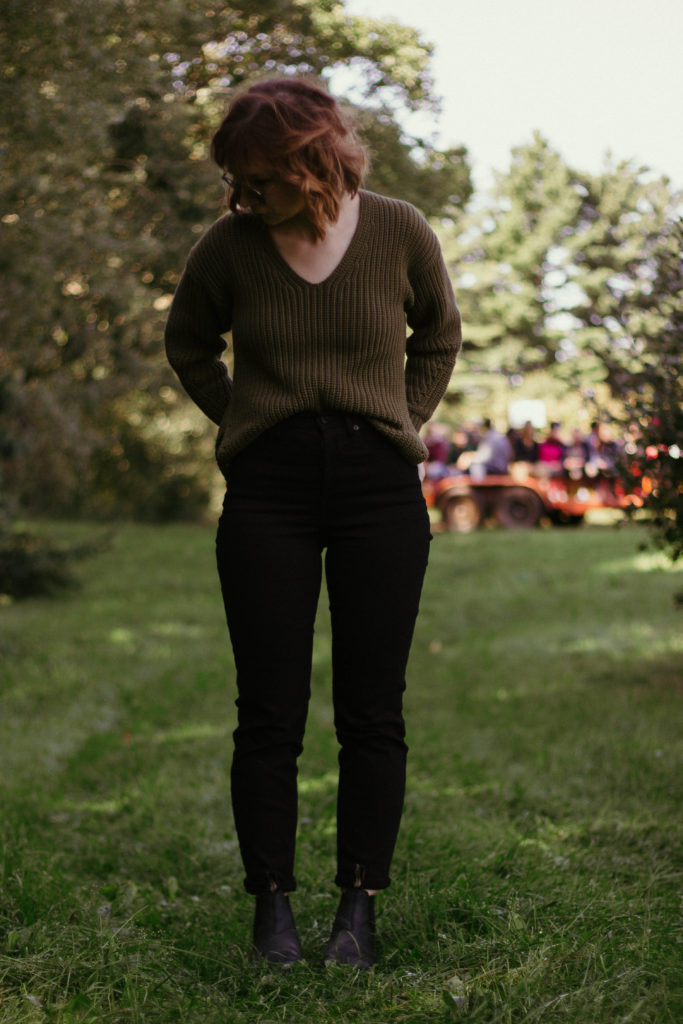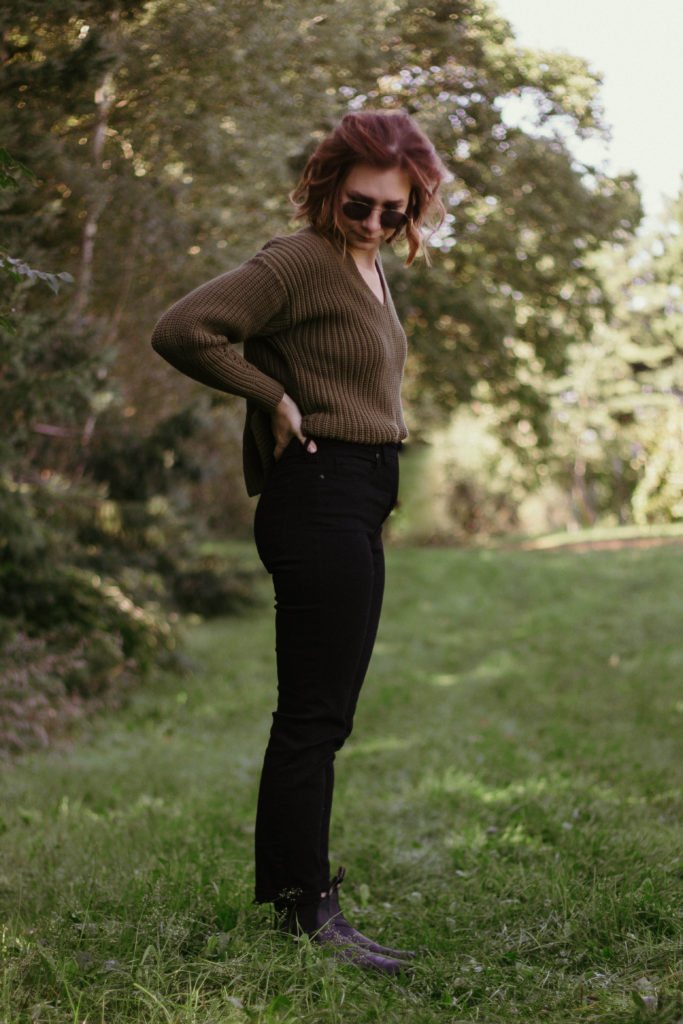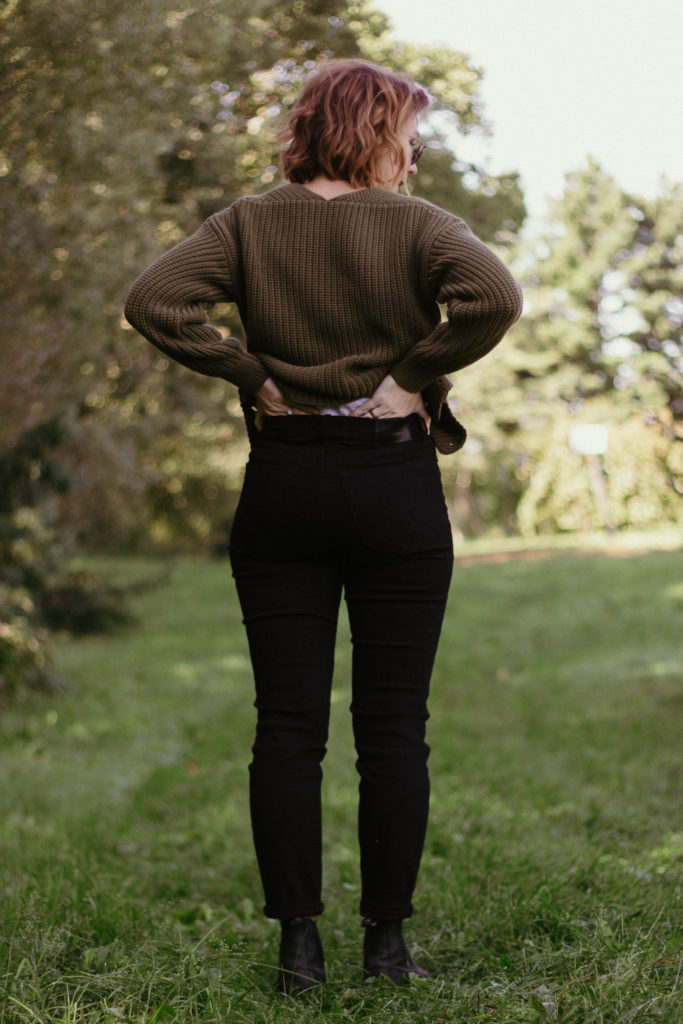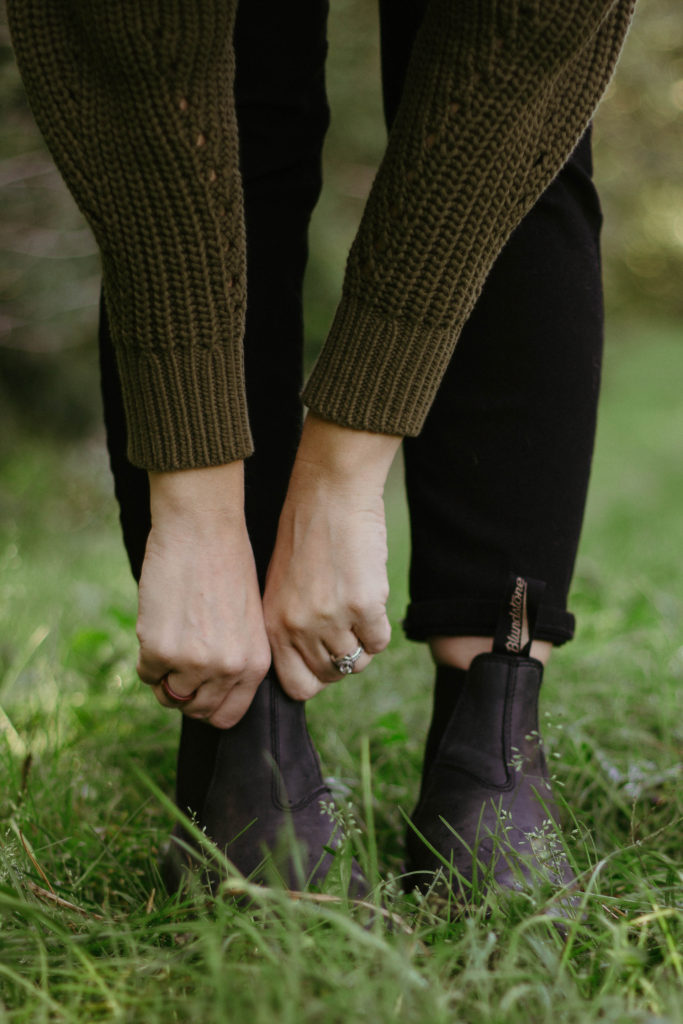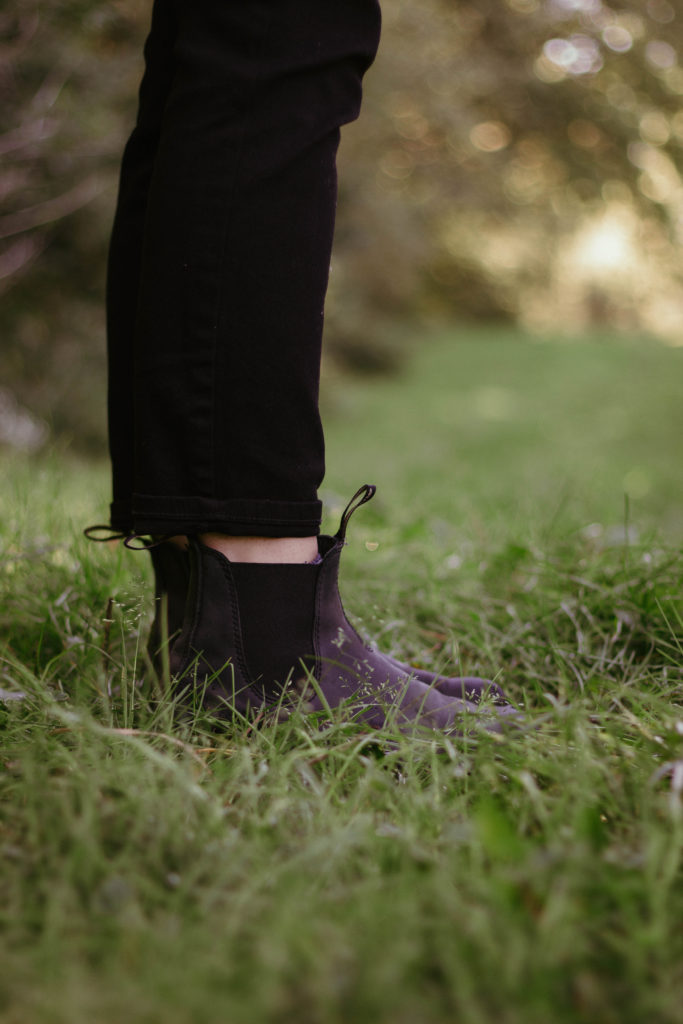 Real talk:
These are my new favorite jeans.
So good!
Things that make them so good:
:: the stretch. Listen. I'm all about the 100% cotton denim trend. That's my typical go to if I'm wearing denim. I've started avoiding stretch denim because it makes me feel too sucked in (you know what I mean?), and it tends to sag throughout the day. BUT, these do not sag! I wore them all day at the orchard and then on a date with David where we walked around for a few hours. They stayed put! They did stretch out a tiny bit, but not enough to lose their shape. And with the straight cut (instead of skinny), my legs still feel like they can breathe. To sum it up: they have the perfect amount of stretch that makes them flattering and comfortable!
:: the fit. They are so flattering! I just feel really confident when I wear them. They have a high rise (which I love), and the leg, while slim, looks a bit more classic than a skinny jean cut. They look great under a long cardigan and with a tucked in top, and I love how they look with ankle boots.
:: the color. Now, obviously this one is specific to the black color that I have, but I love how deep the black color is. In my old days of working in an office (a casual office), I could have totally worn these due to the wash. But besides that, I've been wanting a pair of black jeans for a while now so I can do the whole "all black outfit" with a stay at home mom bent… mission accomplished! They also have them in washed black and mid blue (which I plan to pick up for myself).
:: the details: they have a button fly (I was pleasantly surprised by this!), and the hardware is a gunmetal color so it doesn't stand out. Though small, these details make the jeans work for both casual and dressy occasions.
:: and just to be candid let's talk cons: because of the stretch, there is some bagginess at the knees. I don't think it's possible to make a pair of stretch denim without some bagginess, and it's not a lot. BUT if that bothers you, I would stick with the cheeky straight jean made from 100% cotton. The only other con, which I think is specific to the black wash, is that they attracted fuzz like crazy! I had to roll off the fuzz before leaving on our date because it was noticeable. To me, the good outweighs this annoyance, but for those of you with shedding pets… you may want to consider that.
For reference, my measurements are: 26.5″ waist, 32″ hips, 5'5″. I got a size 27 (my normal size) and they fit perfectly. If you're in between sizes, I would size down as they do stretch out just a bit.
I hope this was helpful! Jean shopping is so hard to do online, so hopefully this gives you clarity if you were planning on trying a pair.
I also have a review coming of the authentic stretch skinny jeans. I plan to compare them to a similar Madewell style for anyone who feels like they can't let go of Madewell denim. 😉
Let me know if you have any questions! Also, what style of jeans do you reach for the most? I used to be such a skinny jean girl, but I've been loving my straight leg styles this fall!
Until next time,
Karin
These jeans were sent to me in exchange for me sharing them with you. All opinions are my own… I would never review an item that I would not personally buy. I do make a commission if you purchase from the links in my post. I always appreciate your support in this area!