It's that time of year again! The 2021 Nordstrom Anniversary Sale preview is now live and it's giving me all of the Fall vibes ha! I really am SO happy with the warmer weather at the moment, but I do love a good cozy layer. Historically I've shied away from the sale because it felt a bit overwhelming, and then I've always regretted not taking a better poke around because the discounts can be really helpful when building up your wardrobe! And this year I'm feeling a need for a refresh in a couple of areas of my closet, and I think the Nordstrom Anniversary Sale is going to be a great way to accomplish that refresh.
SO! Today I thought would share my top picks from the Nordstrom Anniversary Sale. I'll share what's at the top of my wish list, but if you want to see my picks for each category, make sure to follow me on my shop LTK because I'll be sharing a lot more content there.
I know it can seem annoying to see all of the fall inspiration when it's still so warm out, but with a bit of careful planning you can get your fall/winter shopping done through the Nordstrom Anniversary Sale, and you can do it at a discount!
And because I do know how overwhelming the sale can be, I decided to take one for the team this year and do the hunting/searching FOR you so you don't have to do any work ha! That's what I'm here for guys!
Here's what you can expect from me this year:
I'm going to share my preview recommendations today along with some general sale info.
Next week, on the first day of the sale I'll share some pieces I already own that I recommend.
Then when my tier is open to shop, I'll place an order and then I'll share what I bought to try.
Finally, I'll share a post sharing what I kept and how I'll be styling them for fall.
And if you are wondering about the timeline for shopping the Nordstrom Anniversary Sale – check your account to see what tier you are at (you have to have a Nordstrom Credit Card to shop early) and then when your tier day is open you can start shopping:
July 12: Early Access for cardmembers with Icon status.
July 14: Early Access for cardmembers with Ambassador status.
July 16: Early Access for cardmembers with Influencer status (this is when I'll be shopping)
July 28: Anniversary Sale opens to the general public.
You can stay up to date on my Nordstrom Anniversary Sale posts here.
SO okay I'll stop chattering. Keep reading to discover my recommendations from the preview for the 2021 Nordstrom Anniversary Sale!
(Click on the photo to shop)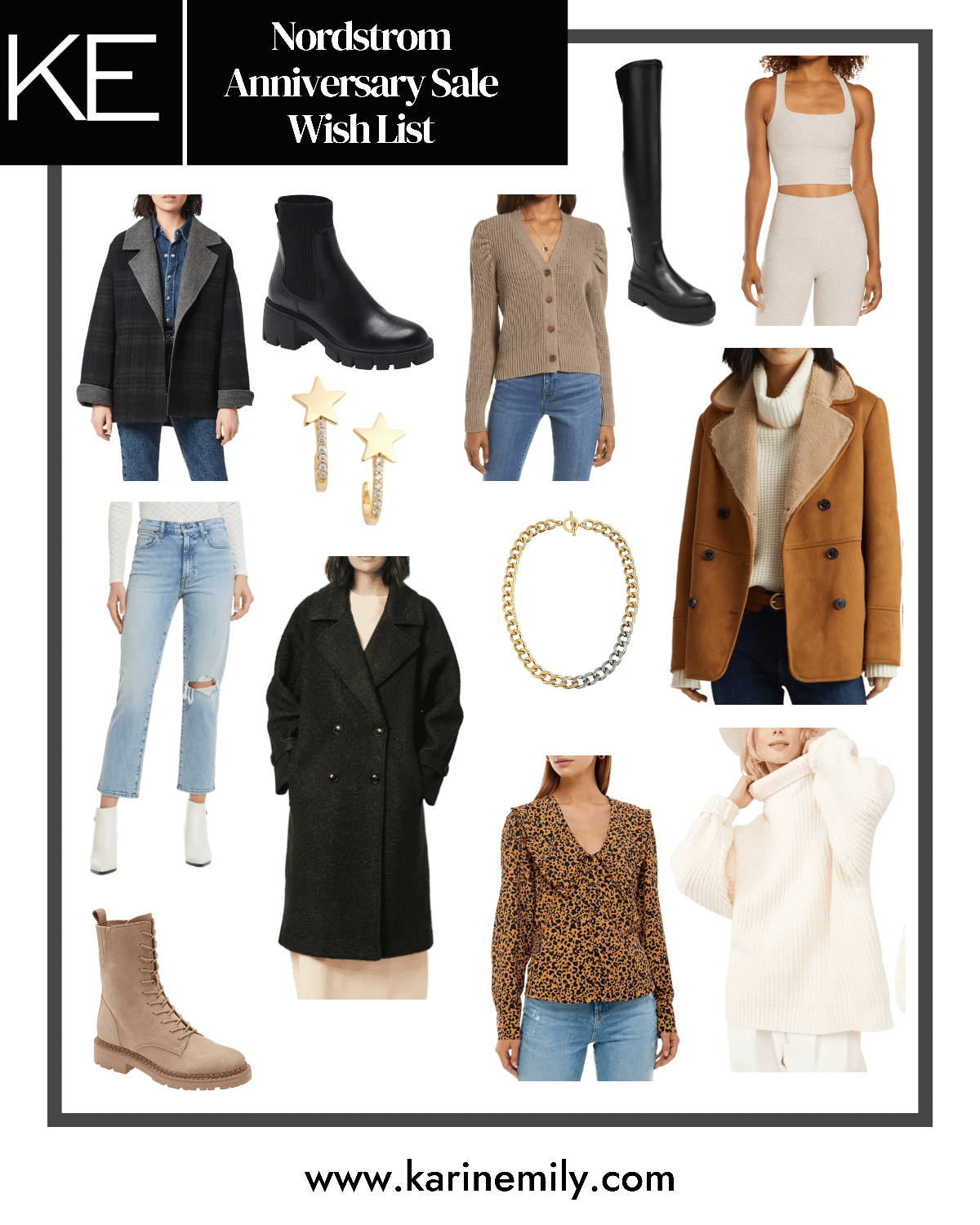 ---
Shop the Edit

---
I'm really in the market for a new pair of black boots – one thing I really felt was missing in my wardrobe last winter was a minimal pair of chunky-ish black boots with a really slim ankle to wear with my more straight leg denim. These platform boots from Steve Madden look really promising so if I can nab them before they sell out, I'm pretty intrigued.
I also really want a pair of tall black boots that I can wear with leggings, but I'm not interested unless they're flat because, well, I'm wearing leggings for comfort and a heel will totally negate that ha! This over the knee pair from Franco Sarto look super fun so I'm excited to try them out.
In terms of coats, I have two styles that I'm wanting to add to my wardrobe this fall: a long black coat and a shorter style with big lapels. My older black coat that I've had for about 12 years is completely worn through and it's time to move on… I'd like a style that's a little oversized and this faux fur version from Bernardo seems like it might be a good addition.
For shorter coats, I LOVE both the plaid Bernardo coat and the faux fur Ralph Lauren. Both are great, but the color palettes are quite different so I may have to chew on it a little.
The rest of the pieces on my wish list are just pieces that look cute so they may or may not get added to my cart, but I'll definitely be keeping my eye on them.
K! That's all I've got for now. If you want me to look for something specific and try it out for you let me know in the comments!
Until next time,
Karin