Happy Sunday my friends! I know we're all busily preparing for a relaxing holiday week (oh! the irony! ?) so I won't make this intro too long, but I wanted to share with you guys my tried and true dairy free Thanksgiving recipes. I've been dairy free for about 5 years now so I have learned (through lots of trial and error) some tips and tricks for things like… Thanksgiving! I'm not the kind of person who's happy to sit out on the yummy food, so I found some really good substitutes pretty early on, and we've continued to incorporate those recipes into our Thanksgiving feast. SO! Today I thought I'd share my go to dairy free Thanksgiving recipes so you can have a bloat free (or at least the culprit won't be dairy!), migraine free Thanksgiving day. ?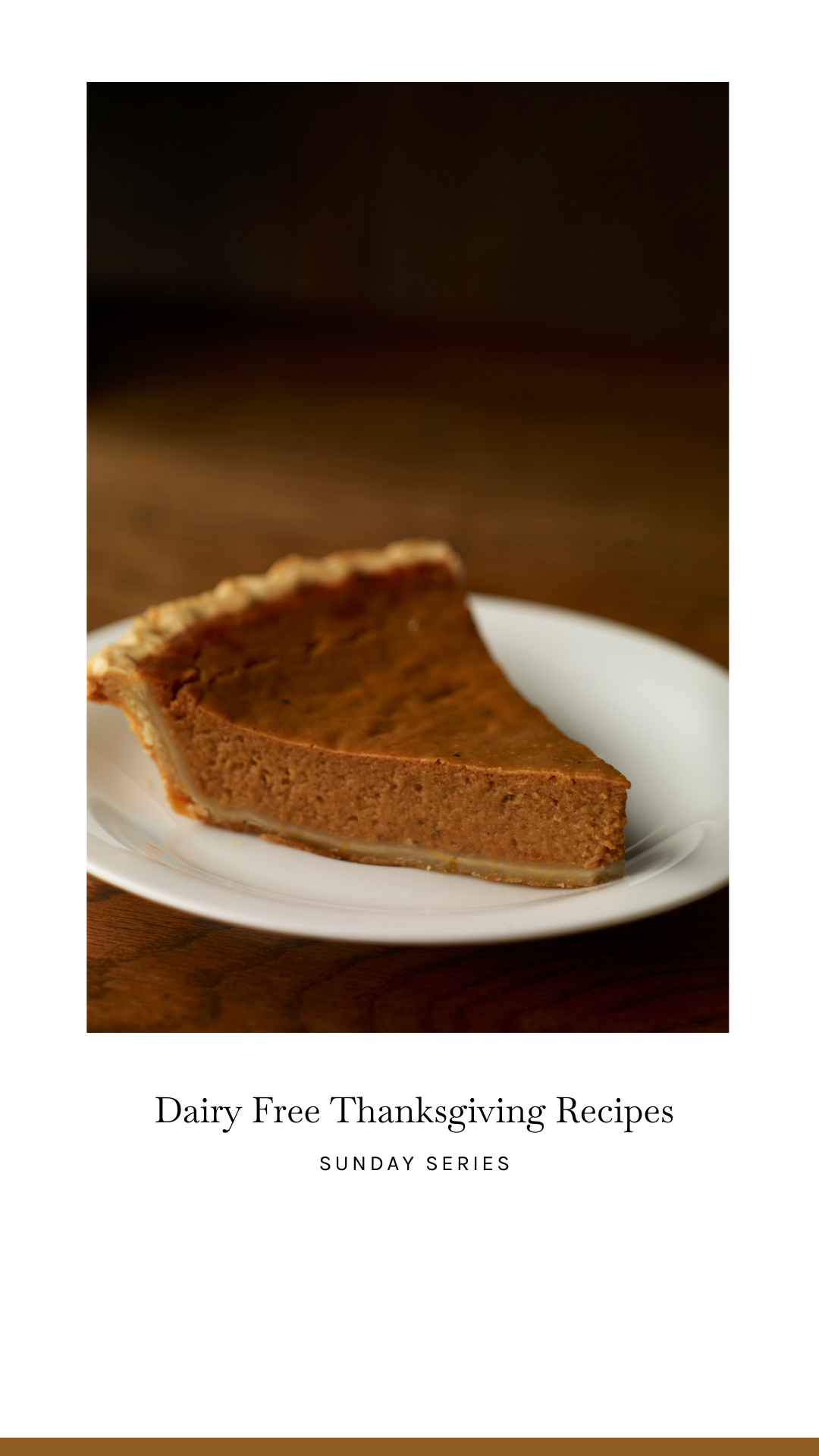 Candied Yams – I use this recipe and I substitute with earth balance butter.
Green Bean Casserole – I use this recipe for a dairy free cream of mushroom soup (JUST make sure to buy plain dairy free milk – the first year I did this I accidentally used vanilla and it was not good. Ha!) then mix it with the green beans and top with onion straws. Bake at 375ish until the onion straws are browned and the soup is bubbling. Basic, but yummy!
Corn pudding – this recipe is delish!
the BEST gluten free/dairy free pumpkin pie recipe can be found here. You are welcome.
AND the best Chocolate cream pie recipe can be found here. You are double welcome.
Mashed potatoes – sub butter for earth balance butter, milk for full fat unflavored oat milk, and dairy free sour cream.
Other Thanksgiving foods that are naturally dairy free:
Cranberries
Turkey
Stove Top Stuffing
Deviled eggs (mayo is dairy free… some people don't realize that!)
Check your rolls to make sure they are dairy free – lots of them aren't!
You can also mix up a great salad with lots of veggies and olive oil and lemon juice for the dressing and a big fruit salad.
So there you have it! Those are my top dairy free Thanksgiving recipe ideas. I hope you found this helpful, and I hope you have a wonderful week celebrating with your family and friends!
Until next time,
Karin