Drum roll please…
Here it is folks! My Fall 2015 Capsule Wardrobe. I had a lot of fun putting this round together, but boy was it a lot of work: both emotionally and physically.
Here's the thing, I know I have talked about this before (here and here), but my body is not where I thought it would be nine months after giving birth to my daughter.
There is so much messaging via social media that all you have to do is just work hard after having a baby and you will for sure be back to your pre-pregnancy sizing right away.
Well guess what?
I have worked hard. I work out regularly and eat healthy 90% of the time and I am not at my pre-pregnancy weight or size.
In the process of putting this fall capsule together I finally broke down and bought some clothing that fits now instead of waiting for some magical moment in the future when my old clothes will fit.
There were tears and it was hard, but I'm so glad I did because the clothing that is included in this capsule makes me feel good… which is a huge tenant of a capsule wardrobe right?
But to that point, I had to do a LOT of trying on and a LOT of returning.
Before being pregnant I could order everything online because I just knew how everything fit, but I had to relearn my sizing.
Plus, I was working with a limited budget so I had to thrift and eBay the heck out of this capsule.
But then all of a sudden, it just seemed to come together and I was able to breathe this huge sigh of relief. I hung everything up in my closet and the end result makes me really happy.
I ended up with 40 items again, which is funny because even though I don't have a hard and fast rule on how many items to include it seems like that number really works for me.
I did include a few light jackets in that number, but I did not include my rain jackets or heavier jackets. But you know what?
This capsule represents a step forward and an acceptance of who I have become instead of who I was. This past year has brought a lot of change and I am ready to to change along with it.
Clothing Details:

White Tee | White Blouse: Old Madewell. Similar. Affordable Option.| Cream Blouse: Old Aritzia. Similar | Striped Tee. Old Madewell. Similar

Cream Cardigan: Old Madewell. Similar | Graphic Tee: Old J.Crew Factory. Similar | Graphic Sweatshirt: Old Forever 21. Similar | Gray Cardigan: Old Old Navy. Similar.

Cowl Neck Sweater: Old Piperlime. Similar | Crew Neck Sweater: Old madewell. similar | Green Thermal: Thrifted Anthropologie. Similar | Blue Button Up: Thrifted Eddie Bauer. Similar

Striped Tunic: Old Anthropologie. Similar | Navy Thermal: Old Gap. Similar | Blue Sweater: Old J.Crew. Similar | Red Cardigan: Old Anthropologie. Similar

Red Tank Top: Old Madewell. Similar | Plaid Blouse: Old Madewell. Same Shirt, Different Print | Striped Tanks: Old Forever 2. Similar | Black dress: Old Old Navy. Similar

Gray Dress: Old Forever 21. Similar | Denim Jacket: Old Gap. Almost Exact. | Leather Jacket: Thrifted. Similar | Blazer: Old Madewell. Similar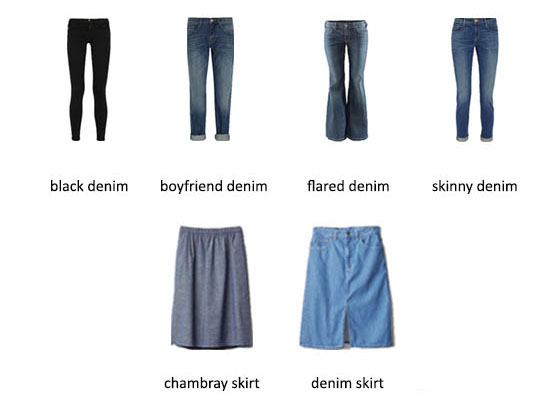 Black Denim: Old AE. Similar | Boyfriend Denim: Old from Marshalls. Similar | Flared Denim: Thrifted via ThredUp. Similar | Skinny denim: Old from Marshalls. Similar | Chambray Skirt: Old Gap. Similar | Denim Skirt: Old Gap. Similar

Heeled Booties: Thrifted Clarks. Similar | Black ankle boots | Loafers | Red Flats: Old Target. Similar | Snakeskin flats: Thrifted. Similar | Wedges: Vintage. Similar | Taupe Ankle Boots | Converse | Riding Boots
---
I would love, love, love it if you shared links with me to your own capsule wardrobe posts.
I would so enjoy seeing how you put your fall capsules together. And if you aren't a blogger, no worries! I would love to hear from you anyway.
Did you struggle with putting together your fall capsules or was it just a breeze (If so… lucky you!)? Also, if you have any questions, feel free to ask! I'd love to try to help as much as I can.
Also before you leave… Gianna from Family Fun city has a GREAT post about creating a capsule wardrobe for your kiddos. As I have not delved into the capsule wardrobe method yet with my own Bug, I will be using her post as a guideline for when I do. Make sure to check it out and give her some love!
Until next time,

*some of the clothing in this post are not the actual clothing in my closet. The reason for this is that a lot of my clothing is either old or thrifted. I try to do my best to find items that are as similar as possible. Thanks for understanding!