Okay round two. I already typed out this intro, but for whatever reason my website glitched, and I lost what I wrote.
Argh.
It's okay… soldier on!
THIS WEEK YOU GUYS.
The weather has been glorious, albeit temperamental. The past month has been so incredibly hot and humid.
Earlier this week the temps did drop, but the humidity was so thick I felt like I was swimming in it (literally. You guys who live in dry climates have no idea… ha!). But the last few days the temps have stayed down, and the humidity has significantly decreased, which means…
I went to Starbucks, and grabbed a PSL.
I'm kidding. I don't even like Pumpkin Spice Lattes TBH.
BUT I have been in full on Pinterest fall style pinning mode (you can follow along here), and I've been starting out my fall wardrobe planning process.
I'm thinking I'm going to take you along on that process over the next month and a half so you can get an inside look at how I do things (it's a bit nuts ha!).
ALSO. I haven't done a capsule wardrobe in a really long time, and I don't think I'll do one for fall this year, BUT I am thinking of sharing the fall uniforms I reach for when getting dressed. It's super easy to build a capsule around my uniforms so for those of you who still like capsule wardrobes you can get some inspiration for putting yours together.
Okay. That was a completely different intro than the one I originally wrote, but I guess this was the one that was meant to be. 😉
Let's get to what I wore this week: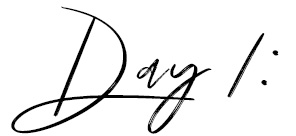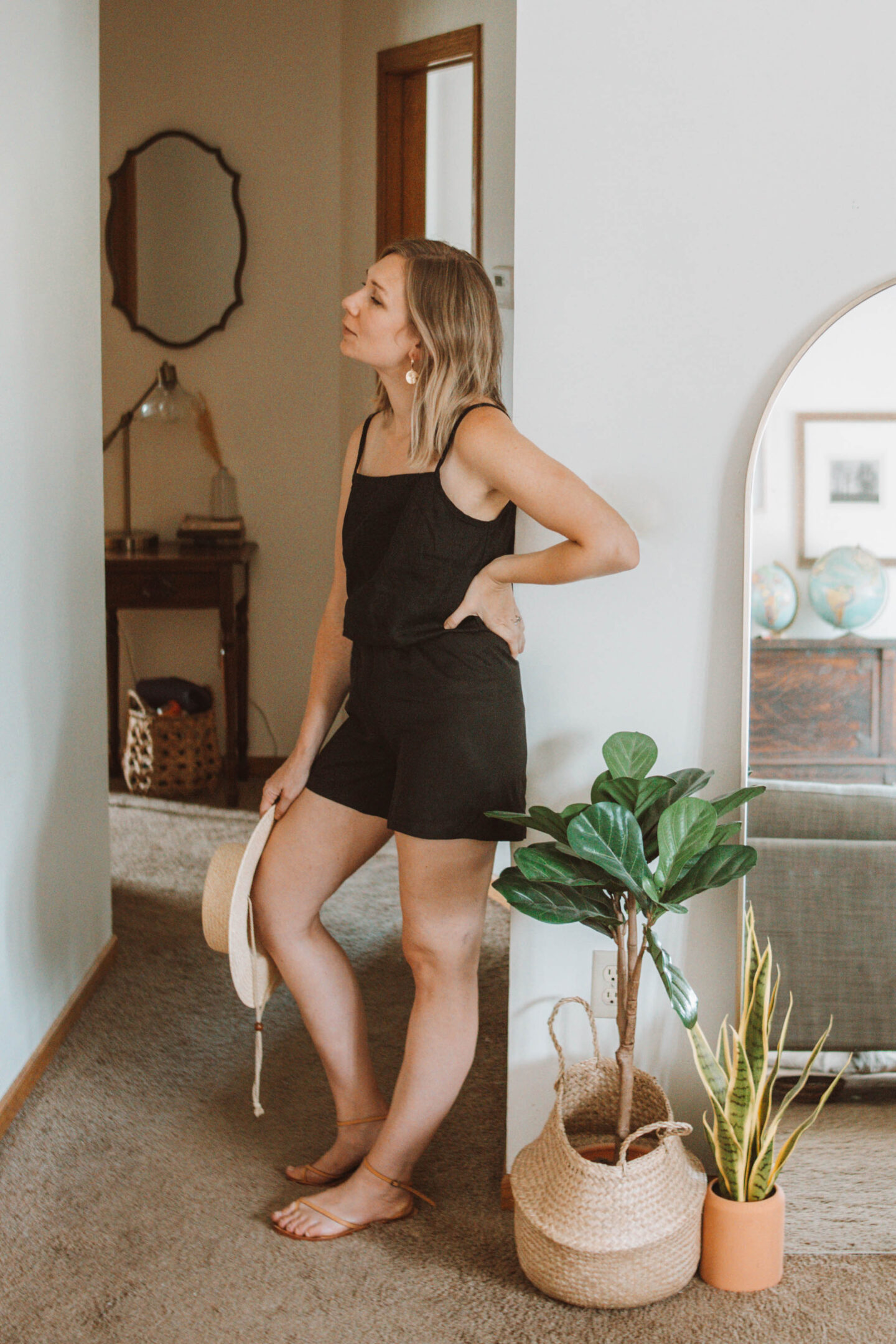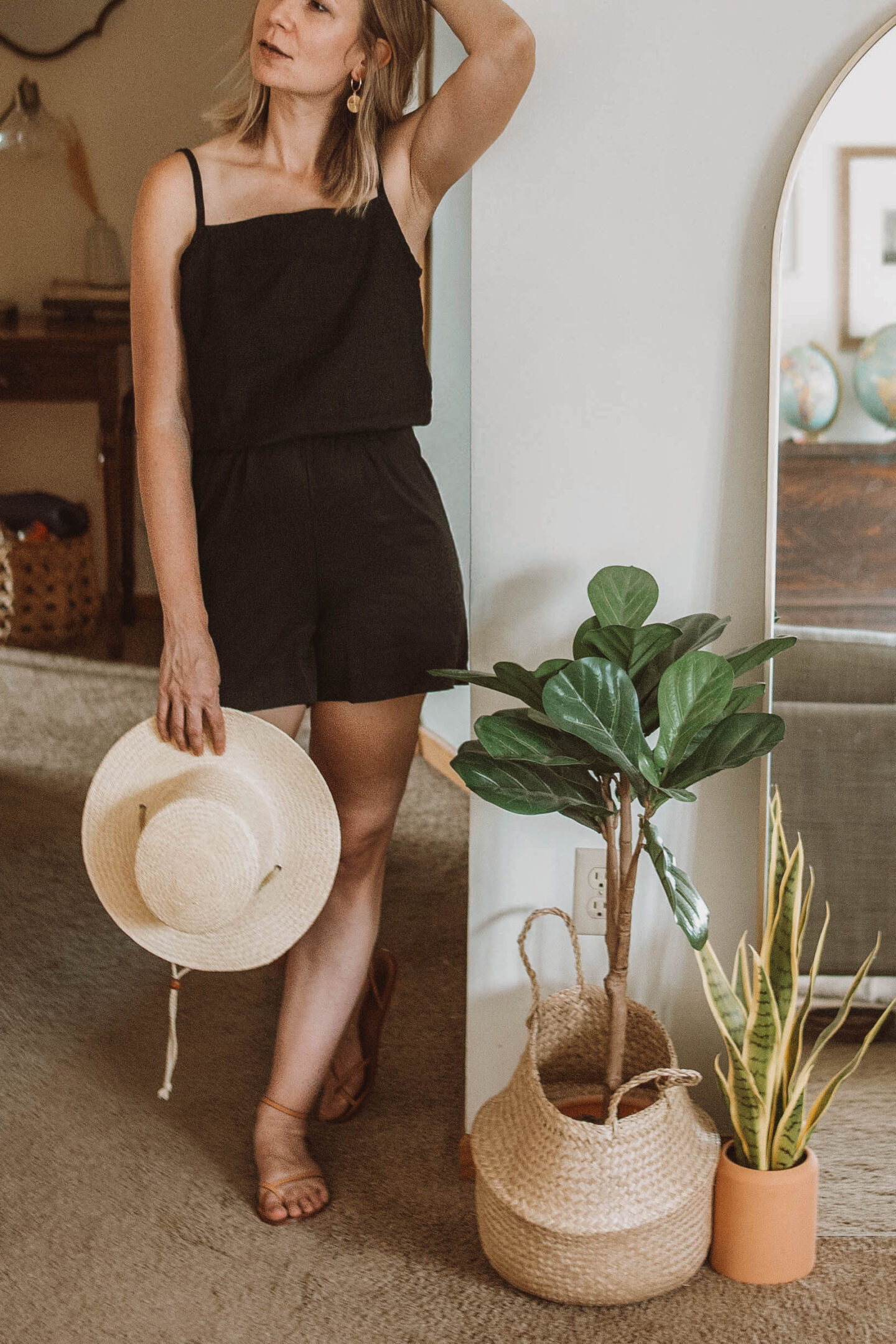 Earrings were gifted | The hat is from Lack of Color, but it's sold out so I'm linking to a similar style here
I just love how easy this outfit is. It looks like a romper, but it's actually a cami that I got from Etsy (did you see my Etsy favorites post?) paired with a really silky and soft pair of shorts from Sotela (that are currently deeply discounted). This outfit is perfect for days when it's super hot and I know I'll be running around with my kids… in fact I wore this outfit on a super hot day when I was running around with my kids. 😆 I do love the drama of an all black outfit, especially when it's secretly a really comfy thing to be wearing.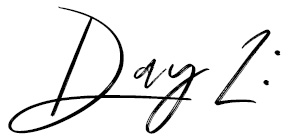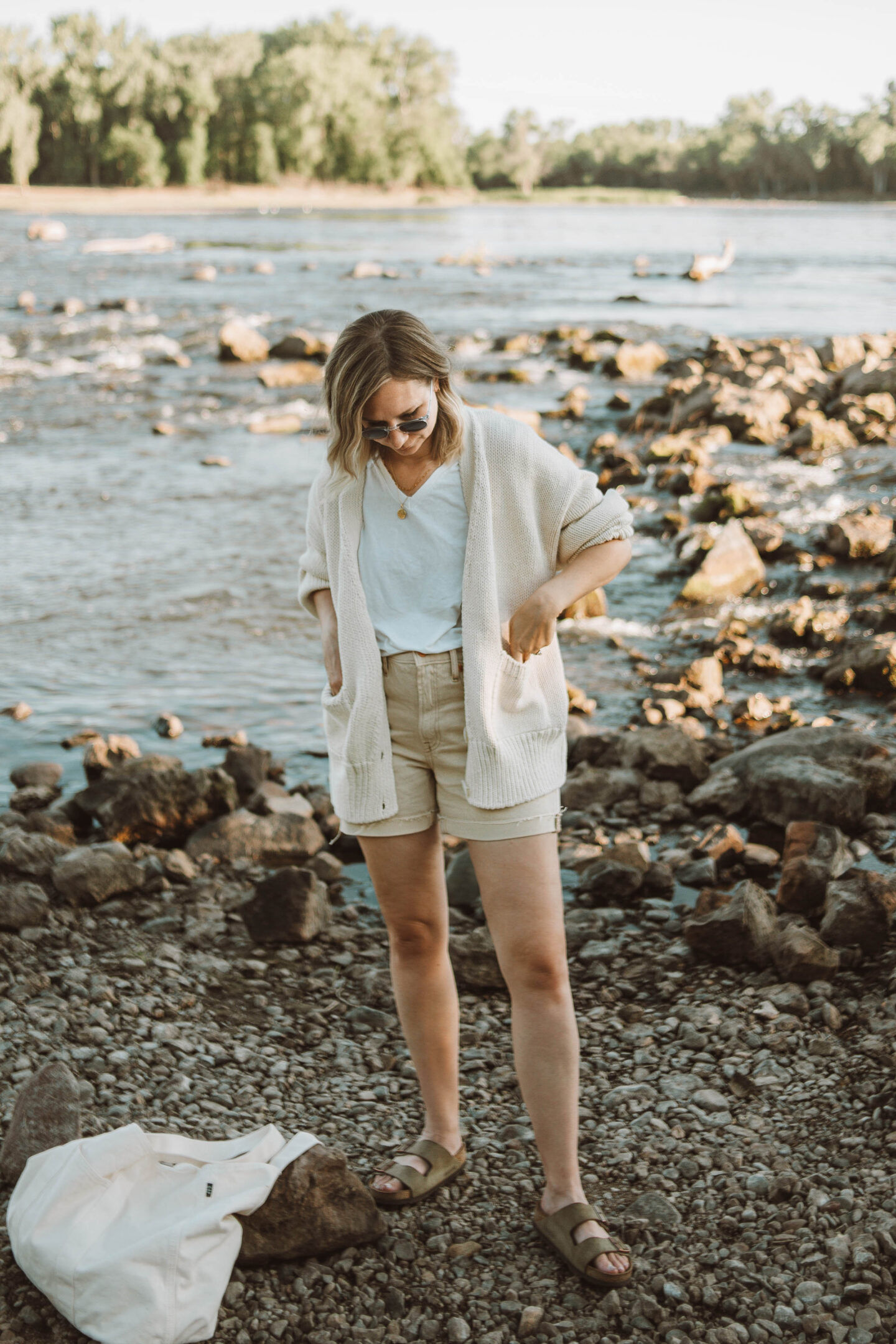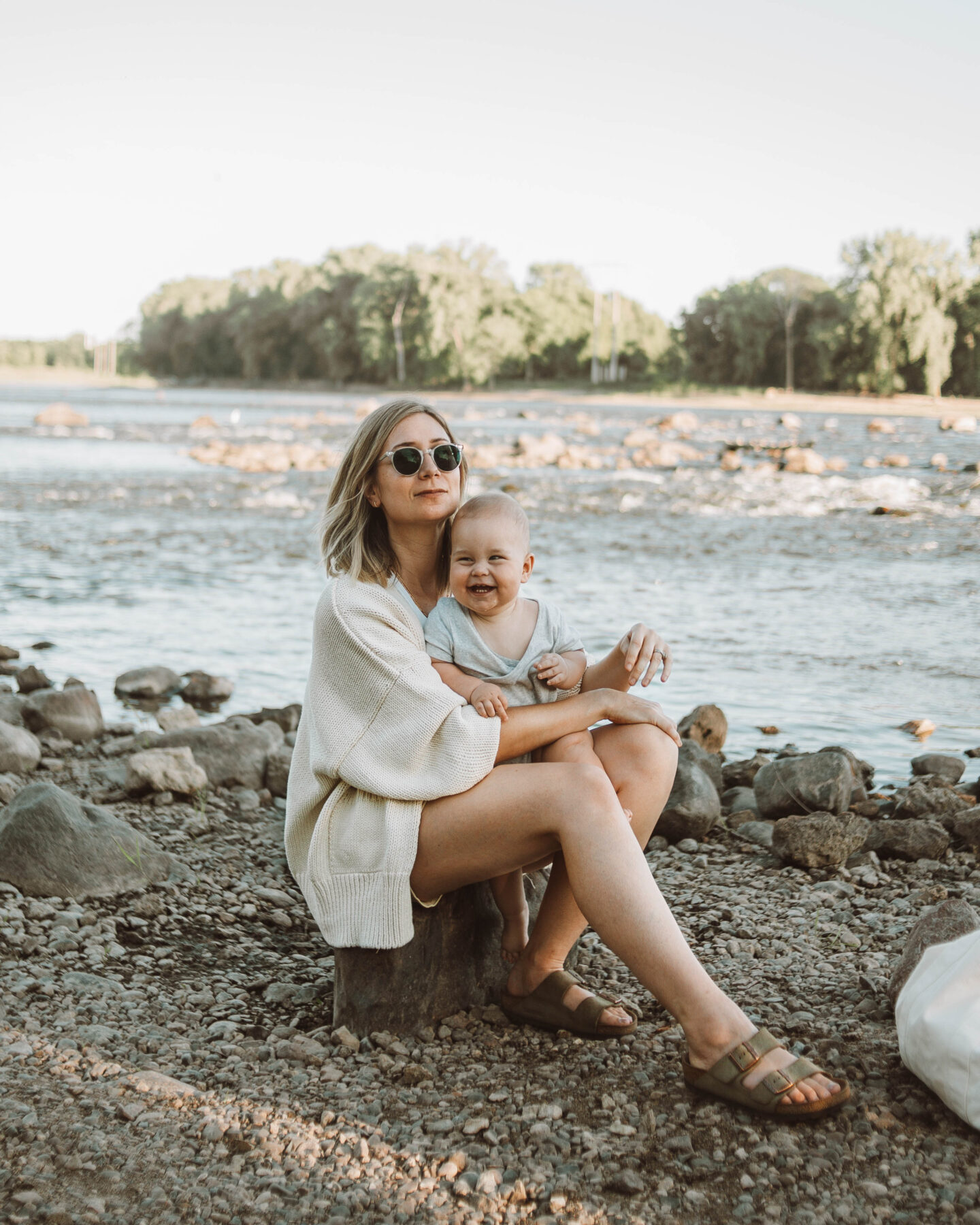 The tee I'm wearing is just one of my hubbies because all mine were dirty 😂 | Necklace was gifted | Shorts were gifted (review here)
I wore this outfit on a night spent at our favorite spot on the river. I just recently picked up this Babaa cardigan when they were running their sale, and I literally don't want to ever take it off. It's honestly so amazing. The price tag is pretty steep on this one (you can find a more affordable alternative here) so I plan to do a review for you guys soon. I love it paired with a white tee, and these khaki denim shorts. Such an easy, comfortable outfit.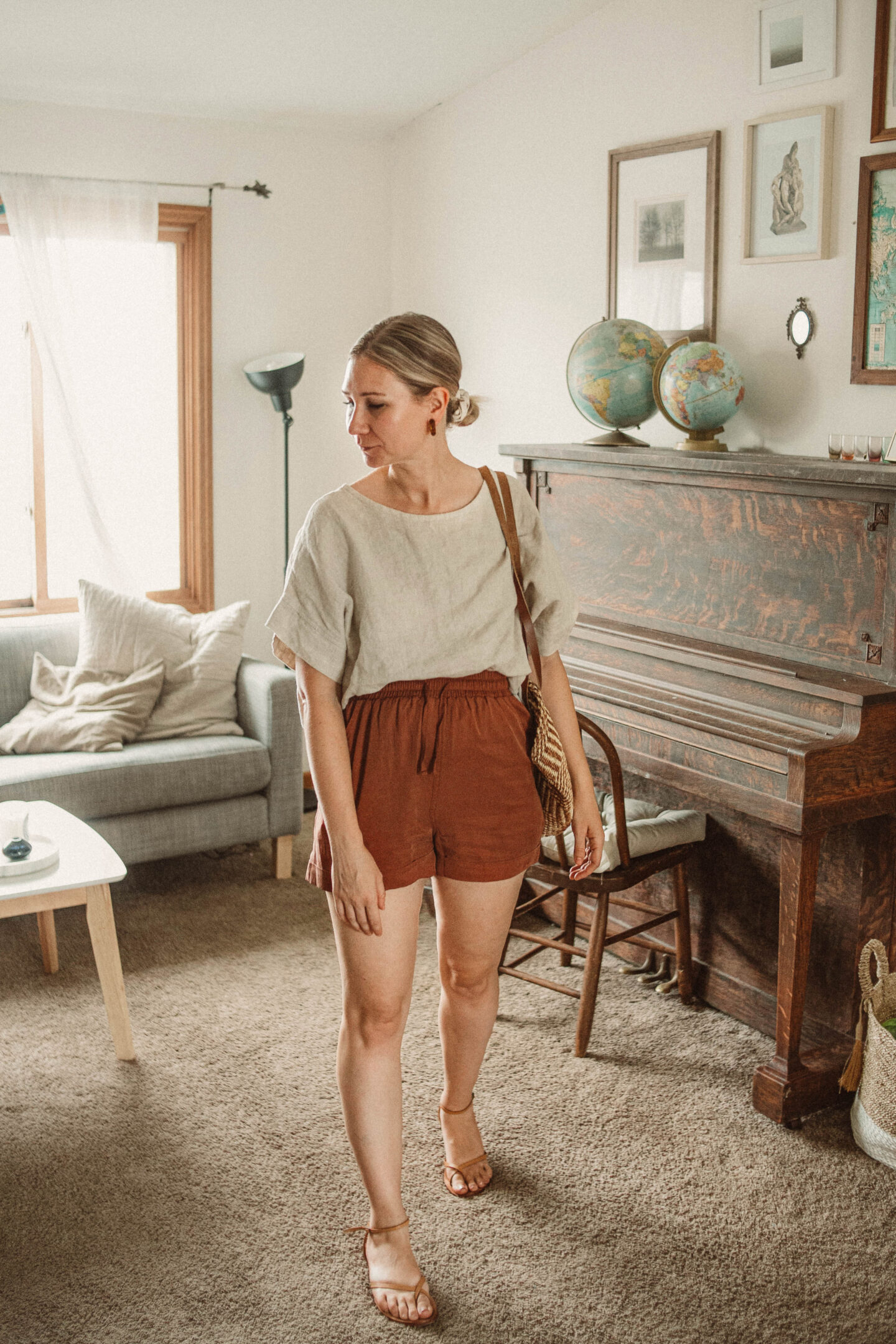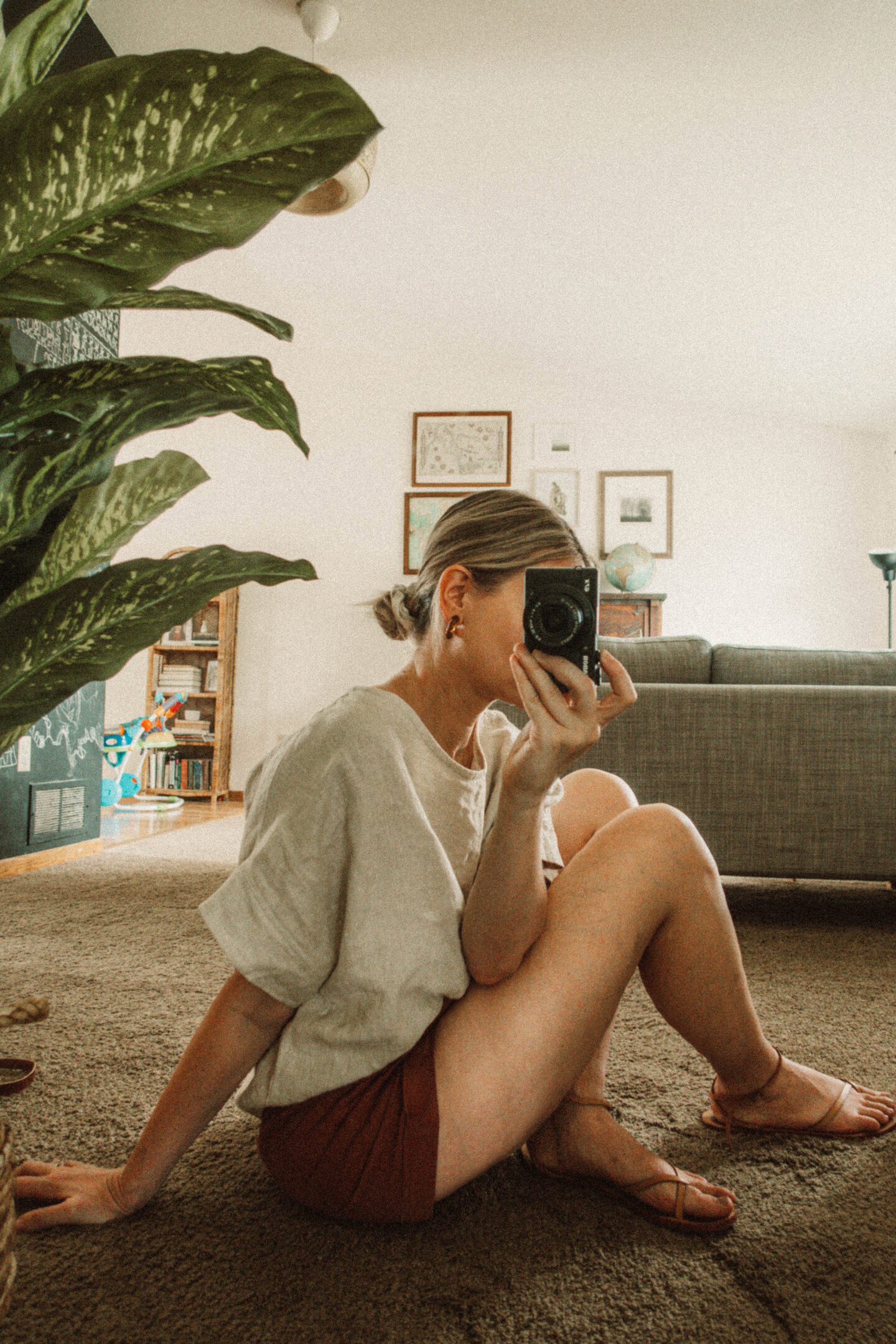 Tee is from Elizabeth Suzann and no longer available, but there is a super similar style here that's less than $80 | Sandals are old from Nisolo so I linked similar
I think there may be a theme with this week's outfits: easy. Cause this is another easy outfit. I recently picked up this pair of shorts from Target, and they are so good! They are really well made and so incredibly comfortable. I like that they don't feel too short, and this color is really unique and pretty but it still feels like a neutral. I am typically a size small in bottoms, but I sized down to an XS and they fit perfectly.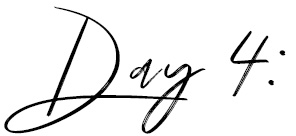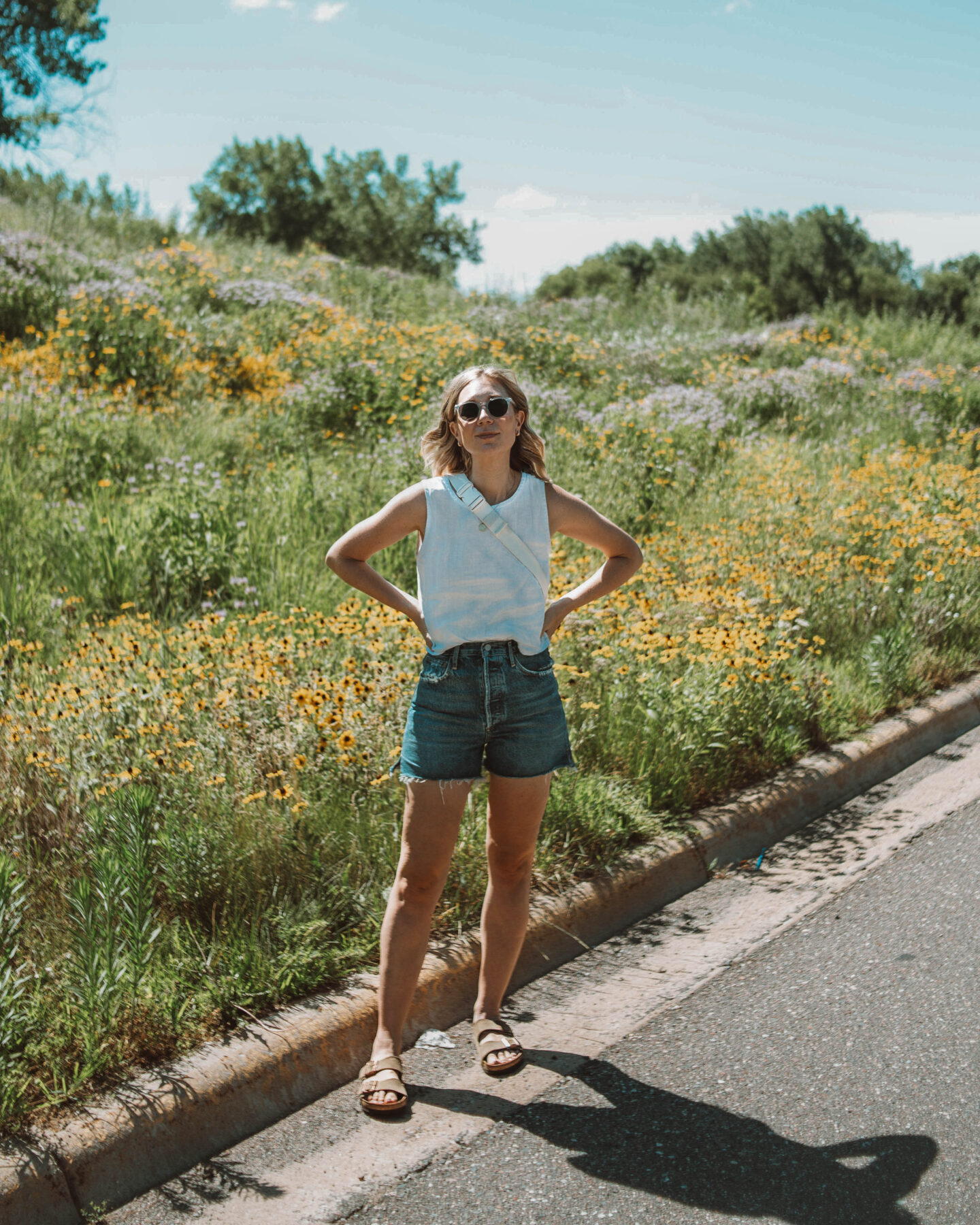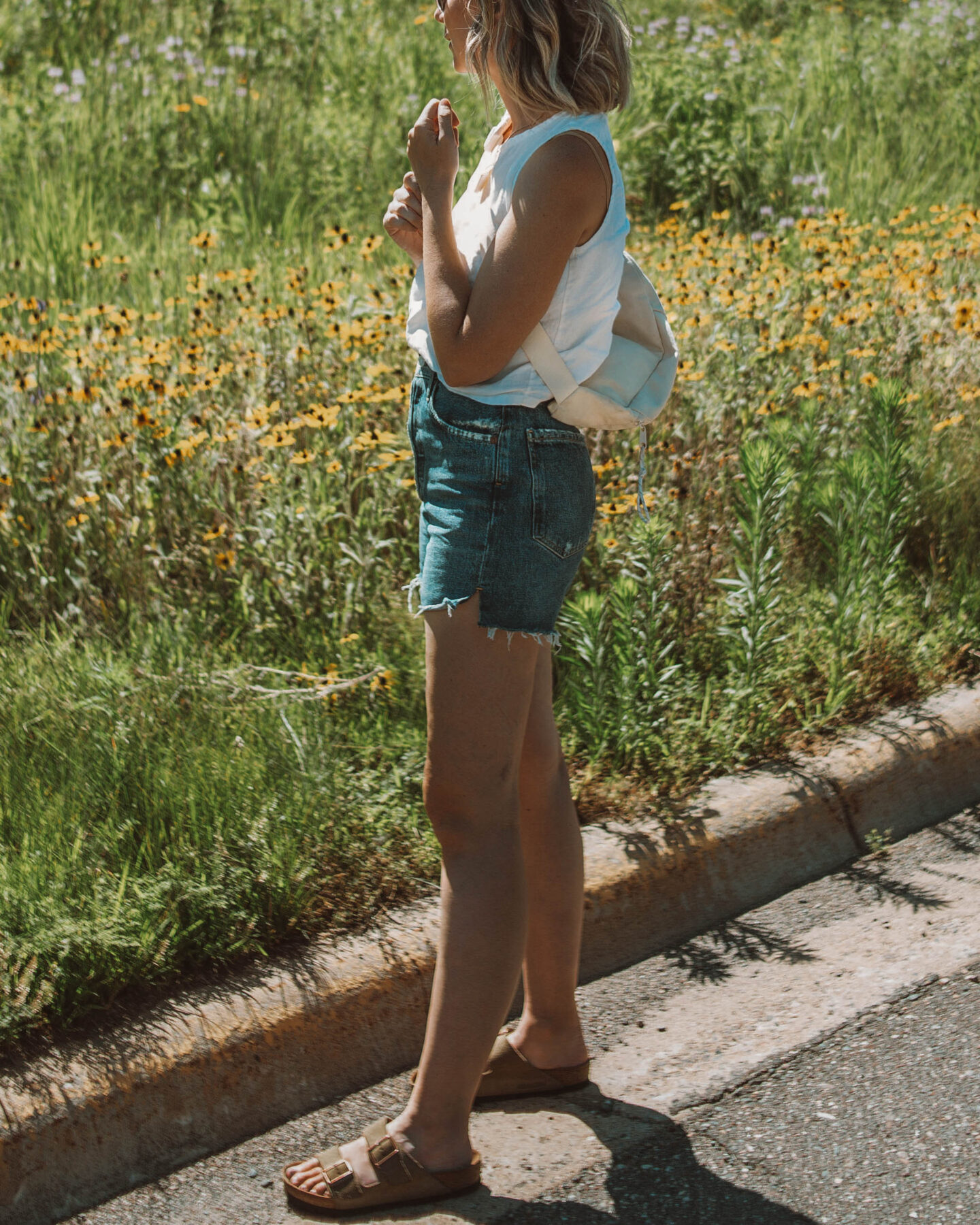 Necklace was gifted
To me there is nothing better than a white top paired with blue denim… and this outfit screams summer to me. I'm having a love affair with these AGolde shorts at the moment (see a roundup of all of my favorite denim shorts here), and this is my third summer having a love affair with this Eli & Barry tank (I have a review here), but what's been really surprising me is how much wear I've gotten out of these Birkenstocks. I mean, I know they are an incredibly versatile sandal but I was really unsure when I got them because I have extremely flat feet (think custom orthopedic flat feet ha!), and the arch support in these sandals really bothered me at first. It kind of felt like I was walking around with a block under my foot all day. But then over time they have somehow become so incredibly comfortable, and they have been my most reached for sandal this summer.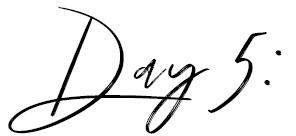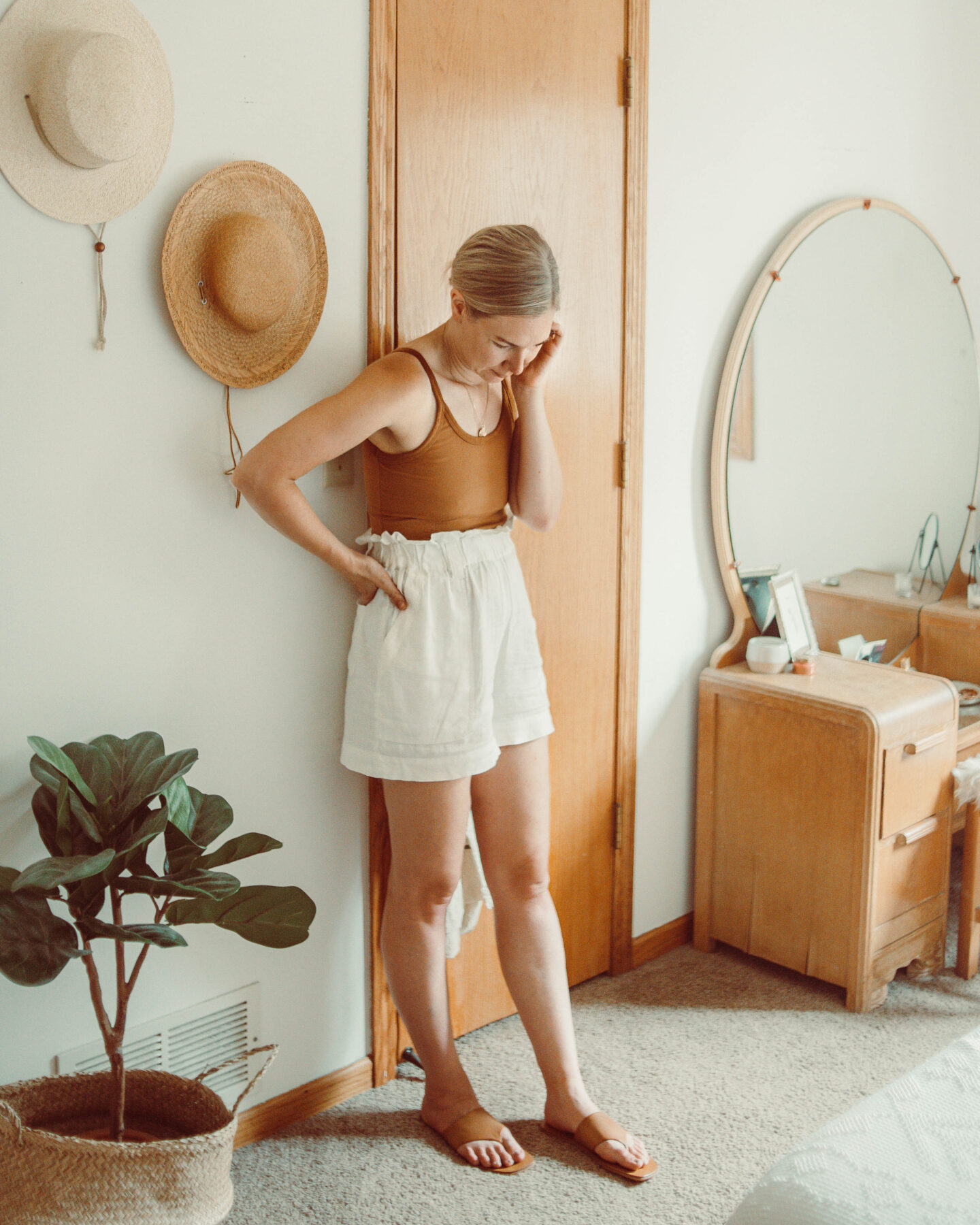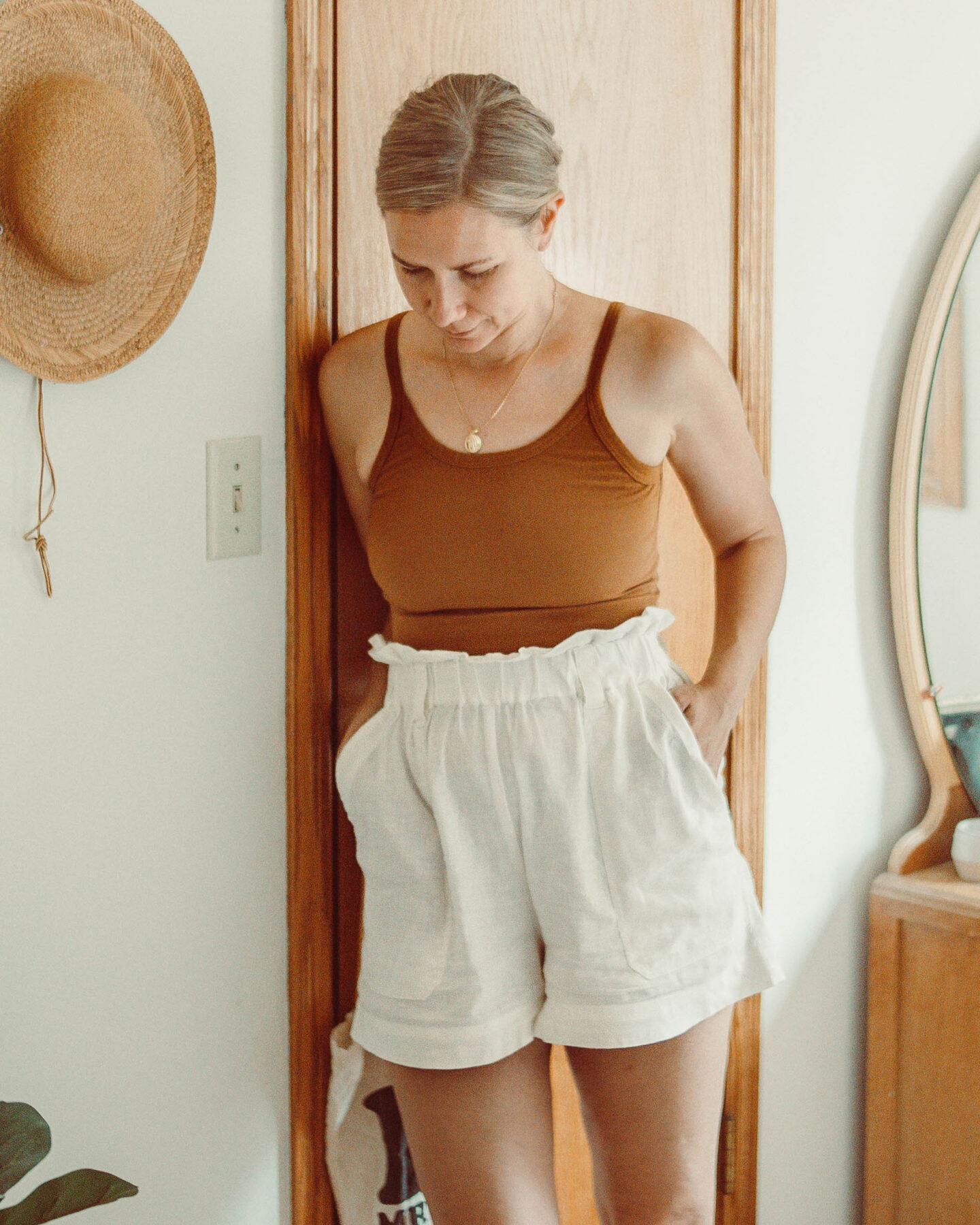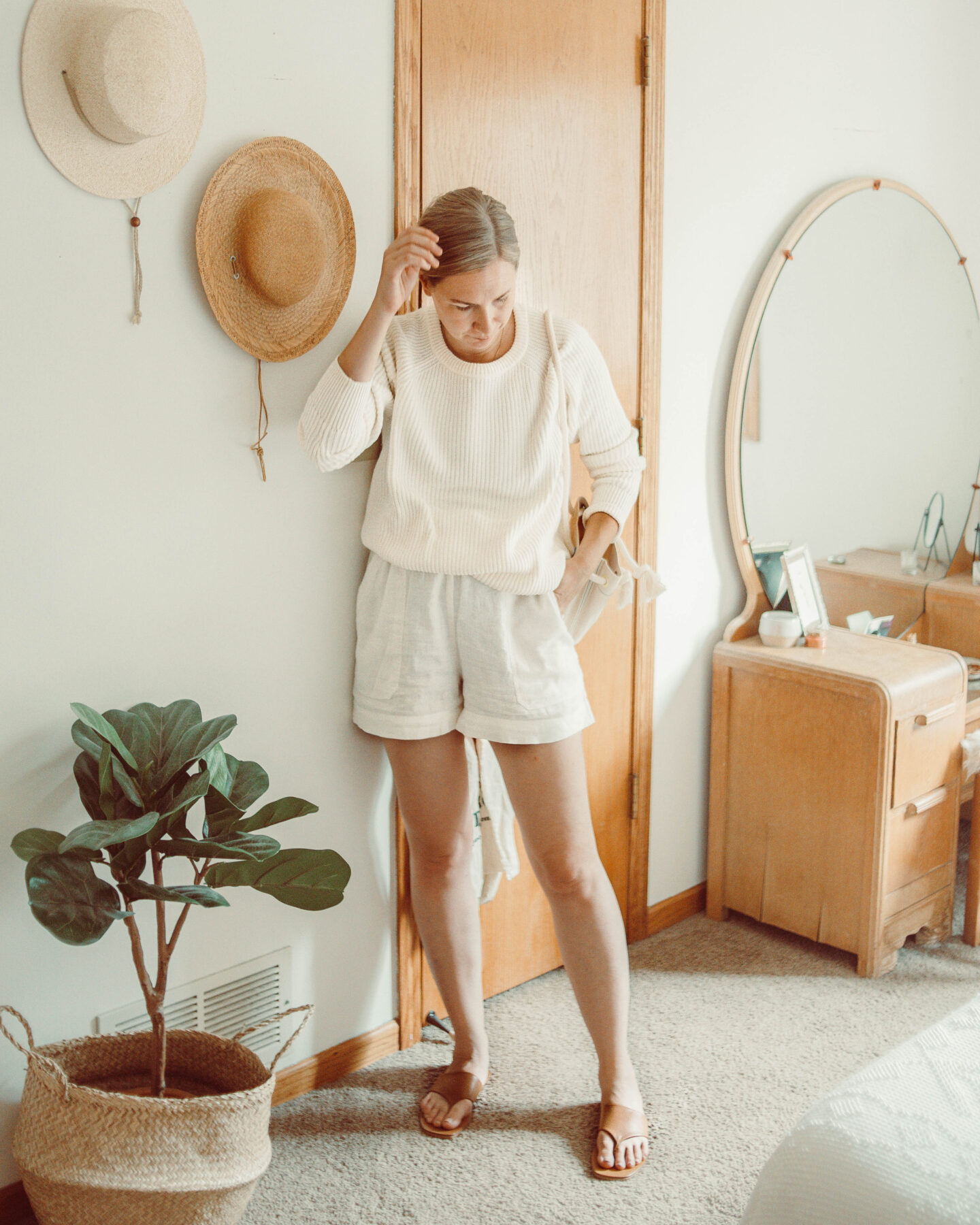 Sandals were gifted (see review here) | Necklace was gifted
This my ideal summer outfit. The colors, the comfort, the shape of it all. It's like I'm wearing my underwear, but I'm NOT. Ha! But for real, all of these pieces are so soft and comfy to wear, and it's this kind of outfit that's giving me food for thought for fall wardrobe planning. I MAY be moving away from my love of denim this fall. I think staying home so much has made me appreciate less restrictive clothing like joggers, linen pants, etc. Basically, I want all of my pants to be as comfy as these shorts going forward, and I won't settle for less. 😉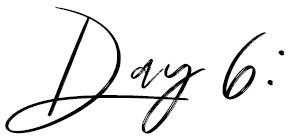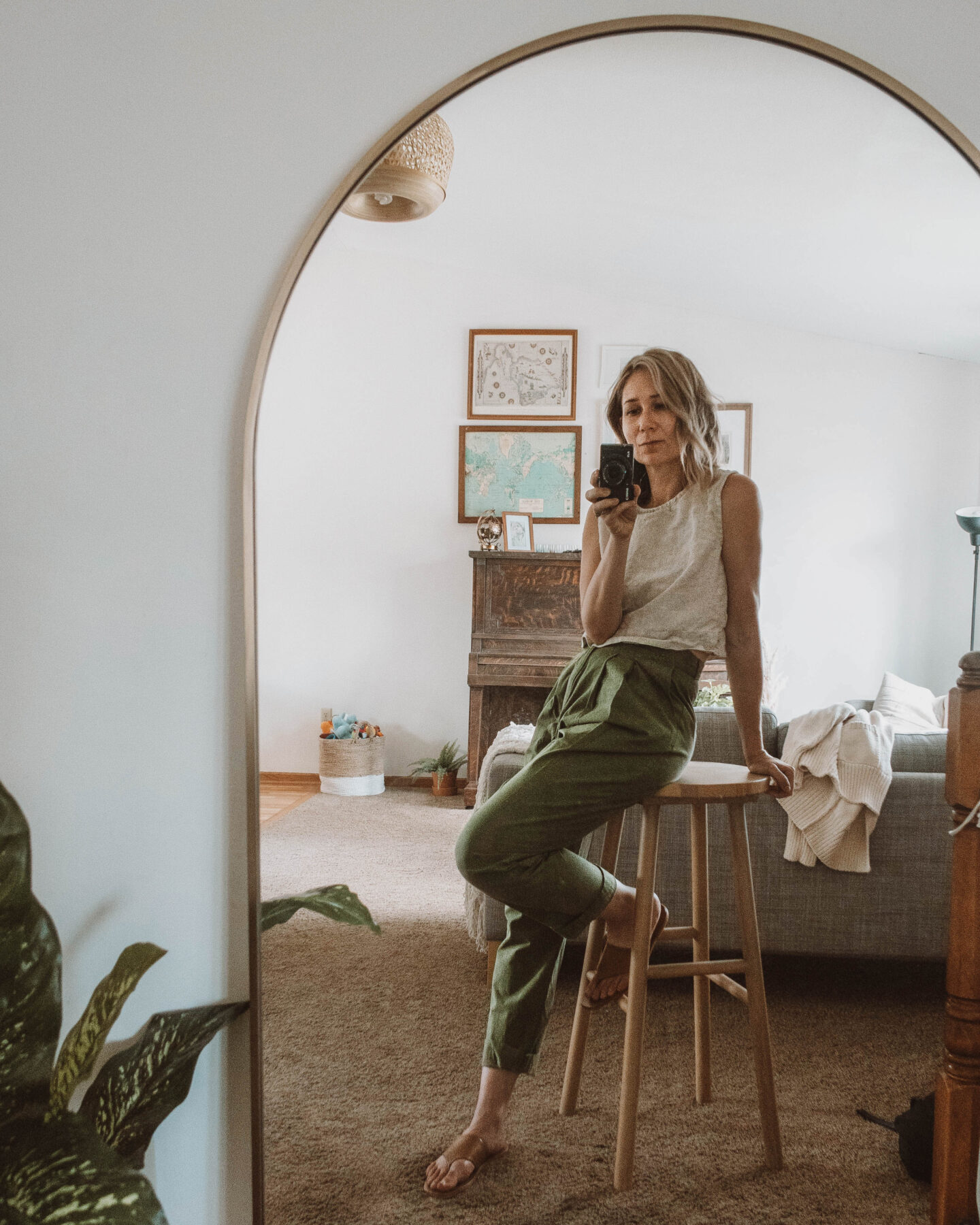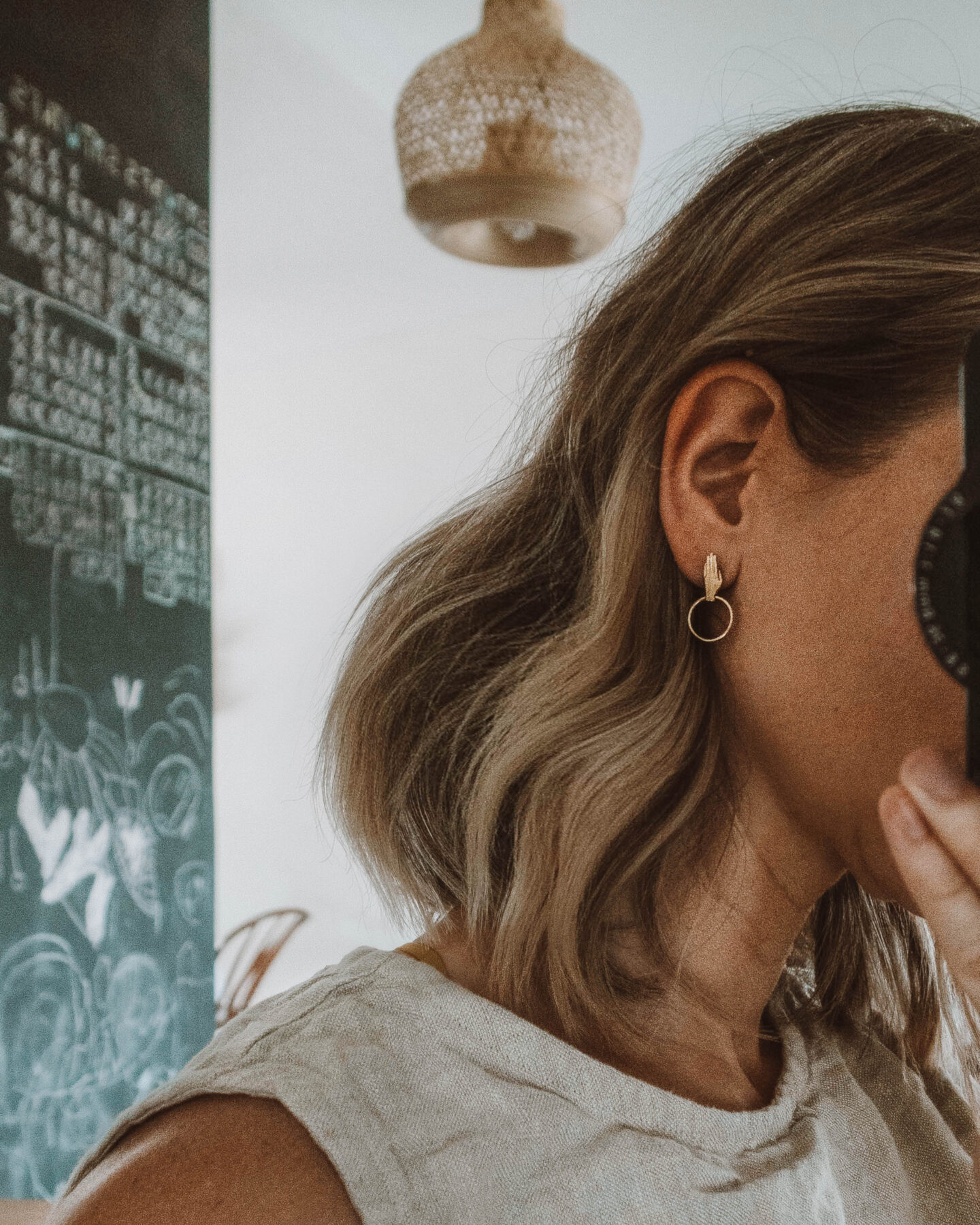 Tank is Elizabeth Suzann and no longer available so I linked similar | Pants are Esby and no longer available so I linked similar | Sandals were a gift
I'm so sad that most of this outfit is no longer available for you guys, because the top and pants are both pieces I really love! I did link similar for you guys though if you want to recreate it. This isn't a color combo I reach for a ton, but I do love the combination of the oatmeal, khaki green, and cognac. Paired with the subtle statement gold earrings, this outfit is the perfect balance in my opinion of cool and casual. I can't wait to repeat it with a slouchy sweater in a couple of months.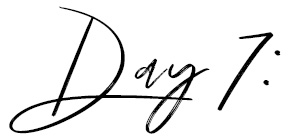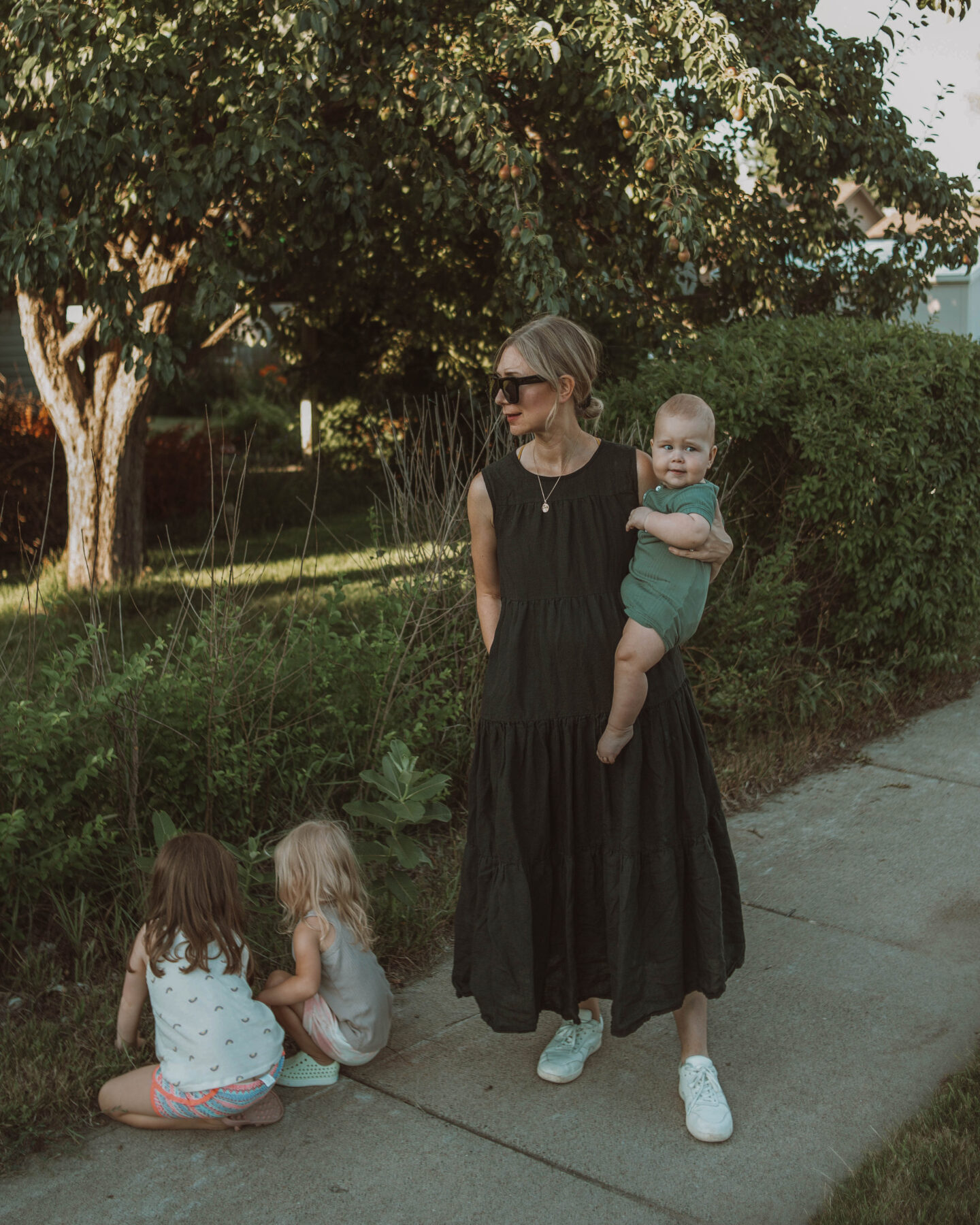 Sneakers were gifted (review here) | Necklace was gifted
This dress is drama you guys. It's so BIG and FLOUNCY, and I LOVE it. It's actually super easy to wear, and it's lined so you don't have to worry about fussy undergarments, which makes it perfect for that stay at home life… BUT it makes me feel so extra (that's the first time I've used that word… is that a word people still use? EDITED TO ADD: thanks to a reader who pointed out that, as a white person, this isn't a great phrase to use. You can see the resource she shared in the comments below) every time I wear it. It's no longer available in black, but it's still available in a few other colors (including the most amazing bubblegum pink color). I would suggest sizing up in it as the armholes do run a bit small.
---
Well that's all I've got friends! Are you guys looking forward to fall (in July like me? Ha!) or are you still firmly into warmer temps. Don't get me wrong, I'm not actually looking forward to summer being over because it's a lot easier to be home bound when you can be outside, BUT the cooler temps do bring a bit of fall nostalgia with them that I don't mind at all.
I hope you guys have a great weekend!
Until next time,